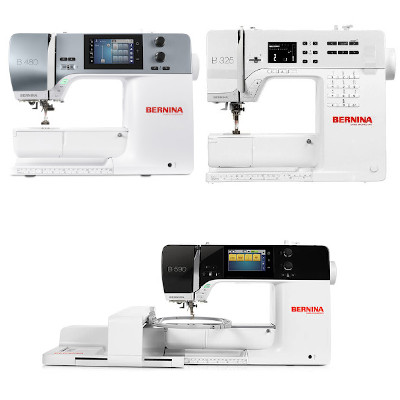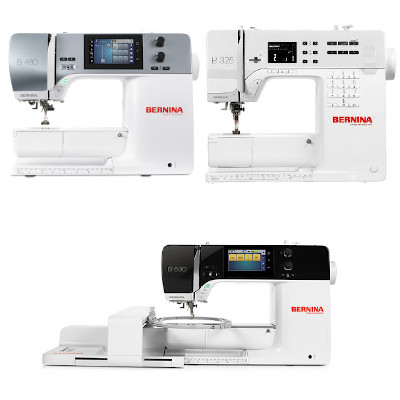 Sewing machines from Bernina come in a large variety of options. But which is the best Bernina sewing machine? Well, they offer models that are great for budget shoppers with reasonable features and sufficient power to keep most casual sewers busy and happy, while still offering extremely high-end models for professionals.
If you want a sewing machine that is going to sew faster, quieter, and for longer without breaking, you definitely want a Bernina. These are great for quilting, for sewing, and of course for embroidering. There is nothing you can't do with a great Bernina machine.
Some features you can expect to find when using a Bernina sewing machine include on-screen support, embroidery mode, dual feeds for even fabric distribution, automatic threading, perfect stitching, ultra-fast stitches per minute, integrated thread cutter, and so much more.
Top Rated Bernina Sewing Machine
---
Bernina 480 Sewing Machine – Best Overall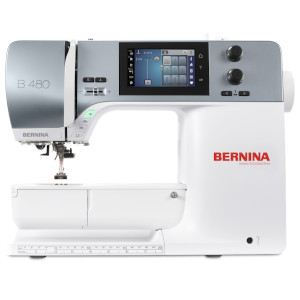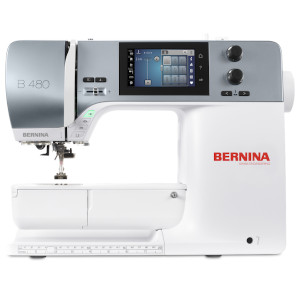 Welcome to the Bernina 480 Sewing Machine. This is a sweet unit that does the work of five normal sewing machines. I am talking about features. You get a 9-millimeter stitch width that you can use for decorative stitches, it comes with a jumbo bobbin for fewer instances of being interrupted, and even an automatic thread cutter.
Sleek & Useable
Bernina's 480 Sewing Machine is a powerhouse. It also comes in a powerful housing unit that is slim and extremely usable. The user interface is simple, the digital display is incredibly intuitive so that you can switch between settings instantly, and there is ample room for all sewing projects.
Plus, the easy threading will save you time with changing the needle, changing the thread, and changing the project. You even get an adjustable tension for the perfect stitch every single time. To use the automatic thread cutter, all you need to do is push a button. There is no more fuss and no more slowdowns when using the 480.
Maximum Creativity
Prepare to unleash your creative side with the 480 Sewing Machine. The workspace has been upgraded to fit any kind of project, even big fluffy quilts that require maximum creativity. You get on-screen support whenever you need it, a modern touchscreen so that you have full access to all your creative ideas and an adjustable presser foot pressure.
You can increase or reduce the pressure of the presser foot depending on how thick or thin your fabric is. This allows you to tweak the machine's settings for your individual needs and your personal preferences, unleashing your full creativity.
---
Bernina 325 Sewing Machine – Best On A Budget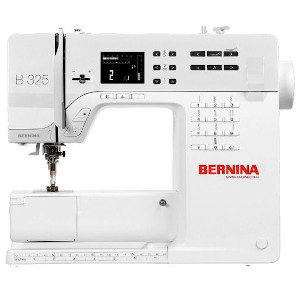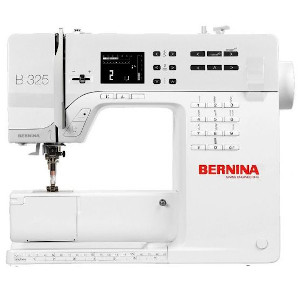 Here we have the Bernina 325 Sewing Machine. While not as technologically advanced as the other two machines on the list, the 325 is a very comfortable unit that allows you to customize your sewing speed, thread your machine super easily, and have access to enough space to implement big ideas.
Customize
The 325 comes with some of the greatest customizability of any sewing machine on the market. Not only do you have variable sewing speeds, but you can even save and reuse your stitches. This is an incredible bonus for people who don't like waste. Not to mention, you can customize the length and width of your stitch for easier sewing.
If you need the job done in a hurry, don't sweat it. You can sew at ultra-fast speeds with the 325. I'm talking about 900 stitches per minute. That is lightning fast, especially considering most budget units operate between 100 stitches per minute and 200 stitches per minute.
Small Unit, Big Ideas
Because the 325 is a small unit, it is easy to move around and extremely portable. But that does not mean you are tight on space. There is enough room for you to maximize your sewing skills and create big projects. Many people say the 325 is the perfect size for a sewing machine. It is comfortable and cozy, yet roomy enough to get big jobs done.
This is assisted by the free arm, which provides you 6.3 inches of open space on the right side of the needle. There is even a bright LED integrated into the machine for nighttime projects.
---
Bernina 590 E Sewing Machine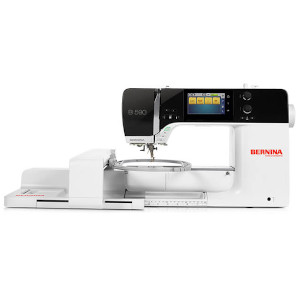 The Bernina 590 E Sewing Machine is the superstar of Bernina's sewing machine line up. This baby is incredible. While it may cost more than most people's monthly salary, it is the "end all" of sewing machines.
You can handle massive projects with the 590 E, it has significant power for quick sewing, gives you complete mastery of embroidering, and can sew a quilt with many layers in record time.
Utter Perfection
When you use the 590 E, you get all the best auto features. The automatic thread cutter is a 3-in-1. It cuts the thread, lifts up the needle, and then raises the presser foot all in one smooth action. You even get a special Thread Away Mode for the cleanest embroidery results imaginable.
The big selling point of the 590 E is that it stitches like heaven. All your stitches are going to be precise and consistent even when sewing at a top speed of 1,000 stitches per minute. The machine works quiet and without any vibrating. Never have you seen such incredible speeds on a sewing machine with such minimal noise and feedback.
Amazing Embroidery
The 590 E offers the best in embroidering. Not only can you position your design in the perfect spot, but you don't even need to use a template anymore. You can select two points and then match them by utilizing the marks on the hoop fabric.
This machine is designed with heavy embroidery features so that you can not only stitch quilt, but you can embroider literally any fabric as well.
---
Best Bernina Sewing Machine: A Complete Buying Guide
As you can plainly see, these are some of the best sewing machines available right now, today, this very second – and they are available for you. But what do you need to know before spending a whole bunch of money on the best Bernina sewing machine?
You should consider how much money you are willing to spend, exactly what type of projects you'll be completing with your new sewing machine, and how important bonus features are to you. The one thing to keep in mind is that any Bernina sewing machine is going to work wonders. These are not cheap machines, and they do not malfunction easily.
Customizing Your Stitch
Consider how much you want to customize your stitching patterns. Some machines are going to come included with decorative stitches, cross stitches, and unique buttonholes. Any good machine for sewing is going to come with a special feature that allows you to pick your favorite stitch and customize it.
If you are taking sewing seriously, you need a machine that is going to be as serious as you are. That means you want buttonholes to be sewn automatically, and you want a huge assortment of them to begin with. You also want all of the creative settings to be simple and easy to manipulate, which generally means a nice modern touchscreen system.
Easy & Automatic
Automatic features are an absolute must. If you want to save time and stick to what you love, you want a machine that will take care of all the annoying parts of sewing for you. This will mean having an automatic threader that will thread your needle for you, taking away that small bit of stress.
But it does not stop there. You want variable sewing speeds so that you can always have complete control. You also want to be able to customize the length and width of your stitches. And finally, an automatic thread cutter can be extremely handy. Just push a button and keep going, no more fuss.
Power
Power is always going to be an important feature in a sewing machine. Not only do you want enough power to give you ultra-fast stitches per minute, upwards of 800, but you also want enough power so that you can sew through any kind of fabric.
If you have the right sewing machine with an ideal power output, you can swiftly sew through many layers as if doing nothing more than stitching a cotton t-shirt.
You also want controlled power, meaning a machine that works quietly and effectively at the same time. Always check reviews to see what people say about how noisy the machine is. The last thing you want is a sewing machine that annoys you with its cheap and clunky noises.
Best Bernina Sewing Machine: Final Thoughts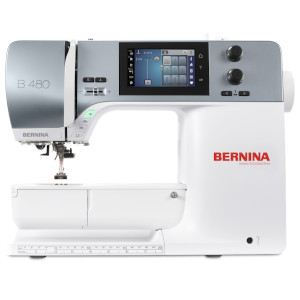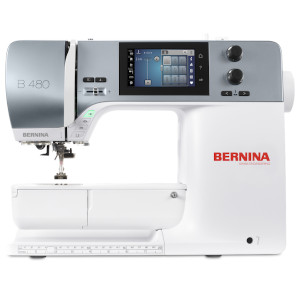 It really is hard to pick a favorite. All three Bernina sewing machines are fantastic. Obviously, the 325 is the cheapest version, and so I highly recommend it to anyone looking for an upgraded budget unit. It may not be budget by some people's standards, but this is what I would call a premium budget item.
As for the 480 and the 590 E, they are both amazing, but the 590 E is better. If you are making serious fashion designs and you need pinpoint embroidery for professional clothing, there is nothing that can do it better than the 590 E.
The 590 E has huge power, a massive space to work, a unique hoop for professional embroidery, and it is an overall premium machine. In fact, this might be the most expensive sewing machine I have ever laid my eyes upon. But let me tell you, it is going to blow your socks off.
Related Articles: