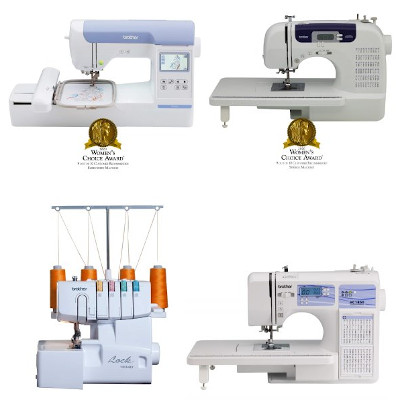 Many years ago, before the days of machinery, all sewing, and embroidery tasks were done painstakingly by hand. As well as taking a lot longer to complete projects, it was also a lot more difficult without any modern machinery in existence to assist.
Thankfully, along with the Industrial Revolution in the 18th century, came the rise of many inventions designed to make our lives that little bit easier, including that of the sewing machine. Nowadays, there are various different sewing and embroidery machines available to buy for whatever purpose you need. There are machines out there that are only fit for either sewing or embroidery, while others can cater to both. As well as functionality, these machines also vary greatly in price and in their capabilities.
Whether you need a machine that's fit for a professional or you're just looking for something basic to get you going, you can be sure Brother has a machine that's suitable. Keep reading to find out what some of the best Brother sewing machines have to offer.
Top Rated Brother Sewing Machine
---
Brother PE800 – Best Overall Brother Sewing Machine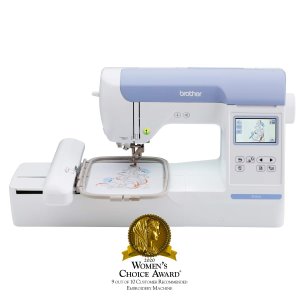 The Brother PE800 is a fantastic embroidery machine that's well designed, adequately priced, and is equipped with enough bells and whistles to keep even the most advanced users happy.
Easy to Use
Embroidery is a skill that takes a lot of time and effort to master. However, with a little help from a machine like this, you'll be doing it like a pro in no time at all. Everything on this machine is well laid out and easy to use. There's a numbered threading diagram printed directly on the machine in case you get stuck and it's equipped with great time-saving features like an automatic needle threader and an automatic thread tensioner.
Spoilt for Choice
As far as design capabilities go, there are endless possibilities. With 138 built-in designs to choose from, the sky is your limit. And if that's not quite enough, simply plug in your USB stick to import your very own embroidery design files.
Modernity
If you love technology, then you're in for a treat with this machine as it's fitted with a large color touchscreen in which to display and select various stitching options. It even has in-built tutorials to help with things like threading the machine or attaching the embroidery arm.
---
Brother CS6000i – Best Budget Brother Sewing Machine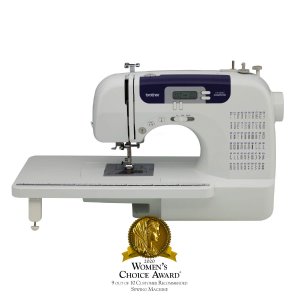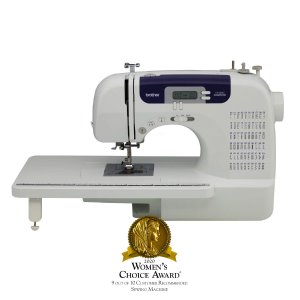 If you're looking for a machine that's well made, has all the functioning you need to produce quality sewing and stitching, and doesn't cost a fortune then the Brother CS6000i may be the way to go.
Good for Beginners
One of the best things about this machine is that it's very easy to use. It's packed with just the right number of features to be helpful, but not too many that it becomes daunting to learn. The automatic needle threader and jam-resistant bobbin system are both nice touches, as is the machine's adjustable speed setting.
And the fact that it can sew a wide range of fabrics, including leather is also a big plus. So as well as all the functionality, you also get strength with this machine.
Extra Room, Extra Accessories
Another thing learners find attractive about the Brother CS6000i is that it has an extra-large table. Not only does this give you more room while working on small to medium-sized projects, but it will allow you to tackle larger projects too. And, you get all the accessories you could ever need to help you do just that including 10 sewing feet, 3 bobbins, and a hardcover protective case.
---
Brother 1034D – Best Brother Machine for Serging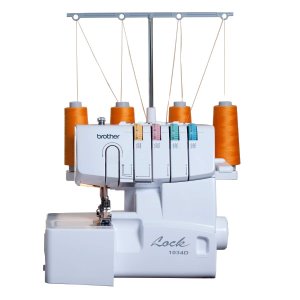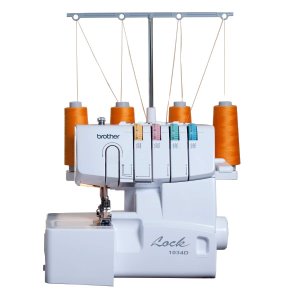 The Brother 1034D is a serger sewing machine that's durable, fast, and won't let you down.
Quality Stitching in an Instant
Not for the faint-hearted, this machine packs a big punch when it comes to performance. With a maximum sewing speed of 1300 stitches per minute, the Brother 1034D is fast enough for even the most experienced machinists. As well as being able to operate at lightning speeds it also produces some of the most quality finished stitching you will ever see.
Advanced Functionality
In addition to being able to move at warp speeds and produce professional-looking stitching in the process, this machine is also packed with advanced features and functions in which to either enhance your projects or save you some time. There's a differential fabric feed that helps improve your stitch quality, an adjustable foot pressure pedal to ensure consistent stitching, and an easy-to-adjust stitch width needle, to name just a few.
Easy Threading
Some sewing and serger machines can be a right pain to thread, but thankfully the Brother 1034D is not one of them. It has a color-coded lay-in threading system that lets you know exactly where your thread needs to go. After following this once or twice you'll be able to do it with your eyes closed.
---
Brother HC1850 – Best Brother Machine for Quilting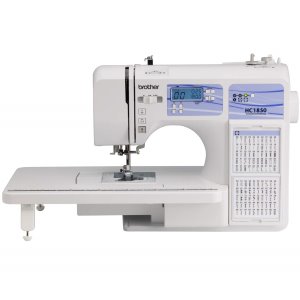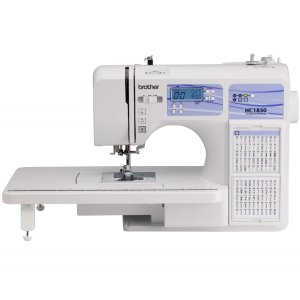 If quilting's more your thing then be sure to check out the Brother HC1850. It's very modern, has an abundant number of stitches to choose from, and it can cater to both the quilter and the sewer.
Extremely Versatile
Being a combined quilting and sewing machine, it's already considered to be a pretty versatile piece of kit. And with an astonishing 185 built-in stitches under its hood, this machine's design capabilities are endless. There are 130 sewing stitches and 55 alphanumerical sewing stitches in which for you to customize your projects however you wish.
High-Tech
As well as having a large back-lit display to see clearly your stitch selection on the LCD screen, the Brother HC1850 has a few other technological marvels including an exceptional feed system, a useful drop-feed system, and a quick-set bobbin.
Time-Saving Features
Everyone likes a helping hand sometimes, and this machine is very handy indeed. Equipped with a number of time-saving features, you'll be finished your projects in half the time with this model. It has an automatic needle threader, an easy-to-reach adjustable sewing speed slider, and a convenient flip chart for you to find your required stitch at lightning speed.
---
Best Brother Sewing Machine: A Complete Buying Guide
Before you commit to the purchasing of any new sewing machine, there are a few things you should consider:
Can it do what you need it to do? With so many machines out there to choose from, you can be spoilt for choice. And while this may seem like a good thing, it may cloud your judgment. The number one thing to keep in mind is whether it can do all the tasks you need it to. If you need it to sew, does it come with enough presser feet for your liking? Are there enough stitches to choose from? If embroidery is more your thing, then you'll want to know the size of the embroidery hoop.
The other thing you should take note of, in terms of functionality, (especially if you're just starting out) is what automatic functions the machine has to offer and how easy it is to use overall. Is there an automatic thread cutter or needle threader? How does the bobbin load in? While these things may seem pretty irrelevant to someone who's been sewing a while for a newcomer it can make the difference of a good few hours.
What is your budget? Sewing machines range tremendously in price. They also vary a lot in capability. When considering your budget, you should tie this in with what you expect to get out of the machine. If you only need it to carry out a few basic tasks, then you shouldn't be paying too much for it. If, however, you're looking for an all-singing, all-dancing machine with more bells and whistles than you know what to do with, then you should be prepared to spend a good few hundred dollars.
A traditional or modern machine? Another thing to consider when preparing to make your purchase is whether you want a traditional or modern sewing machine. Whether you're a complete beginner or a professional seamstress, both types have their pros and cons. With a traditional machine, there tend to be less automated features. And while this may seem like a bit of a pain for a newbie, they will appreciate in the end as they'll gain a much better understanding of the machine than if everything was done for them. Having more manual control also means there's more ability to customize.
On the flip side, however, some people prefer a computerized machine as they often offer more functionality. For example, on many machines not only can you select your stitch and stitch settings via the screen, but you can also view it too. The same goes for a lot of computerized embroidery machines.
Best Brother Sewing Machine: Final Thoughts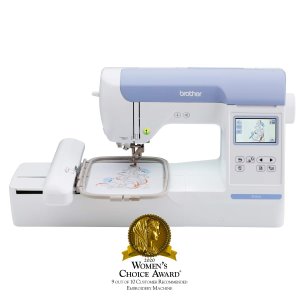 Whether you're a seasoned pro or a beginner embroiderer the Brother PE800 truly is a marvel. It's highly functional yet easy to use, and with its large LCD touchscreen simply it looks fantastic too. You've also got enough design capabilities to keep you going for a very long time, whether using those already pre-loaded or importing your own via the handy USB slot. It really is the best overall Brother sewing machine out there today.
If you are on a budget, then the CS6000i is not a bad choice, it's just a limited in what it can do. And while both the 1034D and HC1850 are very good machines in their own right, neither give you quite so much as that you'll gain from using the Brother PE800.
Related Articles: