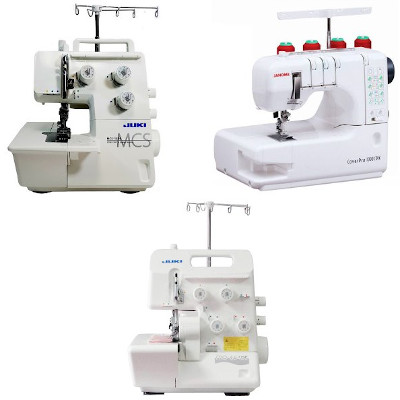 It's time to discover the best chain stitch sewing machine. Today we will look at three of the best chain-stitch styled sewing machines in the business, including two Juki machines and one Janome machine.
If you are looking for a quality sewing machine with extra strong stitching that offers great chain stitch features for hems, sleeves, and necklines, then one of these machines will be great for you. Whether you are using light fabric or heavy fabric, any of these great sewing machines will work wonders.
Some machines come with a thread serger and others have special cover stitch technology. All three machines are innovative and come with all the needed accessories to get you sewing today. the machines are super high speed, strongly built, extremely durable, and design to make sewing easier for you.
Let's take a look at each machine in detail, then pick a winner.
Top Rated Chain Stitch Sewing Machine
---
Juki MCS-1500 Chain Stitch Machine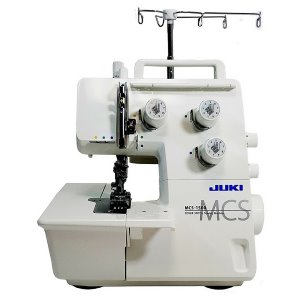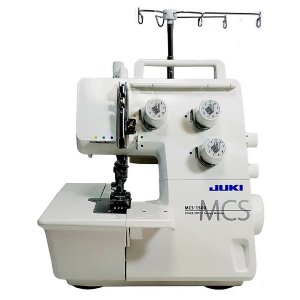 The Juki MCS-1500 Chain Stitch Machine is one of the best performing machines for chain stitching that you can buy. Not only does the MCS-1500 work wonders as a chain stitch machine, but it also works well as a serger machine.
The MCS-1500 comes with all the bells and whistles you need for a full day of hemming the seams of pants and completing other sewing tasks. It has an exterior thread cutter, an adjustable differential feed, a foot pressure that is highly adjustable, and a quality extension plate with seam guidelines.
Perfect for All Applications
Not only can you use the MCS-1500 for chain stitching, but you can use it for a handful of other tasks too. The stitches you get are incredibly strong with this machine. Because you are doing chain stitches, the stretchy stitching is great when sewing waists and pant seams, sleeve cuffs and necklines.
The MCS-1500 also works with almost any type of fabric, even fabrics like georgette or knits. Heavy fabrics, light fabrics, and everything in between. This machine really works to sew everything.
Simple and Easy
One of the best things about this sewing machine is that it comes ready to work straight out of the box. The initial setup is easy, taking only a handful of minutes. And from then on it is smooth sailing.
There could not be a simpler sewing machine to use, even for a beginner who needs to do some heavy chain stitching but doesn't understand the process.
---
Juki MO654DE Thread Serger Sewing Machine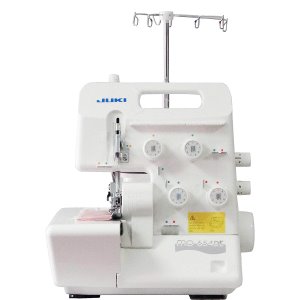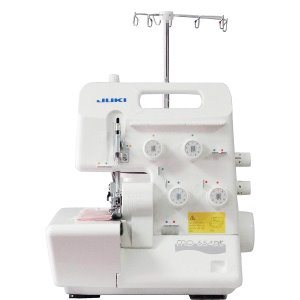 Here we have another fantastic machine from Juki. The Juki MO654DE Thread Serger Sewing Machine is a high-tech unit that is a little pricey but works extremely well. If you are sewing hems, aprons, purses, bags, or anything else that requires serging, this is an ideal model.
The Juki MO654DE is great for people who already know what they are doing. The machine has quite a few complicated features that may confuse someone who's never used a thread serger before. However, you can learn. And once you learn, there is nothing that can stop you from making the perfect stitch.
Works like a Dream
If I had to say one thing about this Juki sewing machine, it would be that it works. The machine is extremely easy to thread, adjust, and to use. It is lightweight and portable, allowing you to take it with you anywhere you need without having to fight setting it up again.
Also, you are able to cut through many layers of tough fabric without having any problems. I'm talking about 3 layers of thick jean material. You can abuse this machine all day long and it will still work magnificently.
Quiet & Smooth
I'm sure you would agree with me, there is nothing more annoying than a super loud sewing machine. Nobody wants to deal with all that racket while trying to relax and work on some fabrics. With the Juki MO654DE, you never have to worry about too much noise. This machine is quiet as a lullaby and smooth as honey.
---
Janome CoverPro 900CPX Sewing Machine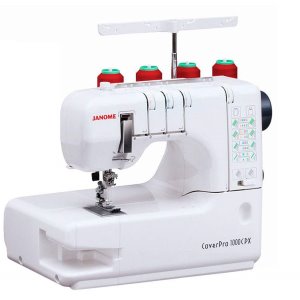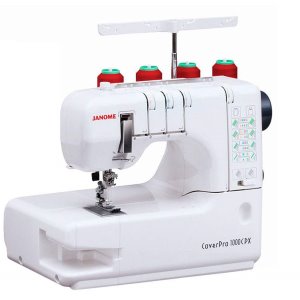 The Janome CoverPro 900CPX Sewing Machine is one of the best machines for cover stitches that money can buy. The design is innovative, the machine is convenient, the motor is high speed and powerful, and you get a long arm that is very functional. Just keep in mind this does not work as a serger.
If you want a "does it all" cover stitch machine for chain stitches, the Janome is a fabulous option. The only problem with the Janome is that it costs a fortune. Even if it does come packed full of features and great accessories, it still costs a whopping amount of money. If you can afford it, I highly recommend buying it. But it is a splurge.
A Perfect Hybrid
The Janome 900CPX Sewing Machine is a hybrid between an industrial cover hem machine and an ordinary home sewing machine. The result is a perfect union of power, convenience, and speed. The machine is super easy for stitching bathing suits and other types of projects that need a lot of hemming done.
It feels like using any other sewing machine you would in your house, but you get the added quality of an industrial hem machine. This is a distinctive unit with a lot of power.
Bonus Bundle
As a bonus, the Janome 900CPX comes with lots of super handy accessories. It comes with an instructional DVD, size 14 needles, a needle threader, and so much more. With so many useful accessories, you can begin sewing immediately without a last-minute trip to your local hobby store.
---
Best Chain Stitch Sewing Machine: A Complete Buying Guide
Many people may be wondering what exactly a chain stitch sewing machine is. But it's not so complicated. Unlike a normal sewing machine, these units stitch loops in a sequence of chains and are mostly used for hemming, or embroidering pieces of cloth.
And while there are different types of chain stitch sewing machines that you can buy, all of them offer something a little different. There are some key things to consider before picking up one of these great sewing machines, as the right one will ensure your designs remain creative and unique for time immemorial.
Power
Chain stitch sewing machines are no different from any other sewing machine in that you want yours to be powerful. This is a huge aspect you need to consider when buying a new sewing machine. Without enough power, you won't be able to handle all of the fabrics that come your way.
By getting a machine with sufficient power, you can rest assured that any kind of fabric you put under the needle is going to be threaded perfectly. With enough power, you can work quickly and effectively all day long with your new chain stitch sewing machine. Always keep a lookout for the SPM of your new machine.
Easy to Use
Nobody likes complications. When you buy a new sewing machine, you want it to come ready-to-use out of the box. There is nothing worse than a perplexing setup that takes 3 days and then confuses you even more when trying to figure out how to use the machine.
While it is nice to have complex features, they are not always necessary. Do yourself a favor and find a machine that is easy to use. You will save yourself a bunch of time and a bunch of hassle because everything will work the way it should.
Key Features
You definitely want a lot of usable features in your new chain stitch sewing machine. You want tension dials that work, an adjustable differential feed so that your finishes with stretchy fabrics are always perfect, simplicity when threading the looper, a presser foot lifter for better use of the machine, and portability.
You can also lookout for a seam tightening system, how many needles come included with the machine, how much space the bed has, whether there is freehand sewing, what kind of variable stitching speeds there are, and if the feed design is universal.
With the proper features included in your new machine, you will have a blast sewing all day long. Machines with the best features are generally more expensive, so keep that in mind when shopping. Considering how important chain stitching is, I don't recommend skimping on price and missing out on key features.
Best Chain Stitch Sewing Machine: Final Thoughts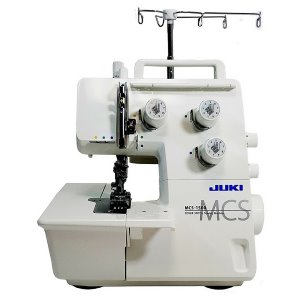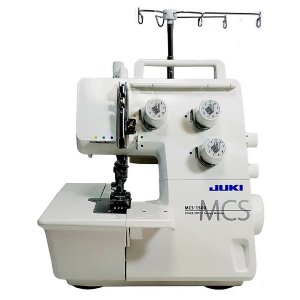 While all three machines are great for chain stitching, the Juki MCS-1500 is undoubtedly the best. With Juki, you get the best value for your dollar. The machine comes loaded with impressive features, such as its exterior thread cutter, its differential feed, its easy-to-use looper for threading, and its precise feeding thanks to the machine's seam guidelines.
Don't get me wrong, the Janome 900CPX is a high-quality option for your next chain stitch sewing machine, but it doesn't have the same power and prestige as the Juki MC-1500. The same can be said about the Juki MO654DE. It is a phenomenal sewer, but it costs quite a lot and is a bit more complicated than I like for a chain stitch machine.
I really do appreciate the simplicity, the ease of access, and the very brief learning curve with the Juki MCS-1500. I highly recommend this chain stitch sewing machine to anyone in search of a new model.
Related Articles: