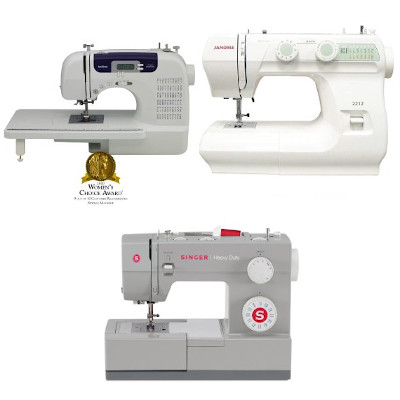 Are you interested in sewing? If so, then you are probably interested in the best cheap sewing machine. Who isn't? And while the three sewing machines on my list are indeed cheap, or maybe a better word is affordable, they are by no means low quality.
So, why do you need the best cheap sewing machine?
Well, surprisingly enough, this hobby is making a powerful comeback. And not just with the ladies. I personally know a handful of guys who love relaxing at the end of the day with their quality sewing machine, fixing their pants, making mittens for their kids. Sewing is a fun, relaxing activity that anyone can enjoy.
The best way to break into sewing is with a simple, easy-to-use, affordable machine. You want enough features to have fun but not so many that you get overwhelmed. Brother, Janome, and Singer are three of the best brands around. Let's take a look at who's best.
Top Rated Cheap Sewing Machine
---
Brother CS6000i Sewing and Quilting Machine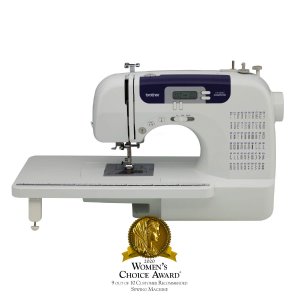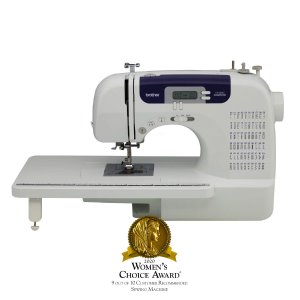 Brother is notorious for making some of the best sewing machines in the world. The Brother CS6000i Sewing and Quilting Machine is no exception. And even though this is technically a budget machine, it certainly does not act like one. Features, accessories, and strong design make it a fantastic choice.
Hard to Resist
It is hard to resist the unbeatable price of the CS6000i sewing machine from Brother. Especially when you consider how many features come with the unit. I'm talking 60 built-in stitches, all of them unique, a jam-resistant drop-in top bobbin, an automatic needle threader, and enough accessories to make you dizzy.
Plus, the machine comes with free technical support from Brother, either over the phone or online through a live chat. If something malfunctions, which is highly unlikely, you can speak to a professional in minutes to sort out the problem.
Quality Design, Quality Machine
Brother does not lack creativity or ingenuity, that's for sure. Their CS6000i Sewing and Quilting Machine is designed to be rock solid. Its LCD display is vibrant, the plus and minus buttons are durable and don't stick, the 60 stitch choices are displayed visibly on the face of the machine, and there are nine tough sewing and quilting feet that come included in the package.
Talk about quality! Even though the Brother is a touch more expensive than the other two units on my list, it is certainly worth the money. There is no better feeling than running a sewing machine that works.
---
Janome 2212 Sewing Machine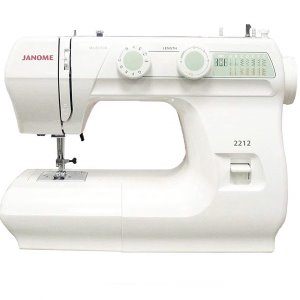 Janome is another infamous name in the sewing machine industry. The Janome 2212 Sewing Machine is one of their best budget products. It has 12 stitches built into the machine, the ability to adjust the width and length of your stitch, and free motion quilting and sewing thanks to the drop feed.
Best Budget Sewing Machine
For the price, this unit is the best. It has fewer features than the Brother, but this is reflected in the price. If you need a high-quality sewing machine to complete a wide variety of standard, everyday sewing tasks, and you don't want to break the bank, this unit is the best option for you.
It still comes with accessories, like a seam ripper, a zipper foot, a buttonhole foot, and even a vinyl dust cover. It also has a well-written and informative instruction book. And the 2212 Sewing Machine can sew, which is the most important. You can't go wrong installing this unit in your sewing room.
Simplistic Design
For those of us who may be ignorant of the complexities of sewing and quilting, the 2212 Sewing Machine from Janome is a big breath of relief. It has an adjustment knob for the stitch length and width, which is super easy to use. The needle plate is clean and safe. The free arm is simple, while the reverse lever is literally just a lever that you can flick with your finger.
The Janome 2212 may not have a fancy touchscreen display, but it does have your twelve stitching options labeled clearly on the front. You will be hard-pressed to get confused as a newbie, which makes this a great beginner machine for those on a budget.
---
Singer 4423 Heavy Duty Sewing Machine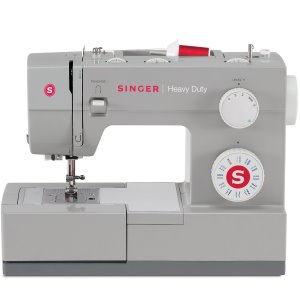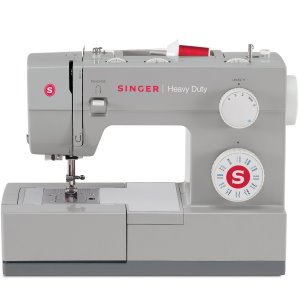 Now, this is a beast of a sewing machine. The Singer 4423 Heavy Duty Sewing Machine has more power than the Janome but fewer features than the Brother. That makes it my middle-grade choice. For those who want an intense electric sewing machine at a reasonable price, and without the complications of being computerized, this unit is for you.
Heavy Duty
It is no easy task to find a sewing machine quite this heavy-duty, never mind at such an astonishingly low price. The 4423 comes with a metal interior frame, a bed frame that is stainless steel, and a robust motor that gives incredible sewing speed. How fast? Up to 1,100 stitches per minute!
The strength is indisputable. You could throw this sewing machine on its head, pick it up, then get back to sewing. It is that strong. Although I don't recommend tossing your sewing machine around. For serious tasks, big loads, and thick fabrics, the Singer 4423 is one of my top choices.
Plenty of Features
For a heavy-duty sewing machine, the Singer 4423 has enough features to compete with the best. It comes with 23 built-in stitches. Among them are decorative stitches, basic stitches, buttonhole stitches, and stretch stitches. It has everything you need for decorative sewing, fashion sewing, and arts and crafts.
This unit has an automatic threader for your needle, it sews at 1,100 stitches per minute, it comes with over a dozen smart accessories, including a soft dust cover and accessory tray, and it is robust enough to last a lifetime. What's not to love? The foot control can even be adjusted for different pressures.
---
Best Cheap Sewing Machine: A Complete Buying Guide
What do all three of my reviewed machines have in common? Well, they are all fantastic starter units, they all work extremely well, they are all products from reliable companies, and they are all purchasable at an affordable price.
But how do you know which one to buy? There are a few key things to consider.
Durability & Longevity
One of the biggest issues when shopping for a budget sewing machine is durability. How long is your machine going to last? This is an important question to consider before making a purchase. While you don't want to spend a fortune on a sewing machine, you still want one that is going to work.
To solve this problem, go with a machine that is built from solid materials. A general rule is that if it looks tough, it probably is. A small, compact machine is great for portability, but sometimes a heavier machine is better in the long run. You know it will last. In the end, it all depends on how frequently you will use the machine.
For casual hobbyists, something like the Janome 2212 Sewing Machine will do fine. It is small, it does not have a ton of moving parts, and it is built from a lightweight material. If you are only sewing on the weekend, and only working with easy-to-handle fabrics, you will do well with the Janome 2212.
For people sewing every day, stitching together massive quilts, and working with thicker materials, the Singer 4423 is more useful. It is a tough model that won't break down, plus it has immense power and works at blinding speed. A good middle-grade unit is the Brother CS6000i. Not too flimsy but not too bulky either.
Related Articles:
Built-In Stitches & Included Accessories
Before putting down money on a new budget sewing machine, you should consider how complex of a seamstress you are or wish to be. If you sew mostly freehand, maybe you don't need all the complicated stitches. On the flip side, if you are planning a lot of projects and need the versatility, it is best to seek a machine with an ample supply of built-in stitches.
The same could be said about accessories. Are you already an avid seamstress or tailor? Do you have buckets of unique sewing feet, tons of thread and bobbins, literal piles of needles, and lots of spools? If so, accessories don't really matter.
However, if you are a beginner and don't want to confuse yourself at your local arts and crafts store right off the hop, I suggest making sure your new sewing machine comes with the basics.
Also, ensure your new machine comes included with a reliable cover to keep the dust from seeping into its internal parts. If you want to work with foot control, make sure it has one included in the package.
Best Cheap Sewing Machine: Final Thoughts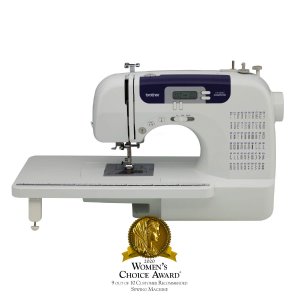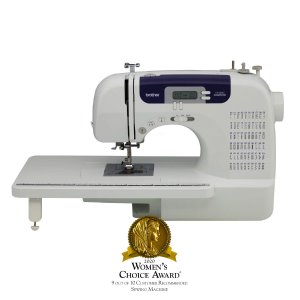 If I had to choose one of these units to add to my sewing room, either the Singer, the Janome, or the Brother, I would have to choose the Brother CS6000i Sewing and Quilting Machine. Let me tell you why.
While the other units are great – there is no competing with the Singer 4423's robust housing and durable parts – the CS6000i is simply packed with too many more features. To put it plainly, it is the superior machine. If you want to start sewing and you want to keep sewing, learning, and adapting with a versatile unit, you want the CS6000i.
It has way more built-in stitches than the other units, it is the only one with an LCD display, it has a larger table, and it comes included with a heap of sewing feet to make your experience easier. It looks good, it feels good, and it allows room for you to improve. The CS6000i is definitely my top pick.
Related Articles: