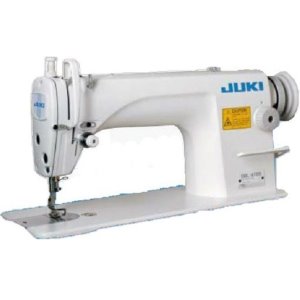 Strong Motor Ideal for Leather
Quiet Operation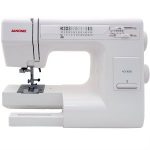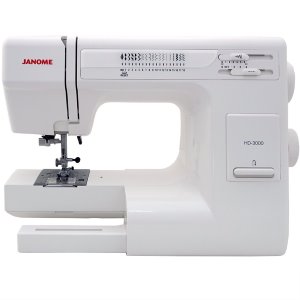 Simple Operation
Cheap Price
---
Cobbling is the art of making footwear. While once upon a time this process was all done painstakingly by hand, nowadays, the best cobbler sewing machines will get the job done quickly and effectively.
However, there are many aspects to consider when looking for a good quality cobbler sewing machine. Not any old sewing machine will suffice when it comes to cobbling shoes. It needs to be tough, robust, and efficient.
There are tons of standard sewing machines out there, but those capable of cobbling shoes are a little less common. In this guide, I'll share with you some of the few models that do offer that functionality. I'll also go through some of the other features and functions of those machines to help make your next purchase as hassle-free as possible.
Top Rated Cobbler Sewing Machine
---
Juki DDL 8700 – Best Overall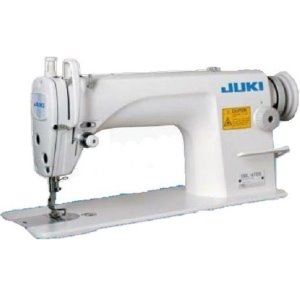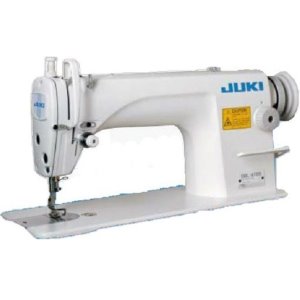 Whether you sew for a living or you simply sew a lot as a hobbyist, the Juki DDL 8700 is a great machine to cater for a range of needs.
Heavy-Duty
With this single-needle lockstitch machine to assist, you can produce a lot of quality items in a relatively short space of time. Whether its clothes, bags, or home décor items the Juki DDL 8700 is durable enough to complete most tasks fast and to a high standard. It's capable of handling a wide variety of thin to medium fabrics including those with multiple layers. And, each and every time, you get a flawlessly looking stitch.
Read More: Full Juki DDL 8700 review
Suitable for All
What I like most about this machine is that it has just the right balance between usability and functionality. So, while it's simple to use and good for those with very little experience, it also hosts enough features to please the more advanced user. It has a maximum sewing speed of 5,500 stitches, which is plenty fast enough for most people, and it has an 11-inch arm space from the needle to the neck which is great for when working on those larger projects.
There are also quite a few adjustments you can make to best tailor the machine to meet your needs. You can adjust the RPMs to slow down the stitch speed. The stitch length can be adjusted to a maximum of 5mm, and you get up to ½" presser foot lift by using the enclosed knee lever.
---
Janome HD3000 – Best Budget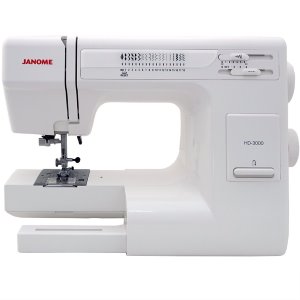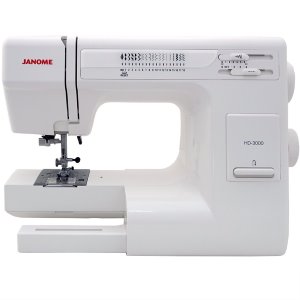 You don't always have to spend a fortune to reap the benefits of using a good sewing machine, and that's exactly the case when it comes to the Janome HD3000.
Low on Price, Not on Quality
While it may be considered a budget machine in terms of price, there's nothing budget about this machine in terms of the quality of the stitching it produces. This machine is as strong as an ox thanks to its sturdy metal frame. Even with the hardcore motor churning at top speed, there's no vibration, meaning you always end up with a professional finish.
Read More: Full Janome HD3000 review
Easy to Use
Another thing I really like about this machine is that you don't need to be a pro to work it. There's an automatic needle threader and detailed thread guide to help get you started quickly. And being a mechanical machine, there's no complicated computer to try and figure out. Everything you need is within reach and so easy to use.
Big in Functionality
One big advantage this machine has over the Consew 206RB-5 is that it comes with 18 built-in stitches to work with including some for utility and some for decorative purposes. And while in comparison to some of the top-spec sewing machines out there, that may seem like quite a small selection, in comparison to the Consew 206RB-5's single straight stitch, it's enormous. With all these different stitch types at your disposal, the variety of projects you can complete is much wider.
---
Consew 206RB-5 Industrial Sewing Machine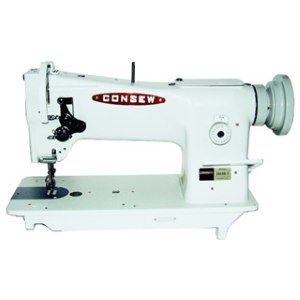 If you're looking for a top-quality industrial type sewing machine that's heavy-duty and super-fast, then you've come to the right place.
Lightning Speeds
The Consew 206RB-5 is a full-size table-mounted machine. Which is probably a good thing as it has a maximum sewing speed of an eye-watering 3000 stitches per minute. And, it's fitted with a Servo motor opposed to a clutch motor, meaning it's a lot quieter than a lot of other industrial machines on the market. However, there is one slight limitation, and that is that it can only do a straight stitch.
Read More: Full Consew 206RB-5 review
But in terms of what it can sew through, it's pretty versatile and is capable even the toughest of materials. Things like denim, upholstery, fur, plastic, canvas, and even animal skin are no problem at all. The only kinds of fabrics you might want to stay away from are those which are very fine fabrics such as silks or knits. These are just too dainty and delicate for the likes of this machine.
Made for Professionals
There are a number of features and functions designed to make the life of a professional machinist much easier. The heavy-duty walking foot and extra-large bobbin ensure that you can work for longer periods at a time without interruption, while the locking stitch regulator prevents any skipping of stitches while the machine moves at warp speeds.
And, when it comes to the quality of the stitching produced by this machine, the end result is nothing more than superb. Every stitch is completed with the utmost precision, ensuring a professional finish each time. The Consew 206RB-5 is a fantastic machine, and if money is no option then it is the best cobbler sewing machine you can buy.
---
Best Cobbler Sewing Machine: A Complete Buying Guide
A sturdy, good quality pair of shoes must grace your footwear closet. After all, what is better than having a reliable pair you can wear for all your daily activities?
The quality of a pair of shoes depends upon the cobbler sewing machine used to stitch them. You will also find that a superior sewing machine guarantees painless and durable repairing of damaged shoes.
With such a vast range of cobbler sewing machines out there, it can be tricky to choose a good one for yourself. For this reason, I have prepared this buying guide to aid you in your hunt for the best cobbler sewing machine out there!
So before you go and part with all your hard-earned cash, there are a few things you should consider when buying a cobbler sewing machine.
What is Cobbling?
Cobbling, also known as shoemaking, is the process of making and repairing shoes. Shoemaking became popular in the 18th century, and originally all shoes were made by hand. Traditional shoemaking has largely been replaced by mass-produced footwear, and cobbling by hand is now mainly a hobby and an art.
All types of shoes can be made by hand with a sewing machine, including shoes, boots, sandals, clogs, and moccasins. These types of shoes are generally made from leather, plastic, wood, and rubber, and are stitched onto a hardwearing sole.
The 3 Best Cobbler Sewing Machines
How to Choose a Sewing Machine for Making and Repairing Shoes
When buying a cobbler sewing machine, you must survey all suitable options. There are various factors you must consider before settling on a machine for your requirements. These include the fabrics you intend to stitch, warranty, and others.
Here are some features you should measure a cobbler sewing machine by before purchasing it:
Fabric
Do you plan on working with nylon or cotton wire? What about leather? Do you use only one type of fabric or a wide range? Your answers to these questions and similar ones will dictate the suitability of various cobbler sewing machines.
For instance, if you use only leather for your stitching jobs, you should choose a machine that has features catering to the needs of leather.
If you're going to be sewing shoes, then there's a very strong possibility that you'll be working with leather. And while you'll need to make sure the machine you purchase is heavy-duty enough to handle this type of material, you also need to think about what other material you might be work with and if it too, is ok to use on the machine. Unless you know categorically that you're only ever going to be dealing with one kind of material only, it's better to invest in a machine that can handle a wide range. Why limit yourself?
Durability
Shoemaking is not an easy job. I completely understand the efforts and pressure it takes to create or repair shoes. The cobbler sewing machine you buy must be able to keep up with your work.
Make sure you check the materials used to build the machine and study the construction. For instance, metal machines are better than plastic ones. They are heavy-duty and will be able to handle the pressure.
Stitch Length
Stitch length is a term used to define the length of each stitch sewn by your cobbler sewing machine. Ideally, you should look for a machine that allows you to alter the stitch length. This way, if you are going to use a heavier or denser fabric, you will not be inconvenienced.
Availability of Replacement Needles
With leather being such a tough material, you need to make sure you have a machine that has needles tough enough to sew through it without bending. Most domestic sewing machines use weak needles. So, these would not work for cobbling shoes.
There are some models out there that use much more heavy-duty needles and maybe ok for shoes, but it's always best to check if you're unsure. In contrast, the best cobbler sewing machines use much denser needles which will have no problem at all sewing through leather.
Some sewing machines use needles that may be a headache to replace. To avoid this, remember to take into account the needles your cobbler sewing machine uses. You should be able to find replacement needles easily.
Sewing Direction
Can the machine you are considering sew in all directions? Having a sewing machine capable of sewing in all directions is important. It reduces manual exertion, and you will not have to turn and tilt the fabric all the time.
Height and Steadiness
The sewing machine should have an ergonomically friendly height. If you prefer placing your machine on a table and working, or putting it on the floor and sewing, different heights would be suitable.
The steadiness of the machine is also an important factor to consider since you would not want your machine to be shaky or start bobbing when you are exerting pressure.
Warranty
While this shouldn't be the deciding factor, it is still something to consider. Warranty is perhaps one of the most crucial aspects to consider when choosing a sewing machine.  Investing in a good cobbler sewing machine is not cheap.
Therefore, it's always a good idea to try and protect your assets by looking for a product that offers a good warranty. Most industrial machines will provide a 25-year warranty with any new purchase. This will let you relax with some degree of reassurance. Those that offer a lot less, or none, should be avoided.
Advantages of Having a Quality Sewing Machine for Making Shoes
A quality sewing machine for making shoes is highly advantageous. Here are some advantages of making shoes using a premium cobbler sewing machine:
Good quality sewing machines are easy to set up, which will encourage you to use them at ease
They are durable and sturdy, which makes them cost-effective when making shoes
Shoemaking is a demanding craft, a good quality machine can make it easier and less tiresome
A quality sewing machine will be able to effortlessly and cleanly stitch materials like rubber and leather for your shoes
They are great for tricky sewing spots like the splicing place of boots
Related Articles:
What Features Does a Cobbler Sewing Machine Need?
I have noticed that there are a lot of great options when it comes to finding the best cobbler sewing machines. However, there are always certain features that some offer, which gives them an edge over others.
Here are some features that a cobbler sewing machine needs:
Walking Foot
A walking foot mechanism is a helpful feature. It makes sure that the fabric you are using is fed uniformly into the machine. It also prevents fabric bunching.
Feed Dogs
Leather can be sticky when trying to feed through a sewing machine. To avoid it getting stuck you need to have good, strong feed dogs that are able to push the material through.
Self-Lubricating
Self-lubricating cobbler sewing machines are a treat. Repairing and making shoes is a hefty task which demands a lot from the machine. If the machine can lubricate itself, it will be easy for you to maintain it, and it will last longer in a good working condition.
Automatic Bobbin Winder
It is always better to look for machines that have a large bobbin. Additionally, if the cobbler sewing machine has an automatic bobbin winder, you will be spared from the pain of tangles and knots.
Good Speed Control
Working with leather takes skill. You can't fix mistakes sewn in leather so to make the perfect stitch you need to have good speed control. Those just starting out will appreciate this anyway as it gives them a chance to really hone their skills before stepping up the pace. While advanced users enjoy it as they can set it as high as possible to get a lot sewn in a short space of time.
Other Helpful Features:
Here are some other helpful features you need when choosing the best cobbler sewing machine:
Built-in needle threader and cutter
Foot pedal
Free arm to help sew-in crevices
Noiseless motor
What Type of Sewing Machine is Suitable for Making and Repairing Shoes?
For every sort of fabric and purpose, there is a different type of suitable sewing machine. The suitability of a cobbler sewing machine depends upon your requirements.
For example, if you want to make and repair shoes using thick materials such as leather, canvas, and rubber, a leather patch sewing machine would be great. To sew canvas, a straight stitch machine with a walking foot would be ideal.
A walking foot is crucial if you want to sew heavy and large fabrics.
For making and repairing shoes, you need to use a sewing machine with long arms and ideally a presser foot conveyor with a 360-degree rotation. Shoes are an intricate item to sew. A sewing machine with arms can perform the task properly.
Making and repairing shoes requires force and pressure, so the sewing machine also needs to be able to handle that. It should have a metal frame and a durable build.
Summing Up
Making and repairing shoes is ultimately a rewarding and satisfying experience. However, I know that it is also a very demanding job and requires a lot of focus.
You need to have a high quality and dependable cobbler sewing machine to help support your work and make it easier.
The best way is to refer to this buying guide and read reviews about the most recommended products.
Best Cobbler Sewing Machine: Final Thoughts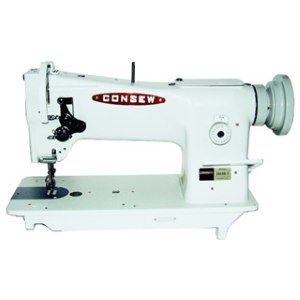 Each of these three machines is very good in its own right, and I would be quite happy to recommend any of them. So, just to summarize:
While the Consew 206RB-5 is a fantastic straight stitch machine, that's capable of creating the most precise stitching you've ever seen, it does come with quite a hefty price tag. So, for anyone with not quite so deep pockets, the Janome HD3000 may be the better option. This machine is big on functionality, easy to use, and not so damaging to the bank balance. It offers a lot more versatility than the Consew 206RB-5 and doesn't take up quite so much space.
Or, if neither of those models tickles your fancy then why not give the Juki DDL 8700 a whirl? It's a heavy-duty workhorse that can sew just about anything to a high standard, including shoes. The motor is strong and tough, and it has a maximum sewing speed of 5,500. So, if you are running a shoemaking business from home, this is one of the best cobbler sewing machines and is a great tool to have at your side.
Related Articles: