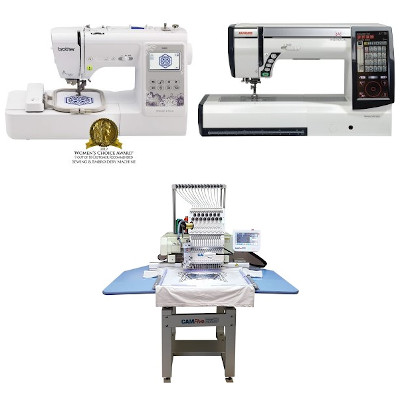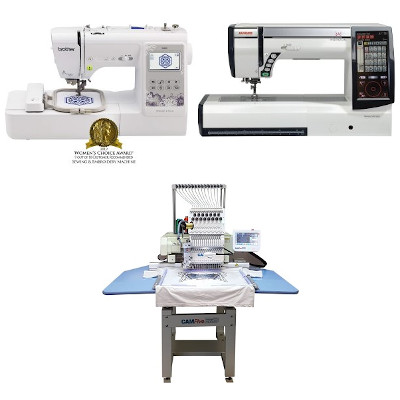 There are many different aspects of sewing. It's not all about sewing on shirt buttons or darning holey socks. Some areas of sewing require a great deal of skill and at least some creativity, including embroidery. Just like sewing, embroidery is a craft that has been around thousands of years. But it is a little different to that of sewing as opposed to trying to hide the thread in many sewing projects, with embroidery, you look to embellish the fabric by showing off the thread.
Over the past few decades, along with the rise of modern technology, came the introduction and advancement of commercial embroidery machines. These are hardcore, industrial machines that are capable of embroidering a large number of quality pieces in a very short space of time. In this review, I'm going to go through three of the top-selling machines out there in this department. I'll share with you where I think these machines excel, as well as some of the things to look for in general when buying a commercial embroidery machine.
Top Rated Commercial Embroidery Machine
---
CAMFive EMB HT1501 – Best Overall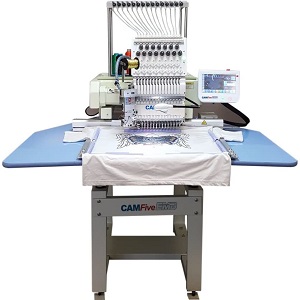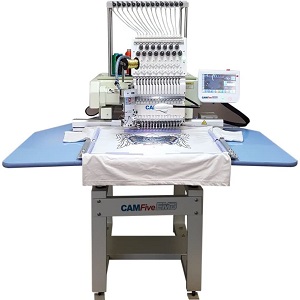 The CAMFive EMB HT1501 is a commercial-grade machine that's definitely better left to the professionals. But if you are an advanced user who's already clued up in the world of embroidery, this could be the perfect machine for you.
One Tough Cookie
It's a fantastic piece of kit that can embroider hoodies, polos, caps, jackets, uniforms, and more with the greatest of ease. It has a large 22" x 14" working area and is capable of moving at speeds of up to 1200 stitches per minute.  It comes with 15 different colors and includes a full set of frames in which to work with.
Versatile
When it comes to embroidery, there isn't much this machine can't handle. It uses 12 needles and uses an instant punch feature that makes adding names, numbers, brands, or logos a breeze. Simply select your font size and scale using the LCD touchscreen, and away you go.
Clear and Easy-to-Use Control Panel
While it may be a commercial embroidery machine designed to be used by those in the know, the CAMFive EMB HT1501 is actually very easy to use, thanks to the 8" HD LCD touchscreen control panel. In addition to being simple to navigate it has a fantastic memory capacity that's capable of remembering 100 million stitches. There's also a project preview feature which enables you to run a movement check before starting, helping to ensure everything is positioned just as you want it.
---
Brother SE600 – Best Budget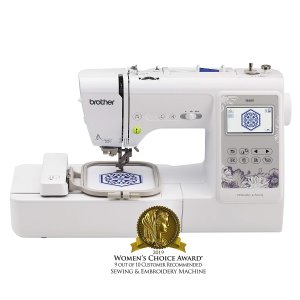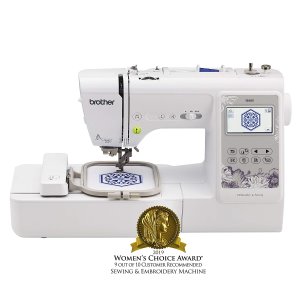 If you're looking for a combined sewing and embroidery machine that's commercial-grade, but user-friendly, the Brother SE600 is an excellent choice.
Fun for All
When it comes to learning something new, everyone has to start somewhere. And when it comes to embroidery, this machine is great to learn the ropes. As soon as you lay eyes on this machine, you'll notice its soft, floral pattern and immediately it gives off a sense of ease. All the controls are clearly labeled and within reach and it's equipped with helpful features like an automatic needle threader and drop-in top bobbin that will make life that little bit easier. And, at 3.2", the LCD touchscreen is large and clear, making it very easy to navigate around.
Embroidery Options
In addition to the various sewing stitches available, the SE600 also has 80-built in embroidery designs and 6 different fonts to work with. This more than enough to get anyone started in creating their own unique and personalized pieces. The embroidery field is 4" x 4", meaning you are a little limited in the size of the projects you can complete. But to be honest, most embroidery works aren't usually that big anyway. So, there's no real loss there.
Strong in Action
While it may be considered a budget machine in terms of price, there's nothing budget about its performance. The Brother SE600 is capable of producing up to 710 stitches per minute. And even at its top speed, the precision and quality of the stitching produced are second-to-none.
---
Janome MC 12000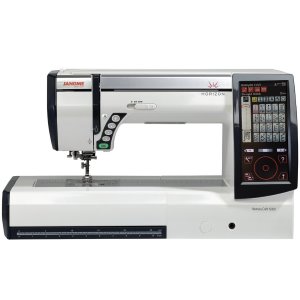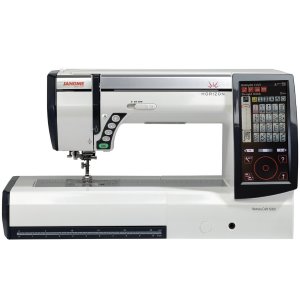 The Janome MC 12000 is a fantastic embroidery and sewing machine that offer professional stitching on every level.
Superb Quality
This machine just oozes quality, both inside and out. With a stainless-steel bedplate and large solid frame, there's no excessive movement while it's in use, meaning the stitch quality remains consistently precise. The downside to it being such a stable machine is that it's heavy, weighing in at over 70 pounds. So, it's not the best machine to use if you need to move it around a lot.
Featureful and then Some
This machine is packed with so many great features, there's no way I could tell you about them all here. Instead, I'll give you a brief overview of those most useful for embroidery. Firstly, there are 338 built-in embroidery designs, 10 fonts, and a 2&3 letter monogramming function in which to customize your pieces. Another benefit for embroiderers is that it comes with one of the largest embroidery hoops available for use at home. And, the patented embroidery arm on this machine extends your space to enable you to embroider larger designs of up to 9.1" x 11.8" in size.
Easy to Use
The threading system on the Janome MC 12000 is one of the most user friendly I've ever seen, while the automatic needle threader takes away any chance of eye strain. It's fully computerized so selecting all your stitch options is pretty easy and it has a built-in memory function that remembers all your selections.
---
Best Commercial Embroidery Machine: A Complete Buying Guide
Buying a commercial-style embroidery machine is a big investment. Even if you buy a budget model, you're still looking at a few hundred dollars to get a good one. To help protect your investment, the following are a few things to consider before making your purchase:
Your scope: If you're looking to complete basic everyday sewing tasks as well working on embroidery projects unless you already have a decent sewing machine at home, you're going to need to invest in a machine that caters to both.
Embroidery size: One important consideration to think about is what size projects you'll be working on. A lot of the lower end machines have an embroidery area size of either 4" x 4", or 5" x 7". While this doesn't mean you can't work on any projects bigger than this, it just means you'll have to re-hoop more often. On the flip side, a large embroidery area is great to work with, but you will pay more for it.
Design capability: Another thing to consider is what in-built designs the machine has to offer and whether or not it has the ability to accept others via USB. Most decent machines are equipped with at least 50 in-built designs, which is plenty enough for a beginner to learn the ropes on. For those more advanced users, you may want to look with something a little more extensive.
Single or Multi Needle: Single needle machines have just one point of hoop attachment and aren't usually equipped to handle an embroidery hoop larger than around 12". They will get the job done but are the more basic of the two types of embroidery machines. If you want a faster and more accurate machine, a multi-needle embroidery machine is the better option for you. These machines usually have between four and ten needles, with each needle holding a different color thread. The major benefit of this is you can sew continuously using multiple colors without the need to stop and change your thread.
Brand consideration: It doesn't normally pay to go with what looks like a good machine from an unknown brand. While sometimes you can luck out, this is rare. So, you may as well save yourself the heartache and pay that little extra for a machine that's been made by a reputable brand.
Durability: You need to opt for a machine that can handle the material you're planning to work with. If you're just looking to embroider cotton, nylon, or polyester-type clothing, then pretty much any embroidery machine will suffice. If however, you're planning on working with more heavyweight materials such as leather or canvas, then you need a machine that's tough enough to deal with that.
Best Commercial Embroidery Machine: Final Thoughts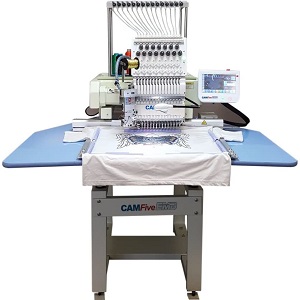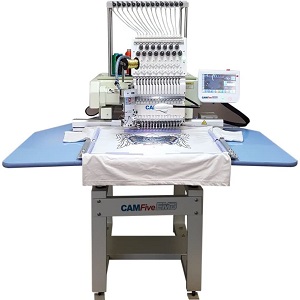 If you embroider for a living, then you need a machine that's heavy-duty and durable, and capable of embroidering to a high standard. In which case, I urge you to take a look at the CAMFive EMB HT1501. It's strong, it's tough, and it can handle just about any material. And even though it is an advanced machine, it's also relatively easy to use.
However, not everyone has the funds or space for a machine like this. In which case, the Brother SE600 may be a better option for you. This machine doubles up as a sewing machine, allowing you to complete a wide variety of projects. It's also a very inviting and user-friendly machine. And, on top of that, it's affordable.
Finally, if neither of these options take your fancy, be sure to check out the Janome MC 12000. It's packed full of great features, works extremely well, and is also capable of working on more heavyweight fabrics.
Related Articles: