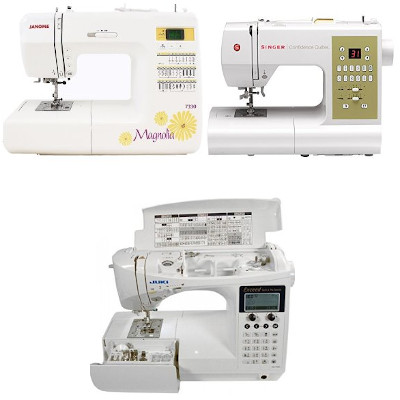 Welcome to the world of the best computerized sewing machine. While I understand computerizing anything may feel strange to some people, if you haven't tried a sewing machine with smart integrated technology, you are missing out. These clever machines will dramatically upgrade your sewing experience.
From sewing drapes and curtains, to quilting, to industrial garment sewing, a computerized machine gets the job done faster. And it gets the job done right. These machines often come with an automatic needle threader, built-in stitches, a programmable needle, electronic twin needle control, electronic adjusting of the length and width of your stitch, and much more.
Today we will look at the top three names in computerized sewing and decide who offers the best machine, who has the sharpest features, and which of these machines is going to last. We will also find out what to look for in a quality machine. Let's get started.
Top Rated Computerized Sewing Machine
---
Juki HZL-F600 Computerized Sewing and Quilting Machine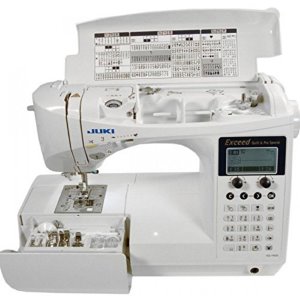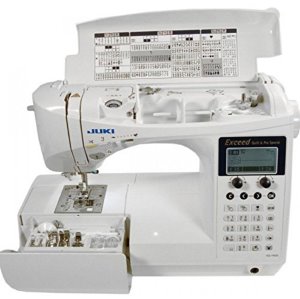 I will never understand why they give their machines such complicated names. The Juki HZL-F600 Computerized Sewing and Quilting Machine is a premium, high-class sewing unit with a ridiculous name and fantastic features. If you are looking for the best of the best, you have just found it.
Technology
The HZL-F600 looks like a space-age sewing machine. It has an incredibly lightweight body, yet the material is thick to keep the unit strong for many years. It comes with a huge space for sewing thanks to the extended table. And it is packed full of impressive technology.
This machine is intuitive, switching from one function to the next seamlessly. You can tinker with the needle placement, use the smart thread cutter, and it all comes operational straight out of the box. There are two LED lights for your extra-sized workspace, a bobbin winder, and a free-motion quilting foot.
Stitching Madness
The HZL-F600 comes with 255 built-in sewing patterns. It also has 4 fonts. This is going to give you ample choice when creating your next project. What's more? The machine sews at an outstanding rate of 900 stitches per minute. Not only do you get creative supremacy with the sewing patterns, but you can execute tough jobs in a hurry.
There are 10 sewing feet that come with the HZL-F600, plus another dozen useful accessories. It also comes with an instructional guide that is almost critical to mastering all the technological components of the machine. And while it may feel overwhelming, once you start using the HZL-F600, you won't be able to stop.
---
Singer Confidence Quilter 7469 Computerized Sewing Machine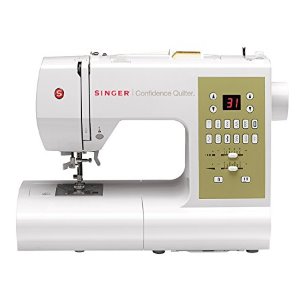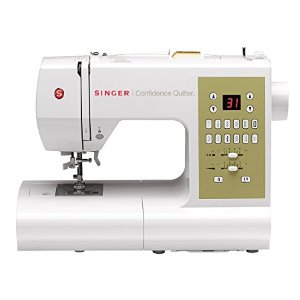 So far as computerized sewing machines go, the Singer Confidence Quilter 7469 Computerized Sewing Machine is the bee's knees. It is also the best budget option on my list. Singer is notorious for making high-quality, affordable, and user-friendly sewing machines, and their Quilter is no different. If you don't want to sell your left arm for a sewing machine, Singer has you covered.
Reasonability
This is a reasonable machine. I do not know any other way to describe it. For a quilter, it comes with everything you need. The machine is comfortable to use, allowing you to drift into the world of sewing for hours without cramping or getting sore. It is also totally computerized, taking care of all the annoying aspects of sewing for you.
The Quilter is small, lightweight, and very portable, which increases its reasonability even more. Take the machine with you to the office, to sewing club, or even out into the living room to watch the news while you sew. It's easy! Did I mention it's reasonably priced?
Computerized
Everything here is connected to smart technology. I'm talking about a programmable needle for pivoting, quilting, and appliqueing. There is the time-saving automated needle threader, the easy "drop and sew" bobbin system, and full adjustability for the length and width of your stitch.
There are 98 built-in stitches, 13 needle positions, a pair of bright LEDs, power control, and a 6-segment feeding system. But you know what else there is? Singer has a YouTube channel where you can find tips, tutorials, and help with your new computerized machine. If that's not a step into the future, I don't know what is.
---
Janome 7330 Magnolia Computerized Sewing Machine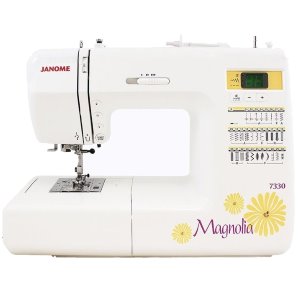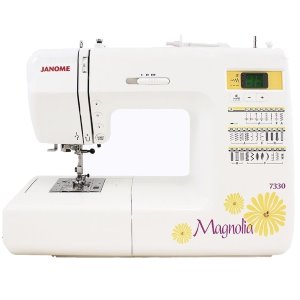 What a sensible option for a new machine. The Janome 7330 Magnolia Computerized Sewing Machine is an all-around quality unit that the whole family can enjoy. It comes with everything you need, it works perfectly, and it is fully computerized to give you a simplistic, carefree day of sewing.
The Basics
If you're not working in a sweatshop, and you like to sew for pleasure, the Magnolia is a perfect machine. It really is a basic model with advanced features. In fact, it is the most advanced Magnolia of its kind. And it comes at a shockingly low price.
Ever thought about starting a hobby business? You can do it with the Janome 7330 Magnolia. You can make blankets, potholders, bags, purses, zipper pouches, the whole shebang. Plus, this machine is known for its longevity. You won't need to buy another machine for as long as you are sewing!
Excellent Features
If you need a reminder of how much you enjoy sewing, sit down with the Janome 7330 Magnolia for a few hours. It is extremely quiet, it works through multiple layers of fabric with ease, it sews buttons automatically, has a ton of customizable settings, a very bright working light, adjustments to the length and width. It has everything!
The 7330 has speed control, a convenient start/stop button, works with or without a foot pedal, comes included with 30 integrated stitching patterns, and so much more. The best thing is that it comes with all these features in a neat, lightweight, and non-confusing package.
---
Best Computerized Sewing Machine: A Complete Buying Guide
Now that I have introduced you to the three best midgrade machines on the market for computerized sewing machines, it is your job to decide which is the best fit for you. To do this, we should take a quick look at what makes a computerized sewing machine the best.
Impressive Technology
Computerized means technologically advanced, which here means automatic features, smart tech, intuitive stitching, and built-in stitching patterns. When choosing the best computerized sewing machine, you really want to make sure it has all the standards in sewing tech.
Your machine should come with a built-in needle threader, adjustable speeds for maximum control, a clearly visible LED display that shows your current settings, a clear list of stitching patterns, easy-to-use buttons for customizing stitch length, stitch width, and needle position.
Other automatic features to look out for are automatic reverse, electronic twin needle control, automatic tension, an automated bobbin winding clutch, electronic control over the pressure of your footswitch, a feeding system, and a precision needle stop. Also, keep your eyes open for the stitches per minute. Computerized machines generally should produce at least 900 stitches per minute.
Powerful Strength
This is key. If you are only tinkering with small projects, thin fabrics, and DIY tasks, any old machine will do. But if you want to do some serious sewing or quilting, working through multiple layers and doing complicated patchwork, you definitely need a computerized sewing machine with power and capabilities.
You need a motor output that is strong enough to punch the sewing needle repeatedly through thick bunches of fabrics and thick seams. If your motor is weak, you will have a tough time. Your fabrics could be jammed. This is a nightmare. Be sure to check the reviews and see what certified buyers have said.
Fun & Creativity
Sewing is all about having fun. One of the great things with a computerized sewing machine is that it works to streamline the whole process, front to back. Everything is automatic, and it leaves you with more time to be creative.
The difference in included stitching is a huge price point for a lot of these machines. For example, the Juki HZL-F600 comes with 255 built-in stitching options and costs a lot of money. But oh man, you sure have a lot of creativity to play with. The budget Janome 7330 Magnolia only has 30 built-in stitches. See the difference?
At the end of the day, this small feature may or may not affect your needs. It is up to you. How professional do you want to be? Even if you are only a beginner but are hoping to learn and evolve into a pro seamstress or tailor, it may be worth investing in a computerized machine with more features, more built-in stitches, and a longer life.
Best Computerized Sewing Machine: Final Thoughts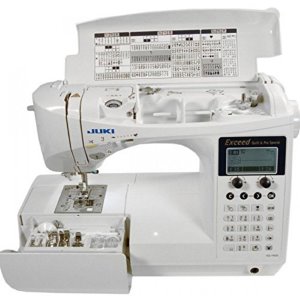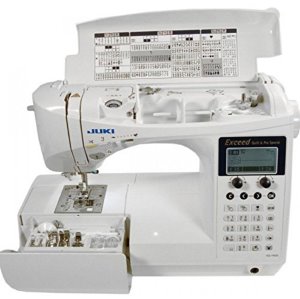 Beginner, amateur, professional – whoever you are, wherever you may be, if you want the best computerized sewing machine in the industry, you want the Juki HZL-F600. I'm talking about box feed technology, direct stitch pattern selection, excellent sewing with light or thick material, a massive sewing table, a knee lifting lever, dual-LED work lights, and so much more.
The Juki HZL-F600 is simply the best of the three machines. It is built to survive, to keep you sewing, and to keep sewing fresh and fun. Out of the three models, this is the most high-tech. It is the most advanced, with the most features and with the strongest capabilities.
The other machines are great. The Singer Confidence Quilter 7469 is an excellent budget machine with a lot of power and features, great for beginners because it is so easy to use. But it's not the best.
The Janome 7330 Magnolia is definitely the best overall for its price, which is significantly less than the Juki HZL-F600. However, if you are serious about sewing, why not spend a bit extra and get a machine that will work properly for the rest of your life?
Related Articles: