Coverstitching is essentially the art of creating a professional-looking hem that you see on most hems. While this process can of course be done manually, it would take a very long time to finish a big batch of garments. And, after the second or third one, you would probably be ready to quit. Thankfully, times have changed. And thanks to brands such as Juki, Singer, and Janome, we now fantastic machines designed just for that purpose to ease some of that burden.
In this article, I'm going to review 3 different coverstitch machines made by 3 of the biggest brands in the sewing industry. These are some of the most popular selling models around at the moment, so I'll go through what some of the best features and functions and let you know if there's anything to be aware of. Hopefully, this will give you a real feel of what each of them is all about.
Further down the page, I'll go through some of the things you should consider when buying a coverstitch machine. Being armed with all this information pre-shop is a sure-fire way to help make your final decision a little easier.
So, without further delay, I introduce to you:
Top Rated Coverstitch Machine
---
Juki MCS-1500 Review – Best Overall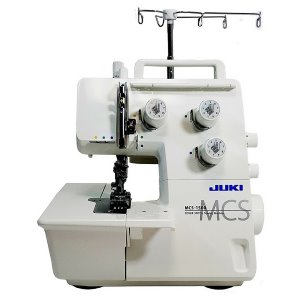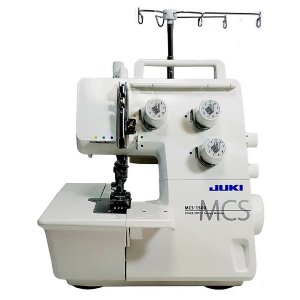 There's no question about it that the Juki MCS-1500 is definitely one of the higher-end models on the market. And while that may come with a higher than average price tag, it also comes with enhanced performance. It's equipped with a super strong and durable motor that allows the machine to sew at a maximum speed of 1,350 stitches per minute, which should be fast enough to please even the most advanced of machinists. And, because of its solid frame, there's no vibration when in use, meaning you achieve the most precise and accurate stitching every time.
Featureful
There are many great attributes to be found on this machine including a whole range of features designed to make your life that little bit easier. There's an automatic roll hemmer in which to provide the cleanest edge in both clothing and upholstery. It also has an easy to thread looper to ensure you get up and sewing fast. While the exterior thread cutter provides a very clean and smooth cut.
Versatility
With the ability to create both chain and thread cover stitches, the Juki MCS-1500 is a great machine to help give your garments that professional finish. You can sew with either three or four needles and is the perfect tool to use for hems, sleeve cuffs, necklines, pant seams, and any other vulnerable areas. The presser foot pressure is easy to adjust to suit the kind of fabric being used. And, it's all so user-friendly.
---
Singer 14T968DC Review – Best Budget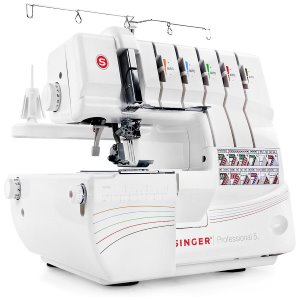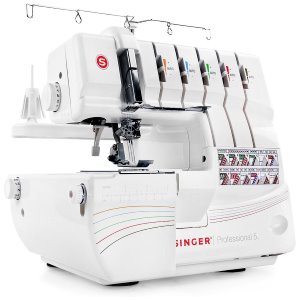 While a good 80% of the time in life, you get what you pay for, there are some gems out there that are actually great value for money, and the Singer 14T968DC is one of them. Capable of stitching at a maximum speed of 1,300 stitches per minute, this serger and coverstitch machine would suit just about anyone, beginner or pro. The stitch quality is second-to-none, and it has various helpful features to offer.
It has a self-adjusting tension system that will ensure your stitches remain as tense or as loose as you'd like. The differential feed system is also adjustable to give you more control over the amount of fabric that's fed through at once. Without this feature, you could end up with bunched up stitching. The stitch width and length are both easily adjustable too by the slight turn of a dial.
Plenty of Choices
When it comes to coverstitching with the Singer 14T968DC, there are various options in which to help make your hems achieve that professional look. It has a 5-4-3-2 stitch capability and you can choose between sewing with a triple, narrow, or wide stitch. There are also 7 different presser feet to use, each one fit for a different purpose.
One of the best qualities this machine has to offer is the 4 built-in rolled hems, giving you more hem options, particularly when it comes to lightweight fabrics. To use the rolled hem sewing mode, the machine features an easy access lever which moves the stitch finger into place, ready for rolled hemming.
---
Janome CoverPro 900CPX Review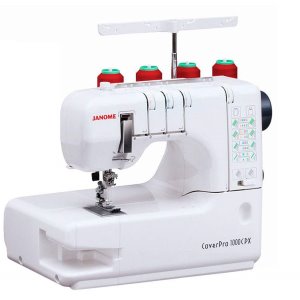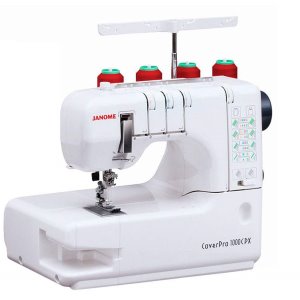 The Janome CoverPro 900 CPX offers a fantastic coverstitch machine that enables you to produce industrial-strength stitching from the comfort of your own home. As well as being capable of stitching at speeds up to 1,000 stitches per minute, it's super accurate and is the perfect machine to use on a wide range of projects.
Versatile
There's quite a lot you can do with this machine in tow. It has a workspace area that's 4" x 5.5" and a long sewing area, so you're not limited to working on small projects. In addition to that, the presser foot lifter is conveniently located directly behind the needle housing for easy altering. And thanks to the easy-to-adjust differential feed, working with fabrics of varying thicknesses is no problem at all.
Stitch Options
When it comes to stitching options, you get a dual needle and a choice of working with either 1, 2, or 3 threads. While the stitch width is a set 5mm, the stitch length can be adjusted to between 1mm and 4mm to suit. One of the machine's most prominent features is its exclusive Seam Tightening System (STS). With this automatic function in place, there's no slack in the looper threads while the machine is in use, meaning stitches are consistently tighter, flatter, and stronger.
---
Best Coverstitch Machine: A Complete Buying Guide
Whether you've been in the sewing game a lifetime already or you're just starting out, there are a number of things to consider when buying a coverstitch machine:
Type: When it comes to domestic coverstitch machines, there are 4 different types available: the 2-needle machine, the 3-needle machine, the combined coverstitch/serger machine, and the top-cover machine. The 2-needle coverstitch machine is the most basic of them all and has just 2 needles and 1 looper. It's capable of sewing a 3-thread coverstitch as well as a single row chain stitch seam. The 3-needle coverstitch machine is a very versatile little number. It can sew both a 2-needle wide and narrow coverstitch, a 3-needle coverstitch seam, and a single needle chain stitch.
Related Articles:
A coverstitch/serger combo machine is great because it can produce coverstitch, overlock and chain stitch seams, saving you money and space from having to buy separate machines. While a top-coverstitch machine has the ability to sew beautiful coverstitch seams of both sides of a garment.
Speed: For those of you who are sewing as a hobby, this may not be too important. But for anyone sewing for a living, time is of the essence, and therefore sewing speed is definitely something to look out for.
Threading: As a general rule of thumb, most coverstitch machines are a darn sight easier to thread than many modern sewing or serger machines. However, not all of them follow the same path. So, if you are a beginner, try and opt for a model with a quick looper system as these make threading a whole lot easier.
Tension: For those with very little experience, a manual tension system is just another thing to worry about. If you want to an easy to use machine, opt for a machine that features a self-adjusting thread tension system.
Adjustable presser foot pressure: Being able to adjust the presser foot pressure makes sewing with heavier fabrics a darn sight easier. If the material isn't fed through the machine correctly, it won't produce accurate stitching. Therefore, machines that allow you to adjust the pressure are a great help when using a mixture of both heavyweight and lightweight fabrics.
Free arm: If you're planning on sewing cuffs, sleeves, or pants, then you need a machine that has a free arm.
Best Coverstitch Machine: Final Thoughts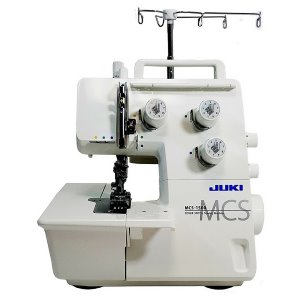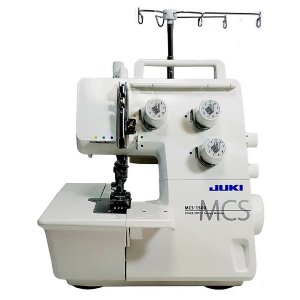 I hope you found the above review useful and are now one step closer to finding a coverstitch machine that's suitable for your needs. If you've no real budget to adhere to, and you simply want to get the best money can buy, then the Juki MCS-1500 is a good machine for you. Not only is it super-fast and accurate, but it's also versatile and easy to thread.
However, if you are looking to save a few dollars, then the Singer 14T968DC may be a better machine for you. It too is super accurate in the stitching it produces but is less expensive than the Juki MCS-1500. Adjustment options are aplenty, and it's also very easy to use. Or finally, if neither of those options is for you, then be sure to check out the Janome CoverPro 900 CPX. It's a heavy-duty machine that's capable of sewing a range of fabrics. There are quite a few stitch options to choose from and you get several extras thrown in to help enhance your sewing experience.
Related Articles: