Once upon a time embroidery was only ever something that was seen in very wealthy homes on things like cushions, drapes, or quilts. Nowadays, thanks to the introduction and advancement of the modern embroidery machine, you see this kind of craftwork everywhere. All over the globe, but in the United States especially, one place in particular you'll see a lot of embroidery is on hats.
The art of embroidering hats was made popular during the 20th Century. And while this used to be something that could only be done by a professional in a commercial setting, toady people are embroidering all kinds of arts and crafts from the comfort of their own home, including hats.
In this review, I'm going to explore in more detail 3 of the top-selling embroidery machines available today that are perfect for this task. I'll also go through some of the things to look out for when buying a machine of this caliber to help you in making your investment.
Top Rated Embroidery Machine For Hats
---
Brother SE1900 – Best Overall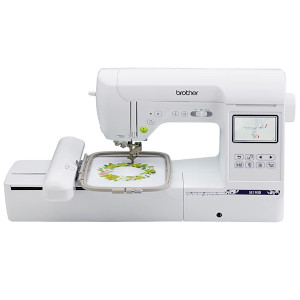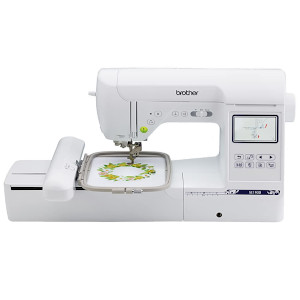 The Brother SE1900 is a fantastic sewing and embroidery machine that has a wide range of functions and features for all to enjoy. There are 240 built-in sewing stitches to use on this machine, including 10 auto-size buttonholes. In addition to that, there are more than 130 built-in designs and 11 different embroidery fonts to play around with, meaning your design choices are endless.
With this machine, you also have the option of importing your own embroidery design files to allow for even more customization. Once you've decided on the design you want to use, you can preview your choice on the 3.2" color LCD touchscreen display, giving you the opportunity to make any last-minute changes.
Plenty of Space
In terms of size, the machine itself measure is at 23.19" x 13.43" x 11.54", while the actual embroidery field on the Brother SE1900 is 5" x 7". This provides you with ample space to complete larger patterns of embroidery without the need to rehoop.
Winner of the Women's Choice Award
It's clear to see why this machine was the winner of the 2020 Women's Choice Award. As well as being highly functional, it's also super easy to use. It features a jam-resistant drop-in top bobbin and automatic needle threader – both of which are designed to get you moving quicker. In addition to those it also has a function that lets you know when your bobbin thread is running low.
---
Brother SE600 – Best Budget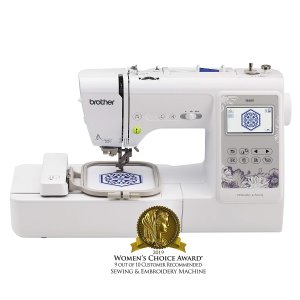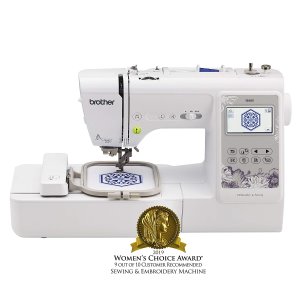 If you're in need of a decent machine that's fit for embroidering hats but don't have a massive budget, be sure to check out the Brother SE600. With 80 built-in designs to work with and a USB port in which to import your own projects, this machine offers a pretty good platform to work from.
It's a computerized machine, so most stitch selections and adjustments are made using the large 3.7" LCD touchscreen display. Here you can change things such as individual thread colors, arc lettering, or simply reposition your design. You also have the chance to preview and edit your design on-screen before starting to embroider.
User-friendly
Another huge benefit to be seen from this machine is that it's so easy to use. The automatic needle threader ensures that with the touch of a lever your needle is threaded, meaning one less job for you to worry about. While the quick-set bobbin and independent bobbin winder also make your embroidery experience hassle-free. Once you've finished stitching, simply press the thread cutter button and watch as your thread is trimmed, and the needle is raised.
Intuitive Help
If ever there's a problem, the machine will intuitively try and help. When the start/stop button turns red you will see a message appear on the screen alerting you to a problem and you can go about fixing it. If nothing's gone wrong, and you just need a little guidance, there's a help key located on the display panel that when pressed gives you access to on-screen instructions to many of the machine's key operations.
---
Brother PE800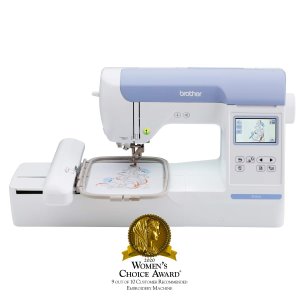 The Brother PE800 is a dedicated embroidery machine that offers a high level of quality throughout. Both the machine frame and all its integral components have been made to a high standard, resulting in a stitch quality that's nothing short of flawless.
It has a 5" x 7" embroidery field that's ideal for stitching larger designs and comes with a pretty extensive range of in-built embroidery designs to get you started. There are 138 in total, including 10 frame designs, 14 border styles, and 11 different fonts.
Advanced Editing Capabilities
One of the Brother PE800's most fanciable features is that it's equipped with additional design editing features. With this machine you can rotate, mirror image, increase or decrease the size of your design right on the LCD touchscreen before any stitching takes place.
Easy to Use
Just because it offers a wide range of functionality, don't think for one moment that it's a difficult machine to use, as it's not. From loading the bobbin to threading the machine, to editing your design, everything is hassle-free and easy to use on the Brother PE600. There's a numbered thread guide printed directly on the machine itself and it even features built-in step-by-step tutorials that appear on screen should you need any help with any of these things and more.
---
Best Embroidery Machine for Hats: A Complete Buying Guide
Unless you want your work to look sloppy and be lacking in quality, investing in a decent embroidery machine for hats is not something that should be done with a pinch of salt. Here are a number of things you should bear in mind before parting with any cash:
Embroidery area: Most standard embroidery machines come equipped with an embroidery hoop that's 4" x 4", which is more than enough space when working with hats. If, however, you plan on embroidering anything a little bigger such as jeans or jackets, you may want to consider investing in a machine that has a 5" x 7" embroidery hoop instead.
Computerized: When it comes to embroidery machines, to get the best you can from it, you should opt for a model that's computerized. Not only are these models super easy to use, but they also have unlimited design capabilities that you won't find in a mechanical machine. Those that are computerized will either have a USB port for you to import your own designs, or it will have internet connectivity that allows you to import pretty much any designs you can get hold of from the web.
Number of needles: Typically, the greater number of needles the embroidery machine has, the more expensive it is. You can complete multi-colored designs using a single needle machine, it just takes a little longer as you'll have to keep switching the thread color over. But if money's no object, it's worth looking for a model with a few more. Some specialized embroidery machines use up to 15 needles, allowing you to literally set up your design and walk away, letting the machine do all the work.
Usability: No one is born a professional. In order to get really skilled at something, you need to practice, and that includes embroidering. Unless you're a highly-skilled machinist, you'll want to look for an embroidery machine that's user finely and isn't going to take you hours to set up. Many modern machines are equipped with on-board tutorials that appear on the LCD screen which is very helpful when you need a little guidance on how to get used to your machine. Others are ingrained with thread guides to make threading the machine a whole lot quicker and easier.
Best Embroidery Machine for Hats: Final Thoughts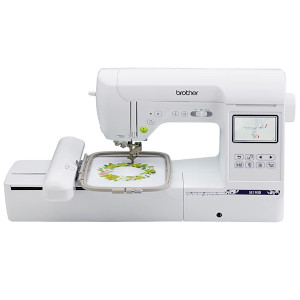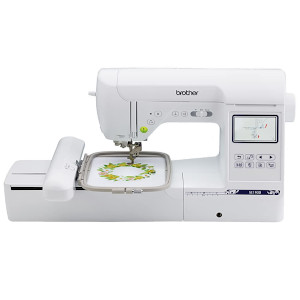 Finding a decent embroidery machine for hats doesn't have to be hard, provided you know what to look for and where to start looking. And hopefully, having read through this article, you're well on your way. Just as a quick recap, the best embroidery machine for hats overall is the Brother SE1900. It has a large collection of built-in design and stitch options to choose from, and it has a larger than standard embroidery hoop to work with. In addition to all of that, it's also user-friendly.
Or, you may find the Brother SE600 a better choice for you. It may only have an embroidery area of 4" x 4", but it's still a fantastic machine in a lot of ways. It's simple to use, comes with an ample selection of built-in stitch options, and, it's affordable. Finally, if neither of those is the machine for you, take a look at the Brother PE800 instead. It has a large 5" x 7" embroidery area, an integrated thread guide to minimize disruption and get you sewing fast, and it looks the bomb. What more could you possibly want?
Related Articles: