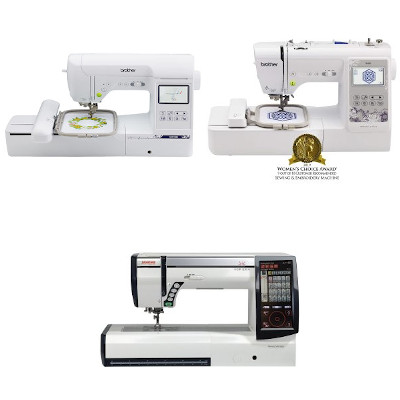 If you are in the business of creating unique crafts at home and selling them, you are probably on the lookout for the best embroidery machine for home business. By getting a top embroidery machine, you will be boosting your income exponentially.
Think of your embroidery machine as the key to your business success. If your business relies on professional embroidering, clever patterns, and unique products, you cannot sacrifice quality. And that means you need a reliable embroidery machine to boost the success of your home retail business.
Today I present three of the best embroidery machines for businesses, specifically for home businesses. These machines are capable of doing all kinds of fantastic embroidery work while also sewing. You are able to stitch together your design and then embroider it using the same machine. Let's take a closer look at what we've got today.
Top Rated Embroidery Machine For Home Business
---
Brother SE1900 Sewing & Embroidery Machine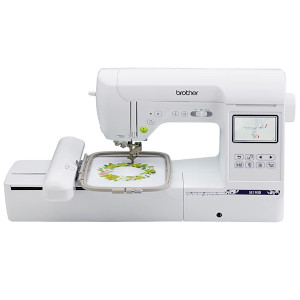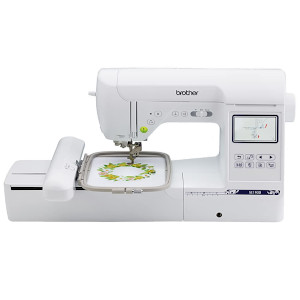 This is the big boss of embroidery machines. The Brother SE1900 Sewing & Embroidery Machine is like the 600, only juiced to be extra strong, extra useful, and 10x better at embroidering. This upgraded model of the Sewing & Embroidery line from Brother includes 138 built-in designs, 240 built-in stitches, an even larger embroidery field, and even more included accessories.
More is More!
Everything in this machine is upgraded to give you more of what you love. If you like designs already integrated into your machine, the SE1900 gives you even more of them. If you enjoy having a massive embroidery field where you can do super-sized designs, the SE1900 gives you an embroidery field that is 5" x 7".
Even though the LCD screen is only 3.2 inches, it has been fitted to give you better control over your designs. You can combine more than one design, you can add text, you can flip and rotate, resize, even change the colors of your designs. There has never been more customizability with a sewing and embroidering machine.
Great for Home Business
Since we are talking about the ideal embroidery machine for home business, it is important to note that the SE1900 is a fabulous machine for anyone just starting their own home business, as you can learn how to master the machine quite quickly. There is not that much of a learning curve. If you already know how to sew with a standard sewing machine, learning how to use the SE1900 is a breeze.
---
Brother SE600 Sewing & Embroidery Machine – Budget Pick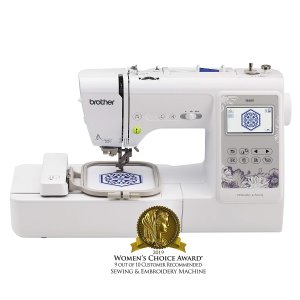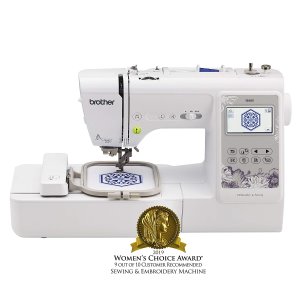 For a great budget embroidery unit, check out the Brother SE600 Sewing & Embroidery Machine. It comes with 80 built-in designs, automatic features, over 100 built-in stitches, a massive touchscreen that is full color, and a huge 4" x 4" embroidery field with an included embroidery arm, hoop, and sewing feet.
So Many Designs
It never hurts to have enough embroidery designs to fulfill customers' needs. With 80 integrated designs, you have your hands full creating amazing embroideries for people to enjoy. You can blend your own creative juices with the preset designs to come up with your own great combinations.
Not only are there almost 100 designs, but there are six embroidery fonts to personalize your creations with unique lettering and your own individual messages. This can be a great way to create your own brand at home using a smart sewing and embroidery machine. Plus, there are 103 built-in stitches.
Vivid Colors
Embroidery can be all about the color. Some of your best designs are going to be filled with many different colors, especially if you are embroidering flowery designs of plants, animals, and nature. With the 3.2" LCD touchscreen, you have a full-color display where you can preview and lightly edit your designs before stitching them onto the fabric.
Once you begin to stitch, you will never run out of room thanks to the huge embroidery field. The machine even comes included with a hoop and an embroidery arm to keep all your designs neat and professional.
---
Janome MC 12000 Horizon Embroidery & Sewing Machine – Best Overall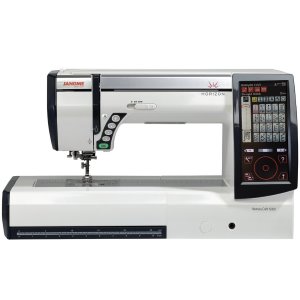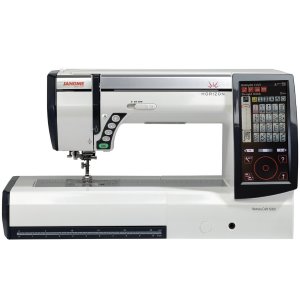 The Janome MC 12000 Horizon Embroidery & Sewing Machine is one of the biggest powerhouse units from Janome. This machine comes equipped with advanced technology, a large working area, a specialized stitch composer, and a revolutionary linear motion embroidery system. It costs a hot fortune, but it is seriously top of the line.
Dream Machine
If you are someone who enjoys quilting and values a machine that can really up the ante, you will enjoy using this embroidery machine from Janome. It has loads of spare room to the right of the needle, approximately 11 inches, for you too easily quilt. It comes with a startling amount of power that allows you to stitch nonstop for hours on end without ever running into a hiccup. And it is seriously heavy duty.
This is arguably one of the most impressive machines on the list. You can use it to sew, to embroider, and it comes with all of the computerized features you would expect in a top-end embroidery machine. All of the settings can easily be manipulated on the front screen of the machine. It is just like a computer.
Advanced Software
One of the most important things when buying a new embroidery machine is making sure it comes with the appropriate software. With the Memory Craft Horizon, you can edit your designs directly on the machine. It can do monograms, you can select the type of stitching you want to use, and it sews everything perfectly.
---
Best Embroidery Machine for Home Business: A Complete Buying Guide
Running a business from home is no easy task. But it can be made easier by having the proper equipment. By having an embroidery machine that works for your home business, allowing you to create the unique products that people love to buy, you will see a dramatic increase in your profits.
So, what should you look for when buying a new embroidery machine?
Designs, Fonts, Patterns
The key to clever embroidery is having many different designs, fonts, and patterns at your disposal. When you purchase an embroidery machine with hundreds of built-in designs for you to choose from and get inspiration out of, you are already halfway to making some serious magic with your quilts, fashion attire, and home decor.
Try looking for a machine that comes with unique fonts, great designs for you to take advantage of, and loads of different stitching options so that you never feel unable to complete your vision.
Design Editing
Being able to edit your designs directly on your embroidery machine is not necessary, but it sure is convenient. Try making sure whatever machine you purchase has some great editing software. Most modern machines come equipped with fully colored touchscreens you can use to resize and recolor your designs, while also adding text, rotating, flipping, and combining.
Embroidery Field
The standard size for an embroidery field is about 4" x 4". Anything smaller is not going to do you any favors, especially when you have massive designs that must be embroidered onto a piece of cloth.
To make sure you never run out of space, I highly recommend going with a machine that has an oversized embroidery field. Anything larger than 4" x 4" is going to give you a great advantage since you can embroider larger and more complex designs.
Automatic Features
Automatic features are great to have on any kind of sewing machine. Keep in mind that your machine is not going to be used only for embroidery. You should also be able to use it for everyday sewing.
The ideal embroidery machine will be a 2-in-1 unit with handy features like an automatic needle threader, a drop-in top bobbin, simplistic buttons on the face of the machine, and an intuitive control panel.
Don't Stress About Price
One of the biggest mistakes people make, especially small business owners working from home, is stressing about the price. While you obviously don't want to spend tons of money on equipment that you won't see a return on when it comes to stitching and embroidering you really do need to have a quality machine.
Since you are using the embroidery machine for your home business, your products must look professional. The seams on your clothing, the stitches on your blankets, the colors on your embroidered designs – all must appear flawless.
If you really want to make money, don't stress about the price of your new sewing and embroidering machine. Remember that you will use it for years and years to come to make money, all while working from home.
Best Embroidery Machine for Home Business: Final Thoughts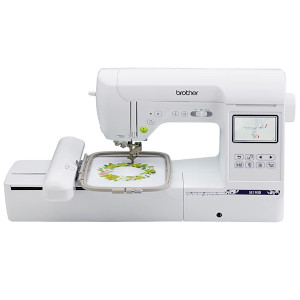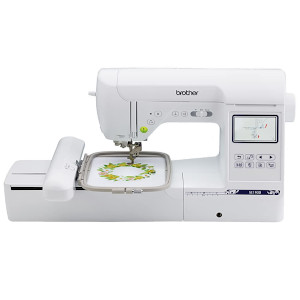 Let me start out by saying I really enjoy both embroidery machines from Brother and the unique sewing and embroidery machine from Janome. All three are far better to use than a standard sewing machine, and any of them will make your designs super professional so that you can sell more products.
However, my favorite machine and the best on the list has to be the Brother SE1900 Sewing & Embroidery Machine. It comes with the most designs, approximately 138 of them, and it comes with the bigger embroidery field so that you can make large designs without feeling boxed in. Plus, the machine is super easy to master.
And if you ever get stuck with how to use your embroidery unit, there is a step-by-step tutorial system viewable on the touchscreen display with helpful tips and instructions to keep you moving on the path to making money with your embroidery business.
Related Articles: