Embroidering is super fun. Even people who are not sewing experts can have a great time with the best embroidery machine. Fun designs, cool fonts, and tons of customizability. If you want to start making some interesting décor for around your home, putting interesting patterns on sneakers, pillows, wall hangs, and everything else – you need a quality embroidery machine.
Today we check out two dedicated embroidery machines from Brother and one from Janome. Any machine you pick is going to be a wise decision. With built-in designs, color touchscreens, massive embroidery fields, and heaps of exciting features, you will never get bored using any of these machines.
As far as affordability goes, they are not as expensive as you might think. Most of them are extremely affordable. And besides, can you really put a price on endless hours of embroidery fun? Of course not!
Top Rated Embroidery Machine
---
Brother PE800 Embroidery Machine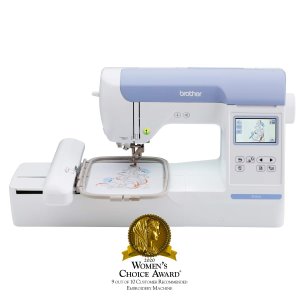 When choosing an embroidery machine, you want something that will do everything easily and effectively. The Brother PE800 Embroidery Machine is one of the best embroidery units I have ever seen. This thing comes with everything, from a multitude of built-in designs to a vivid touchscreen control panel to preview your unique designs before embroidering them.
Built-In Everything
Everything you need is integrated into the machine. I'm talking about 138 included designs for you to have major creative freedom. Patterns for quilts, scrollwork, floral designs – plus 11 included fonts. And not just English fonts either, you get 3 Japanese fonts and 1 Cyrillic font that will give you perfect monogramming and lettering with each new project.
You are even able to import your own personal designs from a USB stick straight into the PE800. This means that any design in the entire universe can easily be uploaded into the embroidery machine and then embroidered on any kind of fabric.
Embroidery Only!
This machine is built only for embroidery. While that may seem narrow-minded or like a waste of space next to your normal sewing machine, it is actually a good thing. Because the machine is dedicated to embroidery, you get more embroidery features, like the 5"x7" embroidery field which allows you to stitch bigger designs than ever before.
You also get a specialized color touchscreen, approximately 3.2 inches of LCD display, which gives you the option to preview the design you're working on before you ever embroider it onto the fabric. You just don't get this kind of feature with a dual machine.
---
Brother SE600 Embroidery Machine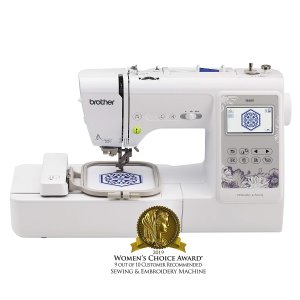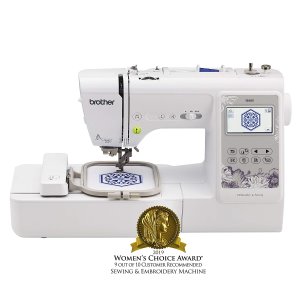 The Brother SE600 Embroidery Machine is the baby version of the PE800. It comes with all of the same amazing features, like built-in designs, built-in fonts, and a large embroidery field, but everything is a little bit less and a little bit smaller.
Instead of 138 built-in designs, the SE600 only offers 80. Rather than a 5"x7" embroidery field, the SE600 only offers a 4"x4" embroidery field. However, if you don't want to splurge on the bigger and more expensive model, this is an excellent budget option.
So Many Stitches
The Brother SE600 has over 100 built-in sewing stitches. That is a lot, and they can all be found by using the machine's intuitive 3.2-inch LCD color touchscreen display. Along with its 80 pre-programmed designs and six special lettering fonts, you get all these sewing stitches and 10 styles of automatic buttonhole sizes. When it comes to included features, you are not going to find a better machine for the same budget price.
Automatic
As a modern and very technologically advanced machine, of course, you get an automatic needle threader that will do all of the annoying work for you. No more straining your eyes trying to thread the needle every time there must be a change.
One of the very cool features that make this machine great for amateurs is the built-in tutorial on the touchscreen. All kinds of helpful instructions and embroidery tips can be viewed on the 3.2-inch display. It doesn't get much more helpful than that.
---
Janome MC 12000 Embroidery & Sewing Machine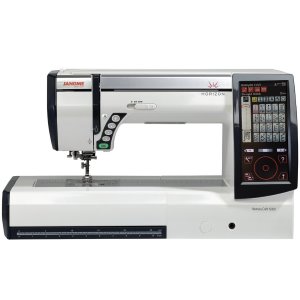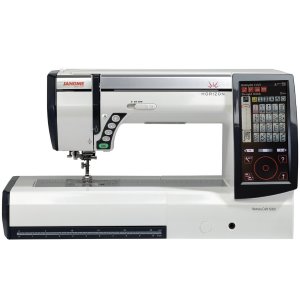 Talk about a high-tech piece of equipment. I know I said at the beginning of the article that most of these machines are fairly affordable, but I lied. The Janome MC 12000 Embroidery & Sewing Machine costs more than my car. However, it is the last sewing machine you will ever need. This is an embroidery and sewing machine all in one.
The Last Machine You'll Need
This really is the last sewing machine you will ever need to use. It works for quilting, embroidering, sewing, and everything in between. Whether you work with home decor or garments, the MC 12000 is going to perform excellently. And it has to at this price! If you want to take your sewing from casual hobby to serious recreational activity, you need this unit.
You get heaps of technology packed into one single sewer. The MC 12000 is smart, intuitive, and embroiders like you wouldn't believe. And when you're sick of embroidering, you can switch immediately to sewing. Why have multiple machines in your house when you can have one master sewer?
So Many Settings
One look at the Janome MC 12000 and you can tell it's complicated. It has so many settings that you will never be unprepared for the next job. It has tons of built-in stitch settings, a stitch composer, and even a linear motion embroidery system that makes embroidering simple and easy. It is also very useful for quilting.
---
Best Embroidery Machine: A Complete Buying Guide
So, you need a new machine for embroidering. I have given you the three best currently available, but you are still undecided. No problem. There are a lot of specifics that go into the perfect machine for embroidery. You have to consider the built-in additions, designs, and fonts. You have to think about versatility, about if you want an embroiderer and a sewer in one unit. I mean, how often will you use the machine?
Let's break this down into a few major aspects to look for when buying an embroidery machine.
The Designs
This is a 50/50 issue. If you are an experienced embroiderer, you probably have your own designs and fonts either memorized or stored somewhere. You may not need 100 or 200 built-in designs. You may not even need fonts. And you probably don't need fonts in Russian.
But those who are newer to embroidering may enjoy having the options. And who knows, maybe you have a Russian neighbor and the built-in Cyrillic font will allow you to make them a nice pair of personal oven mitts or a cute gift for the holidays.
For myself, I enjoy infinite possibilities with all the equipment I buy. More integrated designs mean more ideas and more hours embroidering for my friends and family. While many of us can be creative, it is nice to have some inspiration.
Room to Work
Some machines do not give you enough room to work. This is something you should investigate before purchasing a new embroidery machine. If the field is too small, you may get frustrated trying to embroider bigger designs.
For me, I prefer maximum space. I want an embroidery field that allows me to spread my creative wings. If the space is too small, I will feel restricted and sometimes annoyed. The last thing I want when embroidering is to be annoyed because of limitations.
I highly suggest choosing a machine that best fits your embroidering style. If you don't need a lot of room, or you are content with a small amount of room, then it is not such a big issue for you. It comes down to personal preference.
Two-In-One
How would you feel about upgrading from your old sewing machine to a new embroidery/sewing machine? Sounds nice, right? You get to embroider and sew using the same piece of equipment. This is the ideal situation, but the problem is the price.
Getting a hybrid sewing and embroidery machine is like buying a car that runs on gas and electricity. Yes, it is very cool and it will work great, and it comes with lots of the newest technology – but it may break your bank account.
If you have the financial means, then you may find yourself having more fun with a hybrid unit than with an embroidery-only machine. Not only will you clear up space, but you won't have to switch back and forth between machines.
Best Embroidery Machine: Final Thoughts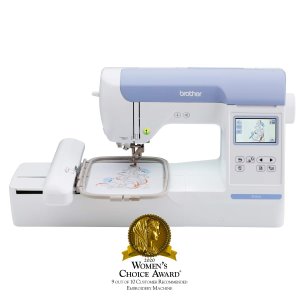 My final thoughts about the best embroidery machine are that all the embroidery machines are great. I mean, even the budget Brother machine has enough features to please the pickiest embroiderer. That said, obviously, the machine that costs as much as a down payment on a new house is the best on the list. But the thought of buying such an expensive piece of equipment is beyond most of our grasps.
And so, I must crown the Brother PE800 Embroidery Machine as the winner. It comes with loads of built-in designs and fonts, including four in other languages than English. You can hook a USB to this machine. It has a huge embroidery field for maximum creativity and a giant-sized touchscreen display where you control the entire process of embroidering.
The Brother SE600 is a great model too, it just doesn't come with everything the PE800 has. It's great for budget buyers but lacks the serious qualities of the bigger machine.
Related Articles: