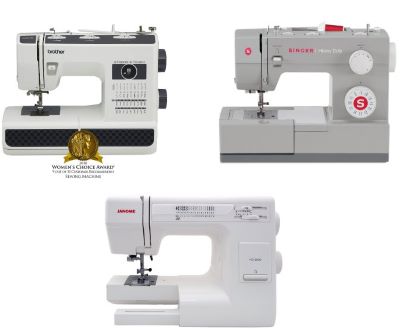 Do you struggle with a wimpy sewing machine that can't handle thick fabrics or that gets stuck easily even while doing simple tasks? Then you need the best heavy-duty sewing machine for your home projects. Only with the best sewing machine are you going to become a master sewer!
By getting yourself one of these awesome sewing machines, you'll be treating yourself to a heavy-duty unit that will output maximum power, thereby allowing you to sew multiple layers, to quilt like a pro, and to never need a replacement sewing machine ever again.
The greatest part about a heavy-duty sewing machine is that you know it is going to last a long time. These machines offer incredible power, loads of technologically advanced features, and they are easy on your wallet. You don't need to spend a fortune to get a quality sewer. Just check out these three awesome machines.
Top Rated Heavy Duty Sewing Machines
---
Brother ST371HD Sewing Machine – Best Overall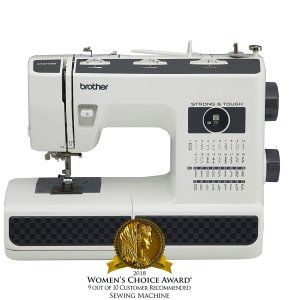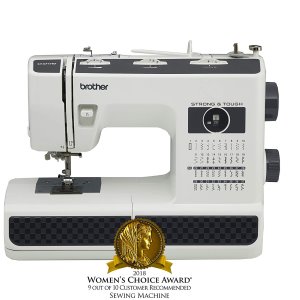 The Brother ST371HD Sewing Machine is one of the best heavy duty sewing machines I've ever seen. It comes included with great accessories, an automatic needle threader, almost 40 built-in stitches, and extremely durable housing. Everything you need to start sewing comes inside the box.
Durability
The big selling point of this machine is its durability. There is no denying how tough Brother has made this sewer. It is not only great for everyday sewing projects, but you can use it for advanced tasks, like heavy-duty quilting and fashion design.
When you use the Brother ST371HD, you know it won't malfunction, act up, or break. It is designed in such a way to continue offering maximum performance for all the years to come. With its 37 built-in stitches and versatile free arm, you have all you need to explore the world of sewing at your fingertips.
Everything Included
This sewing machine comes included with the usual bits and pieces you will find in most sewing machine packages, but it also comes with heavyweight needles so that you can start sewing through thick fabrics the moment you plug the machine into the wall. It also has six unique sewing feet that can be utilized for any number of tasks.
When it comes to reliability, even the drop-in top bobbin is jam-resistant. You never have to worry about your thread getting choked up inside the machine's components. It just isn't going to happen. Everything about this machine is topnotch!
---
Singer 4423 Sewing Machine – Best Budget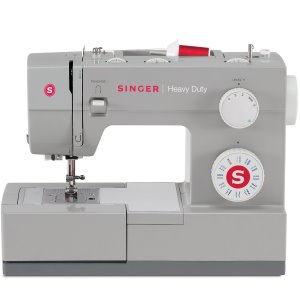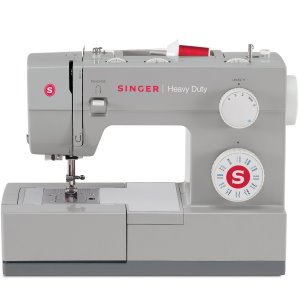 Let's take a look at the Singer 4423 Sewing Machine. It is designed to be one of the toughest machines you will ever find. It is an absolute workhorse, coming included with a metal interior frame and a stainless-steel bedframe that make it incredibly durable. You could probably throw this machine from an airplane and keep sewing with it, though I don't recommend throwing any machines out of any airplanes.
High-Speed Sewing
My favorite thing about the 4423 is that it sews at an incredibly fast pace. I'm talking about 1,100 stitches per minute. Most $5000 machines don't even offer that kind of speed. You can blow through quilts, blankets, entire shelves of jeans, and everything else in a very short time because of the intense speed.
Not only does the motor offer great speed, but it is 60% stronger to offer unmatched piercing capabilities. What that means is that the 4423 is going to pierce your fabrics like a needle going into hot butter. Even if your needle gets dull, the power of the 4423's motor ensures no hiccups while sewing.
Heavy Duty to the Max
There is something to be said about having a heavy-duty metal frame. Unlike most sewing machines that have weak and brittle parts, sitting on a thin bedframe and equipped with a subpar motor, you get all the components inside the 4423 built tough. This is the definition of heavy-duty.
And even though it is heavy-duty, the 4423 can still handle gentle sewing tasks. It comes included with a variety of sewing feet, and it has a dust cover that is going to keep everything inside safe from damage.
---
Janome HD3000 Heavy-Duty Sewing Machine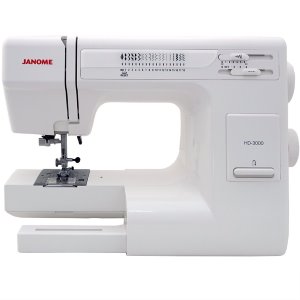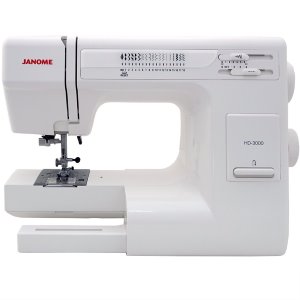 The Janome HD3000 Heavy-Duty Sewing Machine is one of those standard heavy-duty units that do just enough to be appreciated. What I mean is that everything about the HD3000 is OK. The bobbin system is jam-proof, there is an automatic needle threader, it is easy to select your stitch, and the presser foot pressure is adjustable.
Simple Design
The design of the Janome HD3000 is simplistic. There is a place for everything, and everything works just the way it should. It has enough workspace for you to take on large projects while still being lightweight enough to easily move and set up in any room.
As a heavy-duty sewer, it stands up well to the rigors of the work. It doesn't come with a fancy touchscreen or a lot of built-in stitches, but it does have a flip-up stitch panel and a few automatic features that make it great for use by beginners or intermediates. However, I think most professionals will prefer a higher-grade machine.
Accessories
The Janome HD3000 is a budget unit packed with accessories. Most budget models barely come with anything, and yet the HD3000 comes with a barrel full of supplies, like the hard case for dust protection, the massive list of sewing feet, specialty needles, specialty bobbins, and all kinds of other additional accessories.
I highly recommend this sewing machine for anyone just starting out who wants a little bit more than standard. Sure, you can buy a cheaper machine at your local department store, but the Janome offers a bit more in the way of durability, accessories, and usability.
---
Best Heavy Duty Sewing Machine: A Complete Buying Guide
There is a lot to look out for when purchasing a new heavy-duty sewing machine. You want to look out for accessories, for reliability, and for customer reviews. The main goal when buying a heavy-duty sewing machine is to get a unit that will work for a long time without breaking or malfunctioning.
The last thing you want is something that is supposed to be heavy duty falling apart within a few months. That is absolutely crazy. Let's look at the top things to keep in mind when shopping for your new machine.
Always Check the Reviews
This one may seem a little silly, but it is actually very important to check user reviews. Most machines that are any good will have a strong rating. You can tell right away if a machine is not heavy-duty by the first few reviews. You will see people complaining about overheating, about component malfunction, and overall poor quality. Do not buy something with atrocious user reviews!
That said, obviously, not all reviews can be taken to heart. But it is still wise to heed the warnings left behind by other people, as they can tell you what there is to know about a certain machine and its durability. I know I won't trust almost anything under four stars. It is just too risky, especially when you want heavy-duty.
Related Articles:
Designed for Strength
You definitely want to go with a heavier sewing machine. Anything like the Brother ST371HD Sewing Machine that has "Strong & Tough" written directly on its front is a great choice. Some machines are actually designed for strength right from the start. These are generally going to come with stronger frames, better internal components, and a thicker housing.
Some machines will also offer strong needle plates and are better suited for using heavyweight needles. These are units designed for punching through any fabric while remaining reliable for years to come.
When it comes to material, metal is always better than plastic. Metal parts are less likely to break, while plastic parts are more likely to crack or wear down with time.
Stitches Per Minute
Heavy-duty generally translates to maximum power. There is no point buying a heavy-duty sewing machine that is tough on the outside and weak when it comes to performance. You want a sewing machine with a lot of stitches per minute. Upwards of 800 is recommended for ultra-quick sewing capabilities.
Chances are that with a lot of stitches per minute comes a lot of reliability. It is hard to make a machine with an intense speed without making it durable and heavy-duty. I do not recommend purchasing a machine with a low stitch count, as you are likely to see malfunctions in the future.
Best Heavy Duty Sewing Machine: Final Thoughts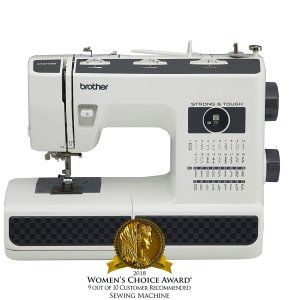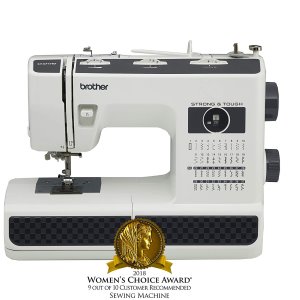 When it comes to the best of the best, I highly recommend the Brother ST 371HD Sewing Machine. It is so much more than just a tough machine. This sewer offers 37 unique stitches built into the machine's internal computer, including an automatic buttonhole. And it has some of the best technical support in the industry.
The Brother machine also comes with an automatic needle threader, tons of included accessories, a versatile free arm so that you can work with a large variety of sewing projects, and it is easy to use for beginners because of its simplicity.
And while the Strong & Tough Sewer from Brother is my favorite, the Singer and Janome are both fantastic units also. I would recommend the Janome HD3000 to anyone who wants a simplified sewing machine without too many bells and whistles. The Singer 4423 is an ideal medium-grade choice, a mix of toughness, features, and affordability.
Related Articles: