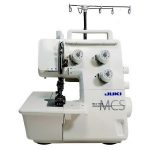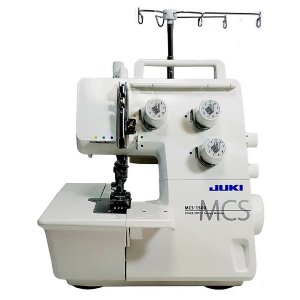 Portable, Versatile, and Powerful
Durable & Robust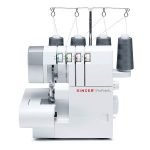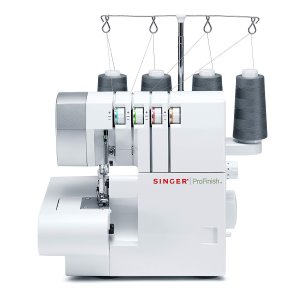 2/3/4 Thread Stitch Options
Cheap Price
---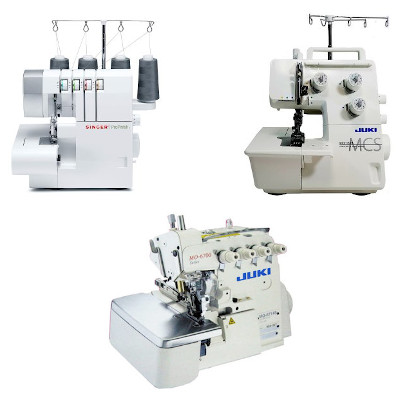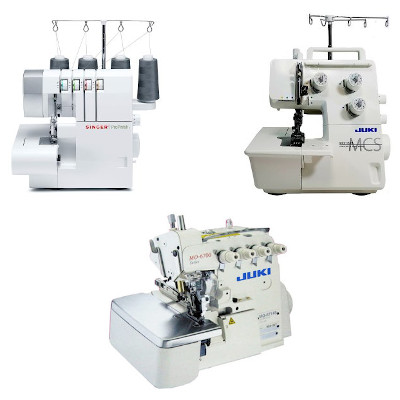 Are you looking to seriously upgrade your sewing with the best industrial serger machine? These pieces of equipment are seriously heavy-duty, offering nearly 10,000 stitches per minute to finish complicated thread serging in extremely short times.
These are not ordinary thread serger machines we are talking about today. The three machines I'm going to show you are all extremely powerful and are designed for industrial tasks. If you want professional results with all of your hems and seams, you definitely need one of these machines.
By purchasing an industrial thread serger, you get unparalleled thread capability so that you have a wide selection of stitching options that will work on any kind of project. These machines are especially useful if you are in the business of finishing a lot of pieces of clothing, of upholstery, and you need them all to look like they just came out of the factory.
Top Rated Industrial Serger
---
Juki MCS-1500 Cover Stitch Machine – Best Overall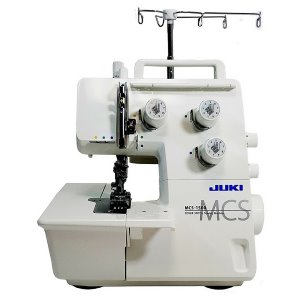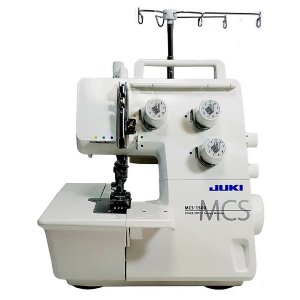 Our first option from Juki is the Juki MCS-1500 Cover Stitch Machine. This is a portable thread serger that does excellent cover stitches and chain stitches and won't cost you nearly as much as the stationary unit that comes included with a table. That being said, this cover stitch machine does work great and it does deliver professional and results.
Read More: Full Juki MCS 1500 review
Cover Stitch + Chain Stitch
The MCS-1500 does an amazing cover stitch. This is perfect for lots of different applications, like when you need to do simple hems, easy necklines, and sleeve cuffs. Because your stitching will stretch, this machine is great for use with stretch fabrics.
For the chain stitch, you can expect impressive results because the lower thread will always form a chain on the opposite side of your fabric. This makes your stitches incredibly strong, which is great when you need to do the waist of a pair of pants or shorts, as well as the seams. Chain stitching is also fantastic when you need to do some decorative stitching for necklines.
Neat + Tidy
I love this machine for its portability. It really is very small and simple to use. It only has three dials on the front, it is super easy to thread, and it looks very neat. This is a tidy little machine. It also offers an adjustable differential feed for the most beautiful finishes, it has simple looper threading, a handy presser foot lifter, and it is overall great quality.
---
Singer 14CG754 ProFinish Thread Serger – Budget Pick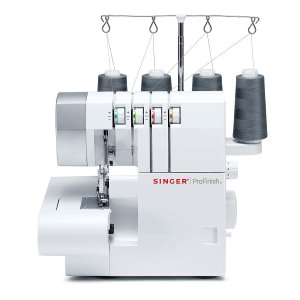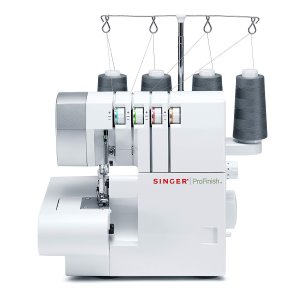 The Singer 14CG754 ProFinish Thread Serger is a super-advanced piece of technology. This serger machine has a capacity of 2, 3, and 4 threads to give you the biggest selection of stitch options possible. You can adjust the length and width of the stitches, you have a great differential feed, and this machine offers color-coded threading to make it even easier to finish off your project. This is probably the best low-price serger available on the market right now.
Built-In Options
The ProFinish comes with an optional free arm attachment that allows you to swiftly sew cuffs and sleeves like you have never done before. You can do automatic fabric trimming, and you can convert directly into the rolled hem sewing mode in an instant.
With the 4 built-in rolled hems, life has never been easier. Plus, this machine outputs 1,300 stitches per minute so that you can do everything twice as fast as you were doing with your standard sewing machine. The difference is noticeable immediately!
Read More: Full Singer ProFinish 14CG754 review
The Right Stitch
There are so many options when you use the ProFinish. You can do two-thread wrapped edge overlock, three-thread wrapped edge overlock, two-thread standard rolled hem, three-thread flatlock, three-thread overlock stitch, and even four-thread stretch mock safety stitch. And that is just the beginning. There are endless options to get professional results when you use this machine.
Also, this sewing machine is super portable. It even comes with a carrying handle so that you can transport it effortlessly, taking it from your sewing room at home to your sewing meetings so that you always have your handy thread serger with you.
---
Juki MO-6714S Industrial Overlock Sewing Machine
The Juki MO-6714S Industrial Overlock Sewing Machine is a seriously hardcore unit. This awesome thread serger comes with an extreme output of 7,000 stitches per minute. It offers a stitch length of between 0.8 and 4 millimeters, and it comes included with the table and the overlock sewing machine. This is a complete unit that can be installed and then used for the rest of your life for all your overlock needs.
Strong & Tough
It should be noted that the Juki Overlock Sewing Machine only works for the overlock stitching of fabrics that are either light or medium. However, it handles these fabrics like an absolute champion. The machine is designed to perform at some of the highest speeds I have ever seen in an overlock machine or in a sewing machine. 7,000 stitches per minute is fast enough to complete tons of industrial stitching finishes in record time.
You will also find that the machine is extremely durable. Juki makes their machines incredibly strong. Just trying to lift this thing is evidence of its well-designed and robust parts. This is not something that will break or need to be replaced years down the line. This is a machine you will keep with you forever.
Complete Set
If you are really looking for an industrial setup, you will get it with this machine. It comes included with the machine head, the stand, the table, the motor, the drawer, the sewing light, and all of the other components needed for complete overlock setup.
---
Best Industrial Serger: A Complete Buying Guide
What do you look for in the best industrial serger? Obviously you need a great cover stitch, you need lots of options for how to finish hems, sleeve cuffs, necklines, and all kinds of other seams. You need a lot of strength, you need a machine that can work at super-high speeds, and you need durability.
There are portable thread sergers that offer industrial strength, then there are serious thread sergers that come heavier than a fireplace and just as large. It all comes down to what your projects are and what you expect to get out of a new thread serger.
Does Your Business Need a Serger Sewing Machine?
Could your business benefit from a serger sewing machine? You should definitely consider a serger if you want to sell garments or sewn items professionally. Sergers produce a far more professional finish and tend to offer more success on fussy fabrics. They are also paramount if you plan on frequently sewing stretchy fabrics or knits.
Additionally, if you operate a business that sews frequently, a serger will allow you to make and finish seams in record time. That creates a greater turnover rate and could lend itself to more involved projects. While not every business will need a serger to create, your business could benefit greatly if you check any of the above boxes.
The 3 Best Industrial Sergers
Features To Consider When Choosing an Industrial Serger
As is the case with any item, not all industrial sergers are created equal. Some have great features and innovative functions, while others are only adept at performing more basic tasks. Finding your perfect industrial serger will often depend on the kind of projects you intend to create and factors such as overall skill level. However, there are a few notable features to consider when you are looking to buy an industrial serger. Key features to consider include:
Differential Feed
If you want to create simple strong seams, you're going to need a serger with a differential feed of either 2-4 or 3-4. For more versatility, a feed of 2-3-4 could prove more vital. Differential feed works to adjust the mechanism that is used for feeding the material just under the needle. With a differential feed, you can easily adjust how your fabric is fed. This eliminates stretching, puckers, and seam ripples. The right differential feed can vastly improve the quality of your garments.
Thread Number
You definitely want a serger that comes with the capability of using at least four threads. Otherwise, it is not going to satisfy your industrial needs. By having a 4-thread capability, you get a wider selection of stitching options for all of your different sewing projects. And you also get more professional results. Only having the capability to use two or three threads is simply not enough.
If you're planning on sewing professional or have a commercial business, you'll want to go with an eight-thread serger. If you're only sewing at home as a hobbyist, a four-thread machine will do just fine. The best industrial sergers will come equipped with color-coded threading to avoid damages to the machine from poor threading.
Power & Speed
If you want to go full industrial, you need massive amounts of power. Standard machines are only going to offer between 1,000 stitches per minute and maybe 3,000 stitches per minute. The strongest and most dependable industrial serger is going to need to be extremely speedy, upwards of 5,000 stitches per minute.
Because of this, you can expect a massive motor and almost no other features on a truly intense machine. When it comes to industrial-grade equipment, you will notice power comes before appearance. The stronger and quicker machines will be less pretty with fewer buttons and fewer dials.
Related Articles:
Auto Threading
Let's face it, threading in a hurry can be difficult with a serger machine. While you may not want to spend the extra cash, going with a machine with an automatic thread could save you plenty of headaches down the line. Threading a serger is not as simple as threading through a needle eye. Instead, the thread must go through several channels in a certain order. If you have a manual threader, rather than an automatic, you would need a pair of tweezers just to thread the machine. This could take up to 30 minutes if you're not experienced.
Adjustable Tension
Generally speaking, you're going to want an industrial serger that comes equipped with adjustable tension. The reason? Adjustable tension will allow you to easily adjust the tension according to the type of fabric you are using.
Portability vs Stationary
When buying your new industrial thread serger, you are going to need to choose between portable and stationary. Think about how often you will use your thread serger. Are you doing boxes and boxes of material at a time, putting the finishing touches on dozens of articles of clothing? Or are you only using it for personal garments and for fun?
If you are running something that resembles more of a factory than a relaxed hobbyist's sewing room, you may want to consider getting a stationary machine. Stationary machines will be stronger, more dependable, and more powerful.
However, if you are not in need of too much power, and you only need to use your thread serger some of the time, I suggest going with a portable machine. Portable machines are more lightweight, they come with an easy carry handle, they offer all kinds of different features, and they come with a variety of accessories. Portable thread sergers look better, they take up less space, and they still perform amazingly.
Attachments
Finally, you're going to want to take stock of which attachments and accessories accompany your industrial serger. Most will come with tweezers, needles, and a multi-purpose foot. The best industrial sergers will also come with oil, scissors, a hex wrench, a cleaning brush, and a small screwdriver. Additionally, you may benefit from having a serger with free arm attachment for hemming cuffs.
Does an Industrial Serger Need To Be Oiled?
If you want to maintain a trouble-free relationship with your industrial serger, you will need to oil it regularly. Generally, you'll want to oil at the end of any big project. Just like a sewing machine, your serger will need regular cleaning and oiling. You will learn in due time that kicks up far more dust and fabric lint than your regular old sewing machine. That's because, with every stitch, your serger is also cutting the fabric. This can lead to a buildup of dust and grime.
Additionally, the joints of the machine work much harder. With that said, how often you oil your machine and where will depend on the type of machine you have (refer to your manual for specifics). Typically, you'll need to put a few drops of oil on each moving joint of the serger. Opt for where the two metal pieces meet and turn side by side. Before you oil, make sure you clean out any dust build-up or debris. Never dust after oiling, only prior to applying the oil.
How Hard Is It to Assemble an Industrial Serger?
The overall difficulty of assembling an industrial serger is largely going to depend on your exact model of industrial serger and any design specifications. For the most part, assembling an industrial serger will take some time and effort. It is not difficult or impossible, but it may be time-consuming in order to get all of the parts just right.
Basically, if you have the proper tools on hand and can follow directions, the entire process should only take 1-2 hours. With that said, if you've never assembled a serger before, you may find that the process takes a bit longer. If you're struggling to assemble an industrial serger, refer to the manufacturer's site for helpful video tutorials, or YouTube for tutorials on how to assemble industrial sergers.
Best Industrial Serger: Final Thoughts
You have to admit, all three of these industrial thread serger machines are phenomenal. The Singer is a great budget option that is extremely effective but lacks a little in the full industrial department. The Juki MCS-1500 is a great chainstitch machine if you want a heavy-duty unit that is smaller and more portable. But if you want a true industrial giant, the Juki MO-6714S is the best.
The industrial Juki is an entire machine setup that comes with the table, the machine, and all of the other important parts so that you can have a full industrial workspace. It also has an incredible speed of up to 7,000 stitches per minute. This is the real deal for factory-type work to make sure you have the best seams and hems every time.
The MO-6714 S is very versatile, able to handle stiff fabrics or stretchy fabrics. It is easy to use, easy to assemble, and it is built so strong that it is never going to fail you. I highly recommend it to anyone with a legitimate industrial-grade operation.
Related Articles: