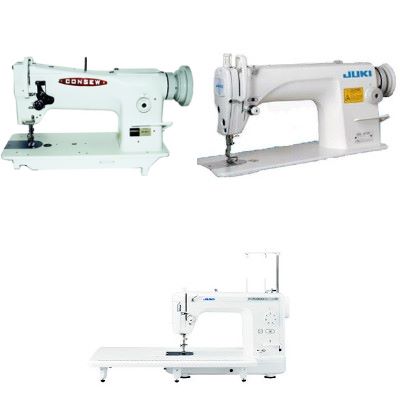 Industrial sewing machines are a serious investment. The best industrial sewing machines can cost anywhere between $800 dollars to $2000 and beyond, but the speed, efficiency, and quality they offer pays off in the end.
These models cater to heavy-duty sewing projects that may be home-based or for a professional setting. In any event, industrial sewing machines will give you much higher speed, powerful motor, and a longer warranty than other models. There are a number of very good machines to choose from, but the key lies in finding the right machine that balances this immense speed and motor power with low vibration and low noise, making it comfortable to use.
So, to help you find something that will cater to your needs best, I have narrowed down the search for the best industrial sewing machine to three excellent options. These are machines that deliver durability, versatility, power, and value all in one package and won't disappoint in the performance department either.
Top Rated Industrial Sewing Machine
---
Consew 206RB-5: Best Overall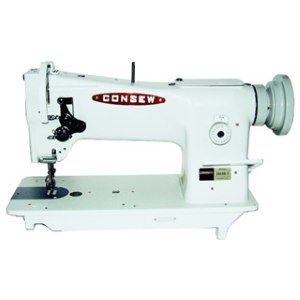 For an intensely reliable and highly recommended industrial sewing machine, look no further than the Consew 206RB-5.
Durability at Its Best
The Consew 206RB-5 has perfection written all over it. Sturdy enough to handle all types of tough fabrics including leather, denim, canvas, tarpaulins, suede, and upholstery, this machine can do it all.
Designed with an industrial setting in mind, this machine works with a sewing speed of more than 3000 SPM which can be overwhelming for people with no experience with industrial machines. However, despite its speed, this machine isn't excessively loud for it comes equipped with a super quiet Servo motor.
Pressing the foot pedal on this thing may make you feel like you're driving a car, only here, you'll be entering the realm of professional sewing. Since it is a straight stitch only machine, it excels at the one thing it is designed to do and does it with absolute perfection.
Table-Mounted Machine
The Consew 206RB-5 comes as a table-mounted model that automatically equips it with a host of features not available on portable versions. A few of these include an individual bobbin winder with a bobbin storage compartment, a built-in lamp, and an on-board ruler along with a thread stand engineered to hold 2 extra-large thread cones simultaneously.
The machine's heavy-duty walking foot and extra-large bobbin make it possible to work for extended hours without the interruption of having to change the bobbin. Plus, the table-mounted bobbin winder and storage tray also make this process easier.
---
Juki DDL8700: Budget Pick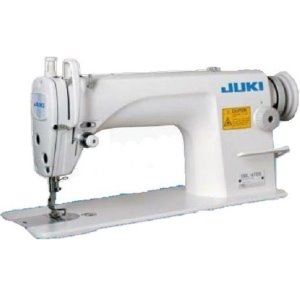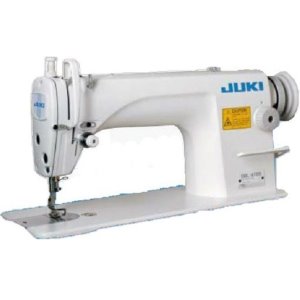 An excellent sewing machine that is more durable than those used at home and more affordable than many industrial models, the Juki DDL8700 won't disappoint when it comes to handling both light and medium weight fabrics.
Excellent Value for the Money
Another straight-stitch machine, the Juki DDL8700 is a much more cost-effective alternative to the Consew 206RB-5. Like the mentioned Consew model, it comes with a Servo motor as opposed to a clutch version making it much quieter when used. It is also a table-mount model and its construction features all-metal gears built to last, delivering single stitches of the highest caliber.
But one area where it surpasses the Consew 206RB-5 is its lightning speed delivering an astounding 5500 SPM. This will, no doubt, be too fast for beginners but for those who are used to working with speed, the DDL8700 exceeds all expectations with its speed and stitch quality. For users who want to ease their way into such an astronomical speed, there is a speed control dial located on the Servo motor just below the table.
Ideal for the Seasoned User
This Juki model is best recommended for mass production, for semi-professional businesses and shops, and for sewing hobbyists. It comes as a complete unit, including the machine head, table, stand, and motor. However, this product requires assembly so make sure to have helping hands available to put it together.
While it isn't a high-maintenance machine per se, given its size, this machine does require its own space and cannot be maneuvered around like a portable machine. That's why you'll need to designate a spot exclusive to your sewing machine.
---
Juki TL-2000Qi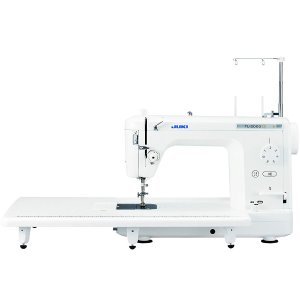 The Juki TL-2000i is a model recommended for people who don't shy away from putting a fair amount of mileage on their sewing machine.
Durable Construction
This is a heavy-duty sewing machine with no plastic parts. Instead, the body is aluminum. Like the other models on this list, the Juki TL-2000i is also a one-stitch machine that delivers professional-looking results and works at a speed of 1500 SPM. This is fast enough to let you work through multiple projects at a steady speed when you need to work quickly.
To add to the speed factor, the Juki TL-2000i features an automatic threader to save time when getting started and an automatic thread cutter to finish the process.
Ideal for Quilting
Juki sewing machines are known for being one of the best options for quilting and this model is no exception. There is a fairly large working area of about 23 inches with this machine which makes it easier to work on large sewing or quilting projects. But if you need more, you can use the flat-bed extension table that comes with the machine to expand your workspace.
Free-motion quilters love its needle control where the machine stops automatically in the down position to make pivoting your work easier for a more accurate design. But if you prefer, you can also use manual control to move the needle up or down yourself. Quilters also love its knee lifter lever that allows them to lower or raise the presser foot without having to use their hands.
---
Best Industrial Sewing Machine: A Complete Buying Guide
Buying an industrial sewing machine isn't for everyone, but people like tailors, clothing manufacturers, dressmakers, and hobbyists will surely appreciate the sturdiness, volume, and longevity it offers.
To make sure that you get your money's worth, here are a few things to consider before investing in an industrial sewing machine.
Size
Industrial sewing machines are bulkier than traditional models and many are not the portable kind. You will find many that are available as table-mounted models which means that your machine will require a designated spot. Make sure that you have sufficient space for the unit as well as enough room to work and move around it.
Speed
These machines also work at a much faster speed than sewing machines designed for home use, so there is a definite learning curve before you get used to your new machine. That said, faster isn't always better and may not suit every type of material. For instance, it makes sense to use a slower speed for thicker materials for greater accuracy and a higher speed for thinner ones. But even then, the slower speeds on industrial machines are still way ahead of what traditional machines offer. So, gauge the type of materials you are most likely to work with and consider a model that meets your specifications.
Related Articles:
Noise Levels
Being the large powerhouses that they are, industrial sewing machines can get pretty loud. Many come with clutch motors that are noisy, so an alternative is to opt for a Servo motor. If your machine comes with a clutch-type motor you could consider replacing it with a Servo one, or simply look at a machine that comes preinstalled with a Servo motor. This type of motor helps with noise reduction and low vibration which are ideal for home use.
Motor
If your trade requires working with thick, hard materials like canvas or leather then a clutch motor may be a better option as these are more powerful and continue to run even when you're not sewing actively. Servo motors, on the other hand, are better suited for working with light to medium weight materials as they can work better with stitch variety and speed and even work with some decorative stitches. Unlike their clutch counterparts, these motors only operate if your foot is on the pedal.
Maintenance
Because of the large volumes they handle, the speed they work with, and the power they deliver, industrial machines require regular oiling. To make this chore easier, some models feature a self-lubrication function which eliminates the need for repeated oiling. The only thing you have to keep an eye on is the oil levels which may need refilling.
Best Industrial Sewing Machine: Final Thoughts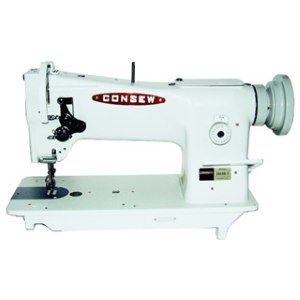 The Consew 206RB-5 comes out as the best industrial sewing machine as it sets the standard for heavy-duty commercial machines. Designed to handle the toughest of materials, it can handle large volumes with minimal effort.
Although the budget pick on this list, the Juki DDL8700 impresses with its build quality and performance. The speed and uniformity of its straight stitch are more than enough for professional dressmakers, seamstresses, and even serious hobbyists. And its build and durability, which lets you use your machine over a long period, pays for itself over time.
For a heavy-duty, high-quality machine designed to last many years, the Juki TL-2000i is an ideal choice. It lets users power through their projects with ease and speed and delivers excellent stitching quality. It is overall a top-of-the-line machine that is capable of handling some serious use.
Related Articles: