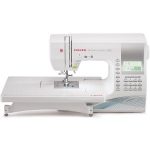 850 Stitches Per Minute
600 Built-in Stitches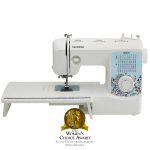 37 Built-in Stitches
Cheap Price
---
So, you are definitely not an amateur. This is not your first time using a sewing machine or shopping for a sewing machine. However, you are not exactly a seasoned professional either. So, you need the best intermediate sewing machine. You need a fantastic machine that has enough features to keep you interested without babying you like a first-time sewer.
To help get you the machine you deserve, I have put together a list of the three best sewing machines for intermediate sewers. These machines come with built-in stitches, they are great for quilting, they are all extremely versatile, and they are all very affordable.
To keep you learning and sewing, producing amazing designs and patterns, you always need a reliable sewing machine. I promise all three products on my list are high quality, easy to use for an intermediate sewer, and still a little challenging so that you stay on your toes.
Top Rated Intermediate Sewing Machine
---
Singer 9960 Quantum Stylist Computerized Sewing Machine – Best Overall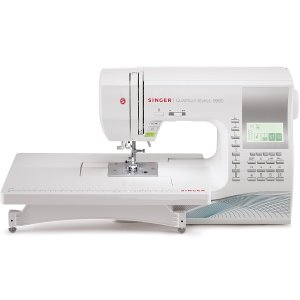 The Singer 9960 Quantum Stylist Computerized Sewing Machine is a great sewing machine for intermediates. What a great unit. It comes with 600 stitches, an electronic autopilot mode, a large extension table, lots of bonus accessories, and it is great for customizing your projects.
Computerized Sewing
With computerized sewing, you get a portable sewing machine that has loads of easy-to-use features. If you are looking to maximize your creative dreams, this is the machine to do it. It comes with 600 stitches integrated into its computer, including lots of basic stitches, stretch stitches, and decorative stitches.
All of these can be used for quilting, for making craft projects, and for fashion sewing. There are even unique fonts so that you can personalize your projects. Plus, as a computerized sewing machine, the 9960 comes with an automatic needle threader to thread the eye of the needle automatically so that you don't have to get frustrated or strain your eyes.
Read More: Full Singer 9960 review
Highly Functional
There are a few key aspects that make this the best intermediate sewing machine. It comes with an impressive rate of stitches at a maximum speed of 850 per minute. You can now sew projects as fast as your skills allow. And it comes with lots of accessories that you may not have had access to before, including a whole pile of usable sewing feet.
Additionally, the machine is easy to use because it has a large digital screen and lots of buttons on the front for you to quickly change your settings to suit a particular project.
---
Brother XR3774 Sewing & Quilting Machine – Budget Pick
Brother always makes great sewing machines. The Brother XR3774 Sewing & Quilting Machine is just another example of their ingenuity, innovation, and commitment to making the most reliable and usable sewing machines ever. This unit is more affordable than the others, it comes with a handful of built-in stitches, a few automatic features, and great included accessories.
Lightweight & Portable
The great thing about the Brother XR3774 is that you can take it with you everywhere. This is an extremely versatile sewing machine that is also lightweight and portable. In fact, the entire machine was designed to be portable. There are no pieces that are going to get banged off during transport, the interior frame is super light, and all of the additional pieces easily fold away.
The extension table can be equipped so that you have more room once stationery. This is another design feature that makes the machine portable. Without the extension table equipped, you can easily use the free arm for hemming cuffs, hemming sleeves, and hemming pants.
There is also an automatic needle threader that will save you time putting the thread through the eye of the needle. This is seriously a revolution in sewing and it costs almost nothing. This is definitely the best budget sewing machine for intermediate sewers.
Read More: Full Brother XR3774 review
Built-In Stitches
This sewing machine comes with 37 unique built-in stitches. It has utility stitches and decorative stitches, both of which can be great for garment construction, for heirloom stitching, and for decorative quilting. There are also one-step buttonholes for when you are making clothes.
---
Juki HZL-F600 Computerized Sewing & Quilting Machine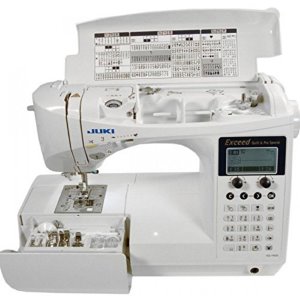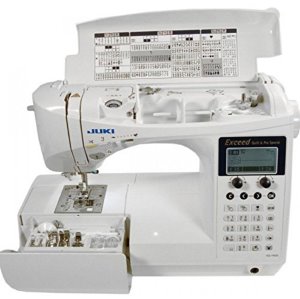 The Juki HZL-F600 Computerized Sewing & Quilting Machine is extremely high quality. If you are looking for a computerized sewing and quilting machine that is built tough, you definitely want the HZL-F600. Juki is infamous for making machines with the best-quality parts, the strongest internal components, and the best computerized features.
When you buy this machine, you get great box feed technology, you can use it for lightweight material and for thick weight material, the sewing space is extremely wide, and it is ideal for using with free-motion sewing.
Best Quality
There is no denying how well Juki designs their machines, and this is one of the best intermediate sewing machines. The HZL-F600 is a phenomenal unit build from all the best materials. Even the computer inside the HZL-F600 is built properly. It may not seem like a high-tech piece of equipment, but it is.
The digital display screen is great for keeping track of all your settings, and it is not prone to malfunctions. All of the buttons work amazingly, and the entire user interface is smartly designed. This is probably the best quality that you can get in a computerized sewing machine for this price. It is simply built better than other machines.
Read More: Full Juki HZL-F600 review
Quality Stitches
While the machine is definitely built well, it also performs extremely well. You will be amazed by how straight and concise your stitches are. You don't get any skipped stitches, even at the highest speeds. You will enjoy having consistent quality in all of your different projects.
It does not matter what kind of fabrics you are using, the HZL-F600 is going to stitch flawlessly through all of them, even thicker layers and heavier fabrics.
---
Best Intermediate Sewing Machine: A Complete Buying Guide
Now that you have seen the three best intermediate sewing machines, it is time to read the buying guide. When you are thinking of a mid-grade machine, you know it needs to be quality. You need standard automatic features, you are going to want a computerized unit that helps with all your projects, and you want it to be easy to use so that you don't waste your time.
A mid-range sewing machine can be a necessity for daily personal use or small business. Be it mending a torn sleeve to stitching a whole new dress, your sewing machine can be your best friend. What's more? You can also re-do your old clothes or design some trendy wear all by yourself.
If you are a professional seamstress running your own clothing store, you already know how essential is a good quality sewing machine. You wouldn't need a large industrial machine in your work studio. With numerous in-built features, a mid-level machine can make your designing much easier.
Also, it needs to be more advanced than a basic sewing machine. You are not an amateur anymore! let's take a look at the important aspects of buying an intermediate sewing machine.
The 3 Best Intermediate Sewing Machines
How to Choose a Mid-Level Sewing Machine?
With a plethora of types and designs of sewing machines, choosing the right one for you can be intimidating. Do you want to start a clothing line or stitch clothes for personal use? While buying a sewing machine, every aspect holds importance. You must make your decision only after weighing all your needs and requirements.
You need not worry about the selection part. I've laid down some important factors to consider while choosing the best intermediate sewing machine.
Type of Sewing
The most important determining factor is what you want to sew? You might want to sew beautiful dresses, jeans, and skirts of multiple fabrics. In such a case, you will need a good quality sewing machine that won't ruin soft fabrics. Worst case—that won't get spoilt while stitching thick fabrics like denim.
With over 150 different stitch patterns, it can be challenging for you to decide the sewing machine that you want. Basic patterns like the top, straight, zigzag, and more come in-built in all the sewing machines. If you want a specific stitch-style, thoroughly go through all the features of your sewing machine before purchasing.
If you want a machine only for repairing and mending purposes, you should not get into the technical features.
Skill & Speed
You're an intermediate-level seamstress and do not want a machine for high-end projects. Even so, you need to decide whether you're buying a sewing machine for improving your skills, personal use, or business purpose.
The speed of a sewing machine shows the number of stitches it can make in a minute. Your skill level and usage requirements can help you decide the maximum number of stitches you need in a sewing machine. Today, sewing machines can offer over 1100 stitches per day. Isn't that amazing?
Budget
Remember, you are not buying a sewing machine for industrial use. An intermediate sewing machine is neither too cheap nor too expensive. However, even the mid-range can have higher and lower prices.
Finalize your budget and then choose the sewing machine with the maximum number of features within that price range. After all, once you make this investment, you wouldn't want to make another one anytime sooner.
Size & Storage
A sewing machine can be as heavy-weighted as 130 lbs or as light as 10 lbs. Since you want the best intermediate sewing machine, it should ideally be around 15-20 lbs in weight. With this weight, your machine will be easy to carry from one room to the other.
You can carry your portable machine to sewing classes to enhance your skills. Additionally, you can shift your machine from one room to the other in a hassle-free manner.
What's more? With the lightweight of your machine, you can place it at a height according to your comfort needs. Sit down on your bed or place the machine on your dining table, it's completely your choice. Moreover, it won't occupy too much space and can be stored in any corner of your room.
Type of Machine
Are you a seamstress who loves to control your machine? Or would you instead do the minimum, letting technology take over? Choose what you are most comfortable with.
From the size of stitches to the programming, a manual machine lets you make the desired changes. It can be a treadle or hand-operated. Whereas, an electronic machine will do most of the work for you. All you need to do is select your style of stitching, and it will automatically adjust the operation.
Want to go a level higher? The computerized or automated machines come with LED screens and a greater number of features. That's not all, there are multiple specialized machines for embroidery, quilting, and overlocking purposes. With the numerous options at your side,  you can pursue your styling career without any worry.
You must note that electronic sewing machines are easy to fix and quieter than manual ones. However, manual or mechanical models are long-lasting.
Smooth and Easy Sewing
You don't want your sewing machine to sound like the large machines in factories. While buying your sewing machine, make sure it works smoothly, without shaking or making excessive noise. Further, test it to see if it sews evenly or skips stitches. All the stitches should be of the same length.
Another significant point to notice is if it has easy threading. You don't want to spend hours just fixing the thread. Many of the best intermediate sewing machines now come with an automatic threading needle, giving you a trouble-free sewing experience.
Quality & Durability
Irrespective of its use, ensuring a sewing machine's durability is quite necessary. Buying a sewing machine that will last only a few months or a year is a waste of money. You need to make sure that the machine you buy meets the quality standards. A good quality machine is likely to last for at least 5-10 years.
The quality of a sewing machine not only affects its life but also ensures smooth operation. Whether you want a machine for small, mending purposes or for stitching complete dresses, you want it to function uniformly.
Brand
Before you make your final purchase, know the brand. Some brands offer top-notch quality, while others tend to sell low-quality products that get spoilt easily. Whether the brand offers quality products, whether it is trustable, you need to be sure about several factors.
Quite a few companies are offering the latest technology sewing machines. Nevertheless, read about reviews by the brand's previous customers. It will help you confirm your decision to buy the sewing machine.
Warranty & Post Sales
Once you buy a good quality sewing machine, you expect it to work for five to ten years at the least. What if your sewing machine falls while you're carrying it around? The fall can cause massive damage to the machine. If you have a warranty, you will be stress-free.
Good, reputed brands offer not only different types of warranties but also post-sale services. If you're not sure about the complete usage of the product, you can get a demonstration from the customer care representatives.
Additional Features
Say goodbye to boring sewing machines. It is time to upgrade and that means additional features. You have wasted enough time threading your own needle, and so I suggest getting a great machine with an automatic needle threader. This will save you stress and hassle.
You also want to get a machine that gives you room to work. You are probably practicing lots of different patterns, and you need space to work on them. This is critical.
Another important feature is speed. Maybe your basic sewing machine that stitched at 300 stitches per minute was OK for learning, but it is time to step up. Some of the best intermediate sewing machines offer upwards of 800 stitches per minute so that you can advance in your techniques.
Having a free arm is also great. This will allow you much more versatility when working on different projects. Having a good-sized free arm goes along with having an extension table. This is one of those features that professional sewers generally need with their sewing machines.
Free-Motion Sewing
As your skills develop and you get more confident with using a sewing machine, you are probably going to want to try free-motion sewing. This is the practice of sewing without using the feed dogs. You have total control over your stitches, maneuvering your fabric only with your hands.
I suggest checking out any machine that makes it easier to do free-motion sewing. This means you need adjustable feed dogs, maybe some good accessories to help you get started, and an oversized workspace so that you have freedom of motion when stitching freehand.
If you have not tried free-motion sewing, I definitely suggest it. It can be a lot of fun when making quilts and when doing embroidery. Which brings me to another point.
Embroidery
You know how to stitch clothing, how to make tablecloths, and how to put together a great seam. Perhaps it is time to try your hand at some beautiful embroidery patterns. For this, you may want to find a machine that offers easy embroidering. Check out what features each machine offers and see if you can find one that has an attachment for making smart embroidery designs.
Related Articles:
Advantages of Having a Quality Sewing Machine for Intermediate Sewers
Do you think how can a quality sewing machine benefit you? Despite your sewing skills, you might pick up your sewing machine only for repairing purposes. Much to your surprise, a good quality sewing machine can offer multiple benefits.
Sew Your Customised Clothes
Do you love being unique? What can be better than sewing your clothes? Even a designer-made piece may have copies but not the one that was sewn by you. With a good quality sewing machine, explore the sewer in you and stitch unique, trendy clothes. What's more? You can also sew a one-of-its-kind dress to gift your friend.
Save Money
Did you like a dress in the store but did not buy it because it was too pricey? Well, pricey or not, why buy a new dress when you can make one yourself! You're an intermediate sewer with a great set of skills. With the best intermediate sewing machine at your side, you can stitch so many house-hold items all by yourself. Save that money to make a profitable investment!
Re-design Old Clothes
Most definitely, there are more than a couple of dresses that have been lying in your closet for years. Maybe you're just bored of wearing them, or your taste has changed. How about if you could re-design them into something you'd like? Make a crop-top out of your old tee or a mini-skirt out of your worn-out jeans!
Start Your Clothing Line
Are you still doubting your potential despite your intermediate sewing skills? Well, not if you have your very own clothing line! The idea may be a little challenging, but it is not impossible. With your sewing skills, all you need is a bang-up sewing machine and some beautiful fabric to create magic!
Easy Repair
Did you get your sleeve torn with a door handle? Or Has your dress has become too loose? Why go to a tailor when you can mend your clothes in minutes! This will not only save your time and money but will also give you a feeling of complete satisfaction.
There are so many more advantages of having a sewing machine if you're an intermediate sewer. However, first, you must make sure that the sewing machine you have is the best one.
What Features Does an Intermediate Sewing Machine Need?
In this digital world of countless e-commerce websites, you don't even need to visit the market to buy a good sewing machine. You can easily buy one from Amazon or other commercial websites. Except, how would you know which sewing machine is the right one for your level?
I have listed 12 of the many features that need to be present in your perfect sewing machine. Irrespective of the features being basic or special, all of them are highly essential.
Basic Features
Speed: In this busy age, you need to save time in everything you do. A powerful motor with a good speed of 900-1,100 stitches per minute is an essential requirement.
Light Weight: Your sewing machine should be light-weighted (10-15 lbs) for ease of use. However, make sure its quality is not compromised.
Built-in Light: Even if your room has enough light, for a better operation, you still need a light bulb in your sewing machine. Working in low light areas will not only affect your eyesight, but you may also commit stitching mistakes.
Special Features
Multiple built-in stitches: Did you know that there are more than 200 different stitching patterns? Well, if you're buying the best intermediate sewing machine, it might as well offer you a decent number of stitching options to choose from.
Automatic needle threader: Some features provide extra options, whereas others are a basic necessity. To save time and prevent eyes from too much strain, your sewing machine needs to have an automatic needle threader.
One-step buttonhole: Are you buying that sewing machine for mending purposes only? Not really. You would not want to stitch the entire top but go to the tailor for getting buttons stitched on it. Besides, a one-step buttonhole will speed up your work instead of no buttonhole or a four-step buttonhole.
Top drop-in bobbin: Sewing machines that need the bobbin to dropped from the top are so much easier to use than others. Taking off the compartment section to load the bobbin from the front will waste your time.
Drop feed & free arm: Although most of the sewing machines come with a free arm feature, they're not sure to have a drop feed. To stitch free-motion designs in your intermediate sewing machine, drop feed is a necessity.
No Foot Pedal: Just how easy will stitching be if your sewing machine has a start/stop button. Moreover, the speed control feature will let you be in full control of your sewing machine.
LCD screen: Seeing all the stitching details like stitch size, number, presser foot right in front of you can make your stitching even more efficient.
Presser Foot Types: Your intermediate-level sewing machine must have multiple types of presser foot. For example, presser foot like the zipper, buttonhole, hem, etc. can provide you easy access to higher-level stitching operations.
Some sewing machines may be a good fit for your fellow sewer, but not for you. Every intermediate sewing machine has varying features. So, which sewing machine is the most suitable for you? In the end, it all comes to your purpose of purchasing the machine in the first place. Thoroughly compare the features of multiple sewing machines and then go for your final buy!
Best Intermediate Sewing Machine: Final Thoughts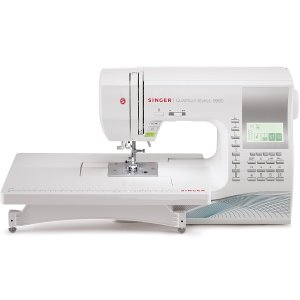 These are three of the best intermediate sewing machines. There is no denying that. The Brother is an ideal budget option if you don't want to spend a lot of money but still want quality. The Juki is a well-designed and very durable sewing machine that will give you years of endless quality. However, I think the best one is the Singer Quantum Stylist.
The Singer 9960 Quantum Stylist comes with 600 built-in stitches, 5 alphanumeric fonts, and 13 1-step buttonholes. It also has an exclusive buttonhole underplayed, the ability to do mirror imaging and stitch elongation, and maximum creative control over your designs.
This sewing machine works at 850 stitches per minute, it has an intuitive user interface, it looks great, and it has a large extension table so that you can tackle larger projects than before. This is the ideal unit for people who switch between different kinds of sewing. For example, you can easily stitch different kinds of fashions and then quickly switch to quilting. I highly recommend this machine to any intermediate sewer, and can confidently say it is the best intermediate sewing machine money can buy.
Related Articles: