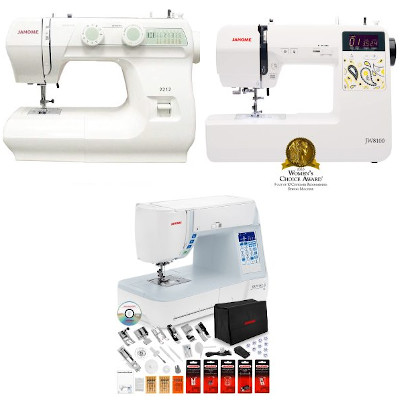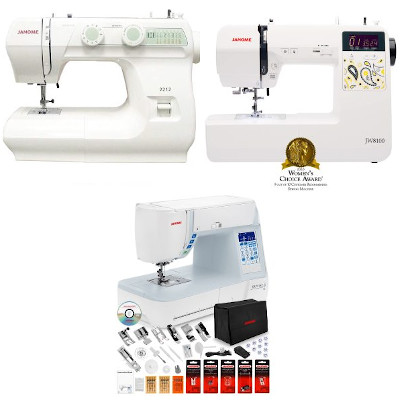 Sewing is a craft that's been for thousands of years. However, long gone are the times when women sat around in small circles sewing every little piece, painfully by hand. There was no automatic needle threader in which to help relieve the eye strain, no automatic tensioner in which to keep your stitches nice and tight, or any preset stitch options to choose from. All you had were the basic tools and your imagination to work with.
Nowadays, there are a plethora of innovative machines available on the market designed for pretty much every sewing purpose you can think of. You've got machines that are equipped for just sewing purposes, while others also offer quilting and/or embroidery capabilities as well. These are usually referred to as combination or "combo" machines.
When it comes to offering high-quality sewing and combo machines that are functional and affordable, Janome has it covered. And in this review, you can see just what some of the company's best models have to offer.
Top Rated Janome Sewing Machine
---
Janome Skyline S3 – Best Overall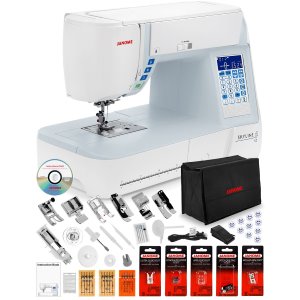 The Janome Skyline S3 is a very versatile and robust sewing machine that's brimming with some pretty amazing features.
Cool, Calm, and Collected
Firstly, it has a sleek and stylish design that ensures it will look good when placed just about anywhere. So, whether you intend to use this machine at home, work, or at a sewing class, you can be confident this model will blend in nicely. And measuring in at 25.8" x 18.1" x 14.9", it's also a great size. It's not too big that it's a pain to store or move, and it's not too small that it's unusable.
Featureful
When it comes to features and functions, the Janome Skyline S3 has it all. You get 120 built-in stitches to work with, including 7 one-step buttonholes and a range of fonts and symbols in which to make personalizing your projects a breeze. And, there's an assortment of needles positions to choose from.
Other fantastic features include an automatic thread cutter for fast and accurate trimming, a lighting system that consists of 4 extra bright LEDs, and an automatic needle threader for making your life easier. It also has a Superior Plus Feed System which ensures your material remains smooth and steady the whole time you're sewing.
Take Your Time
While this machine is capable of delivering a maximum sewing speed of 820 stitches per minute, this is completely adjustable, If need be, the Janome Skyline S3 and can go as slow as just 70 stitches per minute, allowing you to take extra care when it comes to those more delicate pieces.
---
Janome 2212 – Best Budget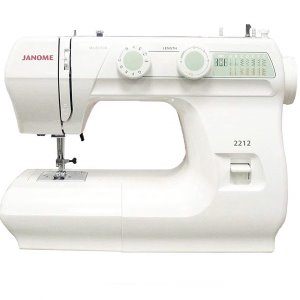 If you're on a bit of a budget and need to save a few dollars but don't want to skimp on the quality, then be sure to check out the Janome 2212. It may not be the most feature-rich sewing machine in the range, but what is on offer is pretty darn good.
Less is More
There is a total of 12 different stitches built-in to this machine, including a 4-step buttonhole. And while that isn't anywhere near the variety you get from a model such as the Skyline S3, it's enough to carry out most everyday sewing tasks. It's a mechanical model, so the stitch type and all corresponding adjustments are made using the manual controls. All of which are clearly labeled and within easy reach.
Easy Peasey
Because it's classed as an entry-level machine, everything is so easy to use. The front-loading bobbin is easy to access and takes seconds to change, while the push/pull winder makes threading an easy task. You can change the position of the needle in an instant, which is ideal for when working on fabrics of different thicknesses. And thanks to the drop feed dog and wide table area you can even try your hand at quilting if you wish.
Versatile
Don't let the fact that it's an entry-level machine fool you into thinking it's unreliable or cheaply made as neither of these things are true. While it may not be able to handle the thickest of materials out there, the Janome 2212 is still capable of sewing multiple layers of fabric at once without too much trouble.
---
Janome JW8100  – Runner Up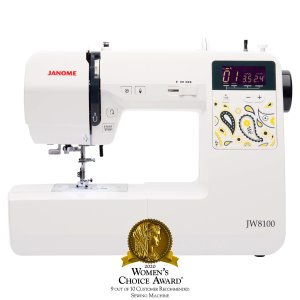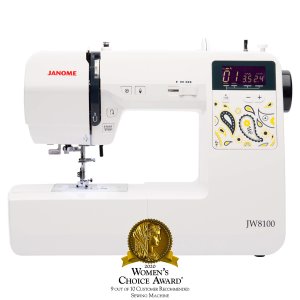 The Janome JW8100 is another one of Janome's bestselling sewing machines. But as well as being easy to use and suitable for beginners, it also features a whole of attributes that the more advanced user will appreciate also. It's what some may call an in-between machine.
Learner or No Learner
Embellishing further on the above statement, the Janome JW8100 is a very easy machine to use. The controls are clear and well-positioned and everything is nice and simple to operate – even the LCD screen. There's an easy to follow threading diagram printed on the machine itself for quick reference when changing thread, while the top-loading bobbin system is also effortless to use. Another convenient feature this machine has to offer the handy start/stop button which enables the user to ditch the foot pedal and simply use this to control the machine.
Plentiful Choices
There are 100 built-in stitches to experiment within this machine which consists of a mix of regular, heirloom, quilting, and home décor stitches. So, the range of projects you can complete with the help of the Janome JW8100 is endless. There are also 7 one-step auto buttonholes to choose from.
Extra, Extra
If you like your accessories, then you won't be disappointed with this purchase. You get a massive bundle of extras included with the Janome JW8100 to help enhance your sewing experience. There are several different presser feet, including a general-purpose foot, a zigzag foot, and an even feed foot. It also comes with a seam ripper, lint brush, buttonhole opener, pincushions, a needle set, and more.
---
Best Janome Sewing Machine: A Complete Buying Guide
A sewing machine is more than just another thoughtless purchase. Even if you only intend on using it for your own mending purposes or to learn to sew, there are a few things to consider before making your purchase.
Usability
While being simple to use, may seem like a given to someone new to the world of sewing and perhaps needing a little helping hand along the way. To an experienced machinist, this isn't really an issue as they can probably operate most models with their eyes closed. So you need to decide at what level your skills lie and how simple a machine you need to look for. The one thing to bear in mind is the simpler it is to operate, the less functionality it's likely to have. There is a trade-off, so just be careful.
As a new learner, you don't want to buy a sewing machine that has all the bells and whistles, but you have no idea how to use it. And as a person with a little more experienced, you don't want to buy a model that's super easy to use but can't do half the things you want it to. It's all about finding that optimal balance.
Versatility and Portability
Another very important factor to consider is what you're going to be using the machine for. Is it purely to mend a few clothes or are you looking to start quilting or embroidering at all? Will you be working on just small items of clothes and crafts or are you looking to work on much larger projects?
You need to find a model that's going to cater to all your needs. So, if you're going to be designing large things like ball gowns or drapes don't opt for a compact machine. Similarly, if you're going to be going to a sewing class regularly don't choose a machine that's really big or super heavy.
Budget
While it shouldn't be the be-all and end-all, the cost of the sewing machine is, of course, something to take into consideration. But again, you need to ask yourself what you'll be using it for and how long you intend to use it. For example, if the only reason you're buying a sewing machine is to be able to mend a few clothes occasionally, there is no need to rush out and buy the greatest, most advanced model there is as this will simply be a waste of money.
If, however, you intend on using the machine almost daily for a wide range of purposes, then you need to ensure you get a good, solid machine that offers a good level of functionality. But of course, the more features and functions a machine has, the more expensive it tends to be. So, if you are on a budget just make sure you prioritize the most important features you need from a machine. Then you can base your search on the top qualities and simply see what extras you can get for the money you've got.
Best Janome Sewing Machine: Final Thoughts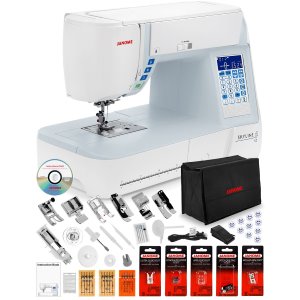 Finding a decent sewing machine isn't hard with the likes of big names like Janome around.
The Janome Skyline S3 is an excellent model that's packed full of features and offers a stitch quality that's professional and accurate. If, however, you're trying to watch the pennies, be sure to check out the Janome 2212. It may be a budget machine, but it still offers a quality finish and a reliability level that's second to none. And last, but not least, if money's not an issue, but you just don't think the Skyline S3's for you, then take a look at the JW8100 instead. It's functional, feature-full, and it looks great too!
Related Articles: