Quilting is a craft that's enjoyed by many people all over the world. But while some people create beautiful and ornate quilts to make money, others do it simply for the love. There are many traits that both sewing and quilting share, and quite often, you can use the same machine to complete both kinds of projects. However, not all sewing machines will be suitable to create quilts, simply for the amount of space that's required, if nothing else.
Looking for a good quilting machine can be hard. Not because there's a lack of them, but because you want to make sure it ticks all the right boxes and that you're not going to be stuck with a machine that you barely use. So, in this review I'm going to share with you some of the most popular long-arm quilting machines available today. As well as giving you a brief rundown of these models, I'll also give you some tips on the kind of things to be wary of when making your purchase.
Top Rated Long Arm Quilting Machine
---
Juki TL-2010Q – Best Overall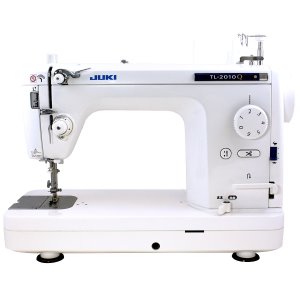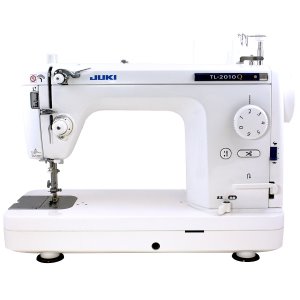 If you're looking for a single-stitch, lockstitch sewing machine that's sturdy, well-made, and can handle a variety of different fabrics, the Juki TL-2010Q is an option worth exploring.
Heavy-Duty
Juki is a brand well known for producing high-quality, durable machines, and this model does not disappoint. Constructed of aluminum die-casting, this machine stays put well in use, even when moving at its maximum sewing speed of 1500 stitches per minute.
When it comes to the accuracy of the stitches, this is another area the Juki TL-2010Q excels in. Thanks to the machine's robust frame, there's no skipping of stitches when in use, meaning you get a professional-looking finish every time.
Quilters Paradise
There are a few reasons as to why this machine is so well suited to those who enjoy quilting. The first is that it has a large throat that lets you see exactly what you're working with at all times. There's less restriction when working on those larger projects. Second, you get two different types of quilting feet with the machine – a ¼ quilting foot and a 1/5 quilting foot.
Versatile
One of the things I like most about this machine is that it's so versatile. So, whether you want to create clothes, decorations, or beautiful quilts, this machine will help you do just that. There are 6 presser feet in total, including 2 specifically for quilting. These will enable you to complete a range of sewing and quilting projects.
---
JUKI TL-2000Qi – Best Budget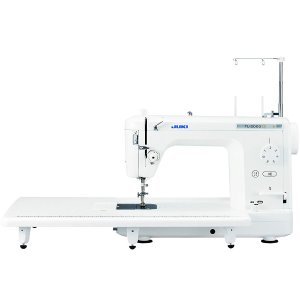 Investing in a good quilting machine doesn't have to cost the Earth. There are a few decent models out there that are both functional and affordable, making them the perfect machine for just about anyone. One such machine is the Juki TL-2000QI.
One for All and All for One
Whether you're looking to start your own business from home or you simply like quilting, the Juki TL-2000QI is a great machine to have at your beck and call. It's easy enough to set up and to use, so it is attractive to those with very little experience in this industry. And, it's packed with enough features and functions to be useful enough for those more advanced machinists out there.
It may be a little limited in that it only offers one type of stitch, but that which it does offer is super high-quality. You can adjust the stitch length to between 1mm and 6mm by the slight turn of the dial located on the front of the machine, giving you more versatility on your stitching.
Spacious and Voracious
The Juki TL-2000QI measures in at 17.8" x 8.6" x 13.8" with the extended flatbed so is the ideal machine to use when creating beautiful quilts. It has a maximum sewing speed of 1,500 stitches per minute, which is great when you want to get things done quickly. And, because it's made entirely of aluminum it's super sturdy while in use. There will be no skipping of stitches when using this machine.
---
Brother PQ1500SL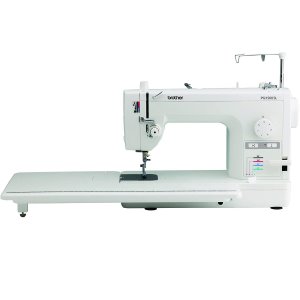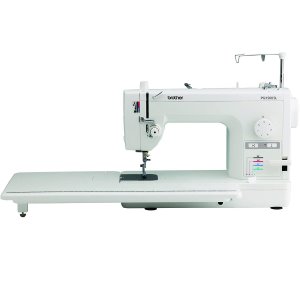 Another popular quilting machine flouncing the market currently is the Brother PQ1500SL. It's big, it's fast, and it looks the part. So, what else does it have to offer?
Super Speedy
If you sew or make quilts for a living then you need a machine that's both fast and durable, and this model is just that. Capable of achieving a maximum sewing speed of 1,500 stitches per minute, there's simply no stopping this machine when it gets going. And, it can handle a wide range of fabrics thanks to things like the presser foot pressure adjustment, the feed dog adjuster, and the enclosed knee lifter.
Advanced Functionality
As well as being a solid workhorse that's capable of completing professional quilting projects in very little time, the Brother PQ1500SL also has a few other attributes to disclose. There's an advanced needle threading system that includes an automatic needle threader and a jam-resistant drop-in top bobbin. Both of which will get you up and running fast. It also has a precision pin feeding system to boast about that makes light work of feeding through thicker fabrics. It's even equipped with an automatic thread cutter to neatly trim your thread.
Easy to Use
Although there is quite a lot of different features and functions on this machine, it's still very user-friendly. The few adjustment dials that it does have all move smoothly and the threading process is pretty straightforward too thanks to the quick bobbin system.
---
Best Long Arm Quilting Machine: A Complete Buying Guide
When it comes to looking for a good quilting machine there are a few things you should bear in mind before making your purchase:
Throat size: This is possibly the most important thing to consider as it will determine the amount of space you have to work with, and ultimately, the design choices available to you. The throat size is the size of the space that lies between the needle and the arm of the machine. A long-arm machine is one that has a throat space of 18" or more. And when it comes to quilting, the longer, the better. Some of the top-spec long-arm quilting machines have a throat space of 30" to allow for maximum space. Although in reality, around 22" should be more than adequate. This will allow you to complete most standard size quilts with very little effort.
Thread path: Threading a long-arm machine is not quite the same as on a standard sewing machine. With these machines, the thread path is much longer. What you want to look for here is how simple the thread path is to follow. If the thread has to travel through too many discs it may cause it to weaken or snap. The simpler the thread path, the less tension gets built up.
Stitching speed: For those new to quilting, stitching speed probably isn't too much of a concern. But if you're quilting for a living, then the faster the better. Most good quilting machines will have a maximum sewing speed of at least 1,500. Anything less and you may want to reconsider your options.
Responsive stitch regulator: This is a feature you need to look for as not all quilting machines have it. However, those that do will give you a nice stitch in any kind of line.
Style: Another thing to bear in mind when making your purchase is the type of long arm quilting machine you want. There are two main types of long arm machines – those that you sit down to work at and those that are designed for standing use. While sit-down models tend to be the cheaper option, and the most practical, they involve a lot more manual labor as you have to move the quilt around the worktop. With a standing machine, the quilt is usually moved along by rollers as you sew. However, you need quite a large space in your room to be able to use one of these.
Related Articles:
Best Long Arm Quilting Machine: Final Thoughts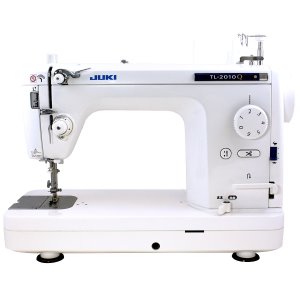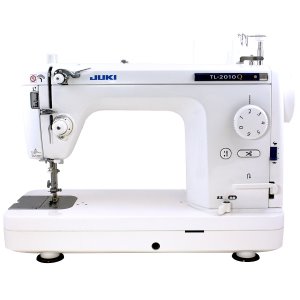 I hope you enjoyed the above article and are now one step closer to getting the machine of your dreams. Whether you're looking to start a new quilting business from or simply do it as a hobby, any of these three machines are suitable and will make your life so much easier.
The Juki TL-2010Q is a heavy-duty machine that's been designed with the quilter in mind. It's strong, it's fast, and it's reliable. In short, it's a true workhorse that won't let you down. Every stitch is made with the utmost precision, and it even comes with a few added extras to help extend your quilting options further. But it is a little on the expensive side. To counter that, I urge you to take a closer look at the other Juki's model, the  TL-2000QI. It's well-made and easy to use, has plenty of adjustment options, and it's affordable.
Or finally, if neither of those options works for you then maybe the Brother PQ1500SL is more your style. It's fast but user-friendly and has a wide range of extra bells and whistles to keep you entertained.