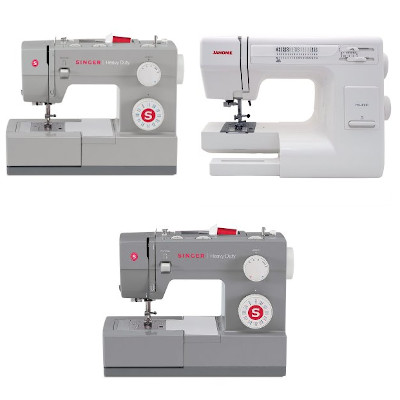 Of the three different types of sewing machines available, mechanical models are the most basic. The best mechanical sewing machines come cheaper than their electrical and computerized counterparts and are best suited for users who do not need the bells and whistles of more advanced models.
That said, it doesn't imply that mechanical sewing machines are lesser machines in any way. If anything, some people may actually prefer these models over computerized versions simply because they find the learning curve of computerized machines too complicated and want to keep things simple. Others may opt for mechanical machines as these are considered better options for beginners before moving onto machines with automated features.
But whatever your reason may be to look for a mechanical sewing machine, the choice available can be overwhelming. That's why I have narrowed down this search to three true-and-tried mechanical models that remain popular among users of all skill levels.
Top Rated Mechanical Sewing Machine
---
Janome HD3000: Best Overall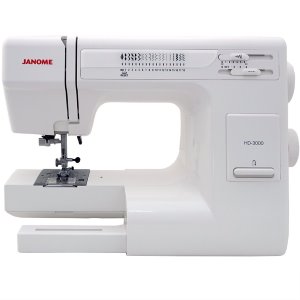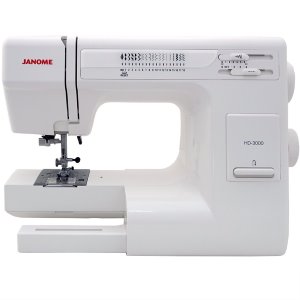 A heavyweight model among mechanical machines, the Janome HD3000 is powerful, durable, and reliable.
Suitable for All Skill Levels
The Janome HD3000 is a favorite among sewing novices and veterans alike. Although it doesn't boast any of the bells and whistles of computerized machines, it continues to deliver steady performance consistently.
Part of this is due to its internal metal components that keep things running smoothly. Although the outside housing of this model is plastic, it is still weighed down by its metal parts and feels sturdy when used. Because the HD3000 incorporates all the essential features of sewing, it is considered suitable for sewists of all levels and skills.
This model features 18 built-in stitches for fair variety which are listed along the front of the machine for reference. The machine works at 860 SPM with an adjustable presser foot that lets users work with any type of fabric and the LED-lit sewing area makes working with this machine concise and clear.
Simple-To-Use
All features on the Janome HD3000 are easy-to-use with an automatic bobbin winding system, built-in needle threader and thread tension adjuster, and a reverse stitch lever. This model also features a free arm that makes sewing tubes of fabric such as sleeves or pant hems so much easier.
It does all this and much more fairly quietly and runs smoothly delivering excellent stitch quality on the flimsiest and heaviest of materials. With this true workhorse, you need not shy away from ambitious projects involving denim, nylon, or even upholstery.
---
Singer 4423: Budget Pick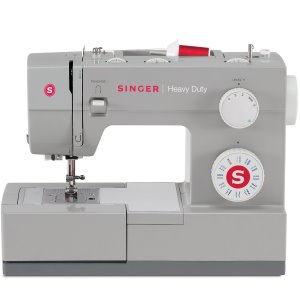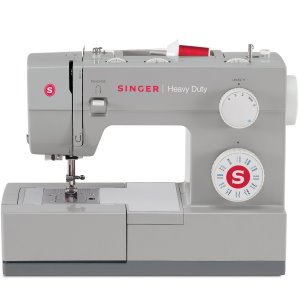 An exceptional sewing machine for high speed and quality stitches, the Singer 4423 is a bargain not to be missed.
High-Speed Machine
Working at 1100 SPM, the Singer 4423 remains one of the fastest sewing machines in its price range. Featuring an assortment of 23 stitches that can be adjusted in length and width with the turn of a dial, the 4423 gives users lots of leeway to be creative.
The thread tension on this unit is also adjustable which lets users get the best stitch quality for their fabric. So, be it delicate fabrics like rayon, silk, or satin or tougher ones like denim, vinyl, or corduroy, you can get creative with all types of fabrics. To control speed, simply press the foot pedal lightly and the machine will run slower. Practice at this speed until you feel ready to take things up a notch.
Plenty of Functional Features
There are lots of functional features packed within the 4423's interior metal frame and powerful motor. As a complete unit, this machine weighs in at just over 14lbs which may not be the lightest of machines but is still maneuverable should you need to change up your sewing station at home.
Incorporating some great sewing features, the 4423 comes with an automatic needle threader and cutter to keep projects moving without unnecessary interruptions. Plus, there are extra sewing feet, a top drop-in bobbin, three needle positions, automatic reverse feature, and snap-on presser feet. An LED light illuminates the sewing area while a free arm makes working with hems and sleeves a breeze.
---
Singer 4432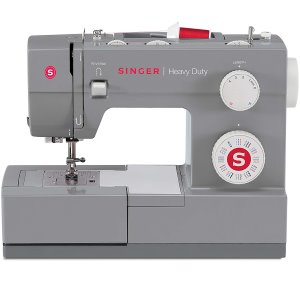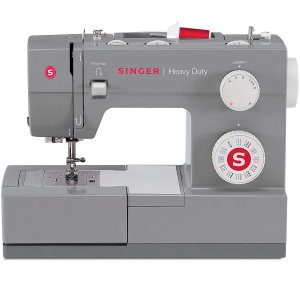 Another sturdy model from Singer, the 4432 is a robust mechanical sewing machine that can successfully handle all types of sewing projects.
Similarities with the 4423
The Singer 4432 shares many similar specs with the 4423 starting with its looks and construction. If placed side by side, the two models are almost identical with a slight variance in color with the 4423 being a lighter shade of grey and the 4432 somewhat darker. On the inside, this machine also features an internal metal frame with a stainless-steel bedplate just like the 4423.
While these heavy components do add to the weight of the machine, they also help lend it durability and stability. Other identical features include drop-in bobbins, reverse stitches, free arms, 3 needle positions, and an automatic buttonhole feature. Both machines work at a top sewing speed of 1100 SPM which can be regulated by the accompanying foot pedal.
Differences
The main difference between the two Singer models is the number of stitches each offers. The 4423 offers 23 built-in stitches whereas the 4432 features 32 stitches instead. So, if you're looking for a wider variety of stitch selection then you can consider the 4432 that offers an additional 9 stitches. Otherwise, the two models are practically the same. Also, the 4432 is priced higher than the 4423 given that it does have more stitches to offer.
In terms of working mechanism, you'll find that both models are excellent mechanical sewing machines that can go from thick fabric to thin without any hassle.
---
Best Mechanical Sewing Machine: A Complete Buying Guide
Mechanical sewing machines are ideal for people who aren't well-versed in technology or simply prefer to avoid it. They are also the best option for people who are just starting out with sewing and don't want to overwhelm themselves with too many choices and features. Even seasoned sewists may wish to keep a mechanical version as a backup to their computerized machine should their regular machine need maintenance or professional service.
So, if you're looking for a reliable and long-lasting mechanical sewing machine, here are a few basics to keep in mind.
Choose Quality Over Features
When you opt for a mechanical sewing machine, you're basically looking for a smooth sewing performance instead of a plethora of frivolous features. This means choosing quality over quantity with established names like Janome, Singer, and Kenmore being good starting points. A brand with history means a lot of experience has gone into their machine and will deliver the right results.
Workspace
You can use your mechanical sewing machine for everything from stitching napkins and children's clothing to full-sized quilts. But you will have to keep the workspace available on the machine in mind. This refers to the distance between the body of the machine and its sewing needle. For smaller projects, even minimal workspace on a compact model will suffice, but if you plan on using your machine for bulkier projects then the workspace should be accordingly adequate.
To increase the available workspace on your machine, you can look at something that comes with an extension table. Typically, extension tables fit snugly against the machine where you may need to remove the accessory tray to attach the table. Having one with your machine will make quilting and other such tasks much easier to handle.
Free Arm
Another technique to facilitate specific kinds of sewing tasks is to have a machine with a free arm. This allows you to slide an opening such as a pants hem or a sleeve around the arm so that the fabric does not get bunched up. It's also a handy way of preventing sewing through layers of fabric accidentally.
Stitches
Although there can be many on your machine, you really only need a few basic stitches to get sewing. Most mechanical sewing machines will include a straight stitch, zig-zag stitch, and a buttonhole stitch as the basic minimums. It's always helpful to check if stitches are adjustable both in length and width for that will make things much easier. For the buttonhole option, some machines may feature a one-step buttonhole which is super convenient while others may have a three to four-step process. If you're one to work with a lot of buttons, then a model with a one-step buttonhole should be the obvious choice for you.
Best Mechanical Sewing Machine: Final Thoughts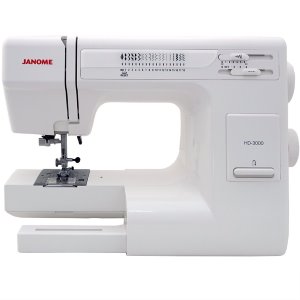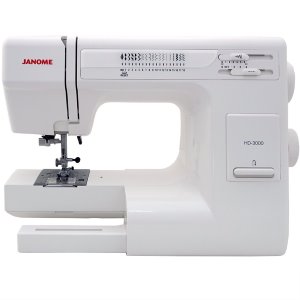 People looking for a mechanical sewing machine with solid construction and versatile performance will find that the Janome HD3000 does not disappoint. It ranks as the best overall mechanical sewing machine and holds on to its heavy-duty title well by delivering consistently smooth performance. With all the right features, it's hard to go wrong with the HD3000 even when working on your most aspiring sewing projects.
At its price point, the Singer 4423 manages to please everyone. Its smart design and super fast sewing speed are welcome by new and seasoned sewists alike.
For people who like the 4423 but want a greater variety of stitches to work with, the Singer 4432 is an understandable upgrade. It comes with everything that the 4423 offers and a little bit more.
Related Articles: