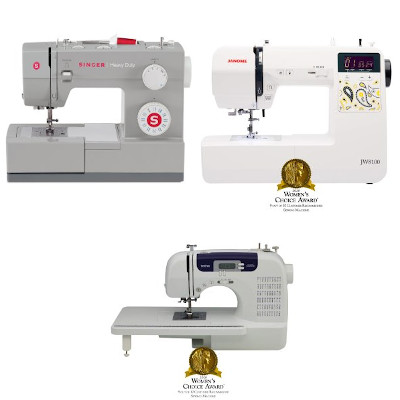 It is time to discover the best portable sewing machine. If you are the kind of person who likes to be able to pick up their stuff and go, you probably need a sewing machine that you can take with you. This means you want a machine that is lightweight but powerful, that comes with lots of features but still has room for you to work, and that comes with a sturdy case.
Portable sewing machines are great for people who travel and still like to sew, people who bring their sewing machines to their friends' houses, and for people who are in sewing workshops and need a portable machine to bring with them.
I have rounded up the three best sewing machines in terms of portability and performance. There is no sense in having a portable machine if it doesn't work. Rest assured all three models on this list work wonderfully. Let's take a deeper look at each one.
Top Rated Portable Sewing Machine
---
Janome JW8100 Computerized Sewing Machine – Best Overall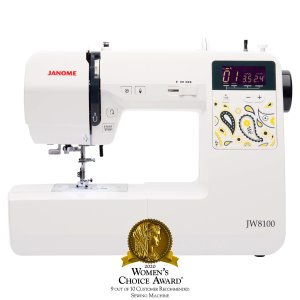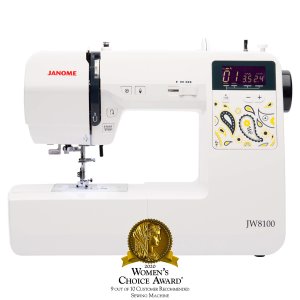 The Janome JW8100 Computerized Sewing Machine is definitely the perfect portable sewing machine. If you need a compact sewing machine to complete your next project, this is the one. It comes with cutting edge technology, extreme power, automatic features, and it is very portable.
Maximum Convenience
The JW8100 is a fantastically convenient machine thanks to its integrated needle threader, its automatic declutch bobbin winder, its clear LCD screen, and its navigational buttons. Choosing stitches is extremely easy with this unit. Everything you do will be done quickly and effectively.
This sewing machine comes with a start/stop button that allows you to sew without using a foot control. It has a reverse button, a locking stitch button, and a button that moves the needle up or down. Plus, all the buttons for the settings are located in one easy spot so that you never get confused.
Beginner Bonus
This is one of the best portable machines to use as a beginner. For any DIY project, you can learn how to do it by using the Janome JW8100. It comes with a super large extension table so that you can get used to managing your workspace. It has a hard cover to keep the dust out. And it even has special sewing feet to complete the bundle.
For anyone who is just starting out sewing and wants a portable machine that they can move from room to room or take with them outside the house, I highly recommend this sewing machine. It is computerized but not complicated enough to boggle someone new to the intricacies of sewing.
---
Brother CS6000i Sewing & Quilting Machine – Budget Pick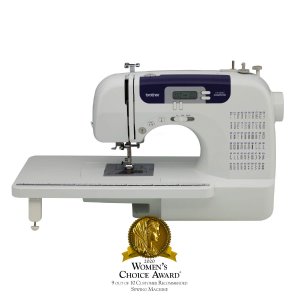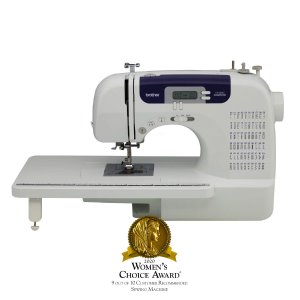 The Brother CS6000i Sewing & Quilting Machine is a crazy-good portable piece of equipment that comes with 60 built-in stitches, 7 different types of buttonholes, loads of included accessories, and a massive table for large quilting projects. This is a powerhouse machine that you can easily transport from point A to point B.
A Gold Standard Machine
This is the new gold standard of portable sewing machines. The CS6000i comes with an extremely lightweight body. I don't care who you are, I guarantee you can pick this machine up with one hand and take it with you. And even though it is extremely portable, it is still powerful.
It comes with all the features you would expect from a modern sewing machine. I am talking about 60 stitches that are built into the machine, including a multitude of auto-size buttonholes and decorative stitches. And of course, it has an automatic needle threader and a jam-resistant bobbin system.
You even get an LCD screen to easily select whatever stitch you need by touching a single button. All of your options and selections will be displayed clearly on the LCD screen!
Portable Included
Yes, the Brother CS6000i is a portable sewing machine. It also comes included with all the best accessories, like its hard protective case, almost a dozen unique sewing feet, specialized needle sets and bobbins, and an extra-large table for easy sewing.
Everything is included to assist you on your sewing journey. And the best part is that you can take it all with you easily and without hassle.
---
Singer 4423 Sewing Machine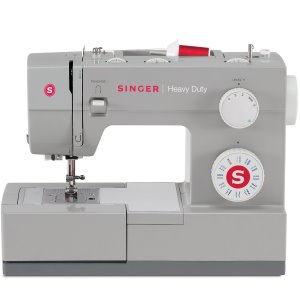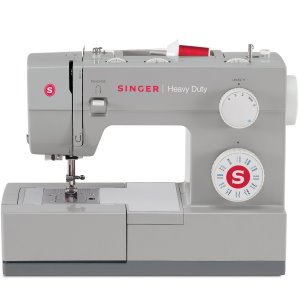 Let me introduce you to one of my favorite heavy-duty sewing machines. The Singer 4423 Sewing Machine is an all-star sewer that is not only durable but extremely portable.
This baby offers high-speed sewing, an almost unbreakable metal frame, a very powerful motor, and the strength you need to sew through any kind of fabric known to man. I am talking about longevity, stability, and dependability.
Portable Strength
What do you look for in a portable sewing machine? Is it strength? Because the 4423 has strength in spades. When transporting the machine, you never need to worry about breaking it or about jangling its inner components. That's because everything inside the Singer 4423 is built to be incredibly durable, from the stainless-steel bedframe to the robust interior metal frame.
It may be a little heavier than other portable units, but it is guaranteed to last you a very long time. You can transport the 4423 every day, have it shake around in the back of your car, and maybe even drop it on the cement – you won't have any worries about permanent damage.
Professional Features
Let's talk about features for a minute. 1,100 stitches per minute, unparalleled piercing power to create thick seams, concise and reliable stitching, an automatic needle threader, built-in basic, stretch, buttonhole, and decorative stitches, an incredibly resilient motor, and loads of useful accessories.
These are just some of the features you can expect to find when you start using the Singer 4423. It even comes with an outstanding limited warranty from the company itself.
---
Best Portable Sewing Machine: A Complete Buying Guide
There is so much that goes into a quality portable sewing machine. You need convenience, a smooth feeding system, built-in stitches for easy projects, and a lightweight yet sturdy frame. Simply buying the lightest or smallest sewing machine is a dangerous mistake. You could end up with an oversized paperweight that can't stand up to the rigors of everyday sewing.
The whole idea behind having a portable sewing machine is that your equipment can hook up quickly and can transport easily. You don't want to have to carry a heavy block of metal around, and you don't want to spend too much time setting up your equipment. It is all about convenience.
Setting Up
Here are some things to consider when looking for the best portable sewing machine. Number one, the power cord. It may seem a little silly to you now, but wait until you bring your sewing machine to a new location and realize your power cord is extremely short and there is no way to plug it in. Try to make sure your machine will be easy to hook up anywhere.
Storage
Are you the kind of person who often forgets their supplies? To avoid forgetting important pieces of equipment, it may be handy for you to buy a sewing machine that comes with integrated storage, like a sliding tray. That way when you take it with you on the go, all of your supplies will be right where you need them.
Of course, having a sewing bag is another great option. By keeping all of your supplies in the same place, you won't end up missing something when you take your portable machine with you somewhere new.
Related Articles:
Case
Having a good carrying case is actually super important for a portable sewing machine. If your machine does not come with a carrying case, how is it portable at all? You would have to cradle it in both arms like a big heavy baby, and nobody wants to do that.
Make sure your sewing machine comes with a case, preferably a hard one. Hard cases are great for keeping out dust, keeping your machine safe if you accidentally bash it against something, and it looks more professional.
Don't Sacrifice
This is some advice that I cannot stress enough. Do not sacrifice power and convenience for small and portable. Just because you need a portable sewing machine does not mean you need to sacrifice power and performance. The three sewing machines on this list are all extremely powerful with lots of built-in stitches and are still portable.
It is possible to have the best of both worlds. Don't be dismayed when searching for a portable sewing unit. You can still have all the high-tech features with ultra-fast sewing speeds in a small and portable package.
Best Portable Sewing Machine: Final Thoughts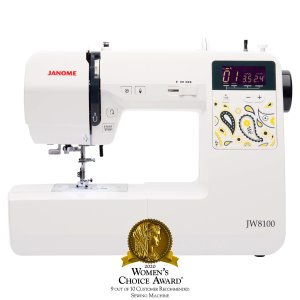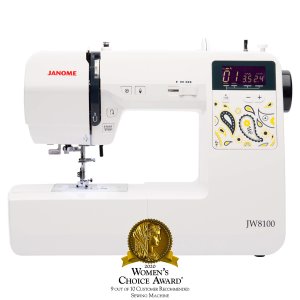 Talk about some great portable sewing machines. The Singer 4423 is an excellent machine that is lightweight and durable with lots of features to keep you on track, while the Brother CS6000i is a unique unit with some hardcore technology for serious sewers.
However, the Janome JW8100 really takes the cake this time. This is one of the most portable sewing machines I have ever seen. And even though it is small and lightweight, it does not come short of features or quality bonuses. For a standard model, the Janome JW8100 is as advanced as it gets.
Great for first time users, fun to use for experienced sewers, and portable enough for the busiest person out there. The machine is convenient, it has a one-handed needle threader, an LCD screen, and all of the necessary buttons. I highly recommend this unit to anyone looking for a portable, high-quality sewing machine.
Related Articles: