A serger is a great way to upgrade your sewing skills to the next level. The best sergers for beginners are simpler serger models that do almost everything that more advanced models do but do them with fair ease of use.
Sergers are typically used to create and strengthen seams, finish edges, and roll hems all at lightning speed. Plus, they can sew at about twice as fast as traditional sewing machines letting you achieve professional results in about half the time.
Although most are a little overwhelming at first sight, beginner models, like traditional sewing machines, are surprisingly easy to use and can transform your sewing practice completely. With the right serger, you can achieve more durable, professional seams while working with knits and save on time when you work with woven fabrics by finishing your seams smoothly.
But if you're not sure about going the serger way, or unsure where to start, then look at these three fine beginner machines to get you started.
Top Rated Serger For Beginners
---
Juki MO654DE: Best Overall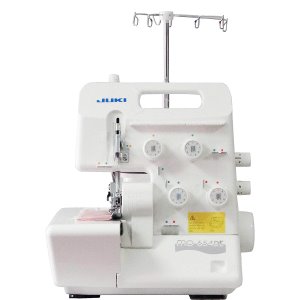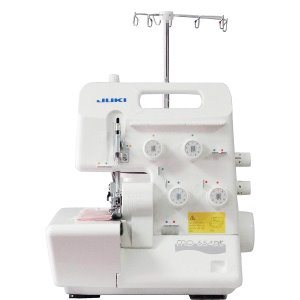 A serger that works at an amazing speed, the Juki MO654DE is both fast and functional along with being easy to use.
All the Right Features
This workhorse of a machine presents all the right features you need to get started. It is a compact unit that works at 1500 stitches per minute, has a 2-3-4 thread configuration, and comes with a color-coded threading system. So, despite its small size it packs in the basics well and remains powerful when used.
There are a number of adjustable features for customized results including adjustments for differential speed and stitch length to allow for maximum control when sewing. The differential feed settings let users prevent thin and stretchy fabrics from being pulled out of shape by seams, and the correct adjustment for the stitch length will help find the sweet spot for managing each stitch easily. These are very handy features especially if you are new to sergers and just getting started.
Versatility in A Compact Size
This machine has an automatic roll hemmer with which you can either roll over the end of the hem or use an overlock stitch for additional durability. This model also comes with a multipurpose foot to use with a number of specialty stitches and products like tape and elastic.
You also get a variety of additional presser feet catering to piping, gathering, blind stitching, and cording. So, with this purchase, you get performance and versatility without being overwhelmed by too many features. You can easily get your projects done while still having room to experiment.
---
Brother 1034D: Budget Pick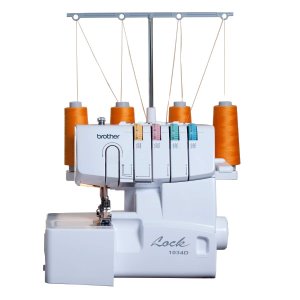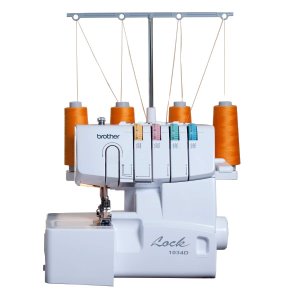 Another great option for those new to sergers, the Brother 1034D is a beginner serger that will help you create store-quality clothing but on a far smaller budget.
Easy Threading System
Perhaps the biggest fear surrounding sergers is about threading the machine. While it can be a nightmare for some models, the Brother 1034D eliminates that by offering a very simple and precise threading system working with a 3-4 threading configuration.
It has an easy-to-follow, color-coded, lay-in threading system with clear instructions for every step. There is a built-in guide showing just where each of the 4 threads goes and the order in which they do so. The key here is to remain patient and not try to hurry through the process. It may take you a few tries to get it right, but when you do, you won't ever have to relearn the process.
Other Features
The Brother 1034D works with 1300 SPM and comes with an adjustable differential feed which makes it a breeze to work with stretchy or knit fabrics without getting a bumpy or wavy look. The removable arm is an added bonus that may be missing on some other beginner models.
This Brother serger also features a built-in retractable knife blade for clean trimming purposes. With the presser feet that come with your purchase, you can engage in a variety of stitches including 4 and 3-thread overlocks, narrow or rolled hems, and ribbon lock stitches. If you invest in additional presser feet, you can also enjoy pin tucks, blind hems, and flatlock stitches.
---
Singer 14CG754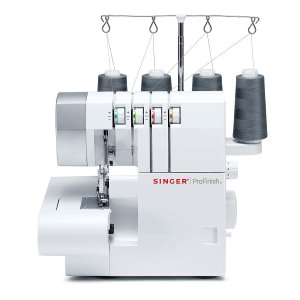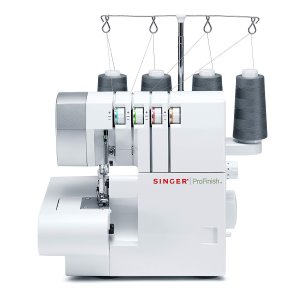 Another compact model that serges par excellence, the Singer 14CG754 is a good fit for beginners that will help them finish their projects quickly and efficiently.
Smart Collection of Features
The Singer 14CG754 features an assortment of standard and special features to get your sewing projects on track.
It starts off with a 2-3-4 thread configuration paired with a color-coded threading system which gives users a fair selection of stitch options to experiment and get creative with. The speed this machine yields is 1300 SPM with accuracy and precision. And the stitch selection includes rolled hems, blind hems, flat locking, along with mock stretch stitches, mock stretch safety stitches, and a 2-thread overlock stitch.
In addition, you can adjust the stitch length and width to get the best results. Where there is stretchy fabric involved, the 14CG754 gives you the option to adjust the thread tension.
Other noteworthy features include an adjustable differential feed, a free arm, and a movable upper knife to complete the serger experience.
Compactly Designed
This is a compactly designed unit without skimping on any of the essentials. Along with the truckload of features mentioned above, you get a lightweight machine that is easy to move around. For improved maneuverability, the manufacturers have also included a built-in carry handle should you need to take it along.
Once you've mastered the learning curve associated with this model, you will benefit from its speed, precision, durability, and versatility for a long time, or until you decide to upgrade to a more advanced model.
---
Best Serger For Beginners: A Complete Buying Guide
While it is not necessary to get a serger to finish your sewing projects, anyone who owns a serger will tell you that there's no going back. And if you want to raise the quality of your work, then a serger will do just that for you. So, before you think about investing in one, here are a few essentials to consider.
Size and Weight
Serger machines can easily become large units that may not be easy to move around. So, before looking into a particular model, consider its dimensions, usage, and space you plan on using for your machine.
Beginner models such as those I have reviewed today remain compact and easy to put away when not in use. But if you use your serger more often and for larger projects, you may need to look for a bigger model.
Speed and Noise
Speed comes as a given with sergers. It may also be the reason many people upgrade to a serger. Even the most basic serger machines will offer considerably higher SPM than standard sewing machines and help you finish your projects much faster.
But with speed comes noise. Many models may turn out to be noisier than your home sewing machine that you're used to. One way to check noise levels is to look at what other users have to say about their sergers or check them in person in a store. You can also sign up for a beginner's class to get some hands-on experience with this type of machine as well as some feedback regarding the performance and noise levels of different sergers.
Related Articles:
Differential Feed
Since the main reason for using a serger is perfecting a garment's seams for most people, the differential feed comes into play. This is the feature that helps achieve this. It not only helps correct a stretched seam out in knit fabrics, it also creates gathers or scalloped lettuce edge finishes.
As compared to the traditional feed dog system used on a sewing machine to move the fabric forward, the serger has two sets of feed dogs. This is what prevents the stretched-out wave created by sewing machines when working with knit fabrics.
Since differential feed is adjustable on serger models, it may take a few trial-and-error attempts to get it just right. But the key to determining where to set the differential feed depends on the type of fabric used.
Best Serger For Beginners: Final Thoughts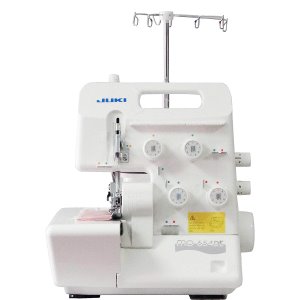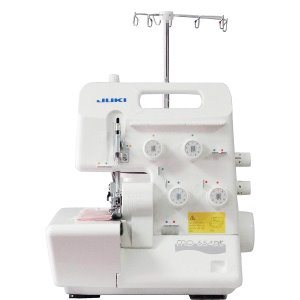 The MO654DE model from Juki wins the top spot for the best serger for beginners given its ease of use, versatile performance, and the range of adjustable features it carries. This is a machine that combines high quality and user-friendliness in a manner that not many others can boast of.
The modestly priced Brother 1034D is a great choice for people on a budget or those who want to try out a serger before investing in a more advanced model. It is a handy machine packed with convenient features that will suit beginner needs well.
With the Singer 14CG754, it would be fair to say that you get more than what you pay for. This model remains a best-seller going beyond beginner needs and considering its price point, is a real bargain.
Related Articles: