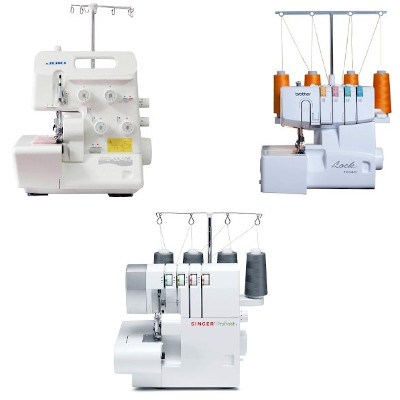 If you have stumbled upon this page, chances are you are looking for the best serger for your sewing room. A serger is also known as an overlocking sewing machine. These handy little units are awesome for trimming seams and enclosing seams inside of a thread casing in one easy step.
When you purchase one of my suggested thread sergers, you are getting the best. These sergers come available with various thread options so that you can create different stitches and a variety of different results depending on the number of threads you wish to use with the serger. Some have more options than others, but all of them are solid units.
These sergers come with features like built-in rolled hems, specialty sewing feet, adjustable lengths of stitching, sturdy metal frames, maximum performance, and up to 1,500 stitches per minute. Each machine is easy to thread and easy to use.
Top Rated Serger
---
Juki MO654DE Portable Thread Serger – Best Overall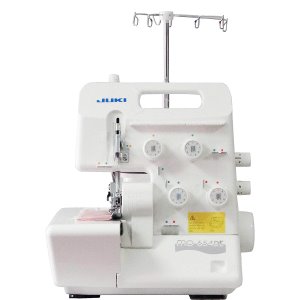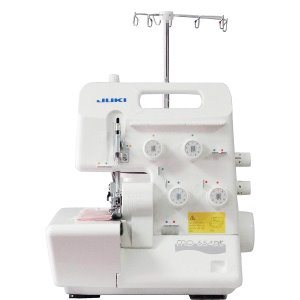 The Juki MO654DE Portable Thread Serger is a 2/3/4 serger that comes included with an automatic rolled hem feature. It is an extremely sturdy machine that will make an excellent addition to your sewing equipment. It has an incredibly powerful knife system and sews at lightning speed with a maximum of 1,500 stitches per minute.
Use All Your Fabrics
One of the greatest aspects of using this machine is that it can sew any kind of fabric with ease, from the lightest kinds of cotton and fleeces to the thickest pieces of denim. It also has a fabulous differential feed that allows you to make custom seams that you would not be able to create with other kinds of machines.
Thanks to the external adjustment system, it has never been easier to change your settings. There is even a safety switch so that the machine won't run if the swing cover happens to be open.
Portable Power
Not only is this an extremely powerful thread serger, but it is also highly portable. The machine is lightweight and thin, allowing you to easily transport it to any place you want. It also tucks away neatly so that you can put it out of the way when using your other sewing equipment.
If you need extra accessories, there are lots of options available, including presser feet for cording, blind stitching, piping, and gathering. The tension works great, and it is easy to keep the machine clean and tidy. Even for those who have not used one of these instruments before, setting it up and using it will be a breeze.
---
Brother 1034D Heavy Duty Serger – Best Budget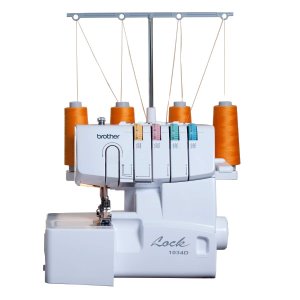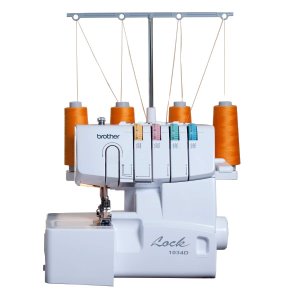 If you want a heavy-duty piece of equipment to satisfy your needs for a serger, look no further than the Brother 1034D Heavy Duty Serger. With a metal frame, a high-performance motor, and 1,300 stitches per minute, you will get more work done than ever before. This unit even comes included with three snap-on feet for you to make the most out of every task.
Extreme Durability
Brother is one of those companies that insist on making tough and durable machines. The 1034D Serger is incredibly heavy duty and comes with a strong metal frame that will stand up to all the punishment you can throw at it. This is great for people who are moving their equipment from one place to another quite frequently.
Not only is the metal frame strong, but the interior components are all built out of the highest quality materials. There won't be any malfunctions on the inside of this machine. You can rest assured knowing all the gears and all the internal mechanisms will work together like a dream.
Fast Sewing!
Just like with your standard sewing machine, you want your thread serger to have a lot of speed. This will allow you to quickly make your seams and everything else. With the 1034D, you get 1,300 stitches per minute. That is serious quickness. And you can control the exact speed with the foot pedal, which does come included.
As a three or four thread serger, boosted with great speed, you are going to be handling multiple layers of light and heavy material without any troubles.
---
Singer 14CG754 Thread Serger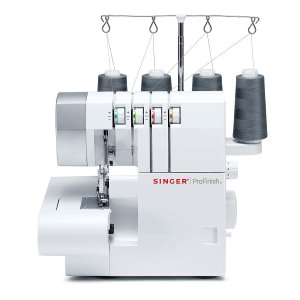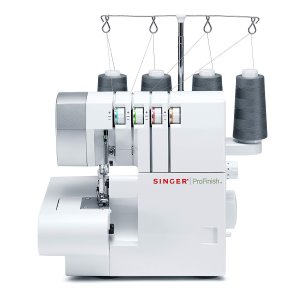 The Singer 14CG754 Thread Serger comes with a thread capability of either 2, 3, or 4. This gives you a massive selection of options that you can use wisely for any kind of project. Because of the machine's excellent quality, all of those projects are going to come out with professional results. You would be hard-pressed to find a machine with the same value at the same price.
Built-In Rolled Hems
One of the biggest problems when purchasing a new thread serger is that it can be a pain to convert to the rolled hem sewing mode. However, with the Thread Serger from Singer, this has never been easier. There is an access lever that will move the stitch finger into the proper position so that you can use it for rolled hemming. You will never have to struggle when switching modes ever again.
Not only this, but the way to adjust your stitch length is also super easy. The differential feed is simple to use, giving you even more adjustability. And, there is a color-coded lay-in threading which will provide even more usage.
Accessories Included
Nothing is worse than buying a new thread serger and realizing you have no accessories to use it with. But with the Singer 14CG754, you get a set of needles, special tweezers, a spreader that you can use for two-thread stitches, a screwdriver, and an included stitch guide.
The machine also comes with a free arm feature. This is an optional free arm included on the machine so that you can easily sew cuffs and sleeves.
---
The Best Serger: A Complete Buying Guide
Sergers are complicated machines. They are extremely unique in what they do, and can be more than helpful to professional sewers working in a home setting – they can be critical! Overlocking machines are also used in industrial warehouses to ensure proper seams at all times.
If you are setting out to purchase one of these fantastic units, maybe for the first time to help you become better at sewing and to make your projects even greater, there are a few things to consider before spending your hard-earned money.
Thread Options
The biggest difference between thread serger machines is which thread options they come with. Most machines will be 2, 3, or 4. It is rarer to find a 5-thread serger. But what do all these options mean?
Your thread options determine how many threads you are able to use to create special stitching. Basically, a 2-4 thread serger has the capability of creating a safety stitch and a two-thread overlock edge. You are able to use two threads per each operation, and you can also use the machine to make each of the stitches separate from the other stitch.
Related Articles:
When dealing with a 3-4 thread serger, you can now have the use of three or four threads. This is better for making seams that can stretch. If you use four threads in a single seam, it will turn out wider and much stronger.
Most machines that can do three or four threads also come with a rolled hem capability that you can activate by changing out the throat plate. This is done by rolling the edge of the fabric to the bottom side and then closing the edge with your threads. It can be very useful.
Any serger that comes with five-thread capabilities is going to be expensive but extremely handy. With five threads, you can literally do everything. You can do a straight seamline and overlocked edges. These machines are also better for production work, as you don't need to switch between machines all the time.
Differential Feed
Always be sure you get a machine with a good differential feed. Adjusting the feed is incredibly important for obtaining the same kind of results you would get with an ordinary sewing machine. This is especially true when working with knits or a single layer of fabrics.
With a differential feed, you can speed the feed in order to make a sort of ruffle. If your differential feed works well enough, you can even use it to create a lettuce leaf effect, otherwise known as a waved edge. In short, having a differential feed will give you way more options when it comes to using your thread serger.
The Best Serger: Final Thoughts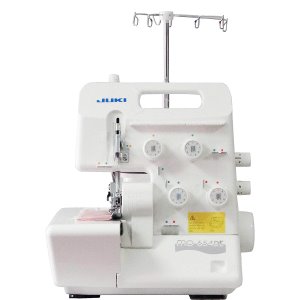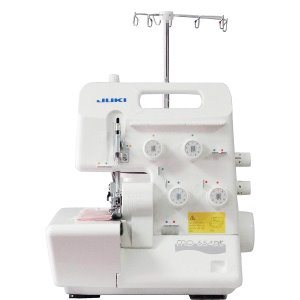 The best serger has to be the Juki MO654DE Portable Thread Serger Sewing Machine. This overlock machine has three thread options, 2/3/4, which allow you to use the machine in whichever way you want. It also has an incredible sewing speed of up to a maximum of 1,500 stitches per minute. And don't forget its powerful knife system!
The two other machines are also great, but considering the value you get with the Juki serger and its low cost, I would say it is hard to pass up such a great deal. If you want a budget serger, you can always purchase the Brother 1034D. It is reliable, easy to use, and great for anyone's home office.
But my money is going to be spent on the Juki. They are a reliable name in the industry, they make great products, and they are known for their durability. The MO654DE Portable Thread Serger is just another of Juki's fantastic creations. It even has a stunning differential feed!
Related Articles: