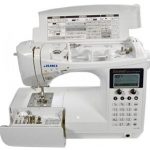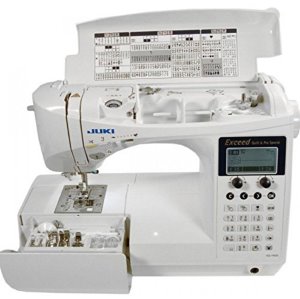 Lots of Stitches & Features
Great for Free Motion Sewing & Quilting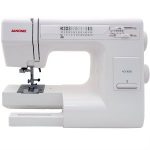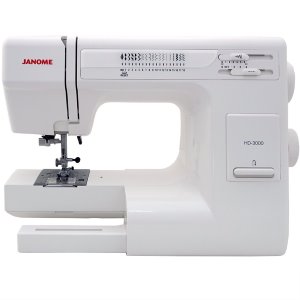 Simple Operation
Cheap Price
---
If you are an advanced sewer, no ordinary sewing machine is going to cut it. You need the best sewing machine for advanced sewers – a machine with more features, more options, and more settings to satisfy your creative needs. You already know how a sewing machine works, you know what you're doing behind the wheel, so to speak, and now you deserve the best.
Today will go over three of the best sewing machines that someone already advanced in this field can get some serious use out of. These three machines are durable, packed with features, and will see you through all of your most hardcore sewing projects.
These machines come with loads of stitching options, they have advanced technology integrated into them, and they produce quality results that you expect as an advanced sewer. All three machines go above and beyond to satisfy you!
Top Rated Sewing Machine For Advanced Sewers
---
Juki HZL-F600 Computerized Sewing & Quilting Machine – Best Overall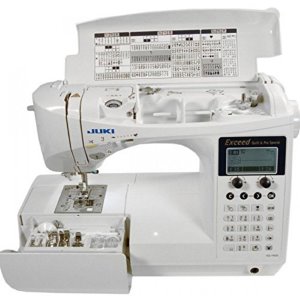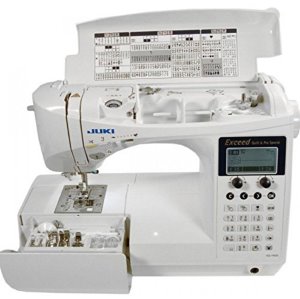 It is nothing new that Juki makes some of the best sewing machines around. The Juki HZL-F600 Computerized Sewing & Quilting Machine is just another of their advanced sewing units with great computerized features, box feed technology, and prime free-motion sewing. For the advanced sewer, it does not get any better than the Juki HZL-F600.
Free-Motion Sewing
People who have been sewing for a long time know what they like. They know how to stitch in a straight line, how to stitch on a sharp corner, and how to free-motion stitch. Whereas most machines make it a pain in the behind to switch from normal sewing to free-motion sewing, the HZL-F600 makes it an absolute breeze.
This means that sewers can have instant access to freehand sewing. And with the extra-wide space offered by the machine, you have an entire work area at your disposal for doing freehand projects.
Read More: Full Juki HZL-F600 review
Industrial Strength
Industrial strength is a huge plus in a machine for an advanced sewer. If your machine is tough enough to work wonders in a factory setting, just imagine what it can do for you inside your home. The power inside of the HZL-F600 is ideal for making bulk garments or for completing huge quilts in record time.
As someone who has been around the block, it is nice to have industrial-strength power at your fingertips. The box feed technology of the HZL-F600 is exceptional, the control panel is easy to use, the machine is heavy and stable, and it is an excellent value for the money.
---
Janome HD3000 Heavy-Duty Sewing Machine – Budget Pick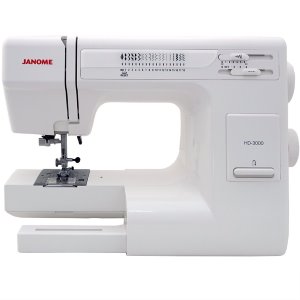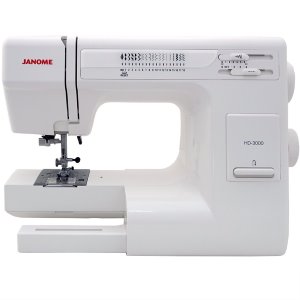 The Janome HD3000 Heavy-Duty Sewing Machine is one of Janome's best. Yes, it is heavy duty for the advanced sewer, and yes, it comes with all the best features. An automatic needle threader takes away the stress of straining your tired eyes, a jam-proof bobbin system lets you work more distractedly since you can't run off the edge, an easy selection of stitches gives you instant access to creativity.
Oodles of Accessories
Maybe you are an advanced sewer who has been out of the game for a while. Maybe you need a package that has it all to get you back sewing. With the Janome HD3000, you get a ton of usable accessories to complete your journey back to the sewing machine.
There are tons of specialized feet, many packs of specialty needles, including leather needles and universal needles, plus all the standard tools you need to operate your machine. If there is anything you have forgotten over the years, the machine also comes with an instruction manual.
Another great accessory that comes with the HD3000 is its free arm. This will allow you to expertly sew pant legs and even shirt sleeves without breaking a sweat. By just turning the dial on the machine, you can adjust the pressure of your presser foot for even more variety in how you sew thick fabrics.
Read More: Full Janome HD3000 review
A Sewer for All Occasions
The HD3000 offers enough customizable settings that you can sew anything. This is great for people who like to create their own fashion, who like to do arts and crafts around the house, who like sewing for competitions, and who enjoy making quilts.
---
Singer 9985 Quantum Stylist Sewing Machine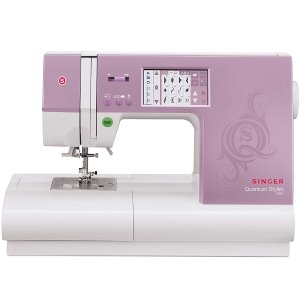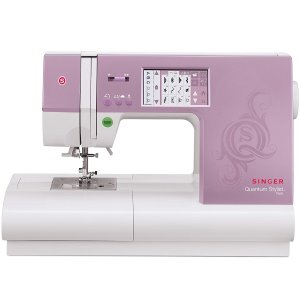 The Singer 9985 Quantum Stylist Sewing Machine Is one of the best computerized sewing units ever created. The 9985 comes with an amazing 960 stitches that will see you through every imaginable scenario. It has a specialized drop-in bobbin system, an integrated needle threader, and all kinds of built-in technology for you to enjoy.
Power & Performance
This baby has power. It packs a mean punch at approximately 850 stitches per minute. Of course, that is the maximum and you are totally able to dictate your own speed by using the foot presser. And speaking about feet, this sewing machine comes with an intense amount of specialized sewing feet, including a narrow rolled hem foot and an open toe foot.
Because of its intense power, you are able to sew extremely long seams in a fraction of the time it would normally take you. There is less stress and less hassle when you know your machine is going to perform above and beyond the standard.
Read More: Full Singer 9985 review
Stitches, Stitches, Stitches!
960 built-in stitches are a lot. You will probably never use even half of them. But they are definitely handy to have, just like the six alphanumeric fonts and the 13 1-step buttonholes. I would rather have too many built-in stitches that I can use at my discretion then not enough.
Some other bonuses of using this machine include its large touchscreen LCD display, its automatic needle threader, its fabulous presentation, and its intensely strong metal frame.
---
Best Sewing Machine for Advanced Sewers: A Complete Buying Guide
It is time to check out the complete buying guide for what makes the best sewing machine for advanced sewers. There are tons of things that make one sewing machine better than another for someone with an advanced skill level.
An abundance of options means an abundance of stitches. Remember your basic unit with straight or zigzag? Well, in the modern age you can now have over 1,000 pre-programmed stitches available at your fingertips. As a professional sewer, this will save you time and effort while boosting your creative possibilities. You know how to sew, and you need the options to let you spread your wings.
If you are new to sewing, you probably want a machine with easily digestible features and not too many bells and whistles. But as an advanced sewer, you know the settings, you know the drill, and you will have more fun by being able to tweak as many of your settings as possible. Let's take a closer look at some of the biggest considerations.
The 3 Best Sewing Machines For Advanced Sewers
Benefits of Sewing Machines for Advanced Sewers
There are many benefits of owning a sewing machine that will match your skills as an advanced sewer. Here is just a few of them.
Endless Stitch Options
Advanced sewing machines offer more stitch options than their lower-end counterparts. Numbers, letters, and even symbols are some of the options you will get that will allow you more freedom in your sewing.
Automatic Features
One of the best benefits of an advanced sewing machine is its ability to cut out the most time-consuming tasks. These higher-end sewing machines come with various automatic features that include thread cutter, auto tension, automatic needle up and down, and automatic threader. These features make the machines much more convenient and will save you a lot of time.
Ease of Use
Since advanced sewing machines are of better quality and they have more automatic features, they are generally easier to use. Your productivity will go through the roof using one of these, thanks to easy to use programs and stitching methods.
Related Articles:
What Features Does A Sewing Machine for Advanced Sewers Need?
There are certain things you don't need as an advanced sewer. You probably already have a giant toolbox full of accessories and parts, so it does not really matter what the sewing machine comes included with. It is all about the machine, about the machine's extensive features, and what comes included inside of its main computer.
Type of Machine
There are 2 general sewing machine types: computerized and mechanical. Mechanical sewing machines are great when you are just starting out as they allow you a gentle easing into the world of sewing. But you as an advanced sewer will want a computerized sewing machine.
Computerized sewing machines are a different league compared to mechanical types, and once you use one you'll wonder how you ever did without it. The automatic features and programs save so much time and allow you to complete your advanced sewing projects faster.
Built-in Stitches
The best sewing machine for advanced sewers should have multiple stitch options. The stitch quality must be excellent if you want to achieve professional results and let your creativity flow. The top advanced sewing machines will have upwards of 500 built-in stitches. You should also look at the type of stitches, as well as the number.
Size and Weight
The size and weight of your sewing machine is a crucial aspect and one that depends on your circumstances. If you plan to move your sewing machine regularly, such as when you go to your sewing club, you need a machine that is compact and light. These portable machines still have the advanced features you need.
Alternatively, if your sewing machine will stay in one place and never move, then a heavy-duty model may be more suitable. These models are usually more hard-wearing and durable, while still having all of the advanced features.
Durability
Durability is a big one. You are an advanced sewer, and you deserve a piece of equipment that will last you through the test of time. You know what you like, you know how to work, and now you need a machine to see you through the rest of your sewing days.
Always try to choose the most durable machine. That means a machine that comes with a strong interior frame, well-made interior components, and housing that won't crack or break like brittle plastic.
Foot Pedal
When you are working on an intricate or complicated design and you need both your hands, a foot pedal is a life-saver to help you operate the machine. A foot pedal with a non-slip covering is essential to avoid accidents, and it needs to be reasonably sized and stable.
Automatic Buttonholer
If you make a lot of items with buttons, an automatic buttonholer will save you a huge amount of time. A sewing machine with this feature means that you don't have to stop for every buttonhole, as the machine will create it automatically.
Feed Space
If you plan to work on large materials like quilts or curtains, then the sewing machine feed space for the fabric is very important. An extended feed space is recommended if you will work with these materials on a regular basis, but just make sure it is large enough for what you are working on.
Needle Threader
This is such a simple one, but so important. Have you ever spent 20 minutes threading a needle, only for it to fall back out after a few stitches? If so, you need an automatic needle threader. This feature will thread the needle automatically with no effort on your part. Thankfully, most advanced sewing machines come with this feature.
Sewing Speed
The sewing speed is important as a higher stitching speed will allow you to work faster. Just make sure that the sewing machine can be controlled, and you can slow down if you need to. There are some scenarios where a higher stitching speed will be detrimental, so ensure that you can change it easily.
Free Arm
A sewing machine with a free arm is useful for working with curved pieces of fabric like cuffs and collars. A free arm machine has more space under the needle area so you can move these materials about with ease.
Top-Load Bobbin
Removing the entire bobbin to check the thread levels will be a thing of the past with an advanced sewing machine. The cover is usually transparent so you can easily check if the bobbin is running low, and it's much easier to change the bobbin when it needs more thread.
Presser Foot
The presser foot holds the material firmly against the feed dog and prevents the material from moving about. There are different presser feet for different purposes, like zips, hems, and buttonholes.
Knee Lifter
Like a foot pedal, a knee lifter is essential for when you need two hands to work with a piece of fabric. This allows you to use your knees to lift the presser foot and drop the feed dog.
Extension Table
Working with quilts, curtains, and sheets on a regular basis requires a lot of space. A large feed space is helpful, but you really need an extension table for comfortably working with these materials. This allows you more space and means you don't have to keep folding and flipping the fabric.
Noise Level
The average sewing machine produces around 65dB to 80dB in noise levels. This is something to consider if you plan on working late at night, or if you live in a flat. Generally, heavy-duty machines are noisier, so if the noise would be a problem, a lightweight and compact model may be more suitable.
Warranty
Reputable sewing machine companies such as Singer and Brother produce durable and long-lasting machines. For this reason, they are confident in giving a long warranty period with their products. Be wary of cheaper brands that don't offer a long warranty. Often, the machines will break down just after the warranty has expired.
Treat Yourself
You have spent the last however many years plucking away on a boring machine, maybe it is time to treat yourself. Maybe you deserve an extra great machine with a full-color touchscreen display, an automatic needle threading system, a great automatic bobbin winder, a thread guide that is easy to thread, and the ability to quickly shift between normal sewing and free-motion sewing.
By ensuring your next purchase is a quality one – high rate of stitches per minute, computerized intelligence, smart features – you will finally enjoy sewing the way you deserve. A few extra bucks for the better machine is the gift you have always wanted to give yourself. And as an advanced sewer, it is extremely important to have the best. At your skill level, the last thing you want is trouble with a problematic machine.
Best Sewing Machine for Advanced Sewers: Final Thoughts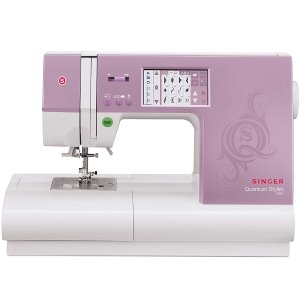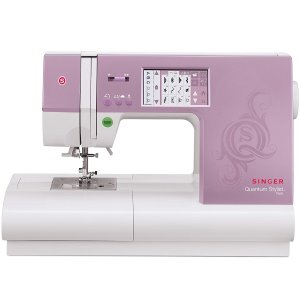 As advanced sewing machines, I absolutely love all three of these units. The Juki HZL-F600 is built extremely tough and can take on all of the most challenging work, while the Janome HD3000 offers extremely impressive features that advanced sewers are going to be happy to have on their machine.
However, the one that stands out the most is definitely the 9985 Quantum Stylist. This machine made by Singer is advanced, which makes it excellent for experienced sewers. The 9985 gives professionals a chance to sit back and relax with a machine that does the work for them.
The 9985 comes with 960 stitches built into the unit itself, it has an extra-large touchscreen system, it comes with a handful of great accessories, it is heavy duty and durable, and it looks fantastic. This is the best sewing machine for advanced sewers, and I highly recommend it to anyone who wants more than just an ordinary sewing machine.
Related Articles: