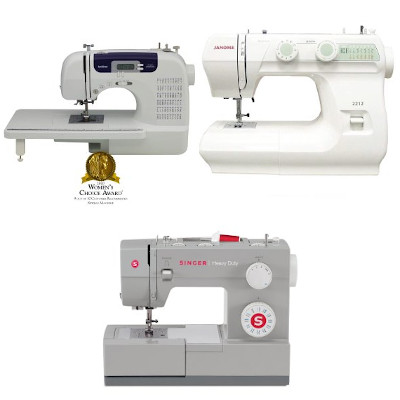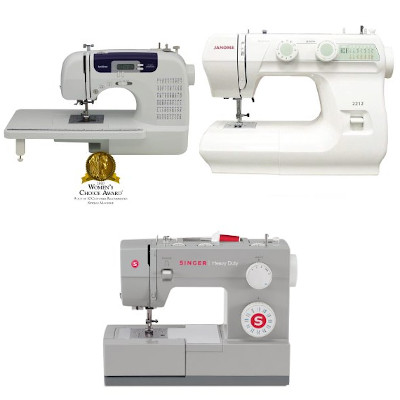 Sewing is one of the most relaxing hobbies a person can have in this day and age. Today we are going to look at the best sewing machine for beginners, and we have three to choose from, all of them manufactured by the best companies in the industry.
If you don't have a sewing machine, but you are curious to get started and don't want to spend a bundle in case you change your mind later down the road, all of these sewing machines are high quality and super affordable. They also make great gifts for anyone who may be interested in beginning sewing.
What makes these three options so great for beginners is that they are easy to use, extremely simplistic, and packed full of great beginner features. Whether you want to try fashion, home decoration, casual crafting, or sewing a giant quilt, all three machines will see your fabric visions become a reality.
Top Rated Sewing Machine for Beginners
---
Singer 4423 Sewing Machine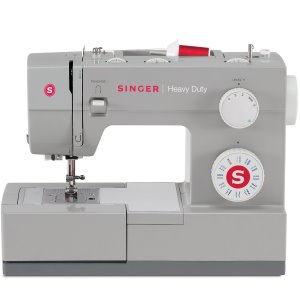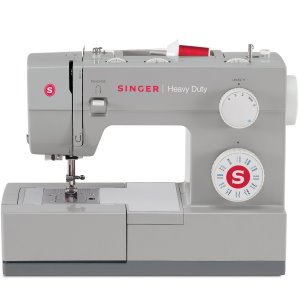 The Singer 4423 Sewing Machine is one of the best on offer. As a machine for beginners, the Singer 4423 comes with everything you could possibly need. It has a maximum speed of 100 stitches per minute, which is quick and snappy enough for you to stay on your toes as a novice without being overwhelming. It also has a super-strong frame that beginners won't be able to break.
Automatic Features
Lots of the features of the 4423 Sewing Machine are automatic, which is great news for beginners who may not understand the ins and outs of these complex machines. For example, the 4423 comes with an automatic needle threader, allowing for simple threading of the needle without straining your eyes and getting confused and frustrated.
There are other automatic features like the 23 built-in stitches for basic stitching, stretch stitching, and even decorative stitching. Plus, you have specialized buttonhole stitches which are great for making throw pillows and other home decors.
Enough for a Beginner
Everything you need to start selling comes in this package. What I mean is that the accessories are in abundance.
As a novice, you probably don't have a big trunk full of sewing supplies lying around. The 4423 comes with everything you need to get started, including specialized sewing feet like the zipper foot and the buttonhole foot, an auxiliary spool pin, a handy accessory tray, and a soft dust cover to keep your unit clean.
---
Janome 2212 Sewing Machine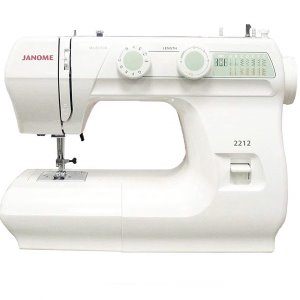 This is probably the best affordable sewing machine for a beginner. If you want to try your hand at sewing without spending a lot of money, I highly recommend the Janome 2212 Sewing Machine. It has 12 built-in stitches, a simplified dial for the pattern selection, adjustments for the length and width of the stitch, and a drop feed that allows for free motion quilting and sewing.
Sewing Simplicity
Because you are a beginner, sometimes it is nice to start with the basics. It does not get any more basic than using the Janome 2212 Sewing Machine. Everything is controlled using a pair of well-labeled dials, with a flick switch on the bottom, and just enough room for you to operate effectively.
This is by no means a frilly, overindulgent sewing machine with heaps of options and sewing styles. But it will work, and it is a great learning tool, especially for quilts, everyday stitching, amateur fashion design, and decorative fabrics.
Robust & Functional
Because this sewing machine is built by Janome, you know it is going to be quality even if it is on the budget side of the price spectrum. It comes with just enough pieces that you can set up the machine yourself and sit down to try and sew. It also has a strong housing that will keep out dust while functioning optimally for many years to come.
If you do decide to continue sewing, finding that you enjoy the activity, you can keep the Janome 2212 Sewing Machine as your main unit. It is still a really good machine.
---
Brother CS6000i Sewing & Quilting Machine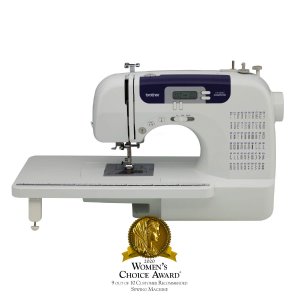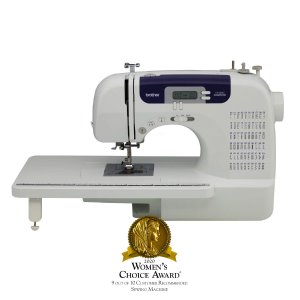 The Brother CS6000i Sewing & Quilting Machine is a remarkable machine that works well both for sewing and quilting. It comes included with a supremely large work area that can be very handy for beginners who aren't sure where everything goes.
This is an advanced machine that can be used by eager beginners who want to be thrown to the wolves, so to speak. It comes with a lot of built-in stitches, it has an LCD display, and it comes with all of the necessary accessories to start sewing today.
Tough & Durable
This sewing machine is extremely durable. It comes built tough to withstand all kinds of punishment. This is not a machine prone to breaking, which is critical for a beginner who maybe a bit of a klutz. It even comes with a hard protective case that will keep the machine healthy and free of dust when you are not using it.
Fun to Explore
There is enough on the CS6000i Sewing & Quilting Machine to keep a beginner occupied for countless hours. Mastering the settings, figuring out the automatic needle threader, the drop-in top bobbin, the LCD screen, and what everything means, plus how to use the plethora of accessories that come included with the sewing machine – it is endless fun.
This is not only an extremely high-quality machine that any professional would be happy to use, but it is a great learning tool for beginners who want something with a bit more power and technology than an old analog sewing machine.
---
Best Sewing Machine for Beginners: A Complete Buying Guide
So, you are a beginner. You want to start sewing, and you want the best sewing machine for a beginner. But what does that entail? What do you need out of a sewing machine to facilitate your needs?
Well, you need the machine to be easy to use and not too complex, you need just the right amount of settings, some built-in stitches would be nice, enough room to work and learn, and a well-designed machine.
Built-In Stitches
For those of you who don't know what built-in stitches are, let me explain. Stitches built directly into a sewing machine are distinct patterns which you can modify by adjusting the length and width of your stitch. Older machines have a straight stitch and a zigzag stitch. But with newer machines, you can expect all kinds of different stitches that come included with the machine.
What this means is that you have more options for how you sew. Machines come with anywhere from 10 to 1000 built-in stitches. This is great for beginners because it gives you a lot of room to play and learn with different styles of stitching, and they are already included in the machine.
When shopping for your first beginner sewing machine, always make sure there are at least a handful of useful stitches that you can utilize during the learning process. It is handy to have some traditional stitches and also some decorative stitches.
Related Articles:
Accessories
Accessories are important for two reasons. First, you probably don't have any accessories already. When you buy a sewing machine, just like when you buy any other product, you expect there to be some accessories that allow you to properly use the machine. If you get a machine with no accessories, you will end up having to go and buy your own.
The second reason is that if you get a machine with a whole kit of useful accessories, you can already get a feel for what is needed during the sewing process. These accessories include feet for the machine, bobbins, special bobbin pins, needles, and so much more.
Simple Interface
As a beginner, you probably want a simplified sewing machine. You don't need 30 buttons on the face of the machine that you do not know how to use.
It can be especially confusing to get a computerized sewing machine since all of these settings are digital and you may not know what any of them mean. This can turn sewing from a relaxing hobby into a frustrating chore.
I recommend a machine with a simple interface that has just enough buttons, switches, and dials to make you feel comfortable and in control. You never want to stress out when sewing, especially as a beginner.
Best Sewing Machine for Beginners: Final Thoughts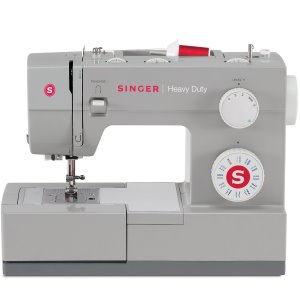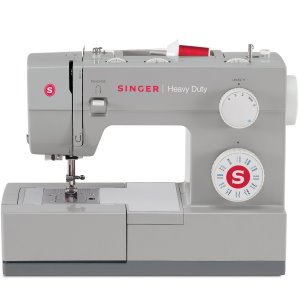 This could swing one of two ways. I have never been more conflicted about sewing machines in my life. On one hand, the Singer 4423 Sewing Machine is an incredible unit for beginners. Super durable, extremely simple to use with no needless technology, and is reminiscent of older classic sewing machines. For a newbie, the automatic needle threader and the built-in stitches are ideal.
However, the Brother CS6000i Sewing & Quilting Machine is also a great machine. In fact, the Brother is a better sewing machine, end of discussion. It is computerized, it has an LCD display, an extra-wide table, 9 included feet and more built-in stitches than the Singer. But for a beginner, it may be a little too comfortable.
This comes down to my personal opinion. When starting out, you should absolutely drive a hunk of junk before you sit behind the wheel of a Ferrari. The same can be said in every situation. Before jumping on the computerized machine with its LCD display and fancy features, try sitting down with a quality machine that has just the basics and upgrade from there. The Janome 2212 is a great unit but unfortunately comes in third.
Related Articles: