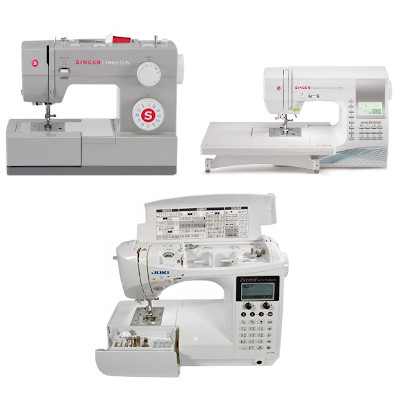 Sewing with canvas can be extremely difficult. Because of that, you need the best sewing machine for canvas. You can get canvas in lots of different kinds of colors and prints, and it is more popular than ever as a way to decorate your home and to make unique fashions. But you can't do it without a proper sewing machine.
Because canvas can be extremely thick, many people are intimidated to try any kind of canvas project. But you shouldn't be. If you invest in one of these amazing sewing machines, you will be able to work with canvas very easily. Canvas is durable, versatile, and is excellent for making home decorations and even canvas bags.
For you to properly sew canvas, you need a machine that can handle heavy fabrics and materials. The three machines we are about to look at can all handle canvas extremely well. These machines are powerful, they are packed with features, and they are affordable.
Top Rated Sewing Machine For Canvas
---
Singer 9960 Quantum Stylist Sewing Machine – Best Overall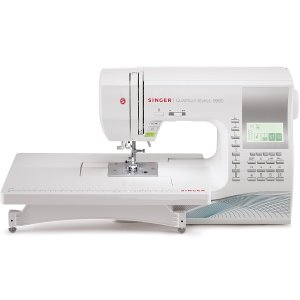 The Singer 9960 Quantum Stylist Sewing Machine is one of the best. This is such a great sewing machine for use with canvas. It has a lot of power, so it can easily stitch any kind of fabric. It comes with a great extension table that allows you to work on larger projects. Plus, this computerized sewing machine comes with loads of intelligent technology.
Maximum Creativity
This is one of the best machines for releasing your inner creator. Because of the 600 stitches that come included with this machine, you have almost unlimited access to inspiration for all kinds of different designs and patterns.
There are stretch stitches, decorative stitches, basic stitches, and so much more. To get the most out of your fashion projects, your unique personal decorations, and for any other kind of task, you can use the 9960 Quantum Stylist Sewing Machine.
For working with canvas, you will really appreciate the possibility to expand on your original ideas. You can turn canvas into any kind of exciting garment or piece of apparel or home decoration. The Quantum Stylist has lots of power to easily stitch canvas for hours on end.
Accessories Included
When you purchase this machine, not only do you get tons of built-in stitches, an automatic needle threader, and all the power of the internal computerized mechanisms, but you also get lots of cool accessories. There are tons of presser feet included with the package, including feet for embroidering and darning.
---
---
Singer 4423 Sewing Machine – Budget Pick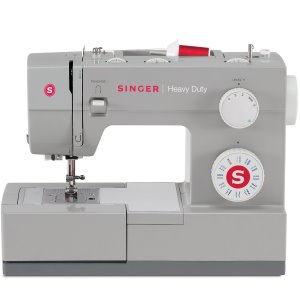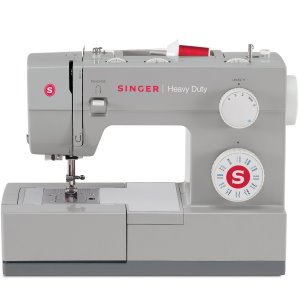 There is no better heavy-duty sewing machine than the Singer 4423 Sewing Machine. This sewing machine has an incredible amount of stitches per minute, it has a huge motor that is 60% larger than previous models, and it is one of the best machines for piercing power, which is incredibly important for working with canvas.
Basic & Strong
Sure, the 4423 is not that impressive in terms of its computerized components. The 4423 only comes with 23 built-in stitches, though that is still a significant amount, and it has no LED screen or fancy buttons. But what it lacks in digital technology it makes up for in power. The motor on this sewing machine is huge, and it allows the needle to puncture fabrics with unmatched strength.
Not only that, but the powerful needle strikes will come 1,100 times per minute. This machine stitches incredibly fast, it never skips stitches, and it has very high-quality stitching. You will notice all of your stitches are completely straight and consistent, no matter how quickly you work.
All-Around Tough
The 4423 is heavy-duty. It comes with a metal frame and an interior bedframe that are extra strong, making this one of the best portable sewing machines out there. And while it is definitely all-around tough, it also comes with a very impressive warranty from the manufacturer that proves how confident they are in this machine and its longevity.
With your purchase, you also get a soft-sided dust cover to keep dust and debris out of the machine's internal components, which is ideal for transporting.
---
Juki HZL-F600 Computerized Sewing & Quilting Machine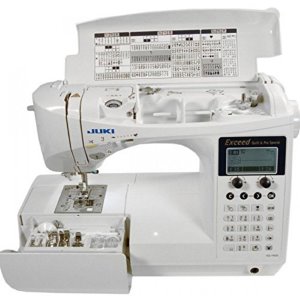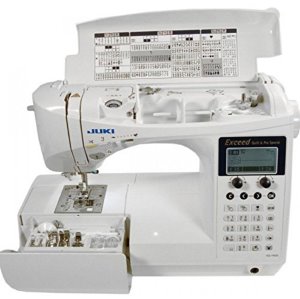 The Juki HZL-F600 Computerized Sewing & Quilting Machine is great. If you want a fabulous sewing machine that will work wonders with canvas, you will love this computerized sewing and quilting machine from Juki. Not only is the machine strong enough to punch through the thickest material ever, like canvas, but it also comes with an extremely big space for you to do all your canvas work comfortably.
Not only that, but this is one of the best sewing and quilting machines for free motion. You will be able to work freehand with your canvas by using the Juki HZL-F600.
Dozens of Accessories
If you don't have any sewing accessories at home, it is no problem. The F600 comes with an astounding number of accessories, over a dozen. That includes ten presser feet, lots of bobbins, twin needles, a seam ripper, different spool caps, and even a quilt guide.
Maximum Functionality
The very best thing about the Juki F600 is that it can do a lot. It has an uncanny way of transitioning from one function to another without skipping a beat. You can easily make a king-sized quilt thanks to the sewing machine's excellent needle placement, then switch immediately to working freehand with canvas.
This sewing machine even comes with a pair of LED lights for nighttime work, like when you become so engrossed in having fun sewing that you forget what time it is and need to flick the lights on. I should also mention that everything about the machine is well designed, from the free-motion quilting foot to the bobbin winder.
---
Best Sewing Machine for Canvas: A Complete Buying Guide
When it comes to working with canvas, you need the best sewing machine. You want a unit that offers lots of power so that the needle will penetrate the canvas without causing any problems. If you have a machine that is too weak, it will never work with canvas.
At the same time, you also want a sewing machine that is versatile. We want it to work with all kinds of different materials, not just canvas. Your sewing machine should come with automatic features, and it should be great for decorative purposes and for creating fashions since that is what canvas is all about.
High-Speed Canvas Sewing
Ideally, you would buy a sewing machine that has an extremely high rate of stitches per minute. This will not only help you with canvas, but it will help you quickly complete all of your projects. Quilts, fashions, home décor, crafting – it can all be done much quicker if you have a high-speed sewing machine.
What I mean by high speed is upwards of 800 stitches per minute. Anywhere around 1,000 stitches per minute is great, as this will keep you moving from project to project. Especially if you are an experienced sewer, you want that extra bit of speed.
Creativity
I suggest choosing a machine that allows you to reach your creative potential. There is nothing worse than buying a boring sewing machine that doesn't have any kind of inspiration in it. What I mean is that a standard sewing machine with only two buttons, a few dials, and no creative customization feels to me like a huge waste of time.
Because we are talking about canvas, I know you want to design exciting patterns. The only way you can do this is by getting a sewing machine that allows you to shine with your creative genius.
This can be achieved in many different ways. But if you get a computerized sewing machine that has lots of ideas already integrated into it, like with built-in stitches and fonts, then you are already on your way to making more interesting creative projects.
Having some interesting accessories come with the package can also be handy. If you have never tried free-motion sewing before, and you get a bunch of sewing machine accessories that promote trying it, you will incidentally boost your creativity. You definitely want a sewing machine that encourages you to try more interesting ways of sewing.
Durability
Make sure whatever sewing machine you buy is durable. Canvas is going to beat up your machine like you wouldn't believe, and so it is important that you have a robust sewing unit that can handle it. And not just handle it for a little while but handle it forever.
Best Sewing Machine for Canvas: Final Thoughts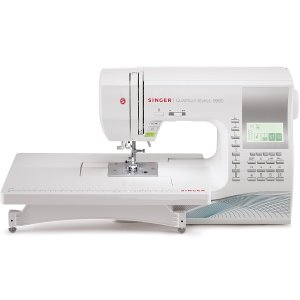 Wow, what a great lineup of sewing machines. The Juki is an extremely sturdy sewing machine built by one of the best manufacturers in the business. And as for the Singer 4423, that is an exceptionally heavy-duty piece of sewing equipment that can make easy work out of any canvas project. And while I love both of these machines, I actually love the Singer 9960 better.
This machine comes with 600 built-in stitches so that you can create all kinds of amazing things with canvas. There are five alphanumeric fonts and 13 specialized buttonholes. You can have the best of all worlds when using the Singer 9960. It comes with an automatic needle threader, it is great for personalizing all kinds of different designs, and it is portable.
If I had to pick one machine that I would use for working with canvas, it would definitely be the Quantum Stylist 9960.
Related Articles: