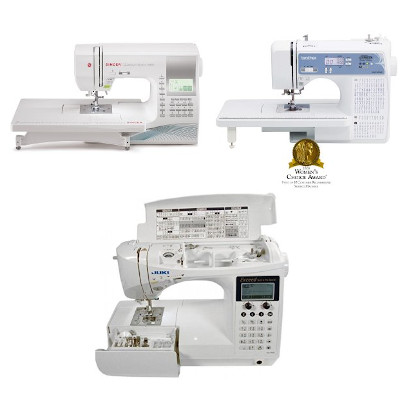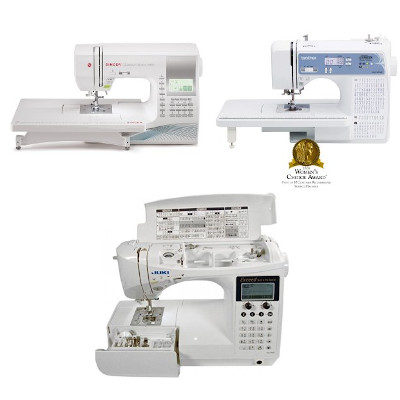 If you're in the market for the best sewing machine for clothing designer, chances are that you already have a fair bit of experience sewing and are looking to upgrade to a more advanced model. Machines made for clothing designing not only have basic sewing features but also a little more to allow users to try their hand at functions like variable stitching and embroidery.
You'll notice that these machines are mostly computerized models with plenty of bells and whistles promising greater accuracy as you work. Along with technology, they also rely on durability and longevity to work through several batches of clothing without wearing out easily. Understandably, computerized sewing machines will also give a fair degree of choice when it comes to stitch selection and adjustment, programable sewing sequences, and handling buttonholes.
So, where do you start your search for the best sewing machine for clothing designer? Right here, with three outstanding models that will take your sewing skill set to the next level.
Top Rated Sewing Machine For Clothing Designer
---
Singer 9960: Best Overall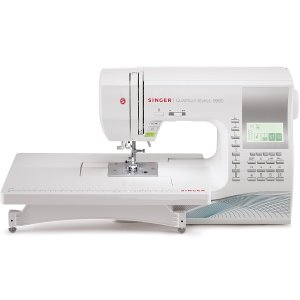 One of the most popular computerized models by the brand, the Singer 9960 comes with a heavy-duty profile that packs in a lot of handy features.
Extensive Stitch Pattern Selection
Boasting a whopping 600 built-in stitches, the Singer 9960 is a standout machine among the competition. While that may be too much choice for beginners, ardent home sewists and professionals will appreciate the various stitch options, numerous feet, and customizable sewing tools that come with this model.
Its intuitive design, automatic features, and adaptability make it the ideal machine for advanced projects. With an adjustable maximum speed of 850 SPM, you can work your way through your projects quickly and efficiently. To facilitate the process, you get helpful features like an automatic needle threader, thread cutter, and tension control. There is also an automatic bobbin winder and drop-in bobbin to get things ready before you start.
Other Attachments and Functions
Clothes makers will appreciate the 13 different buttonhole styles that this machine features. Plus, the machine's twin needle capabilities make achieving uniform hemlines a cinch. Other noteworthy features include mirror imaging which allows users to flip stitches vertically and horizontally and stitch elongation that works to elongate stitches up to five times their original length. And if that isn't enough to get you excited then how about the 13 presser feet that come with the 9960? This covers everything from an all-purpose foot and buttonhole foot to a zipper, narrow hem, and overcast foot and everything in between.
Despite the vast number of features and attachments with the Singer 9960, it remains an approachable and easy-to-use machine making it a popular model among experienced sewists.
---
Brother XR9550PRW: Budget Pick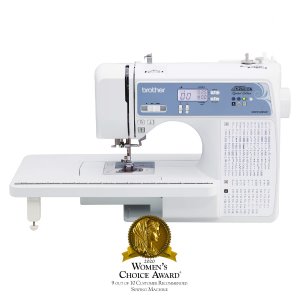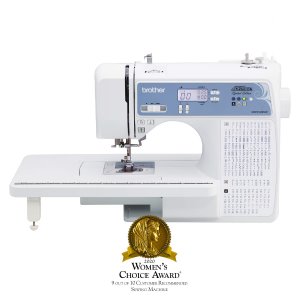 An affordable and feature-rich machine, the Brother XR9550PRW is for tech-savvy users who don't want to splurge on their computerized sewing machine.
Customized for Clothes Designing
This machine was designed with fashion and clothes designers in mind and it shows why. The machine was paired with Project Runway™ to create a model capable of making runway-ready garments.
Accessorized with all the right features, this budget pick machine comes with several feet such as zigzag, blind stitch, buttonhole, monogramming, overcasting, and zipper to name a few. There is an auto needle threader for convenience, a drop-in bobbin system to save time, and 8 styles of one-step buttonhole for variety.
The 110 built-in stitches work nicely to yield a variety of designs and incorporate all the essentials like utility, decorative, alphanumeric, and heirloom stitches. With the XR9550PRW you get a speed of 850 SPM along with a speed control slider with 3 settings.
Easy Navigation
Despite its various features, the Brother XR9550PRW is an easy machine to navigate. The backlit LCD screen makes things easier by displaying various stitch and setting options. Along with the 8 accompanying presser feet, you can also use low-shank compatible extras to expand your sewing options. For projects that are larger, you can use the machine's detachable wide table to expand your work area. Designers will also like the built-in free arm with this model that makes working on sleeves and hems so much easier. For fine detail work, the LED light keeps the sewing area well-lit whether you're working with lace and silk or creating patterns on denim.
---
Juki HZL-F600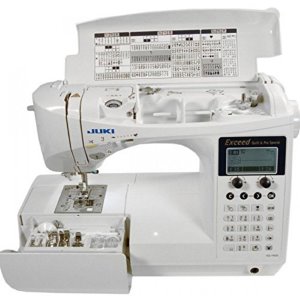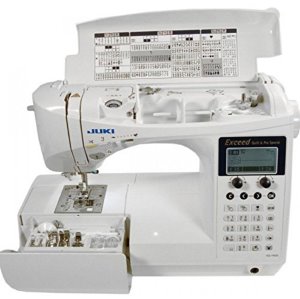 The Juki HZL-F600 computerized sewing machine stands on par with the best machines in the industry delivering quality and versatility in a sleek package.
Loaded with Features
Packed with useful features, this Juki model is fun to work with. Users love the versatility this machine offers with its customization options including adjustability of the presser foot, knee lifting lever, and speed control.
This model comes brimming with 225 built-in stitches that are made easy to use with the help of its large LCD display. Along with the extra-large display, you also get a large worktable to keep your fabric well-placed and without bunching. In addition, there is a snap-on work surface that you can attach in place for larger projects and remove when not needed.
Box Feed Technology
One of the outstanding features of the Juki HZL-F600 is its box feed technology. In contrast to a conventional feed mechanism which uses oval motion, the box feed works by moving the feed dog in a box motion. This mechanism removes the chance of the material shrinking or shifting and delivers top-notch stitch quality for a variety of fabrics. This makes working with lightweight materials, which can otherwise be challenging, a cinch.
While most machines will have a foot controller to adjust speed, the one on this Juki model lets you cut the thread too. It's just one of those nifty additions that make this machine one of the best options for professionals out there.
---
Best Sewing Machine for Clothing Designer: A Complete Buying Guide
Sewing machines manufactured for clothing designing come with on-board computers that let users access a number of specialized features. Much like a laptop or desktop, these machines operate using information that is fed in and work in ways that mechanical or electrical models can't. Given that these machines come with specialized features, it's also to be expected that they will be priced higher than mechanical or electrical models. However, not all computerized machines are created equal, so look around for one that complements your sewing requirements and budget.
LCD Display Monitor and Memory
The LCD display monitor is a universal feature on computerized models that shows relevant information such as multiple menus, stitch settings, or embroidery motifs to name a few. This monitor may work as a touch screen letting users make adjustments and changes to their preferred settings. Some machines with sensors may also receive a message on the touchscreen reminding users that they are close to running out of bobbin or top thread.
The memory component allows users to save their favorite stitches for easy recall or set up customized stitches and retrieve them for future use.
Related Articles:
Stitching Capacity
Computerized sewing machines cater well to creative designing by offering a wide variety of stitch options. You can easily come across models that have 300 or more options in all manner of designs, shapes, length, widths, and styles to approach design from any angle.
Many will also include the capability for multi-motion stitches which refer to the machine's ability to sew forward, backward, and sideways to create intricate designs. And because there is elaborate designing involved, these machines will have needle positioning from left, right, and center in extremely tiny increments. This is very useful for making delicate adjustments and achieving the highest degree of accuracy with designs.
Another aspect of accuracy is the mirror imaging function where the machine mirror images a repeated pattern or motif up and down as well as side to side.
Accessibility
With computerized machines comes the convenience of internet accessibility. This means your machine can be connected to the internet from where you can download updated programs or new stitches via a USB port or jump drive. Some high-end models may even come with their own mouse, similar to a computer, to facilitate navigating the screen. If your machine has these features, make sure to position it near internet access to use these features successfully.
Service
Because of all the amazing things computerized sewing machines can do, it's crucial to have your machine serviced and inspected by a certified professional. Certified technicians are trained just right to service these machines and deal with all its complex aspects.
Best Sewing Machine for Clothing Designer: Final Thoughts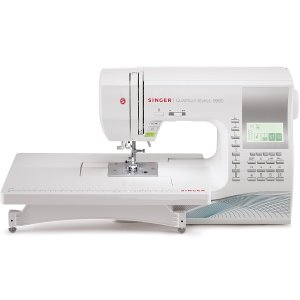 If you want to add personality and pizzazz to your sewing, you need not look elsewhere but at the Singer 9960. This machine is the perfect tool to personalize your projects with its 600 built-in stitches, automated features, and ease of use.
But if you're shopping on a budget, then the Brother XR9550PRW becomes a better choice. This is an exceptionally easy-to-use machine that won't break the bank yet deliver the results.
Anyone looking to taking their sewing skills to the next level will find the Juki HZL-F600 worth the investment. This is a machine that can do it all with its plethora of accessories, built-in stitches, and other features.
Related Articles: