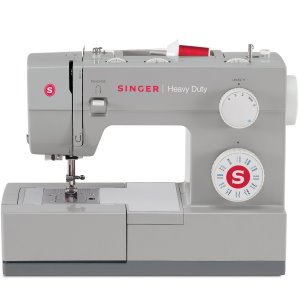 1,100 Stitches Per Minute
Durable & Robust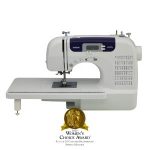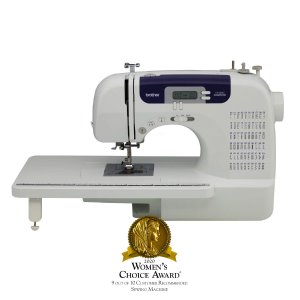 850 Stitches Per Minute
60 Built-in Stitches
---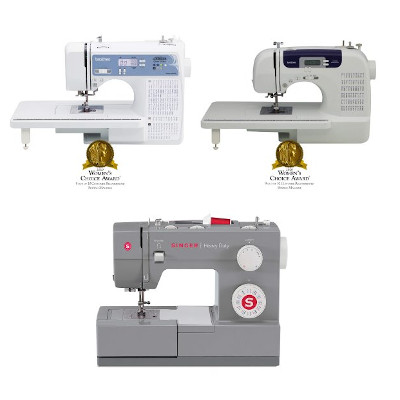 Cosplay is an art in and of itself and the most ardent fans are those who put together their costumes themselves. But to do that right you'll need the best sewing machine for cosplay costume construction.
How do these machines differ from any other sewing machine? Well, for starters, the machine that you select for creating your costume will need to offer a fair bit of variety. And by variety, I mean an array of stitch selection, the ability to handle different types of fabrics, and perhaps some automated setting to make things easier.
Now, there are some basic models that will deliver all this but may come with plastic components that can compromise the machine's performance, especially when working with trickier fabrics. Here, a heavy-duty model may be a better option so that it's more adept at handling all types of fabrics.
So, to help you sort through the vast choice of sewing machines available, here are three recommendations to create professional-looking costumes.
Top Rated Sewing Machine For Cosplay
---
Singer 4423: Best Overall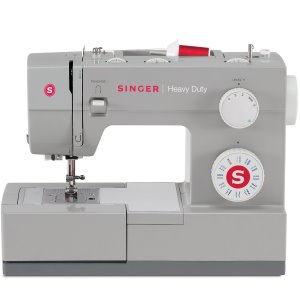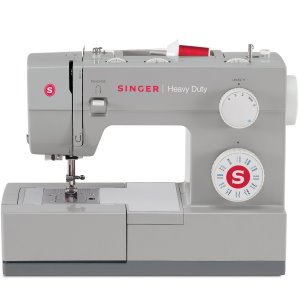 A heavyweight among sewing machines, the Singer 4423 has features that put it a cut above the rest in many ways.
An All-Round Performer
Ideal for novices and veterans alike, the Singer 4423 is a heavy-duty machine that performs on all fronts. Working with a top speed of 1100 SPM, this machine offers 23 built-in adjustable stitches, 12 of which are decorative. Even though this is not a very big number, it is enough to come up with some interesting ideas. The machine makes it easy to select the stitches with its turn dial system.
There is a powerful motor to accompany the 4423's performance and some automated features to make sewing easier. Automated features include a needle threader and bobbin winder, both of which make the machine very easy to use even for beginners. There is also a one-step buttonhole feature which is a nifty feature for sewing costumes.
Read More: Full Singer 4423 review
Heavy-Duty Construction
When it comes to making costumes or working with a variety of fabrics, heavy-duty is the way to go. Having a durably constructed machine means it will last you through many batches of clothing without wearing down.
The Singer 4423 has an interior metal frame with a stainless-steel bedplate. Yet despite its metal parts, it remains a fairly portable machine. The machine weighs in at 14.5 lbs which is not as heavy as other heavy-duty models and takes up less space when compared to other similar models.
As for fabric choice, the 4423 can work well with both heavy and light materials, but the key here is to pick the right needle. All of these features lead me to choose the Singer 4423 as the overall best sewing machine for cosplay.
---
Brother CS6000i: Budget Pick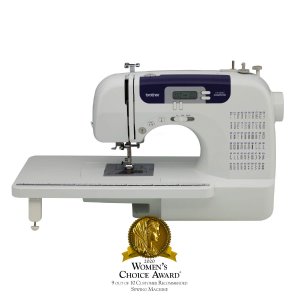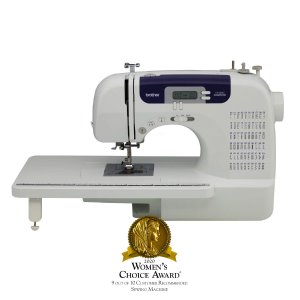 Offering versatility, durability, and performance on a budget, the Brother CS6000i is a customer favorite for many reasons.
Speed Sewing
The Brother CS6000i is one of the fastest sewing machines in its budget. At 850 stitches per minute, you can speed through your costumes at a generous pace with plenty of time to spare. There are 60 stitches and 7 buttonhole styles to experiment with. It's easy to access all stitches on the machine's LCD panel by simply entering the number that corresponds to the stitch you want to use and get sewing.
The integrated speed control slider lets you manage the speed you are comfortable working at which translates into greater accuracy as you work your way through different types of fabrics. As such, you don't have to pay attention to how hard you press the foot pedal to manage your speed. The machine also features a start/stop button should you want to disregard the pedal altogether.
Read More: Full Brother CS6000i review
Offers Sewing Versatility
Accessories and additional features are often the selling point for any product and the CS6000i doesn't disappoint. It comes with multiple feet, twin needles, automatic needle threader, easy bobbin winder, and adjustable speed settings for cosplayers to work at their own pace.
Helpful features like the free arm and oversized table make the CS6000i an excellent choice for cosplayers and their creations. The LED light illuminating the sewing area is very helpful for creating detail on costumes with precision.
---
Brother XR9550PRW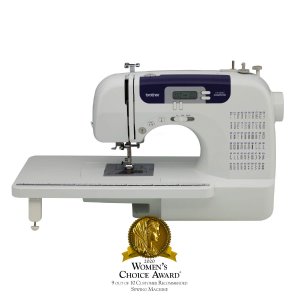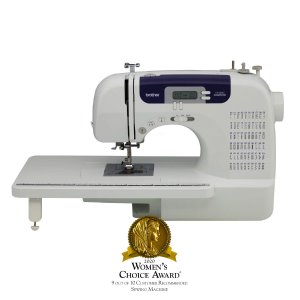 Another model from Brother, the XR9550PRW is a computerized machine for people who are comfortable with technology and don't mind having preset features to help with sewing.
User-Friendly Computerized Features
Rather than overwhelm a user, the XR9550PRW comes with user-friendly features and mechanisms to facilitate the sewing process. It offers an enormous library of 110 built-in stitches, all available at the push of a button. You can choose from a wide variety of utility, heirloom, and decorative stitches for your project. Plus, there are 55 alphanumeric stitches which takes the grand total to a whopping 165 built-in stitches.
The easy-to-read LCD display acts as a guide giving access to different sewing options and computerized stitch selection. You can also see the length and width of the stitches you choose for your project. This wide selection of stitches also makes it easier to work with different types of fabric and makes your cosplay all the more original.
Accessories Aplenty
The Brother XR9550PRW is a well-built machine with a maximum sewing speed of 850 SPM. For customizing your costumes, you get 8 presser feet with basics like zigzag and buttonhole, and then others like overcasting, zipper, blind stitch, spring action, and monogramming for the added oomph.
There is an automatic bobbin winding system, automatic needle threader, drop-in bobbin system, and a foot pedal controller to make using this machine as easy as possible. The free arm is a great feature for cosplay designing and lets you work with as many hems, cuffs, and sleeves as you'd like. And the hard carry case makes it a highly portable machine that is easy to take along at a mere weight of under 11lbs.
---
Best Sewing Machine for Cosplay: A Complete Buying Guide
Bringing your favorite fictional character to life by portraying every detail fervently is a passion for some people. An ideal cosplay sewing machine will help you do just that with its key features.
Creating a cosplay costume involves a lot of fine and elaborate details and the machine you use to create yours should have the features to complement that. To make sure that you invest in a suitable model, here are some things to keep in mind.
What Is Cosplay?
Cosplay is a performance art where participants wear costumes that represent a specific character. The word cosplay is a blend of two words: costume and play. People who participate in cosplay are known as cosplayers and they usually make their own costumes.
Cosplay has been gaining popularity as a hobby since the 1990s, and popular sources for the characters are anime, manga, cartoons, comic books, and video games. Cosplay is a significant aspect of popular culture in Japan and other parts of Asia. It is quickly becoming more popular in western countries.
The 3 Best Sewing Machines For Cosplay
How to Choose a Sewing Machine for Cosplay?
Cosplay costumes are typically not made from the usual fabrics of daily wear. They tend to get stitched from various varieties to form one fabulous cosplay costume.
In this regard, cosplay sewing machines are inherently distinct from traditional sewing machines. Accordingly, the market holds umpteen apt models of sewing machines dedicated to the plethora of cosplay options.
If you are seeking the ideal sewing machine for cosplay, bear in mind the following pointers.
Cost
The best sewing machine for cosplay requirements gets priced higher than the usual sewing machines. The additional features further increase the value of the utility.
Some people tend to make do with the heavy-duty models of sewing machines available in their households. While it may not be aptly conducive to cosplay needs, it gets the job done.
Also, an expensive cosplay sewing machine is not necessarily the ideal machine for you. Ensure that the sewing machine meets all your cosplay stitching specifications before purchasing it.
Compatibility
As mentioned earlier, cosplay sewing machines need to be flexible enough to work with various fabrics. Sometimes the material can be hard to sew when bundled together or individually. This bundling makes it difficult for the needle to sew seams and stitches efficiently.
You must take care to reduce the overall strain on the needle and other stitching components. Ensure your cosplay sewing machine is capable of working equally efficiently on stiff as well as soft fabrics.
Features
Cosplay sewing machines differ in preferences from person to person. Some find it comfortable to work with the mechanical sewing machines since it may provide them with more control. For some others, electrical sewing machines furnish more avenues of creativity.
Further, features like pre-programmed stitch patterns, needle options, size of the machine, etc., require careful consideration. If you are a die-hard cosplay fan, then you will need a sewing machine with every available feature.
If you are a beginner, make sure you have a basic idea of the features you require. Do not buy a machine with features you will not be utilizing and end up over-spending.
Types of Fabric
A machine capable of creating cosplay outfits needs to be able to handle a variety of fabrics as a basic minimum. This is only because cosplay outfits use a range of materials from velvet, real or faux silk, brocade, taffeta, or heavy-weight satin. But that's not all. It's easy to see that there are elements of leather, linen, wool, and even canvas in many costumes. So, a machine that can do justice to these and other fabrics is a good starting point.
Types of Stitches
Stitch variety is also important as costume designing goes way beyond the straight and zigzag stitch. Granted, that is the starting point for all types of stitching, but most machines already have these two basic options incorporated within. As such, it's time to look beyond.
There are computerized sewing machines that offer an astounding amount of stitch options and numbers can go as high as 600 stitches per model. If you cosplay on a professional level, then perhaps such a machine would be to your liking, but for others who are just starting out with cosplaying, or people who are comfortable with a specific set of stitches may not need so many.
Lesser, non-computerized models will also offer a fair variety, so look carefully at this option to see what works best for your sewing style.
Working Area and Storage
A machine that can expand its work area is a better option when creating your costume. Some models will offer a wide table to start with while others may have a snap-on attachment to make the work surface even larger. Likewise, storage is also important to keep all your knickknacks on hand.
Most machines already come with a free arm which is a handy feature to have for more advanced sewing projects, and the best sewing machine for cosplay will have this feature.
Related Articles:
Advantages of Having a Quality Sewing Machine for Making Cosplay
Again, the definition of a quality sewing machine differs for every individual. Beginners will find it handy to work with a simple mechanical machine than a computerized machine. The other enthusiastic cosplayers will find an electrical machine with its multiple stitch options more feasible.
Nevertheless, whether it is a mechanical or electrical sewing machine, the advantages are plentiful for either model.
Mechanical Sewing Machine
They are an economical option that can collaborate effortlessly in tandem with an electrical sewing machine.
The levers and manual dials allow for easy adjustments of stitch tension and changes.
The limited stitch options and features enable simplistic maintenance routines for a healthy sewing machine.
The lighter mechanical models are perfect for beginners to get adjusted to the various cosplay stitching techniques.
The heavy-duty models are equally ideal for handling thick fabrics (denim) and thinner delicate fabrics (silk).
Electrical Sewing Machine
The list of features is endless in addition to the machine getting computerized.
Pre-programmed stitches are a productive feature for stitching multiple different costumes in a single cosplay project.
You have the convenience of automatic threading, cutting, tension and length adjustment, etc., at the push of a button.
An electrical sewing machine furnishes designing options that are as varied as the stitching styles.
They offer optimal speed control.
What Features Does a Cosplay Sewing Machine Need?
Versatility and ease of use are the top priority features that everyone seeks when looking for the best sewing machine for cosplay. Whether it is a single costume or multiple projects, you will require a tool to bring out the best of your creativity.
Pre-Programmed Stitches
There are a few basic stitches that every sewing machine is capable of applying. Apart from these, you may require a few more creative stitches for a unique cosplay look.
Decorative stitches go a long way in getting the right presentation of the fancy elements of cosplay. Ensure you check all the specifications of the machine for the availability of essential and decorative stitches.
Free Arm
This feature is present below the needle and furnishes a narrow filed of work for circular or tubular stitches. The benefit of the free arm is the efficiency of stitching a fabric layer without interfering with other layers involved.
You can sew narrower parts of the cosplay like cuffs, sleeves, trouser legs, etc., with this handy feature.
Expandable Working Area
In a cosplay sewing machine, more room to stitch implies lesser errors regarding imperfections and wasted efforts. The stability that the machine experiences also allow for better stitching with the various stitching options.
Further, cosplay sewing machines come with the incentive of an extension table for ease of design. Or they can be custom-fitted with a separately purchased extension table.
Presser Foot
There are a few stitches that often get utilized as the zipper or buttonhole. Accordingly, the sewing machines get fitted with an all-purpose presser foot for these essential functions.
Advanced models will have presser feet for other features like embroidery, open-toe stitch, etc., that can get purchased separately.
Speed Control
The ability to handle different fabrics and access to different types of stitches becomes so much easier when the machine has variable speed or some kind of speed control features. Having optimal control over your sewing speed allows more efficiency than you could imagine.
Because different fabrics work best with different speeds, this is an important feature to consider. Some machines give the option of controlling speed with the foot pedal while others come with different speed settings. Keeping in mind the types of fabric you usually work with, think about how speed will affect your sewing and consider the most suitable option.
The best sewing machine for cosplay will have multiple speed levels, as this allows either larger cosplay projects or smaller delicate projects to take shape through a single machine.
Ease of use
With multiple features comes the hassle of understanding the intricacies of each stitch option and gear. Computerization of the machine takes away the majority of these complexities. The owners-manual furnishes detailed instructions that give you an idea of the capabilities of your sewing machine.
What Type of Sewing Machine is Suitable for Making Cosplay?
There are dedicated sewing machines retro-fitted with multiple stitching options as needed for a cosplay costume. Some furnish speed stitching when you are short on time while others are apt for various costume creations.
Sewing machines for cosplay differ in the features they provide and to varying degrees. Most of them get built to ensure the handling of delicate costumes as well as tough fabric stitching.
You can either choose from a mechanical or electrical sewing machine, both of which provide ample benefits.
Summing up
Cosplaying allows you to have a great time fantasizing as your dream character. With an ideal sewing machine at your disposal, it is effortless to create your unique cosplay costume.
While there may be a lot of trial-and-error, it is all a part-and-parcel of the cosplaying experience. So, get stitching and have fun as your dream villain or favorite food mascot!
Best Sewing Machine for Cosplay: Final Thoughts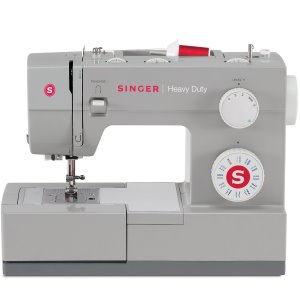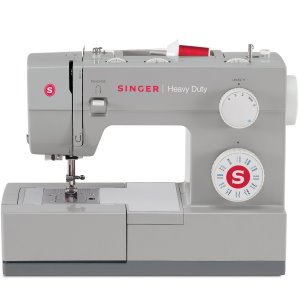 For tough sewing jobs, the toughest machine out there is the Singer Heavy Duty 4423. With its top speed and powerful motor, you can take your sewing skills to the next level and its versatility and durability put it in a league of its own.
With its 60 built-in stitches, computer power, and a host of other features, the Brother CS6000i offers incredible value for the money. With its automatic features, you can get a quick start on your cosplay creation and get results with unmatched versatility.
On the other hand, the Brother XR9550PRW aces all the features with its 165 stitches, LCD screen, and wide table. This is a machine that will help you create your costumes with the utmost perfection, and one that I have no hesitation in crowning the best sewing machine for cosplay.
Related Articles: