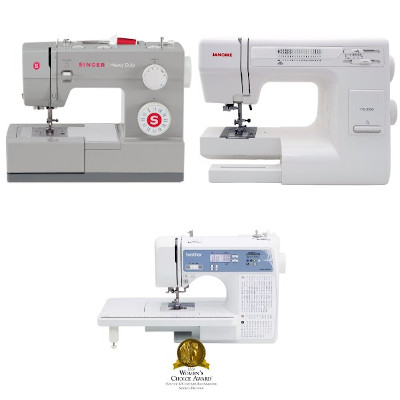 Denim can be a challenging fabric to deal with for many standard sewing machines. It demands more power, a higher stitching speed, and some other specifics to make for successful stitching. As such, the best sewing machines for denim will be slightly heavy-duty models with a few special features for working with denim and other similar tougher fabrics.
All-metal components are a great place to start with as lesser machines with plastic parts will also have weaker motors which will wear out easily if you work with a lot of heavy fabric. And when you take into consideration denim's twill weave, you'll understand why it's important to get a machine that is built for the job.
If you plan on working with a lot of denim try not to test the limits of your regular sewing machine on this tough/heavy fabric. Instead, take a look at these three recommendations that are equipped for the job and will make working with denim a seamless process.
Top Rated Sewing Machine For Denim
---
Janome HD3000: Best Overall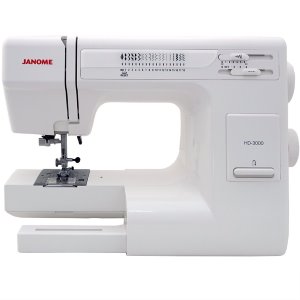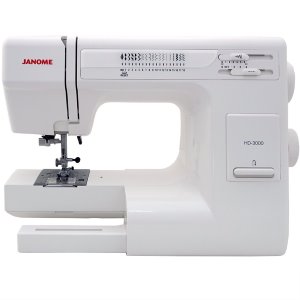 A solid choice among heavy-duty machines, the Janome HD3000 can hold its own when tackling challenging fabrics like denim.
Effortless Stitching
Winning accolades for being an outstanding machine, the Janome HD3000 comes with a heavy-duty metal frame and works at 860 SPM. Designed for durability and versatility, this machine comes with a simple layout and ease-of-use that makes it highly appealing to both novices and seasoned sewists alike.
With regards to working with denim, the adjustable presser foot is a priceless feature as it makes for accommodating many types of fabrics. It lets you work just as smoothly with lighter fabrics as it does with their heavier counterparts simply by adjusting the amount of pressure you apply.
You also get access to 18 built-in stitches including both basic and decorative stitches controlled by a dial. To get a visual representation of the stitches, simply flip the top cover and view the stitch diagram displayed there.
Comes with All the Essentials
Although a mechanical model missing the bells and whistles of a computerized machine, the Janome HD3000 is still a feature-rich machine that makes it the complete package.
There is an LED-lit work area, auto needle threading, 1-step buttonhole, snap-on presser feet, free arm, reverse stitch button, and a push/pull bobbin winder. The storage/accessory compartment near the bobbin holder fits all your extra accessories and keeps them on hand for whenever you may need them. A protective hardcover seals the deal making it easier to move your machine around with you.
---
Singer 4423: Budget Pick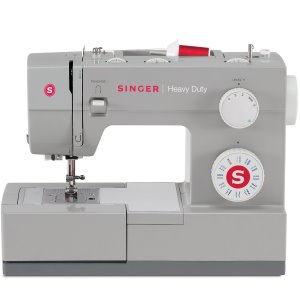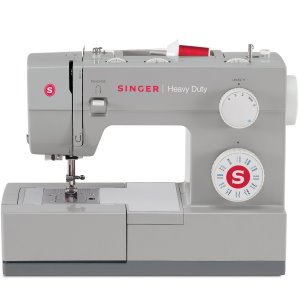 With an easy setup and ease-of-use, the Singer 4423 offers high-quality stitches at an affordable price.
A Beast of a Machine
The Singer 4423 is a heavy-duty model tailored for working with tougher fabrics like denim. You get an impressive speed of 1100 SPM that lets you work smoothly with denim. Regular machines don't have that kind of power or speed to go evenly through denim and you'd have to slow down for greater accuracy. But with the 4423 you can work at a higher speed without skipping any stitches.
The construction is also heavy-duty with an all-metal frame and stainless-steel bedplate that lends to the machine's stability and durability.
Plenty of Features
There are lots of features to go around with this sewing machine. Starting things off are the automatic needle threader and buttonhole sewing function. Then, there is a slider in the back for dropping the feed dogs for free-motion sewing.
There are four presser feet in all and 23 different stitches to choose from. This gives you a lot of elbow room to work with both thicker and thinner fabrics. Two adjustment dials on the machine give you the freedom to be creative letting you customize the length and width of the stitches. The machine's sewing needle is also adjustable in three different positions; right, middle, or left which makes it very easy for working with things like zippers.
To round off, you also get a top-loading, drop-in bobbin, a foot control pedal, automatic reverse, on-board storage, a free arm, and an extra-high presser foot lifter to allow greater clearance when you sew a few layers of a bulky fabric like denim.
---
Brother XR9550PRW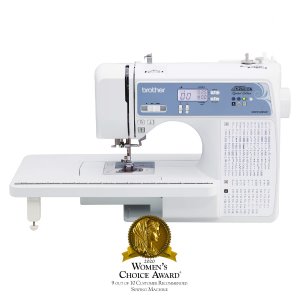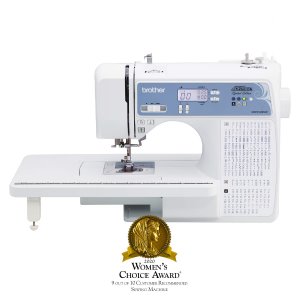 When you have a product backed by a reputable name like Brother, you know you can't go wrong with your purchase.
Hassle-Free Sewing
The Brother XR9550 comes with a design that offers a range of features allowing users to take on different projects with ease.
Starting with the LCD panel, you can customize your stitches and settings using the machine's stitch selectors which are laid out on the LCD screen. The front panel of the machine also displays a comprehensive stitch selection guide that explains the 110 built-in stitches that come with your purchase. This is more than what any beginner or seasoned seamstress needs to get started on their sewing projects. There is a wide selection of utility and decorative stitches to choose from and you can also change the width and length of the stitches as per your needs. The maximum sewing speed that the machine offers is 850 SPM.
Other Features
The Brother XR9550PRW uses a top-loading, drop-in bobbin system for the greatest convenience. There are 8 one-step buttonholes, 8 presser feet, and an optional foot controller to go with your purchase. The speed slider on the front of the machine lets you control the speed you wish to work at while the tension dial on top of the machine lets you manually adjust the thread tension.
The machine is also equipped with a manual thread cutter on one side and a handwheel on the other to manually move the needle. You also get the convenience of a free arm, an automatic bobbin winding function, needle threading, and a one-stop buttonhole to make this one of the easiest machines to use.
---
Best Sewing Machine for Denim: A Complete Buying Guide
Sewing machines offer different levels of durability, strength, and convenience, and finding one that works well with denim needs a few specific considerations.
Leveling Button
This feature can easily make or break your experience of working with denim. The leveling button elevates the front of the presser foot so that you may insert thicker fabrics like denim underneath. The higher the presser foot can lift, the more layers or heavy fabric your machine will accommodate with ease.
Build and Motor Power
Sturdy construction and higher motor power are obvious desirables in a sewing machine made to work with denim. An all-metal frame will offer better resilience to vibration while higher motor power will help penetrate and work through thicker fabrics with ease. This will also allow you to stitch through denim without having to slow down for precision and accuracy.
Variable Speed
This is a useful feature to have if you work with different types of fabric. Some sewists like to work at a slower pace than others and feel that they have better control working with a speed they can manage. Others are more adept at handling higher speeds. With a variable speed feature, you can tailor and monitor the speed to your own preference.
Related Articles:
Stitch Variety and Adjustability
A greater variety in the type of stitches available gives you more leeway to experiment and make your projects more creative. At the same time, when you work with thicker or heavier fabrics, your stitches should ideally follow suit and become longer and wider. The longer the stitch becomes, the easier it becomes for the needle to puncture through and the stronger and tighter the stitch will be.
All this requires adjustability, so a machine that lets you change up your stitch length and width is recommended.
Needle
Last but by no means least, the needle you use for working with denim is extremely important. Also known as Jeans needles, these are specialty models for use on heavy woven fabrics and denim. These are designed to penetrate extra thick fabric with minimum needle deflection which reduces the risk of skipped stitches and needle breakage.
You could also use a universal needle-sized 90/14 which has a similar thick, strong shaft and a very sharp point and is good for sewing through multiple fabric layers without breaking.
Best Sewing Machine for Denim: Final Thoughts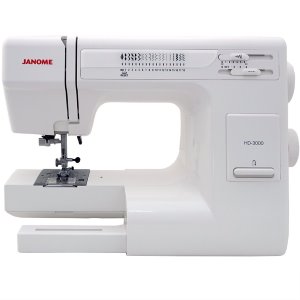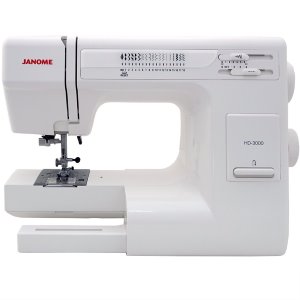 The Janome HD3000 is the best-ranked sewing machine for denim as it is a versatile workhorse without packing any flashy extras that you may never use. Even though it's designed to do a few things, it does them exceptionally well and comes in an affordable price range for most people.
If you want performance, value, and efficiency on a budget, then the Singer 4423 is an excellent candidate. It comes with an easy setup and operation and its no-frills features make it a very good entry-level machine with a price to match.
The Brother XR9550 grabs instant attention because of the huge number of built-in stitches it offers. Pair this up with its computerized features and you get a steal at this price. Suitable for big and small projects, this is one versatile machine that will take you through your sewing ventures happily.
Related Articles: