When it comes to sewing leather, not any old sewing machine is going to do. You need the best sewing machine for leather to make sure all of your projects turn out perfect. Without the right sewing machine, you risk problems down the line with anything from stitches to presentation.
Luckily, I have put together a list of the three best sewing machines for leather that money can buy. These three machines are heavy-duty enough to tackle all your leather projects, making quick work of the toughest leathers that you will use on any given day.
These machines come with automatic features, simple stitch selections, highly functional presser feet, and loads of power to make sure that your needle punctures leather with every stitch. You will never struggle when creating leather pants, stitching leather belts, or even making a homemade pair of leather boots.
Top Rated Sewing Machine For Leather
---
Janome HD3000 Heavy-Duty Sewing Machine – Best Overall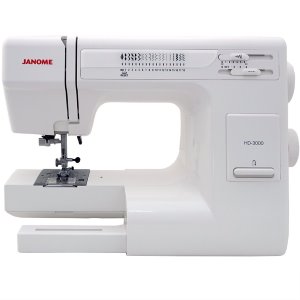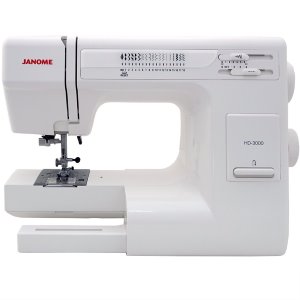 The Janome HD3000 Heavy-Duty Sewing Machine is the ideal unit for working with leather. This machine has everything. It comes with an automatic needle threader so that you never have to strain your eyes ever again. Its special top-loading bobbin system is jam-proof and easy to change. Plus, it comes with a bunch of other features to help with your leather sewing projects.
All the Equipment
The great thing about buying this excellent sewing machine from Janome is that it comes with all of the things you could possibly need for working with leather. I'm talking about free packs of leather needles, universal needles, lots of included bobbins, and then all of the specialized sewing feet to help you sew like a pro.
This unit also includes 18 built-in stitches that are easily selectable by simply turning the dial to whichever stitch you want to use. You will never find yourself confused when using the HD3000 Heavy Duty Sewing Machine. All of the components you need are included in the system for you to use.
High-Quality Sewing
The sewing quality with this machine is unparalleled. Because it is so heavy duty, you will punch through leather material with absolutely no problem. Your stitches will be straight and neat, your thread will hold up nicely, and you will sew stress-free knowing your machine can do its job.
While the exterior of the machine may look plain and ordinary, the amount of power you get inside of it is superb. It stitches extremely quickly with a lot of power and will make a great addition to your sewing room.
---
Singer 4423 Sewing Machine – Budget Pick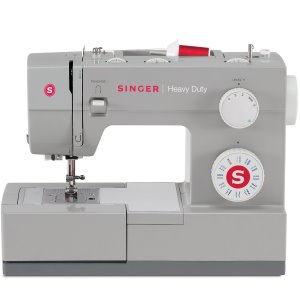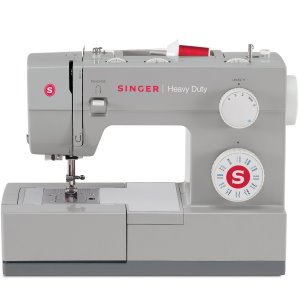 Talk about a heavy-duty sewing unit. The Singer 4423 Sewing Machine is the very definition of heavy-duty. And since we are talking about the best sewing machines for leather, heavy-duty is where you want to be. A heavy-duty machine like the 4423 is going to punch through leather like nobody's business.
Beefy Motor
The motor on the 4423 is simply incredible. Whereas a standard sewing machine is lucky to output even 500 stitches per minute, the 4423 works at an amazing 1,100 stitches per minute. Not only can you sew your leather faster, but you can do it expertly and without wasting any time.
Yes, the motor is going to drastically reduce your stitching times, but it is also going to beef up your stitches. Because the motor is 60% stronger, it has some of the best piercing capabilities you will find in any standard sewing machine. The excellent power is ideal for seams and thick fabrics like leather or denim.
Variety
Because of the intense power, the great automatic features like the automatic needle threader, and the heavy-duty components of the 4423, it is great for a large variety of projects. You can complete any kind of sewing project with the singer 4423, including leathers.
Not only that, but you can go from leather to quilting, then straight to simple arts and crafts in a matter of minutes. This unit truly has all the versatility you need in a home sewing machine.
---
Brother XR9550PRW Sewing & Quilting Machine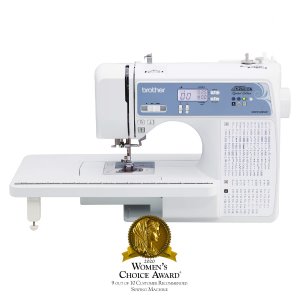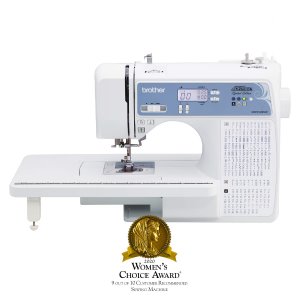 The Brother XR9550PRW Sewing & Quilting Machine is one of the most technologically advanced and yet still affordable sewing machines available right now. It comes with a monster amount of built-in stitches for decorating and for buttonholes. It has automatic features that are standard in modern sewing machines, accessories that make it easy to use, and an intuitive LCD screen for easy usage.
Large & In Charge
My favorite thing about Brother's XR machine is its size. It comes with a table that is incredibly wide and allows you to work on huge projects without cluttering your work area. This is extremely important when working with leather since there are often so many different things going on at the same time. I absolutely love having a spacious area to work in.
Plus, the sewing machine threads your needle for you with its automatic needle threader. It comes with a hard cover that keeps it free of dust, an instructional DVD, and eight sewing feet that can be used for your leather projects.
Built-In Stitches
With 165 unique stitches integrated into this computerized sewing machine, you are never going to be short of options. There are 55 alphanumeric sewing stitches, eight different styles of buttonholes, and loads of decorative stitches that will keep you on your creative toes.
This machine does a whole lot more than just stitch leather. It has the power to stitch leather, of course, but it has the computerized intelligence and intuitive controls to tackle all of your sewing projects at home, including quilting.
---
Best Sewing Machine for Leather: A Complete Buying Guide
There are some key fundamentals you must consider when purchasing the best sewing machine for leather. Considering that leather is a very thick material, you need a machine that is going to last a long time while stitching copious amounts of leather.
The last thing you want is a sewing machine that overheats, jams, or simply lacks the power to pierce your leather material over and over again. By considering a few key points, you can save yourself the nightmare of buying the wrong machine.
Puncture with Power
It is all about puncturing the material. An ordinary sewing machine will work fine if you are stitching cotton or fleece or lace – anything thin can easily be stitched with a standard sewing machine. But leather is one of the thickest materials that people sew. You need power.
Look for a machine that features a heavy-duty motor. The stronger the motor, the stronger the piercing power. You can generally recognize a quality motor by how fast it stitches. Any machine that can stitch upwards of 800 stitches per minute is going to have a strong motor. And that is what you need to make stable stitches with leather.
Related Articles:
Room to Work
As someone who is interested in making things out of leather, you are probably going to want enough room to work. Leather can be bulky and tedious, and you want a sewing machine that is going to allow you to work to your full abilities.
Try looking for a sewing machine that has ample space for you to work. It is also worth checking out what kind of accessories come included with the machine. Many will come with an extra-wide table, and this is ideal for working with leather. There are also unique sewing feet that will help in your leather projects.
Needles
This is less of buying advice and more of a pro tip for working with leather. Many people do not know about special sewing needles. Even if you buy a machine with a very strong motor, it may not be enough. You need specialized needles designed to punch through the leather.
Leather needles can be purchased at just about any hobby store in the country. You can also order them online in bulk. When purchasing a heavy-duty sewing machine, chances are it will come with a pack of leather needles for you to try out.
By using a standard needle rather than a leather needle, you risk messy stitches, jamming your material, straining your machine, and snapping the needle. Obviously, these are all issues that can be easily avoided by choosing the right needles for the job. It is something to keep in mind before starting your next project.
Best Sewing Machine for Leather: Final Thoughts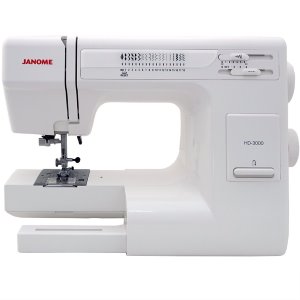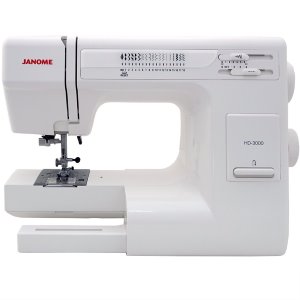 Personally, I love all the sewing machines on this list. The Brother Sewing & Quilting Machine comes packed full of technological advances in the world of sewing. The Singer 4423 Sewing Machine is built extremely tough to last you for many years. However, my undeniable favorite is the Janome HD3000.
The HD3000 may not come with hundreds of built-in stitches, it may not have a ton of extra room for sewing projects, and it may not be computerized. However, it is a steal of a deal. The price is affordable for anybody on a budget, it offers performance that many experienced sewers will appreciate, and it is great to use for a beginner.
The HD3000 comes with tons of accessories, it has an easy selection for your stitches, it looks great, it's lightweight and super portable, and it has an automatic needle threader. You do not need any more accessories or features in a sewing machine for leather.
Related Articles: