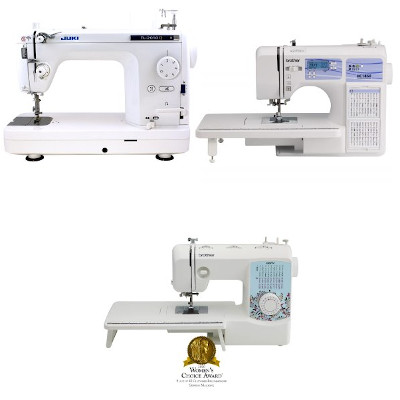 Once upon a time quilting was something that was done out of need as opposed to want. Traditionally, women would sit and spend hours sewing quilts (by hand) by candlelight to ensure everyone stayed warm during the cold nights. Nowadays, quilting is a hobby enjoyed by many people all over the globe. And thankfully, with the rise of modern technology, we now have a wide range of amazing machines to choose from in which to help us get the job done a lot faster.
In this review, I'm going to go through three of the most popular selling quilting machines available to buy today. While some of these machines may be suitable for other tasks besides quilting, this will be their main focus. I'll share with you all the good they have to offer, anything bad to be aware of, and some of the things you should be looking for when purchasing a new sewing machine for quilting.
Top Rated Sewing Machine for Quilting
---
Juki TL-2010Q Review – Best Overall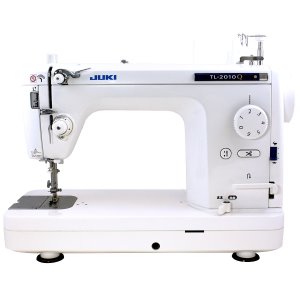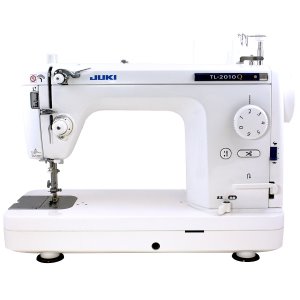 The Juki TL-2010Q is the perfect machine for anyone looking to try their hand at quilting. Although there's no actual thread guide to follow, the threading of this machine is actually pretty easy. The side-loading bobbin system also makes for light work. Simply snap the bobbin holder in place and press down the presser foot. The downside to having this type of bobbin system is there's no sewing while you wind the bobbin.
Bells and Whistles
Another thing I like about this machine is there are several good features to make use of. There is an automatic threader and trimmer, a knee lifter for the extra high (12mm) presser foot, and a needle up/down function that gives you the option of having the needle in the up or down position when you stop sewing.
When it comes to sewing speed, this machine is a monster. Capable of sewing up to a maximum of 1,500 stitches per minute, the Juki TL-2010Q is a great machine to use if you make quilts for a living. Moving this fast will allow you to complete a variety of projects in no time at all. If you're not quite ready to sew that fast, then you don't have to. Thanks to the variable speed control button, how fast you go (or sew) is down to you.
Good Quilting Capabilities
There's an extended workspace on this machine. And, it comes with a variety of presser feet including a 1/5 quilting foot and a ¼ quilting foot. All of which will enable you to carry out your quilting projects much easier.
---
Brother XR3774 – Best Budget
If you're looking for a sewing machine that's easy on the wallet and allows you to complete a wide range of sewing and quilting projects, the Brother XR3774 is a good choice for you. Equipped with 37 unique built-in utility, decorative, and quilting stitches, there's not much you can't get done with this little number. It even features a one-step buttonhole for good measure.
Extra Space
If you're a seasoned quilter, the first thing you may notice upon looking at this machine is the extra-wide table it has to offer. This extra space is just what's needed when working on those large projects. It also features a built-in free arm to make sewing harder to reach areas more accessible and comes with an arrangement of sewing feet to use when working on various projects.
User-Friendly
In addition to being very functional and versatile, the Brother XR3774 is also a very simple machine to use. There's no complicated computer to deal with, all the dials move very smoothly, and it's also very nice to look at with a nice subtle, decorative cover. To select the stitch you want to work with, simply turn the big dial located on the front of the machine to your chosen stitch's number.
Both the quick-set top drop-in bobbin and automatic bobbin winding system are great features, particularly for beginners. With these features, you'll be up and sewing in very little time after unpacking your machine. There's even a built-in easy needle threader to help save you from eye strain too.
---
Brother HC1850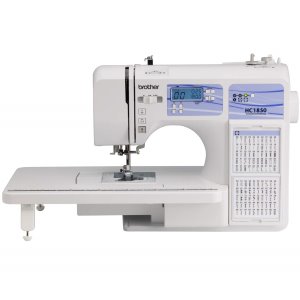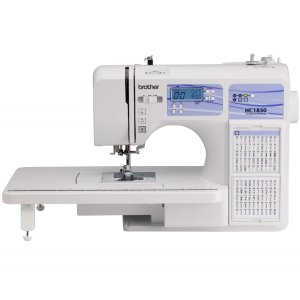 If you're looking for a modern machine that's capable of completing a wide range of quilting and sewing tasks, the HC1850 is a good choice. With 185 unique built-in stitches to work with, including 14 quilting stitches, the design possibilities with this machine, are endless. You also get 8 different presser feet and a wide table in which to help make working on different, and larger projects such as quilts, more accessible.
Simple Computer
Not all computerized sewing machines are easy to work with. The Brother HC1850, on the other hand, is an absolute dream to use. Even if you've never used a computer before in your life, you'll have no problems navigating around this machine. All your stitch options are shown on the panel on the front of the machine. Once you know the stitch you want to use, simply use the navigation keys next to the LCD screen to input the number and watch as it appears on the screen before you. In addition to the stitch type, you can also choose your stitch length and width options here too.
Heavy-Duty
Another great quality this machine has to offer is that it's strong and tough. The Brother HC1850 is capable of sewing at a maximum sewing speed of 850 stitches per minute. But even when moving that fast, thanks to the machine's solid frame, there's no vibration, meaning you get an accurate and smooth stitch each and every time.
---
Best Sewing Machine for Quilting: A Complete Buying Guide
Buying a new sewing machine that's equipped with all the right features and functions you need to be able to produce quilts to a high standard can be tough if you don't know what you look for. There are so many attributes to modern sewing machines these days. And while most of them are great in what they do, not all of them are relevant when it comes to quilting. In this section, I'll highlight some of the main things to look out for when buying a sewing machine to use for quilting. Hopefully, this will make things a little easier for you.
Table Size: When sewing quilts, the more space you have to work with, the better. Not all sewing machines are fit for quilting, simply because they just aren't big enough. Don't fall into the trap of buying a machine that's packed full of great features but is too small that you can't actually complete any quilting. Those with extended or wide tables are best for quilters.
Throat Space: This is another area that needs to be as big as possible when quilting as it will give you more freedom of movement while in action.
Stitch Selection: While you don't necessarily need a machine with a huge collection of stitches, preferably, you do want a machine that has an assortment of quilting stitches to work with.
Frame: An embroidery frame isn't an essential feature for quilting, but it can come in handy. So, while it is worth looking out for as an added extra, it's not the be-all and end-all.
Feet: There are certain presser feet that as a quilter you will want to have. The first one is the ¼" foot. These are used when piecing together your patchwork and allow you to achieve the perfect seam for your quilt. The next foot you want to look out for is the walking foot. These feet enable you to sew multiple layers and helps to feed fabric more smoothly through the machine. And if you're looking to do any stippling or meandering on your quilt, then you'll need to ensure you have a free motion/darning foot to hand.
Needle Position: Having a needle that you can program to stay up or down when you stop sewing is quite an important feature for quilters as it allows you to move more freely.
Thread cutter: Again, not an essential quality to have, but is one that makes life that little bit easier and allows for a greater continuation of sewing.
Related Articles:
Best Sewing Machine for Quilting: Final Thoughts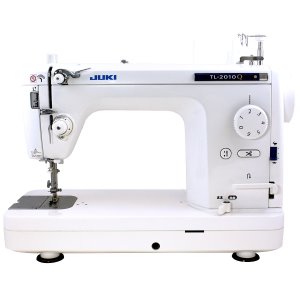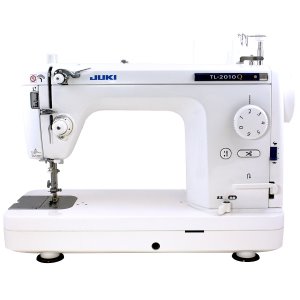 Finding a new sewing machine that's adequate to meet your needs doesn't have to be a chore. And hopefully, after reading this article it won't be for you. If you're looking for a top-spec sewing machine that's both easy to use, featureful, and offers a good range of quilting capabilities, then the Juki TL-2010Q is a very good option. It's fast, it's modern, and it makes quilting a darn sight easier than a lot of machines out there. The downside is, it's a little on the expensive side.
If you're looking for a quilting machine that's versatile, easy on the eye, and easy on the wallet, then the Brother XR3774 may be the best option for you. It may be considered a budget machine, but that's only in price. The stitch quality is fantastic, and it offers a moderate range of stitch options to complete most sewing and quilting projects. Or, if neither of those machines takes your fancy, be sure to check out the Brother HC1850. It's easy to use, yet computerized and offers a pretty large selection of stitch options to work with.