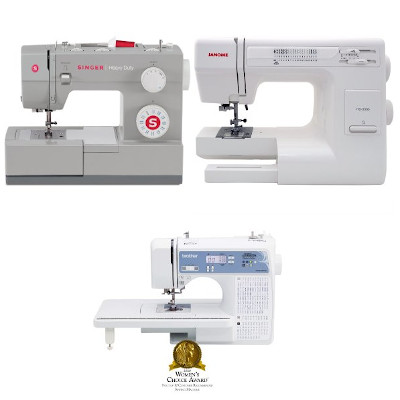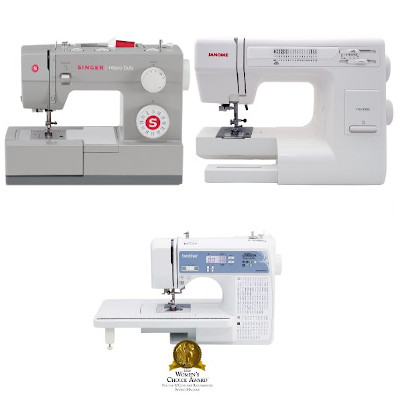 Sewing is a craft that's been around for a very long time. And while the basic principles of sewing remain unchanged, the processes involved to reach the end result have changed considerably. As we all became a lot smarter, we started to develop a wide range of machinery to help us get tasks done more quickly and more efficiently. One such development is the sewing machine.
It was the early 1800s when the first sewing machine was introduced to the world. But these machines still weren't perfect and weren't selling as expected. However, in 1851 Singer was born, and soon after came the first version of what we now call the modern sewing machine. Others soon followed suit, including Janome, Brother, and Juki, some of the other leading names in the sewing industry today. Having been around for a while now, sewing machines on the whole, have evolved dramatically, and now you can find a machine fit for pretty much any sewing purpose.
In this review, I'm going to concentrate on those machines that are best for sewing thick fabric. I'll go through 3 of the best-selling models in this category to give you an idea as to what each has to offer so you can see which the best machine is to meet your needs.
Top Rated Sewing Machine For Thick Fabric
---
Janome HD3000 – Best Overall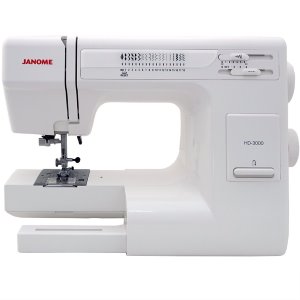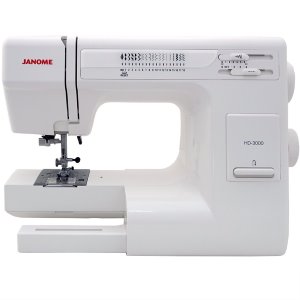 Are you planning on sewing canvas? Leather? Multiple Layers? No problem. Nothing is too much trouble when using the Janome HD3000. Thanks to the machine's solid frame, super-strong 1.0-amp motor, and excellent feed dog system, sewing with heavyweight fabrics is a breeze. It will even sew through multiple layers of denim without so much as breaking a stitch. And, it can sew up to a maximum speed of 860 stitches per minute.
You get 21 built-in stitches to work with, including 1 x 1-step buttonhole. While this isn't a huge collection, it's more than enough to complete most everyday sewing tasks. In addition to the various stitch options, there are also 7 different presser feet to aid with various projects. There's a blind hem stitch foot, a zipper foot, an overedge foot, a rolled hem foot, a buttonhole foot, a zigzag foot, and a sewing foot to use.
User-Friendly
Another hot selling point for the Janome HD3000 is that it's so easy to operate. The manual controls are well labeled and within easy reach. While the jam-proof top-loading bobbin system and simple threading process ensures you get started quickly.
And, it comes with a couple of decent automated functions in which to help make your life easier. There's a built-in needle threader to help save your eyes from straining and an automatic thread trimmer to saves you searching for scissors every time you need to trim your thread.
---
Singer 4423 – Best Budget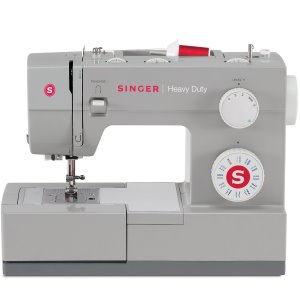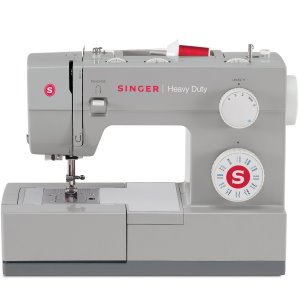 The Singer 4423 is a heavy-duty sewing machine that's capable of sewing a wide range of heavyweight fabrics. It features a durable metal interior frame as well as a stainless-steel bedframe. Together they provide a great deal of stability when in use.
In addition to being super-tough, the Singer 4423 is also a very fast sewing machine. When running at its maximum speed, this machine can sew up to an eye-watering 1,100 stitches per minute, which is fast enough to please most home machinists.
Stitch Options
When it comes to stitching options on the Singer 4423, you get a reasonable amount to work with. There are 23 built-in stitches to choose, including 1 x 1-step buttonhole, all of which can be selected using the manual stitch selector dial located on the front of the machine. Just above this is where you'll find the stitch length adjustment dial. Here you can easily set the length of your stitch up to a maximum of 6mm.
Added Extras
As well as getting a fantastic heavy-duty machine, you also get a range of accessories thrown in with your purchase to help make even lighter work of your sewing. There are 4 different presser feet to use, a seam ripper/lint brush, bobbins, needles, a quilting guide, and more. In addition to the added accessories, you can also be safe in knowing that you have a 25-year limited warranty to help protect your investment.
---
Brother XR9550PRW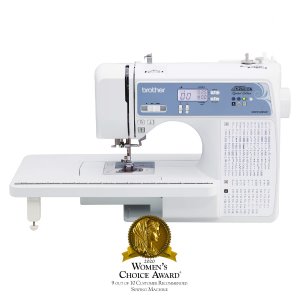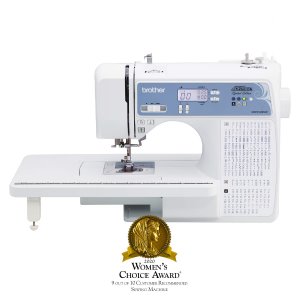 If you're looking for a sewing machine that's versatile, accurate, and looks great, you've come to the right place. The Brother XR9550PRW is a marvel of a machine that comes with a total of 165 built-in stitches to sew with. Of these, 110 are a mixture of utility, decorative, and heirloom stitches, while the remaining 55 are alphanumeric sewing stitches. You also get 8 different presser feet to help you complete various sewing projects.
Computerized Sewing
Another great benefit this machine has to offer is that it's equipped with an on-board computer and intuitive LCD display. With these features in place, selecting all your stitch options has never been so simple. Just locate the stitch you want to use on the handy chart of the face of the machine and input the corresponding number on the computer using the navigation keys next to the screen. You can also select your stitch width and length here too.
Quilting Capabilities
Thanks to the Brother XR9550PRW's wide extension table, working on larger projects such as quilts is no problem at all. With more table space available, there's less maneuvering to do for you, meaning the quality of your stitching will be much better. In addition to the extra space, the 5-piece feed dog system and extra high presser foot lift ensure your material is feed through nice and even, regardless of how thick it is.
---
Best Sewing Machine for Thick Fabric: A Complete Buying Guide
To help you in your mission of finding a new machine suitable for sewing thick fabrics, the following is a quick buying guide that contains some of the things you need to consider when making your purchase:
Machine type: There are three main types of sewing machines to consider when working with thick fabrics: mechanical, electric, or computerized. Most modern heavy-duty sewing machines are electronic, meaning not only are they accurate, but they're fast too. While there are a few computerized models around that are fit for sewing thick fabrics, barely any produced in the past few decades are purely mechanical.
Presser foot lift: If you're going to be sewing thick fabric, you need a machine that can accommodate that. A presser foot lift works alongside the feed dogs to keep the fabric taut while it's being stitched. They are mostly spring-hinged and are essential if sewing with very thick fabric or multiple-layered material.
Durability: When sewing with thick fabric, you need a machine that's strong and robust. Those made wholly out of steel or iron are preferred as they were designed to withstand large amounts of force and pressure.
Speed Control: While a high maximum sewing speed isn't of very high importance when sewing with thick fabric, having decent speed control is vital. When sewing things like leather or multiple layers of denim, speed is the last thing on your mind as slow and steady is much better when working with very thick fabrics.
Stitch options: This is something to consider when working on any type of fabric. At the end of the day, the more stitch options available to you, the more versatile you can be.
Time–saving features: Extra features to help save you time aren't exactly essential, but they are worth considering, especially if you sew for a living. An automatic needle threader is always a bonus and will save you from getting eye strain. And some machines come equipped with an automatic thread trimmer which can also save you time searching for scissors. Most models come with some form of lighting in which to illuminate your work as you sew. Those that use LED lights are by far the best.
Price: You will no doubt pay a little more for a heavy-duty sewing machine than that of an everyday, standard sewing machine. But, it's likely to last a lot longer too.
Related Articles:
Best Sewing Machine for Thick Fabric: Final Thoughts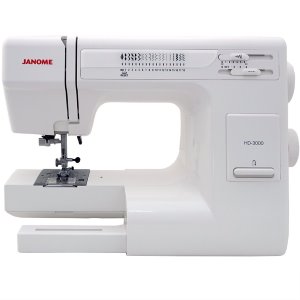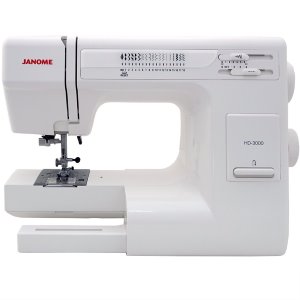 Sewing with thick fabric doesn't have to be difficult. Provided you have the right machine to help, sewing with materials such as canvas, leather, or those with multiple layers, is a breeze. The Janome HD3000 is, in my opinion, the best model out there at the moment when sewing with thick fabric. Not only is it super-strong, but it's also equipped with a good number of stitch options to keep you going. It's very easy to use too and is equipped with just the right number of automated features.
The Singer 4423 is another great machine to use if sewing thick fabrics. It too is one tough cookie and can sew up to 1,100 stitches per minute. It's a little less expensive than the Janome HD3000 too, so it is good for anyone on a budget. And finally, if neither of these machines does it for you, be sure to check out the Brother XR9550PRW. This machine has a huge collection of built-in stitches to work with, is fully computerized, and looks great too. What more could you want?
Related Articles: