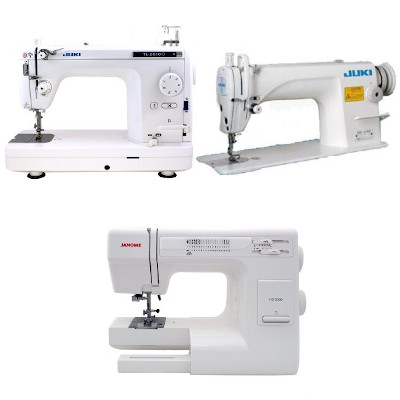 Sewing is something that many people learn from a very young age, whether out of necessity or because it's something they enjoy. And while a lot of people do it simply because they want to be able to repair old clothes or sew on a button when it comes off, there are a lot of other reasons as to why people sew, including the need to upholster something.
It's though that the art of upholstering has been around since the Middle Ages when wealthy people began experimenting with the likes of padded seat cushions, decorative bedding, and ornate wall hangings. Back then, all of these items were crafted painstakingly by hand. And while they looked fantastic with a quality finish that was second-to-none, everything took such a long time to do.
Nowadays, since the rise of the industrial revolution, we have a wide range of sewing machines to help. Not only are these machines super accurate in the stitching they produce, but they're also super-fast in comparison too. And in this review, I'm going to give you an insight into some of the best sewing machines out there today that are ideal for sewing upholstery.
Top Rated Sewing Machine For Upholstery
---
Juki DDL8700 – Best Overall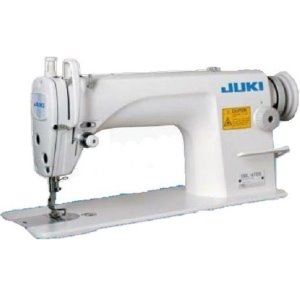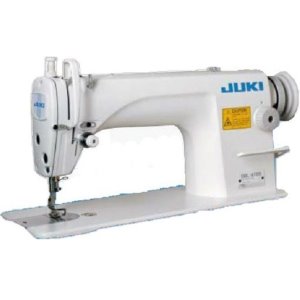 The Juki DDL8700 is an industrial-style straight stitch sewing machine that's capable of handling a wide range of medium to heavyweight materials, including those upholstery projects. It has an 11-inch arm space that allows you to work on larger projects with ease. And thanks to the Servo motor, this machine has a maximum speed of 5,500 stitches per minute. Although this kind of speed may be a little daunting to begin with, you'll soon get used to it when you look at all the quality pieces you can sew in such a short space of time.
Another benefit to enjoy having a Servo motor is that it's so very quiet in comparison to most other home or industrial machines. While you do tend to pay more for machines fitted with this kind of motor, they are the preferred choice for many, simply because of the reduced noise level.
Single Stitch Machine
It may only offer a single stitch, but the stitch quality on this machine is truly amazing. Every move is so very smooth and accurate, with not even one stitch out of place.
The maximum stitch length is 5mm, which is the equivalent to around 6 stitches per inch.
Hassle-Free Maintenance
Another huge benefit this machine has to offer is that it takes very little to maintain as it has its very own built-in auto lubricating system. With this in place, owning an industrial type sewing machine has never been so easy.
---
Janome HD3000 – Best Budget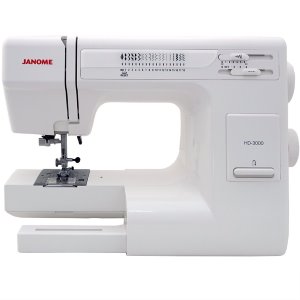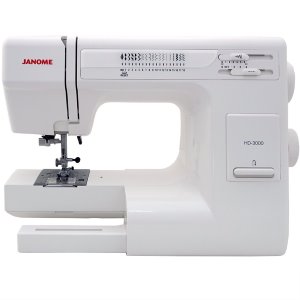 The Janome HD3000 is a heavy-duty style sewing machine that's equipped to complete a wide range of sewing and upholstery projects. In terms of build quality, it's a pretty tough machine that's capable of sewing at a maximum speed of 860 stitches per minute. And thanks to its solid frame, there's no vibration when in use, meaning you get the perfect stitch every time, regardless of the fabric you're working on.
Enhanced Functionality
This machine is no one-trick pony and is equipped with a whole host of features and functions that enhance your sewing experience ten-fold. There's an automatic needle threader and jam-proof top-loading bobbin system to help get you sewing quickly. And, it has an integrated thread cutter, so no more searching for the scissors at the end of every stitch.
It has an easy to use stitch selection dial which allows you to choose which of the 18 built-in stitches you'd like to sew with. If you want a sneaky peek of the stitch options available, simply flip up the top panel, and underneath, you'll find a handy sewing guide.
Extras
If you're like me, you love nothing more than a few added extras to seal the deal. The Janome HD3000 comes with a whole heap of accessories including various presser feet to carry out a wide number of functions, 2 packs of leather needles, a pack of universal needles, bobbins, a seam ripper, lint brush, and hard case cover.
---
Juki TL-2010Q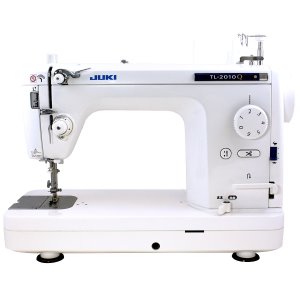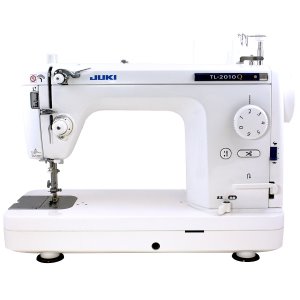 With a pristine white exterior adorned with just a touch of black in all the right places, this machine just screams quality. The Juki TL-2010Q is a single lockstitch sewing machine that was designed with the professional user in mind. In addition to its classy looks, this machine works like a charm. It has a number of great features to shout home about including an industrial sub-tension system, bright white LED lighting and an exclusive foot-controlled trimming system.
Durability
It features a large work area of 23 inches with the extension table attached, which makes light work of sewing upholstery and other large projects. And because of it's die-cast aluminum frame, it's a very stable machine to sew with. The maximum sewing speed this machine can handle is 1,500 stitches per minute. However, this is fully adjustable via the speed control slider and can be set as low as 200 stitches per minute if need be.
User-Friendly
It may be aimed more at the professional user, than that of a beginner, but the Juki TL-2010Q is still a very easy machine to get to grips with. While you won't find any thread guide located on this machine, it's still one of the easiest I've ever had to thread. For anyone who's been sewing a while this will become apparent the moment you go to do it. For those new to sewing, you may need to use the manual once, but it won't take long before you're threading it with your eyes shut.
---
Best Sewing Machine for Upholstery: A Complete Buying Guide
Buying a decent sewing machine for upholstery is not something that should be done without thinking it through carefully first. It's quite a substantial investment that's likely to be with you for a long time, so it's worth spending that little extra time ensuring you get everything you need, without any nasty surprises. With that said, the following is a list of some of the things to keep in mind when making your next purchase.
Motor Power: When sewing upholstery, you're usually working with some pretty tough fabrics so you're going to need a machine with a powerful motor that can handle that. Most standard sewing machines are perfectly fine when sewing things like cotton, nylon, and even knits. But the moment you try and put through something like leather or even thick canvas, they struggle. To sew upholstery, you need to invest in a machine that's fit for that purpose as those will be equipped with a motor that's strong enough to cope.
Solid Frame: Sewing upholstery will put quite a lot of strain on any machine. Therefore, you need to ensure you invest in one that's sturdy and robust. Avoid any machine that's made of lightweight plastic as this will not suffice when sewing upholstery.
Presser Feet: Most sewing machines these days come with a variety of presser feet included. However, the only two you really need to be concerned with when sewing upholstery is the cording foot and the walking foot. The cording foot enables you to make the decorative cord that's often found on the edges of chairs, sofas, or cushions. While the walking foot is used when sewing multiple layers of fabric.
Machine Type: Another thing to consider when looking for your next model, is what kind of machine you'd prefer to work on. Are you looking for a basic but solid mechanical machine that can handle pretty much anything? Or, would you prefer to work on a more modern, electric machine that's equipped with loads of bells and whistles but might not be quite as sturdy as the mechanical model?
Extra-High Lift Presser Foot: When sewing upholstery, you're usually working with pretty thick material. Therefore, you need a sewing machine with an extra high lift. This enables you to adjust the height of the presser foot to allow thicker fabrics to be fed through.
Price: While price should never be the deciding factor, it is still something to consider. As a general rule, good, decent sewing machines that are capable of sewing upholstery typically cost more than your average sewing machine, so just bear that in mind. You can still pick up some good budget models, like that of the Janome HD3000, but you are still looking at a few hundred dollars investment.
Best Sewing Machine for Upholstery: Final Thoughts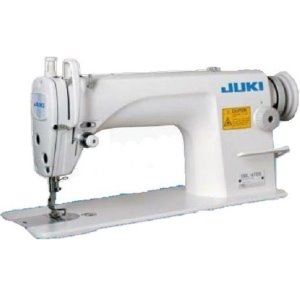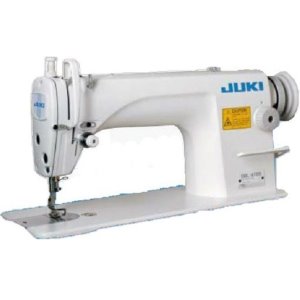 If you sew upholstery for a living, then you're going to want to work with the best. In which case, I recommend choosing the Juki DDL8700. It's strong and tough and will get the job done to a high standard. The stitch quality is fantastic and it's fast. It's only real downside, is it's a little on the expensive side.
For anyone looking to save a few pennies and doesn't need a machine that's quite so hardcore, then take a look at the Janome HD3000. It's a very versatile machine that's quite capable of sewing a range of upholstery projects. It may not be quite as tough as the Juki DDL8700, but it offers a wider range of stitch options.
Alternatively, if neither of those meets your requirements, the Juki TL-2010Q is definitely worth a look in. It's accurate, it's fast, and it's one of the classiest looking machines available today.
Related Articles: