Long gone are the days when you need to be rich to own a sewing machine. Nowadays, there's quite a wide selection of top-quality sewing machines available to buy for less than $100. They may not feature all the bells and whistles that some of the more advanced, more expensive models have to offer, but most are still functional enough to complete all those everyday sewing tasks. In the past even such machines could cost a furtune.
Here in this review, I'm going to share with you the ins and outs of 3 of the best-selling models to enjoy for under $100. These are the Singer 1304, the Brother XL2600i, and the Brother JX2517. Getting a feel for what each of these has to offer will hopefully give you a better idea as to which is the more suitable model for you.
Top Rated Sewing Machine Under 100
---
Singer 1304 – Best Overall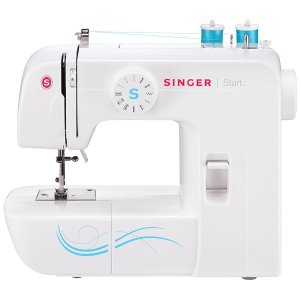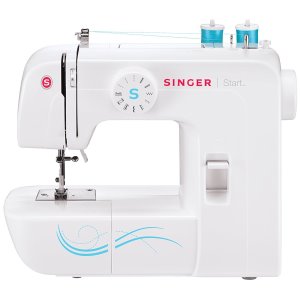 The Singer 1304 is a mechanical, entry-level sewing machine that's simple and to the point. There are 6 different stitch options to work with on this machine including straight, blind hem, scallop, satin, and buttonholes stitches. It also has a 4-step buttonholer. For simplicity, each stitch has its own preset length and width. And, the presser foot can be raised higher than most standard machines which is a huge help when dealing with those thicker fabrics.
Strong and Tough
It may only measure in at 13" x 7" x 11.5", and weighs just 11.5 pounds, but the Singer 1304 is a pretty tough machine, considering. In addition to having a maximum sewing speed of 750 stitches per minute, it can also sew through a variety of different fabrics including fleece and denim.
You've also got the added benefit of the removable free-arm. With this feature, sewing hard to reach areas such as cuffs and collars suddenly become a whole lot more manageable.
Added Extras
Being a basic machine, there isn't a whole load of features to shout home about. However, one that I do like is the automatic tension adjustment. With this in place, there's no more guessing how tight each stitch should be as the optimal setting is already chosen for you.
Another bonus feature is the fact that it has dual spool pins, meaning you can sew parallel rows of stitches, quickly and effortlessly. Just bear in mind that if you do opt to try twin needle sewing, you will need to purchase the twin needle attachment as this is not included with the machine.
---
Brother XL2600i – Best Budget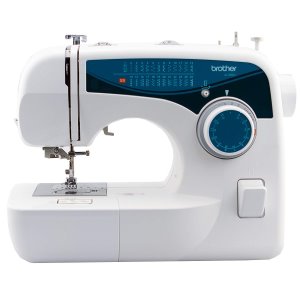 The Brother XL2600i is a pretty compact machine, measuring in at just 12.26" x 7.73" x 9.6". And weighing just 11 pounds makes it the ideal machine to take to a sewing class or for when having to sew on the go. And just because it's small in size, doesn't mean to say it has nothing to offer, as there are quite a few surprises hiding under its cover.
There are 25 built-in stitches, including various garment, decorative, heirloom, quilting, and stitches to work with as well as a one-step auto buttonhole. It also has a built-in free arm that allows you to sew shirt sleeves and pant legs more easily.
User-Friendly
One of the reasons as to why the Brother XL2600i is such a good seller is that it's so user-friendly. Thanks to the diagram printed directly on it, threading this machine is a breeze. And the bobbin system is of the top drop-in kind and is jam-resistant, so you shouldn't have any problems here either. It also features an automatic needle threader to save you from getting eye strain.
Winding the bobbin is also super easy. Once your upper thread is in place, and the bobbin is on the winder, simply move the bobbin control to the right and watch as the bobbin is wound for you. It's fast, it's effortless, and it's reliable.
Not bad for a budget machine, eh?
---
Brother JX2517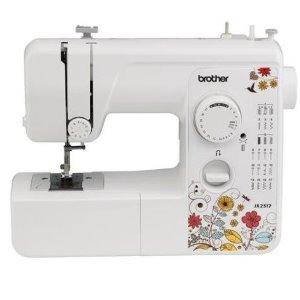 The Brother JX2517 is a lightweight sewing machine that's both easy to use and affordable. It measures just 15" x 6" x 12" in size, and weighs just 10 pounds, making it a great choice for anyone looking for a portable machine. There's even a built-in carry handle to help lighten the load.
Great Quality
Just because it's budget, doesn't mean it's sub-standard in what it has to offer. Being made by Brother, quality is key. Every component on this machine is solid and more than fit for its purpose. Because of its rugged build, the JX2517 is capable of sewing at a maximum speed of 900 stitches per minute. That's fast for any machine, let alone a compact, budget model.
And even though it may be small, it still comes with a generous 25-year warranty. More proof that it's a good machine.
Added Extras
Just because it's a budget machine, doesn't mean to say you don't get added extras. Alongside the machine itself, you get some fantastic accessories in which to enhance your sewing experience. There are extra presser feet to use when completing various tasks such as sewing hems or buttons. It also features an abundance of extra bits and bobs to ensure this is a great choice of budget machine.
---
Best Sewing Machine Under $100: A Complete Buying Guide
The following are a few tips in what to look out for when buying a sewing machine for under $100:
Quality not Quantity: When buying a budget sewing machine, you have to recognize that you're not going to get all the bells and whistles that the top-spec models have to offer. Therefore, the most important aspect to consider during your search is quality. Just because you are buying a budget model, doesn't mean you are buying second-rate. Thankfully, with the likes of companies like Brother and Singer, whatever machine you buy, regardless of budget, you can be sure it's made using high-quality components. So, the first step is to find a machine or two within your budget that comes from a reputable source, then you can look to see what features each of them offers and go from there.
Stitch Variety: As a general rule, most of the budget machines don't come equipped with a wide variety of stitch options. Realistically, you'll be lucky if you mind a machine with more than 32 stitch options for less than $100. That being said, if you're only just starting out or simply need a machine to mend a few clothes, you shouldn't need many different stitches anyway.
Automatic Needle Threader: If you could choose one extra feature to have on your sewing machine, every time I would choose the automatic needle threader function. While it is a pretty basic function, not all budget machines will have it, so just be aware. And while it's not essential, it will save you a great deal of time, frustration, and eyestrain.
Free-arm: Having a free-arm makes it easier to sew things like cuffs and collars. Some even double up as an accessory tray which is an added bonus. Again, it comes down to what you're going to be sewing. If it's mainly arts and crafts, it might not matter too much, but if you're going to be sewing a lot of clothes, I would suggest you look for a model that has a free-arm.
Accessories: While it's unlikely you'll get a wide range of accessories with a budget machine, you will almost certainly get something. Pretty much every machine will include extra bobbins and needles, and a few basic repair tools. Some, however, will also include things like a hard case, which is extremely useful if you know you're going to be transporting your machine around.
Warranty: Just because it's budget, doesn't mean it's worthless. Any sewing machine that's worth investing in, regardless of the cost, should come with some form of warranty to cover any defects in parts or workmanship. Most big names such as Singer, Brother, and Janome provide a 25-year warranty with their products. Any sewing machine that doesn't give you any form of protection should be avoided like the plague.
Related Articles:
Best Sewing Machine Under $100: Final Thoughts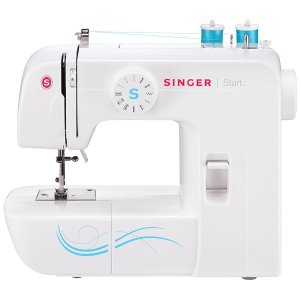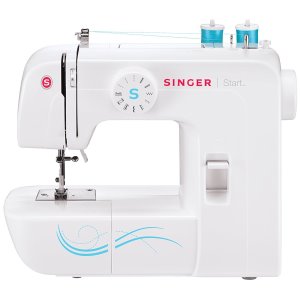 The best sewing machine out at the moment for less than $100 (in my opinion) is the Singer 1304. It may be basic in functionality, but it's super tough and extremely accurate. I also love how user friendly it is. It's easy to thread and easy to operate. Even the thread tension is done automatically for you on this model of Singer.
If, however, you're looking for a few more stitch options to work with, be sure to check out the Brother XL2600i. With 25 in-built stitches to work with, a one-step buttonhole, and an automatic needle threader, there's not much you can't do with this machine.
Or finally, if neither of those models takes your fancy, what about the Brother JX2517? It's a compact and portable machine, yet super strong and capable of sewing up to 900 stitches per minute.
Buying a budget sewing machine doesn't have to be hard. You just need to know what to look for and what to avoid. Hopefully, with the help of the above information, you are now one step closer to making your purchase.
Related Articles: