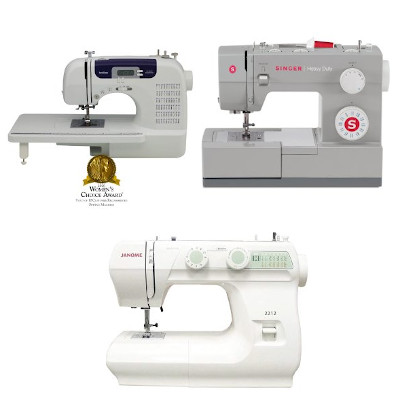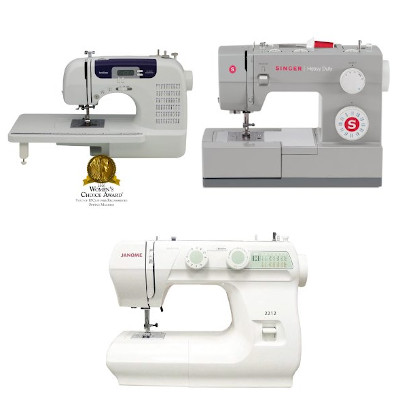 If you're looking for your first sewing machine or a beginner model, then you need not spend a fortune on your purchase. In fact, to get you started, you can find some of the best sewing machines under $200 to cater to your beginner sewing needs.
Now, these machines may not be the high-end, heavy-duty models with a lot of features, but they will give you all the basics to get started. These are entry-level models that are well suited to handle simple clothing or crafts projects. And this is relevant, for you should know beforehand what features you need in your machine and others that won't serve your needs.
That said, working with a limited budget need not compromise the versatility and functionality of your machine. Typically, a $200 budget will get you a reliable machine; one that isn't too heavy on computerized features but sturdy enough to pull off a solid performance. And so, with this in mind, here are three excellent recommendations for the best sewing machine under $200.
Top Rated Sewing Machine Under 200
---
Brother CS6000i: Best Overall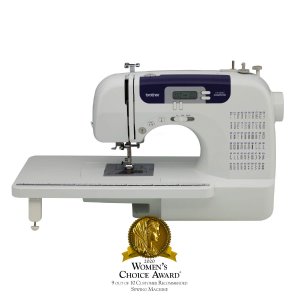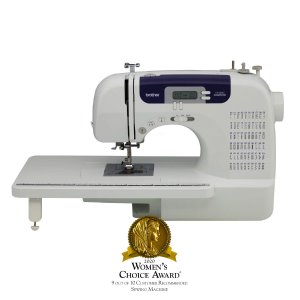 An affordable option with a host of useful features, the Brother CS6000i is a leader among budget machines that will get you through any sewing project.
User-Friendly Operation
The CS6000i gives you an impressive selection of 60 different stitches to work with yet remains one of the simplest sewing machines to operate.
Working with 850 SPM it is one of the fastest machines in this budget making it suitable for all types of projects. All stitches have automatic settings that eliminate the need to manually adjust the stitch width and length.
It comes with an LCD display that clearly shows the stitching selection electronically. Paired with the LCD screen are easy-to-understand threading diagrams that make using the machine a cinch. Other automatic features include an automatic needle threader and an LED-lit work area.
Ideal for Beginners
This is a machine most recommended for beginners as it isn't too overwhelming to operate yet gives you a fair variety of functions to experiment with.
For more enthusiastic users, the CS6000i comes with a detachable, oversized wide table for larger projects such as working on quilts. The integrated speed control slider lets you work at your preferred speed and the machine also includes a built-in free arm for stitching sleeves.
Extras included feature a number of additional feet such as a buttonhole, overcasting, monogramming and zipper foot along with a few others. There is also a carry case for maximum storage and portability convenience.
---
Janome 2212: Budget Pick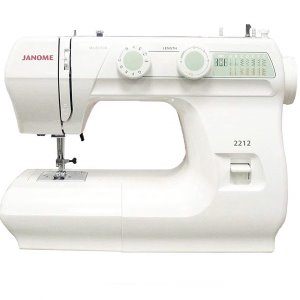 A fantastic budget pick machine that keeps things simple, the Janome 2212 offers enough features to get newcomers started on their sewing endeavors comfortably.
Simple Operation
Like any entry-level model, the Janome 2212 is simple to use keeping its options at a minimum. There are 12 built-in stitches to get things going with a dial to select a pattern and a four-step buttonhole.
In the absence of any digital features, there are easy-to-follow threading guides, a built-in thread cutter, and a loading bobbin. You control this machine with a foot pedal by pressing it down harder to increase the speed. Surprisingly, you get an impressive 860 SPM which is rather nice for an economy model.
Plus, you get the convenience of a free arm and drop feed that makes this machine versatile for different types of sewing projects.
Budget-Friendly Versatility
From the standpoint of versatility, the Janome 2212 lets you choose between placing the needle in one of two positions. You can base this on the thickness of the fabric you're working with, so you get the smoothest of stitches. Simply switch between the positions to get the right setting.
The drop feed dog included with this model allows you to switch between regular stitching, free-motion stitching or quilting. Plus, you can use the reverse stitch function with this machine as well. And to complete the package, you get an in-built light which is great for threading your needle or investigating a jam in the machine.
Overall, this is a suitable model for people who engage in light to medium sewing. But it may be too basic for experienced users with its limited features.
---
Singer 4423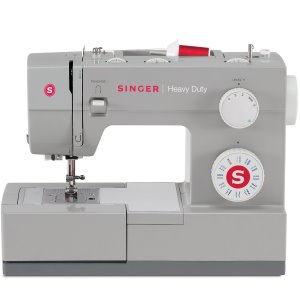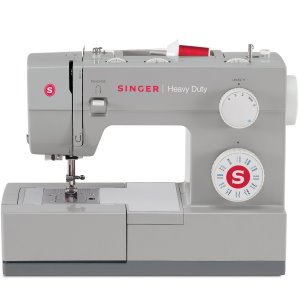 A heavy-duty model from Singer, the 4423 is a great buy for a powerful machine on a budget.
Heavy-Duty Construction and Performance
Packing a lot of power in a smart design, the Singer 4423 yields 1100 stitches per minute, a built-in reverse lever, and 23 different stitches to work with.
There are two dials on the front of the machine with the top one for adjusting stitch length and the lower one for stitch selection. From the 23 stitches available, the ones marked in black on the dial are basic stitches and the ones marked in blue are stretch stitches. Another three dials on top of the machine control thread tension, needle position, and stitch width.
There is an interior metal frame, stainless-steel bedframe, heavy-duty motor, and impressive speed that makes it possible for the 4423 tackle tougher fabrics like denim, leather, and upholstery with no issues.
Convenience in A Smart Design
The manufacturers at Singer kept convenience in mind when designing the 4423 starting with its automatic threader. Then, the machine features an extension table and storage compartment for stashing away additional bobbins, extra presser feet, and needles. This is a removable feature that may be slid off to make sewing hems or cuffs easier.
Despite the heavy-duty materials used, the Singer 4423 remains fairly lightweight which makes it easy to carry along. To further facilitate portability, there is a carry handle on top which is a huge convenience for people who sew on the go.
---
Best Sewing Machine Under $200: A Complete Buying Guide
Getting the best sewing machine under $200 may seem limiting as far as features and functions are concerned, but that need not be the case.
For starters, evaluate your commitment to the machine and think about how you plan on using it. This alone will give you a fairly good idea of what features to look for in your machine and which ones you can do without.
Type
There are three different types of sewing machines available being mechanical, electrical, and computerized. Of the three, mechanical models are the most basic and will give you the most options within your $200 budget. These machines are powered manually with features like dials and manual threading. These models are most suited for lightweight to medium-duty sewing projects and not for heavy-duty projects.
Electronic machines give users some computerized features such as a digital display screen or some pre-installed settings. Computerized versions, on the other hand, are the most advanced types and pretty much do all the work themselves but don't come in a limited budget.
Related Articles:
Size
Sewing machines are available in an array of sizes and yours should match your sewing needs. For occasional use, a smaller, lightweight machine becomes easy to store when not in use. But if you have longer projects in the making, then something more robust and sturdier is what you should look for.
Features
Entry-level machines will offer some basic features but enough to get your sewing projects going. Heavier-duty machines will have lots of extras such as a myriad of built-in stitches, multiple speed options, automatic features like automatic threading, and thread cutters. Be realistic about what features will serve your purpose for not everything will fit into the $200 budget. Just keep in mind that the more advanced the features, the higher the price point for the machine.
A few that you should never go without include the following:
A built-in needle threader will get your projects started a lot faster and save you time.
A top-loading drop-in bobbin offers the convenience of just popping and dropping in place without having to disassemble the bobbin casing.
A free arm lets you work with narrow, round garment pieces with ease.
Speed control lets you determine the pace at which your fabric is fed through the machine and is a useful one to have for beginners.
Ergonomics and controls on the machine should be user-friendly both in terms of accessibility and manipulation.
Best Sewing Machine Under $200: Final Thoughts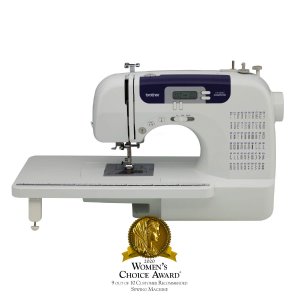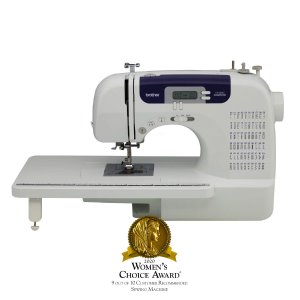 The Brother CS6000i comes out as the best overall sewing machine under $200 given its computerized interface, tons of built-in features, and the huge number of included accessories. Designed for streamlined sewing, this model by Brother is hard to beat in this budget range.
Another great option for people just starting out with sewing or kids eager to learn, the Janome 2212 fits the bill nicely. Its affordability factor makes it appealing to new learners who may not want to invest in a more expensive machine until they can fine-tune their sewing skills first.
For something a little more heavy-duty than the first two machines but still within the $200 budget, take a look at the Singer 4423. This machine packs in a cluster of thoughtful perks that delivers seamless performance and comes at half the price of other heavy-duty sewing machines.
Related Articles: