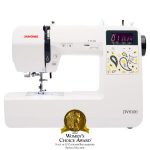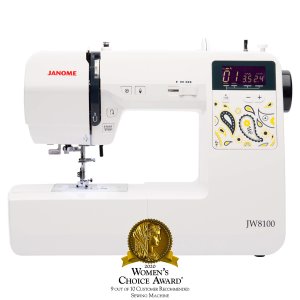 100 Built-in Stitches
Removable Free Arm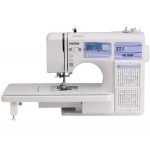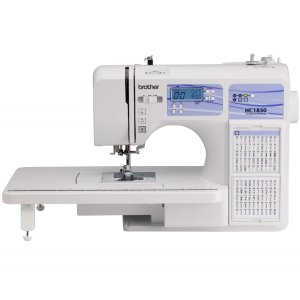 185 Built-in Stitches
Good For Quilting
---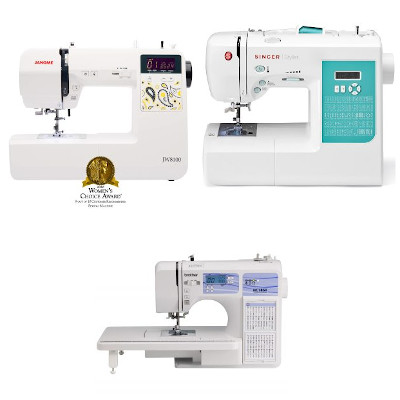 Here's the deal. You need the best sewing machine under 300 dollars. Your old sewing machine is broken, you need an upgrade, you want to keep sewing, and you definitely don't want to spend more than $300. This is absolutely no problem.
I have put together a list of the three best sewing machines that you can buy for less than $300. These machines are all high quality, they come fully featured, they have all the necessary accessories, they are highly rated online, and they are designed from the best companies in sewing.
Each machine is a little different, and so we will dig into the specifics of each one to determine which affordable sewing machine is the best for you personally. You can expect lots of computerized features, lots of built-in stitches, wide work areas, automatic needle threaders, and so much more.
Top Rated Sewing Machine Under 300
---
Janome JW8100 Computerized Sewing Machine – Best Overall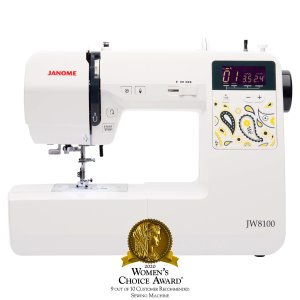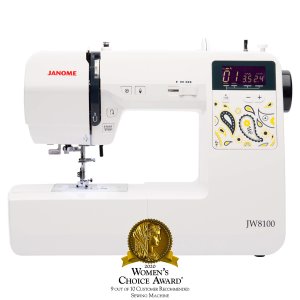 The Janome JW8100 Computerized Sewing Machine is one of the very best. For under $300, you will be surprised at how great this machine really is. It has easy threading, it has a 7-piece feed dog system, it has convenient features, it has 100 built-in stitches, and it has so much more. This is a great replacement machine with a lot to offer.
Convenience
Everything about the JW8100 is extremely convenient. All 100 included stitches, including basic and fashion stitches, quilting stitches, heirloom stitches, home décor stitches, and seven unique buttonholes, are all easy to choose from.
The removable free arm is extremely handy, the needle threader only requires one hand, the free accessories are convenient if you are starting from the ground up, and the 7-piece feeding system makes it very simple to feed fabric through the machine even when using wool or fleece.
Read More: Full Janome JW8100 review
Heavy Duty
Even at such a low price point, the JW8100 is extremely heavy duty. Thanks to its intense metal frame, you won't have any skipping while you are sewing. The heavy frame keeps everything in place, exactly where it should be, and offers great all-around durability. The inner components are also extremely strong.
Plus, this unit comes included with a free hard cover. That way your heavy-duty machine will be kept safe from dust while it is being stored or whenever you are not using it. The hard cover case is also ideal for when you are transporting your sewing machine.
All of the above features, plus many more that I didn't get around to, makes this the best sewing machine under $300 on the market.
---
Brother HC1850 Sewing & Quilting Machine – Budget Pick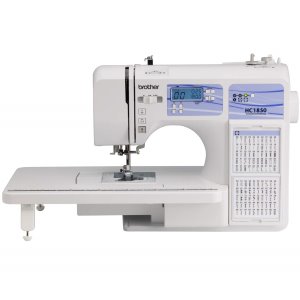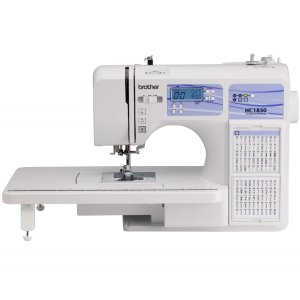 If you want a high-quality sewer + quilter with lots of computerized technology, the Brother HC1850 Sewing & Quilting Machine is for you. It comes with an advanced needle threader, a drop-in top bobbin system, lots of interesting accessories, 185 built-in stitches, and even more. This is a solid machine that can be used by anyone to up their game when it comes to quilting and sewing.
Great for Quilts
This is one of the better machines for quilters. Because of its wide table, you can complete a variety of extra-large projects that require a significant amount of space. You will be able to work on massive quilts without any difficulty at all.
With the adjustable sewing speed and the bright work light, you can spend endless hours customizing your quilts to get them just the way you want. The adjustable sewing speed is a simple toggle switch on the face of the machine that you can effortlessly switch between normal, fast, and faster.
For decorative purposes, there is an exciting range of approximately 130 stitches built into the machine. There are also monogramming fonts for even more customizing.
Read More: Full Brother HC1850 review
Easy to Use
From the large LCD display screen to the automatic needle threader, this sewing machine is packed full of easy-to-use features. You can quickly look at all the built-in stitches with the convenient flipchart. You can quickly set the bobbin because of its simplistic system. And, you can quickly adjust your sewing speed. This is a super simple sewing system!
---
Singer 7258 Stylist Sewing Machine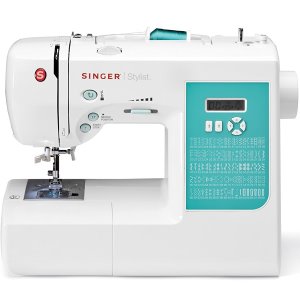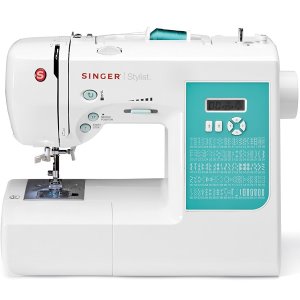 The Singer 7258 Stylist Sewing Machine is a lesson in elegant simplicity. I simply love the design of the Singer Stylist. There is a digital display screen on the front, a handful of simple buttons, the standard dials you find on every sewing machine, and it has a great color scheme. For selecting your stitch, you simply need to observe the chart on the front and push a button!
Programmable Features
This is one of the better machines for people who like to create. With the innovative option to have your needle in either the up or down position when the machine stops, you can pivot like nobody's business. This is critical for quilting so that you can pivot in an instant and change directions. This is also extremely handy if you would like to do some free-motion sewing.
Alternatively, you can easily remove thick layers of fabric by programming the needle to stop in its highest position. There are other great features too, like the automatic bobbin winder, the easy stitch selection, the automatic needle threader, and the illuminated workspace.
Read More: Full Singer 7258 review
Customize Everything
By being able to adjust the length and width of your stitches, to control the speed of the machine, and to have access to 100 built-in stitching patterns and 6 1-step buttonholes, you have maximum customizability.
This is one of the better machines for designers since you have so many custom options. The Singer 7258 is ideal for people who work with fashion, for people who love exploring new decorative patterns, and for people who are very into arts and crafts.
---
Best Sewing Machine Under $300: A Complete Buying Guide
There is a lot to consider when buying the best sewing machine under $300. With the price taken care of, you need to focus on the primary features of your new sewing machine. Different sewing machines have various add-ons, features, and accessories. However, not all will meet your specifications.
How to Choose a Budget Sewing Machine
So, what should you look for in a cheaper sewing machine? Automatic features for sure, convenience absolutely, free accessories are a must, and quality stitching is required. There are a few things to look for while buying a sewing machine under $300. Let's take a look at the most important aspects of an affordable sewing machine.
Manual or Computerized
Computerized sewing machines are on the rise, but it won't fit your budget. Computerized machines offer greater ease of use and functionality than manual ones. However, the mid-range automated sewing machines are more susceptible to being sloppier.
If you are interested in sewing machines under $300, it will be best to opt for manual models. You will find some decent embroidery machines in the mid-range for beginners.
Meet Your Specifications
You should decide your needs before buying a sewing machine under $300. You may need a sewing machine for startups, simple repair, and hemming or stitching clothes. You need to choose from custom sewing machines, simple machines, or heavy-duty sewing appliances.
The Right Weight
Your sewing machine must have the right amount of weight. You should consider the weight before buying the ideal sewing machine under $300. If you want a portable model, you should go for a lightweight sewing machine.
However, lightweight machines are made of plastic parts, which can cause vibrations. Disturbances while sewing will lead to uneven and skipped stitches. Opt for a sewing machine that is neither too bulky nor too light. It should have just the ideal weight.
Warranty
Your mid-range sewing machine must come with a warranty. To offer enough security for your investment, many brands provide a guarantee of 20-25 years. Every well-made sewing machine must have a warranty. Without a reliable guarantee option, you will lack peace of mind.
Size
You should decide on a size before choosing a sewing machine under $300. If you need to move the sewing machine a lot, go for a compact one. A compact machine will occupy less space while offering the same functionality. However, if you want extra space in your machine, go for a bigger one.
Controls
You should decide whether you want an electrical or mechanical sewing machine. If you are fine with manually turning the dials, you can opt for a mechanical one. An electrical machine will make all the dial adjustments for you. You just need to press a button and allow it to complete your preferred stitch.
Reputable Name
Always make sure you pick a sewing machine built by a reputable name in the business. Considering you are looking at affordable models, the more reliable the brand, the better quality their more affordable products will be.
Some companies shell out poorly designed sewing machines at affordable prices just to make a few bucks. Definitely go with the more reputable name with every purchase. Even if the particular model you're looking at appears to have fewer features than other models by less reputable names, I would still go with a brand you trust. Quality over quantity every time.
The 3 Best Sewing Machines Under $300
Advantages of Having a Quality Mid-Range Sewing Machine That Costs Less than $300
The main benefit of buying the best sewing machine under $300 is its affordability. Having a quality sewing machine under $300 is a blessing in itself. However, it offers other advantages too:
Cost-Friendly
The primary benefit of buying a mid-range sewing machine is its cost-efficiency. If you are a beginner or an intermediate sewer, the $300 range is ideal for you. You can learn from these cheap models and then proceed to an upgraded version.
Simplicity
Sewing machines under $300 have less complicated build and maintenance. It is easy to set up, process, and use. They have beginner-friendly features and specifications. It will train your hand to work on better models in the near future.
First-Rate Features
You can get all the essential features in a $300 sewing machine. These machines have all the top-rated features at the lowest possible costs. They are no less than a high-end device and will provide you with the most professional results. You can work a plethora of projects without compromising the quality.
Related Articles:
What Features does a Mid-Range Sewing Machine Need?
Regardless of what type of sewing machine you are searching for, it must have some essential features. A mid-range sewing machine can meet your budget while offering great service. Some crucial elements to consider while buying your sewing machine:
Built-In Stitches
The number of built-in stitches is a major deciding factor when it comes to mid-range sewing machines. Your sewing machine must have better-incorporated stitches and versatility. You should look for a machine with more built-in stitches to meet your tailoring needs.
Manual Model
It will be hard to find computerized models in the mid-range. Your model should be free of malfunction risks and offer greater functionality. You don't need to spend more dollars on an automated one. Your machine should have all the sewing functions for a beginner.
Sewing Speed
Your sewing machine should have great speed to save your time and effort. SPM or Stitches per minute measure the speed of your machine. Your mid-range sewing machine must have thousands of stitches per minute. You should search for machines with the highest SPM counts.
Automatic Features
Just because you don't want to spend too much money on a new sewing machine does not mean you don't want great automatic features. For under $300, you can still get an awesome computerized sewing machine that comes with an adjustable needle, a strong metal frame, a speed control slider, a handy reverse lever, an adjustable thread tension, and more.
Keep your eyes open for any unit that comes with an easy needle threading function or an automatic needle threader. You can also look for any sewing machine that has an LCD display since that will make your selections and your setting changes easier.
Free Arm
If you want a mid-range sewing machine for business purposes, your sewing machine must have a free arm. All sewing machines don't come with it, but some mid-range brands provide it. It facilitates the stitching of bags, sleeves, or cuffs. The addition of a free arm will make your sewing work easier.
Extension Table and Feed
Your mid-range sewing machine must come with an extension table. It will extend the allowable space for work and facilitate easy movement of the fabric. Your machine must have a drop feed too.
A better feed will ensure continuous and controlled stitching. It will generate a more efficient straight sewing line.
LED
A built-in LED light in a sewing machine comes handy when you are working at night. If your working space has limited light, an LED sewing machine will be your best buy. It will help you to finish your work accurately and timely.
Pressure Feet
Your mid-range sewing machine must have a pressure foot to hold your fabric down. It will generate more pressure on the cloth while it is being stitched. The best sewing machine under $300 will generally come with an all-purpose zigzag or pressure foot. It should facilitate all zigzag and straight stitching.
Automatic Needle Threader
Your mid-range sewing machine must have an automated needle threader. It will facilitate your work and save time. You don't need to waste your efforts on fixing the thread. It will also reduce the stress on your eyes.
Variety of Needles
It is essential to go for a mid-range sewing model with a variety of needles. To get the best stitches, your machine must have the right needles. When you use the ideal needle for each type of work, it maintains the quality and reduces damage.
The most popular stitching needles include sharp needles, quilting needles, leather needles, and stretch needles.
Load-in Bobbin
Go for a top-loading bobbin machine while looking for a mid-range one. It facilitates faster loading and minimizes faults. Clear plastic bobbins will help you to check on the size of thread left while stitching.
Sturdy Build
Most mid-range sewing machines will offer great durability and long-lasting performance. They usually have a plastic or metal frame to ensure better build.
Customer Support
It may also be worth checking out what customer support is like. While most sewing machines under $300 are still going to work great, they are obviously not as reliable as a $1000 or a $2000 machine. Because of this, you definitely want to make sure there is some kind of customer support option. If there is an included warranty, that is even better!
What Type of Sewing Machine are you Likely to Find for Under $300?
There are a plethora of quality sewing machines that you will find under $300.
Mechanical Sewing Machine
You will find many mechanical sewing machines with a minimum of 1,100 SPM. You will get a warranty for at least 25 years. These machines will also have buttonhole features, ideal stitch width, and adjustable stitch length. You will get professional results in dressmaking and embroidery. These machines work on all types of materials, including thick fabric.
These mechanical machines also have a powerful motor and super fast sewing speed. They also have accessories and storage containers. You will also find an automatic needle threader in many brands under $300. You can find both full-size and compact machines in this range.
Automatic Threader Machine
The best mid-range sewing machines also come with an automatic threader. With reverse function and one automatic step buttonhole, these machines are ideal. The $300 range also offers premium quality sewing machines for beginners. They offer an extensive scope of freedom and have a lightweight structure.
They facilitate 20-25 different types of stitches for a myriad of sewing projects. You will also get different needle positions, presser feet, and onboard storage.
Electric Sewing Machine
The under $300 range also offers an electric sewing machine with a warranty of 25 years minimum. With a heavy-duty motor, metal frame, and adjustable stitch length, they are cost-effective. You will find them in various colors, design, and build.
These machines are compact and lightweight. They also facilitate zigzag stitches on a variety of fabric. You will also get double spools, free-motion quilting, and other creative features. You can use these for small projects and startups. These are the best for basic repairs and simple dressmaking.
Computerized Sewing Machines
Chances are you want a computerized sewing machine. Everybody wants their sewing machine to be computerized these days. But these machines come in all shapes and sizes, with different levels of technology and different features.
The $300 range brings computerized Sewing Machines without the additional cost. These machines are the most trending ones in the market due to their easy use. They are jam-packed with unique features that facilitate the most tedious projects.
Mainly what you want out of your computerized sewing machine is a reliable digital display, lots of unique built-in stitches, auto-size buttonholes, alphanumeric sewing stitches, included fonts, and even memory functions.
These machines come with an LCD screen that shows all the important functions. It also offers stitching recommendations and accessible selection features. The computerized ones may also have an LED light, built-in stretch, and straight stitches.
Some machines also come with an automatic bobbin winding tool and free arm.
If you are using your sewing machine for decorative purposes, for creating unique clothing, or for doing a lot of embroidering, you definitely want to pick the unit that has the most available features and computerized stylist options. However, if all you are doing is straight stitching, computerized features may not be all that important.
Best Sewing Machine Under 300: Final Thoughts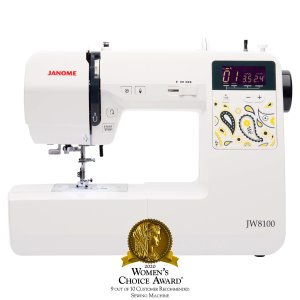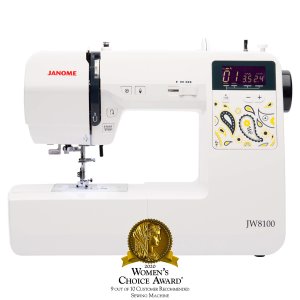 This is a tough one. All three sewing machines offer incredible value for their low prices. The Singer is an excellent machine with some ideal features, and the Brother machine is one of the greatest double-budget sewers I have ever seen. Any one of them will make a great addition to your sewing room.
However, I have to choose the Janome JW8100 as my favorite unit. This is hands down the best quality for the price. It comes with a super heavy-duty interior metal frame, it has a removable free arm, all the buttons are located conveniently, the accessories that come included are actually useful, and there is a hard cover to keep your machine safe.
Plus, this machine comes with 100 included stitches. There are 20 basic and fashion stitches, 18 quilting stitches, 27 heirloom stitches, 28 stitches for home décor, and 7 special buttonholes. I highly recommend going with the Janome JW8100, and can officially crown it the best sewing machine under 300 dollars.
Related Articles: