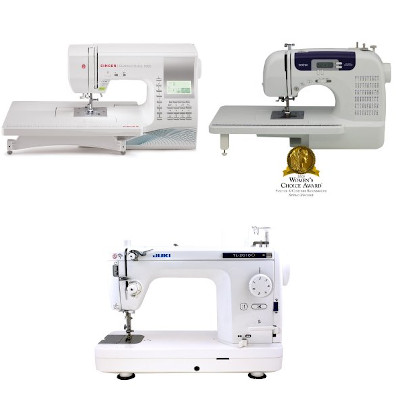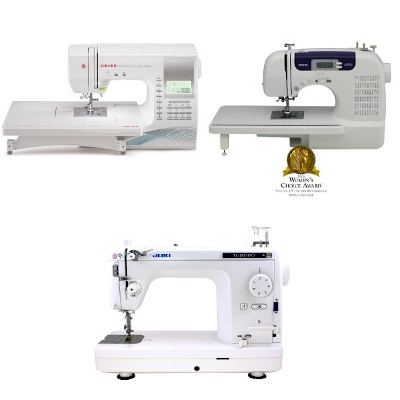 If you are in the market for the best sewing machine, look no further. Today I bring to you three great options from three fantastic brands. Each of these sewing machines comes with amazing automatic features, integrated technology, and so many additional features.
All three machines are under $1000, while some of them come with an electronic autopilot mode, some have loads of built-in stitches, and others have intense computerized settings. No matter what your goal is, these three sewing machines will complete any task you throw at them, from sewing to quilting, to fashion design.
You can now do all your major sewing projects at home with the help of one of these great sewing machines. But which one is the best? Well, to understand which sewing machine is the best on the market, we need to dig deep and take an in-depth look at the features and attributes of each unit.
Top Rated Sewing Machine
---
Singer 9960 Quantum Stylist Sewing Machine – Best Overall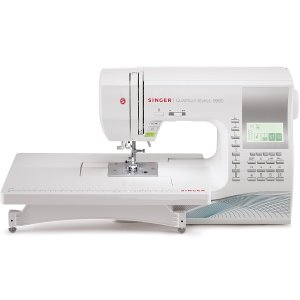 The Singer 9960 Quantum Stylist Sewing Machine is probably my favorite machine, not only on this list but overall. It does everything you need it to, from stitching a lovely quilt to hemming a pair of shorts. If you have a wide variety of projects you find yourself doing on a pretty regular basis, the Quantum Stylist is the way to go.
Computerized for You
As a computerized sewing machine, the 9960 offers a wide range of useful features. These include 600 stitches, an automatic needle threader, and personalized fonts that help add a unique flair to your crafting projects.
The LED display screen monitors all of your selections and allows you to make snap decisions and to change your settings instantly. With this sewing machine, you also get mirror imaging and stitch elongation to maximize your creative potential.
Plus, the machine comes with all the needed accessories to boost your creativity, including lots of different sewing feet to match all your different projects. If you found yourself getting bored when using your old sewing machine, rest assured that it will never happen with the Quantum Stylist.
Extension Table
One of the handiest features of this machine is its extension cable, which allows you to have a much larger work area for those oversized projects, like when quilting. You never need to feel restrained again because your work area is too small. The extension table is perfect for giving you the extra bit of space so that you can focus on work and not be distracted.
---
Brother CS6000i Sewing & Quilting Machine – Best Budget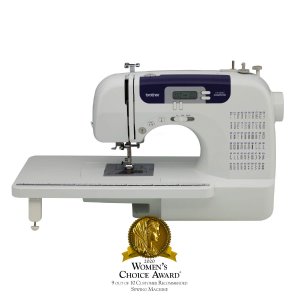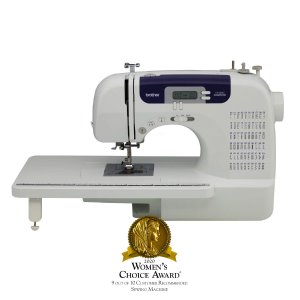 There isn't much the Brother CS6000i Sewing & Quilting Machine can't do. It has a ton of awesome stitches built directly into the machine, including automatic buttonholes in Seven different styles and lots of decorative stitches. It also has a huge work area that makes it ideal for quilting. Everyone will find something to enjoy when using the CS6000i.
Modern Machinery
What I really enjoy about the CS6000i is that it comes as a very sleek and modern piece of equipment. It would not look out of place in any room of your house. It's not too bulky, and yet it comes with a huge space for you to make your quilts.
It also comes with very few buttons and dials, making it not so confusing for a newcomer who is trying their hand at sewing. All of the settings can be selected easily by simply touching the buttons beside the LCD display. This is modern technology inside of a modern sewing machine for the modern-day seamstress or tailor.
Trusted Brand
Brother is one of those brands that I seriously trust. They have been making sewing machines for a very long time and have picked up a few good habits on the way. They know that a good sewing machine should come packed full of features, just like the CS6000i with its automatic needle threader, its jam-proof drop-in top bobbin, its 10 include sewing feet and its solid warranty. I would trust any machine with the Brother name on it.
---
Juki TL-2010Q Sewing Machine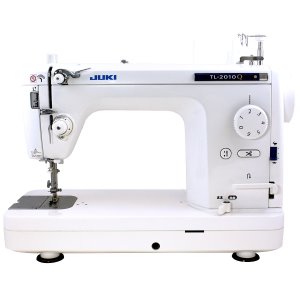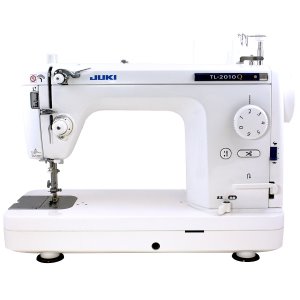 If you are in the market for a lightweight and super durable sewer, you want the Juki TL-2010Q Sewing Machine. This baby does everything. It may not be fancy and computerized, but it is an excellent piece of equipment if you need to do some trimming, tailoring, or customization to your home decorations.
Lightweight & Portable
This sewing machine is small. Not miniaturized or anything, just small. But that means it is very portable. Because it weighs almost nothing, you can easily pack up your Juki sewing machine and take it with you anywhere you want.
And even though the machine is small and lightweight, it still offers a huge work area. In fact, the handling area of this machine is larger than with most standard sewing machines. Plus, it comes with an automatic thread trimmer and an extremely tough aluminum die-casting frame bed.
Simplicity in Motion
I should mention right away that the TL-2010Q Sewing Machine is incredibly affordable. This machine is not going to break the bank, which makes sense considering it lacks in LCD display and other technological features. However, it is incredibly simple, and if you are like me, you really appreciate simplicity.
The machine is clean, it comes with a few switches, a couple of main dials, and that is pretty much it. If you already know how to use a sewing machine and you don't need a computer with all kinds of advanced settings and preprogrammed stitches, you will appreciate this unit.
---
Best Sewing Machine: A Complete Buying Guide
Now that we have taken a look at the three best sewing machines that you can buy, we need to see what exactly it is we're looking for in a quality sewing machine. There are a lot of important things to understand before shelling out your well-earned dollars on a sewing machine.
We need to look at things like automatic features, computerized tech, how durable your machine will be, and how long it will last.
Computerized Power
In this day and age, everything is computerized. This includes sewing machines. All of the best sewing machines come with specialized computer components that make them easier to use and that allow you to fulfill your creative intentions.
With a computerized machine, you will generally get a big selection of stitches right from the start, including basic stitches, stretch stitches, and decorative stitches that you can use for sewing, quilting, hobby crafts, and fashion. Any good computerized sewing machine is also going to come with a wide selection of fonts that allow you to personalize all of your projects just the way you want.
Another great thing about having a computerized sewing machine is the intuitive display and easy menu. This is because of bright LED screens that can display all your settings for you so that you never forget what's going on.
Many times, a computerized sewing machine will have a touchscreen display so that you never have to fuss with confusing buttons on the front panel. There are even computerized machines that have helpful instructional features on the touchscreen, meaning you will never get lost when navigating the sometimes chaotic menu of a sewing machine.
Related Articles:
Speed is Everything
Speed is incredibly important if you want to take sewing seriously. If you have many projects that you would like to do, you probably don't have time to sit around with a machine that can't sew fast enough to get you moving from project to project.
As long as your machine can sew at least 800 stitches per minute, you will be able to blow through thick quilts and miscellaneous fashion projects incredibly quickly. Some machines have up to 1,500 stitches per minute, which is the difference between driving a golf cart or driving a Ferrari. Speed can mean the difference between many completed projects and no completed projects.
Brand Name
Many of us like to complain about big brand names, but the truth is that we also have brands that we know and trust. I highly recommend choosing a sewing machine with a respectable brand behind it. By using the right brand, you know your sewing machine is going to be a quality product with no malfunctions. Also, quality brands generally have a solid customer care record.
Best Sewing Machine: Final Thoughts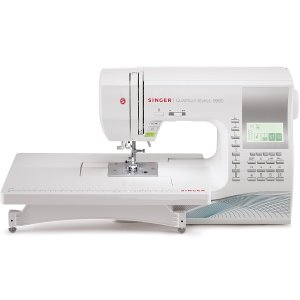 If I had to pick a favorite between the three machines we just talked about, I would have to pick the Singer 9960 Quantum Stylist. The Quantum Stylist is a computerized sewing machine that comes with 600 built-in stitches, an electronic autopilot mode, a very handy extension table for working with large projects, and tons of bonus accessories.
For the money you spend, you can't get a better machine than the Quantum Stylist 9960. It is fully computerized with many different options for sewing, and even an automatic needle threader to make life simple. Its LCD screen is perfect for keeping track of all your important settings.
Juki and Brother both offer great machines as well, but they simply can't compete with the smooth effectiveness of Singer's Quantum Stylist 9960. It is simply a better machine, not only for amateurs but also for professionals. If I had to choose one of these sewing machines to get me through the rest of my days, it would definitely be the 9960.
Related Articles: