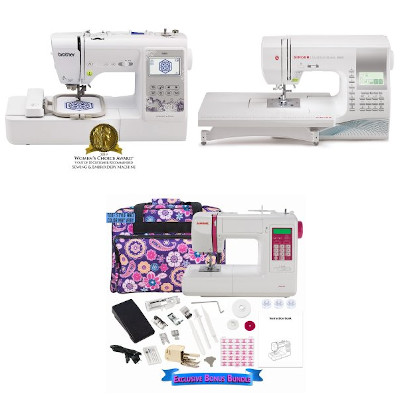 For many people, sewing is simply a way of mending clothes that are torn, lost a button or two, or simply need resizing. For others, sewing is a way of expressing their creativity by designing and bringing to life a wide range of projects including clothes, quilts, and various home décor crafts. And while many of these things can be done by hand, without the need to use a sewing machine, it's a whole lot easier (and more enjoyable) with one.
You don't have to be rich to reap the benefits of a good quality sewing machine. There are plenty of great models out there available to buy today that are both functional and affordable, and in this review, I'm going to highlight three of the most popular ones. In addition to sharing with you all the main features and functions each as to offer I've also included further down, a section that will help you out in knowing what to look for when buying a sewing machine under $500.
Top Rated Sewing Machines Under 500
---
Brother SE600 – Best Overall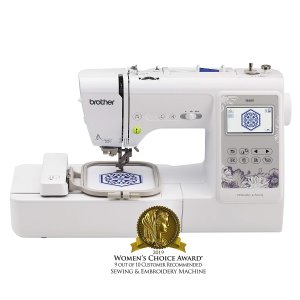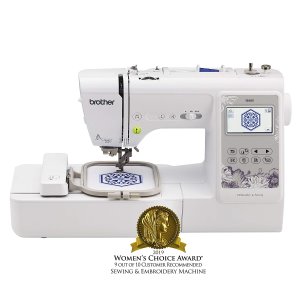 The Brother SE600 is a great little machine that offers a wide range of functionality for just about anyone with an interest in sewing or embroidery. It's packed full of great features that users of all skill sets can enjoy. And in addition to that, everything is so easy to use. The machine features a large 3.2" color LCD touchscreen that's both clear and responsive. With this screen, you can literally preview your work before you start sewing to see how the end result will look.
And thanks to the automatic needle threader function and drop-in top bobbin, it takes very little time to get started.
Designer Central
There are 103 built-in sewing stitches to play around with as well as 80 different embroidery designs. You even get 10 different auto buttonholes and 6 unique lettering fonts to be able to really customize your work. It can handle a wide range of fabrics and comes with a 4" x 4" embroidery field and hoop, so the things you can create on this machine are limitless.
Good Load of Extras
Alongside the Brother SE600, you get a good range of extras in which to enhance your sewing experience. There are 7 different sewing feet including a zigzag foot, a buttonhole foot, an overcasting foot, a monogramming foot, a zipper foot, a blind stitch foot, and a button sewing foot. You get plenty of bobbins and needles, a foot pedal, and a handy dust cover to keep it protected when not in use.
---
Singer 9960 – Best Budget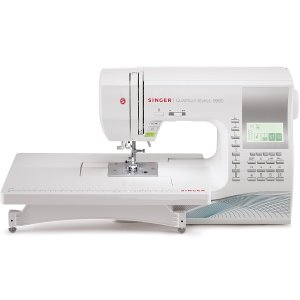 The Singer 9960 may be a machine designed for the home user, but it offers a stitch quality that's equivalent as that produced by a professional in a commercial setting. It's capable of sewing at a maximum sewing speed of 850 stitches per minute, and thanks to the machine's heavy-duty metal frame there's very little movement while in action. So even when working at its top speed, the precision and accuracy of the stitching produced are still second-to-none.
Spacious Work Area
While the machine itself measures in at just 17.25" x 8.25" x 12", it's actually quite roomy to work on. On top of that, included with the Singer 9960 is a sturdy and handy extension table which makes sewing larger projects such as quilts or drapes is a breeze.
Features a Plenty
In addition to producing flawless stitching, this machine offers a wide range of features and functions for all to make use of. There's an automatic needle threader that threads the eye of the needle for you, an easy-to-load top drop-in bobbin system, and an electronic twin needle setting that reduces the stitch width.
It also features a total of 600 different stitches to work with, which is one of the most extensive collections out there available in a domestic machine. Among these stitches, you'll find a mixture of basic, decorative, and stretch stitches to use for a variety of fashion, quilting, and crafting purposes.
---
Janome DC5100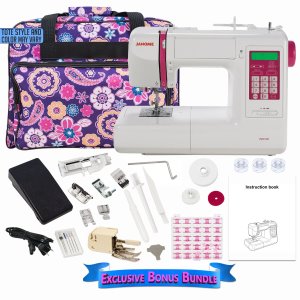 If you're looking for a sewing machine that's modern, functional, and will brighten up your day in an instant, then be sure to take a look at the Janome DC5100. This pink and white machine is a computerized model that because of its fresh and funky look, it appeals not only to those young in age but those less experienced also. Nothing about this machine is difficult to use. The computer is easy to navigate and has a programmable memory which is capable of storing up to 50 different patterns. You can also program the needle to stop sewing in either the up or down position.
Good All-Rounder
The Janome DC5100 has 167 built-in stitches to work with including 5 auto-buttonholes allowing you to work on a wide number of sewing projects including clothes making, quilting, and home décor. With this machine, you can sew at a maximum speed of 820 stitches per minute, but that's only if you want to move that fast. If you're someone who prefers to take it slow and steady, that's absolutely fine. Simply slide the variable speed control to the left to slow down, and to the right to speed up. Or, leave it in the middle for a moderate sewing speed.
Loads of Extras
Another thing that's appealing to newcomers is that it comes with loads of extras. For starters, you get 10 different feet included with this machine, which is more than most other home models out there. On top of that, you get 25 Janome Cherry Blossom Bobbins, all the standard tools and accessories to keep you sewing without too many interruptions, and a cute little tote bag to put it all in.
---
Best Sewing Machines Under 500: A Complete Buying Guide
Quite often in life, you'll find the saying, "you get what you pay for", rings true. And while this is partially true when it comes to sewing machines, there are still a few hidden gems out there that are affordable and are actually great value for money, like those listed above.
Even if after reading the above, you've found your next dream machine, there are still a few things to consider when buying any new sewing machine.
Brand
As you've probably seen already, there is a large number of sewing machines available to buy today that will cost you less than $500 a piece. The problem is that only a small portion of these are worth investing in. A good place to start when looking for a quality sewing machine is to only buy from a reputable name. Brands such as Brother, Singer, or Janome offer a huge variety of machines suitable for people of all budgets and are all well known for producing quality products.
Budget vs Features
Just because you're limited in funds, doesn't mean you should be limited in what you can sew and the features you have available to you. And thanks to brands such as Brother, Singer, and Janome, you don't have to be. All of these companies offer a selection of machines equipped with a wide variety of attributes.
The best thing you can do when shopping for a sewing machine on a budget is to write a list of all the qualities you'd like to see in order of priority. Then as you search through your final selection of machines in your budget you can choose the one that offers the most from this list.
Related Articles:
Stitch Options
Some models out there have hundreds of built-in stitch options available to work with, whereas others offer just a select few. And while having tons of stitches to play around with is cool, if you're trying to stick to a budget, and you're not intending to use more than a handful, what's the point? You may as well save your money for extra supplies.
Durability
Another thing to keep in mind when buying a new sewing machine is what you're going to be using it for. If you're just going to be using it to sew on a few buttons or mend some old clothes, then you shouldn't need anything too heavy-duty. If, however, you know you're going to be sewing heavy fabrics such as canvas or upholstery, then it's best to look for a machine that's strong and tough and won't balk on first use.
Best Sewing Machine Under 500: Final Thoughts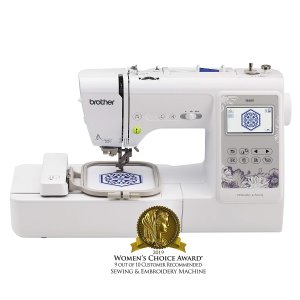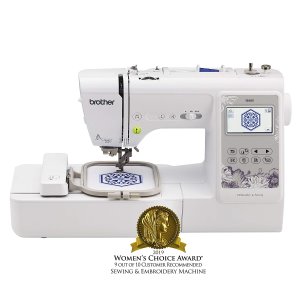 As you can see, there are some decent sewing machines out there that won't cost you a fortune to buy. While all three machines on this page I would happily recommend to anyone, the best option overall, in my opinion, is the Brother SE600. It's easy to use, offers a wide range of both design and stitch options, and allows you to complete embroidery projects should you wish.
The Singer 9960 is best suited to those looking to achieve the most accurate and professional-looking stitch, but not too fussed about speed. While the Janome DC5100 is best for those looking for a good all-rounder machine with a wide range of extras thrown in.
Related Articles: