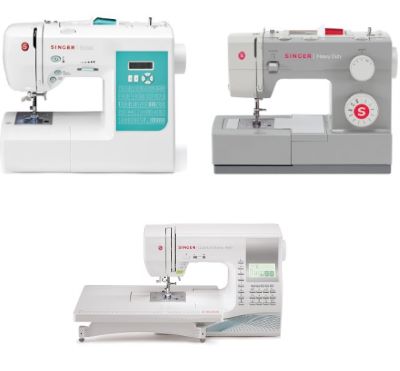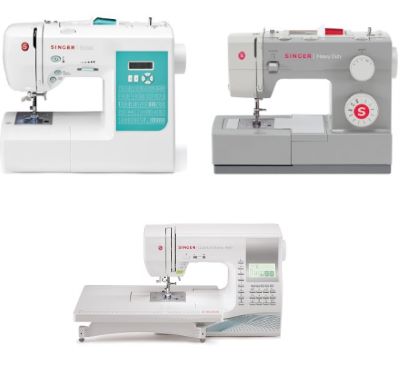 For many people, sewing is more than just a hobby or a quick fix way of mending some old clothes. It's their livelihood. Whatever your reason for sewing, one thing is for certain – it's a whole lot easier when you have a decent machine to help take away some of the strain. With a range of different attributes to them, you can be sure that there's a machine that's fit for pretty much any person and any sewing purpose. It's simply a case of finding what's best for you.
With a name like Singer, you can be pretty confident whichever machine you buy it's going to made from high-quality materials and built to last. The problem is, deciding which model to choose. In this article, I'll go through some of the features and functions of the best Singer sewing machines out currently. Hopefully, that will make your decision a little easier to make.
Top Rated Singer Sewing Machines
---
Singer 7258 Quantum Stylist – Best Overall Singer Sewing Machine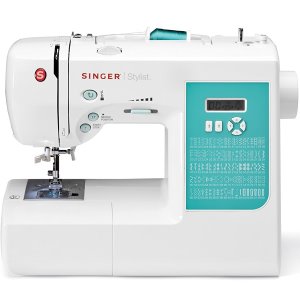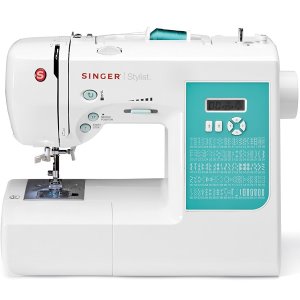 When it comes to modern, high-quality sewing machines, it doesn't get much better than the Singer 7258. It's got the same sleek Singer look and feel. With a maximum sewing speed of up to 750 stitches per minute, it's pretty fast. And it has all the bells and whistles a machinist could ask for.
Wide Variety of Stitches
One of the most prominent features of the Singer 7258 is the huge collection of built-in stitches it has to offer. With 100 different stitches to choose from, including 76 decorative stitches, and 9 basic stitches, there's not much that can't be sewn using this machine. Whether it's making quilts, clothes, crafts or more, you can be fairly certain there's a stitch here to help you do it.
Advanced Features
The Singer 7258 isn't just your average sewing machine. This beast offers a wide range of features and functions to please even the most advanced machinists. It has a simple to control on-board computer with a clear LCD screen to display your choices. It also features a programmable needle, a speed control lever, and a total of 6 automatic 1-step buttonholes.
There really isn't much you can't do with this machine. The Singer 7258 is an excellent choice for anyone wanting a new sewing machine to replace and existing one or add to their collection. It's tough, it's reliable, and not likely to break down anytime soon. And it produces some of the finest stitching you could possibly want.
---
Singer 4411 Heavy Duty – Best Budget Singer Sewing Machine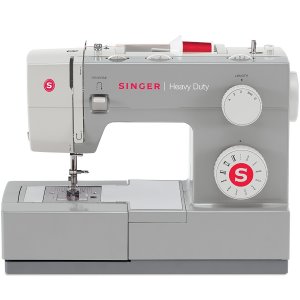 If you're looking for a good all-round machine that's fast, efficient, and won't break the bank, the Singer 4411 is an excellent choice. With a whole range of features and functions available for a very reasonable price, this sewing machine is a great choice for anyone on a budget.
One Tough Cookie
Heavy Duty by name, and heavy-duty by nature. The Singer 4411 may be classed as a budget machine, but you still get a lot of bang for your buck. Every part of this machine is strong and made to last. The motor itself one of the faster ones out there, capable of a maximum sewing speed of 1100 stitches per minute. It also has a stainless-steel bedplate. In addition to that, the inner frame is made of heavy-duty metal, providing plenty of stability and rigidity while the mighty motor is at work.
Budget Price, Not so Budget-Like Features
One of the things I like most about this machine is that as well as being a reasonable price, it also offers a whole host of fantastic features that you see on some of the higher-spec models. For example, it has an adjustable needle position, a built-in reverse function, and a top drop-in bobbin with a clear view cover for easy thread monitoring.
All-in-all, the Singer 4411 is a fantastic machine that may be budget on price, but not so much on features. It's capable of getting most small to medium sewing tasks done to a high standard and is durable inside and out.
---
Singer 9960 Quantum Stylist – Best Computerized Singer Sewing Machine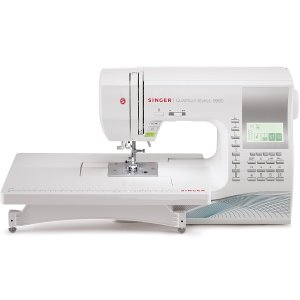 The Singer 9960 is another of the company's most sought after machines, and after just a very quick glance it's easy to see why. It's got the looks, it's got loads of functionality, and it comes with a whole heap of accessories.
Quality at its Best
Every Singer sewing machine that I've ever come across has always been made to the highest standard, and this machine is no different. With a maximum sewing speed of 850 stitches per minute, it may not be the fastest machine out there, but it produces top-quality stitching with ease.
Super-Efficient Computer
As well as having a large, clear, easy-to-read display, the Singer 9960's on-board computer is amazingly simple to operate and by far, one of the best I've seen in its range. There are a staggering 600 different stitches to choose from as well as 13 automatic 1-step buttonholes. Simply use the appropriate buttons located on the front of the machine to select your stitch type and size, and before you know it, you'll see your stitch selection appear on the screen in front of you.
If you're looking for a modern sewing machine to replace your old one or you simply want to learn on the best, the Singer 9960 is definitely a good place to start.
---
Best Singer Sewing Machine: A Complete Buying Guide
Thankfully with Singer being such a trustworthy brand, whichever model you choose, you can be sure it will be good quality. But there are other things to take into consideration before making your purchase. In this section, I'll just go through some of the things that could make or break the deal and that you might want to have a think about.
Machine Type
One of the first things to take into consideration when buying a new sewing machine is what type you want? As a generalization, sewing machines come in 3 variations:
Mechanical – These are machines that provide only the most basic of sewing functions and are operated by hand. However, the chances of you finding a mechanical machine for sale are rare as they are very few are far between and have been replaced in the most part by the following two types.
Electronic – A step up from the old mechanical machines, but not quite to the level of the new ones, lay the electronic sewing machines. Reliable, accurate, and motorized, these machines are not only workhorses but also offer a great deal of functionality. They're usually foot pedal controlled, allowing you sew hands-free, and may even feature an LCD screen.
Computerized – Computerized machines are obviously the most modern. They usually offer advanced capabilities at the touch of a few buttons and are usually the most powerful out of the 3 types. You'll find a number of automated features on these machines including buttonholes, needle threading, and tension control. And while computerized machines may a little more expensive than the electronic models, the ease of use and functionality of them is significantly better, hence why they are used by most professionals in the industry.
Sewing Projects
Another thing you're going to want to consider before making your purchase is what exactly do you need the machine for? Will you be using it to purely sew clothes as and when they need repairing? Is it to start your own curtain making business? As mentioned previously, Singer has a wide range of sewing machines so whatever it is you're going to be doing, you can be pretty sure there's one that's suitable. So, in thinking about things like what materials you'll be using and how much room you need is a good place to start.
Related Articles:
Portability
Which leads me on to size. You need to think about where your machine's going to live when in and out of use. How much space do you have spare? Do you have a table or desk to place your machine on? Consider whether you're going to be moving it around much. If so, you'll possibly want to look at a smaller or portable sewing machine.
Capability
And lastly, have a think as to the kind of features and functions you want to see integrated into your machine. In terms of ease of set up, an automatic needle threader is a big time-saver, as is a top-loading bobbin system. Another feature many machinists can not live without is the automatic buttonholer function. While this is a function found on most machines, they vary in the number of steps the process takes usually from 1-4. While 4-step buttonholes are perfectly fine and have the same quality finish, 1-step buttonholes are the bees' knees, giving you the same perfect stitching in just 1-step!
Best Singer Sewing Machine: Final Thoughts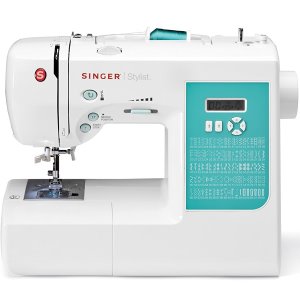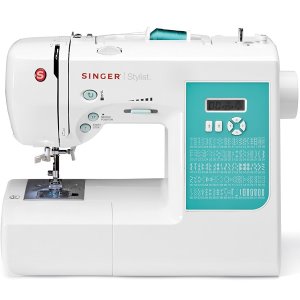 If you're looking for a sewing machine that's versatile, offers a wide range of stitching, and has enough functions and features to please most advanced machinists, then the Singer 7258 is probably the best choice for you.
For anyone looking to save a few pennies, the Singer 4411 may be a better option. It's still highly functional, but at a much lower cost.
Or, for all you technology lovers out there, be sure to check out the Singer 9960 as it has one of the best computers I've ever seen on a machine of this caliber.
Related Articles: