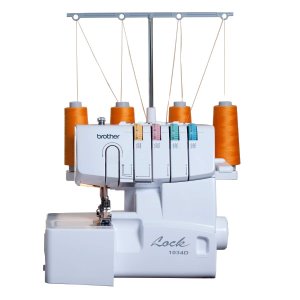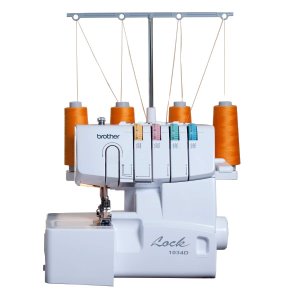 When it comes to shopping for sergers and sewing machines, there are several big names that you'll come across, one of which is Brother. A real contender to Singer, the company has been in operation since the early 1900s, with the release of its very first sewing machine in 1928. Since then, it has gone from strength to strength offering a wide range of machines for a wide range of uses.
The Brother 1034D is a serger sewing machine that's suitable for people of all skill levels and is one of the most popular choices for hobbyists and professionals alike. It's color-coded system and controls make it nice and simple for learners to navigate while its advanced capabilities will keep the more advanced machinist content.
It's got all the must-have qualities such as a strong exterior, an efficient motor, and enough features to complete a variety of sewing and serging tasks. Keep reading to find out more about what the Brother 1034D has to offer.
---
Brother 1034D Review: Overview
Measuring in at 11" x 11.7" x 13.2" and weighing just over 16 pounds, the Brother 1034D is one of the larger sergers out there. But then, with a motor capable of kicking out a maximum sewing speed of an eye-watering 1300 stitches per minute, it's of no real surprise. To help make your life easier if you do need to move it all, Brother integrated a very durable handle into the machine.
But, it's not just fast, it's highly efficient also. This machine produces some of the highest quality stitching you could ask for.
Being equipped with a 3/4 thread system means this serger is capable of providing 3 or 4 threads in which to create professional-quality stitching each and every time you use it. It also features a differential fabric feed to make dealing with different materials a breeze (more on this further down).
---
Fabulous Features
When it comes to features, the Brother 1034D is certainly not lacking. Firstly, it has a thread tension control feature that allows you to adjust the tension on each stitch individually to suit. The presser foot pressure is also fully adjustable meaning you can increase the pressure when working on lighter fabrics and release it again when working with heavier material.
Another of the Brother 1034D's fabulous features is it has a differential fabric feed ratio ranging from 0.7 to 2.0m enabling better stitch quality on virtually any fabric. So, whether it's silk, satin, corduroy, or denim you're working with, this machine is more than capable of handling it.
Related Articles:
The stitch width is adjustable from 5 to 7 mm while the stitch length is adjustable from 1 to 4mm. This is particularly useful when working on larger projects such as gowns, tablecloths, or curtains. And with 22 in-built stitch options to choose from, you have plenty to keep you going.
It also features a super sharp retractable knife for trimming all your edges and a bright light to help illuminate your sewing path when working in poorly lit areas.
---
Professional in Appearance but Not in Price
One of the things I like most about sergers, compared to that of a standard sewing machine, is that in my opinion, they look more professional. The Brother 1034D is a very nice-looking machine. It features the same pristine white exterior that's adorned by the majority of machines today, yet color-coded in all the right places, giving it a subtle yet classy look. Everything is well-laid out on this machine and within easy reach. And while it may appear to be quite complex at first glance, it's actually a very simple machine to master.
And the best part is, even though it looks, feels, and functions as a professional machine, it's nowhere near the cost of one. So you can enjoy all the capabilities a high-end commercial machine would offer, from the comfort of your own home, for very little outlay.
---
Easy to Use
While it may be bigger than a lot of sergers out there, the nice thing about this machine is that it's quick to learn and easy to use once you do know what you're doing. The fact that it has a color-coded threading system is a big help for beginners and will save you a lot of time and frustration when just starting out.  It also has a lower lopper threader which also makes things easier when threading the machine. Simply lay the thread using the color-coded guide, flip a switch, and away you go!
Another thing that makes the Brother 1034D such a dream to use is that unlike a lot of professional machines, it uses standard home sewing needles. So, there's no having to hunt around for specialist needles when you run out. It also has a removable free arm which is very useful when needing to serge things like cuffs, collars, or sleeves.
To help you get to know your machine better, there's an instructional DVD that comes with your purchase. As far as manuals and tutorials go, it's not bad. It actually demonstrates how everything on the machine works.
---
Brother 1034D Review: Final Thoughts
Sergers are fantastic machines that enable you to create a professional finish that just wouldn't be possible by hand, and the Brother 1034D offers all of that and more. There's no complicated setup. Simply follow the easy threading guide and within no time at all, you'll be up and running like a pro.
Once you're all set up, functionality is like clockwork on this machine. Everything runs smoothly and as it should. You can adjust the stitch width, length, and tension at the touch of a button and sew up to the speed of a lightning 1300 stitches per minute. The differential feed system is a nice touch too.
All-in-all, the Brother 1034D is a good all-round serger that is suitable for just about anyone. It's easy enough for a learner to pick up quickly yet has enough advanced capabilities to keep those more experienced machinists satisfied also.
Related Articles: