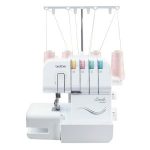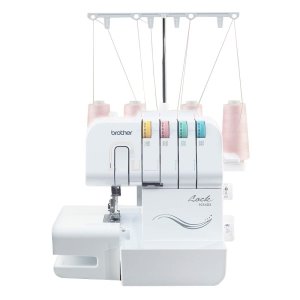 More Stitch Options & Upgrades
Newer Model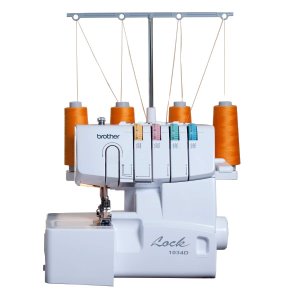 1300 Stitches Per Minute
Cheaper Price
When it comes to buying a top-quality sewing machine or serger, there's one thing you can be sure of – that Brother has a model to suit your needs. The Brother Industries company was founded more than 100 years ago and prides itself on providing a wide range of versatile sewing machines for the home user.
With such an extensive range to choose from, it can be difficult knowing where to start when looking to buy a new machine. To help you in that mission I've put together this short review of two of Brother's top-selling sergers – the Brother 1034D and the Brother 1034DX. While both are excellent models in their own right, in this article you'll get to see just what upgrades came with the introduction of the 1034DX, and ultimately, which is the better model for you.
---
Brother 1034D Review
The Brother 1034D is a very capable and very heavy-duty overlock (serger) machine. It was released nearly 10 years ago, in November 2010, and since then has remained as one of Brother's top-selling overlock machines. So, what does it have to offer?
Great Functionality
When it comes to performance, the Brother 1034D is one of the best, offering extremely accurate stitching without even breaking a sweat. It's a 3 or 4 thread serger that was designed specifically for giving hems and edges of wide fabrics a flawless finish. And, it has 22 different stitch functions to work with. In addition to the 4 and 3 thread overlock stitches, there's also a narrow hem, a rolled hem, and ribbon lock stitches at your disposal.
Easy to Use
One of the things many people love about this machine is the fact that it's so easy to use. The color-coded upper thread guide makes for easy threading while the lower looper threading system ensures the thread stays where it should. The stitch width can be adjusted between 5mm and 7mm. To do this simply turn relevant dial located on the left-hand side of the machine.
Super-fast Sewing Speeds
If you like your machine to have some speed, you'll love this bad boy. The Brother 1034D is capable of sewing at speeds of up to 1,300 stitches per minute. But don't worry about excessive movement, as even at maximum speed the machine barely moves an inch.
---
Brother 1034DX Review
The Brother 1034DX is the follow-on model from the 1034D. It too is a fantastic serger machine capable of handling a wide range of fabrics. So, what else is hiding under its cover?
Same Super-fast Sewing Speeds
Just as it's predecessor, the 1034D, the 1034DX is also capable of sewing at speeds of up to 1,300 stitches per minute, which is plenty fast enough for even the most advanced seamstresses. It's also just as accurate in the stitching it produces. The downside is it's a little noisy.
Strong and Durable
Thanks to the machine's solid metal frame, there's no skipping of stitches when in use as there's no vibrating. So even though it's quite a compact machine, it's still pretty rugged and heavy-duty. Another bonus this machine has to offer is the removable free arm, allowing you to sew more easily tubular pieces such as cuffs and collars.
Accessorize
To help enhance your sewing experience and to make your life a little bit easier, the Brother 1034DX comes with a variety of accessories including a standard, blind stitch, and gather foot; two snap-on feet; a soft cover for keeping your machine free from dust, and an instructional DVD and manual to ensure you get off on the right foot.
---
Brother 1034D  Vs 1034DX: Main Differences
The Brother 1034DX was released in April 2017. That's almost 7 years later than its predecessor. In that time, it seems there were a few adjustments made to the machine, including the following:
Control Dial Layout
While the overall look of the serger remains pretty much the same, the location of the control dials has changed. On the Brother 1034D, both the stitch length and differential control dials are located on the left-hand side of the machine, but on the 1034DX, they're both found over on the right. So, if you're left-handed, the Brother 1034D is probably easier for you to use. Whereas if you're right-handed, the 1034DX is likely to be more comfortable for you.
Bulb Upgrade
Everyone needs to have good light when they sew, especially when working in less than ideal conditions. While both models provide adequate lighting, the Brother 1034DX is the superior of the two in this department. Where the 1034D features an incandescent bulb, the 1034DX is equipped with a more efficient, and brighter LED light.
Stitch Length Capabilities
Another thing that's changed in the 1034DX is the stitch length. The 1034DX is capable of producing stitches that are between 2mm and 4mm in length. And while this is the same with the 1034D, with this model you also get added options. As well as the standard 2mm to 4mm overlock stitch, you can also adjust the machine to produce a 1mm roll stitch or a 1mm to 2mm narrow stitch.
Brother 1034D vs 1034DX: Final Thoughts
Both the Brother 1034D and the Brother 1034DX are perfectly good sergers. They're both highly efficient and very good in terms of the quality of the stitching they produce. However, for the little difference there is in price, I would consider the 1034DX over the 1034D for two reasons. Not only is the 1034DX better for right-handed users like me, but it's also got a brighter, more efficient bulb. At the end of the day, there isn't a huge difference between these two, and as both offer neat and accurate stitching, I would personally opt for the machine where the controls will be easier for you to work with.