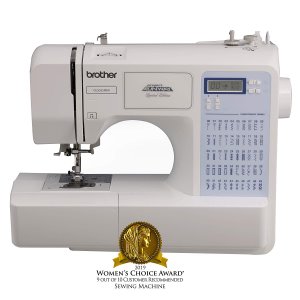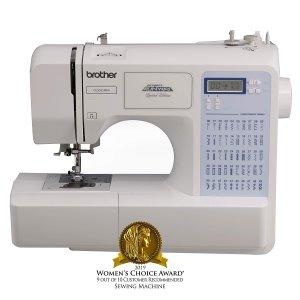 Learning to sew is only as fun and easy as the machine you're using and with the Brother CS5055PRW, it's like a dream come true.
There may not be a whole lot to learn to get off the ground when it comes to sewing, but those few skills that you do need, are vital. And if you're trying to learn from a machine that's old and doesn't work very well, or is too new and overly complicated, you're going to struggle.
The Brother CS5055PRW falls in between these two categories. While it has enough features and functions to complete a wide range of sewing tasks, it's not too difficult to master them. There's an automatic needle threader as well as an automatic bobbin winder to help take some of the strain in those areas. You get a total of 50 built-in stitches to work with, 87 stitch functions, and everything you've chosen can be viewed on the handy little LCD screen.
Still not convinced? Keep reading.
---
Brother CS5055PRW Review: Overview
When you're just starting to learn to sew, the last thing you want to do is spend hours setting up your machine as you end up getting bored before you've even begun. With the Brother CS5055PRW, everything comes pre-assembled, so you don't have to worry about that. The only thing you'll need to do upon unpacking your machine is thread it. But as long as you use the enclosed manual (just until you get used to the setup) you should be up and running on your new machine in no time at all.
One-Touch Sewing
The Brother CS5055PRW is the perfect machine for learners as everything on it is so easy to use. There are a few automatic features to be enjoyed when using this machine including an automatic needle threader, and an automatic bobbin winder, both of which are designed to make your life a little easier. The automatic needle threader is great support for those with manual dexterity or vision problems. While the automatic bobbin winder is a helpful feature to make that process quick and pain-free.
As well as offering some fantastic automatic functions in which to save you time, this machine also enables users to learn the basic skills needed to sew on any modern machine. Included with the machine you get a number of different accessories to help you along the way also, including 6 different presser feet. Which is pretty impressive really considering it's a basic machine. You get a blind stitch foot, buttonhole foot, button sewing foot, monogramming foot, overcasting foot, zigzag foot, and a zipper foot. That should be more than enough to carry out a wide range of sewing tasks.
There's also an efficient LED light which enables you to see more clearly in poorly lit areas.
---
Adequate Functionality
Not all beginner sewing machines get the mix right. There are some out there that are so easy to use, but you don't learn anything worthwhile. Then there are others that you need a degree to operate. But the Brother CS5055PRW is neither of these. With this machine, you get access to various advanced features that even experienced sewers will appreciate. The difference is that they've been simplified and better designed to suit those who are learning.
With 50 built-in decorative, utility, and heirloom stitches to choose from, and 87 stitch functions, you can easily craft a wide number of projects with this machine. In addition to this, there are 5, 1-step buttonholes, which is pretty impressive. It's hard enough trying to find a good machine that offers just 1, 1-step buttonhole, but with this one, you get five times that!
Related Articles:
Being a computerized machine, pretty much all the functions are accessed via the LCD screen. But don't worry if technology's not your thing as all the buttons are clearly marked and navigating your way through the on-screen options will become second nature in no time. The stitch type, length, and width selections are all chosen using the navigation buttons next to the screen.
---
Lightweight Yet Durable
If you're looking for a sewing machine that's easily transportable than the Brother CS5055PRW easily ticks that box. Measuring in at 11.65" x 7" x 16.26", and weighing just over 10 pounds, you won't have too much trouble transporting this machine. It's even fitted with a little carry handle for added convenience. So, overall, a really good machine to use on the go.
It's also a very durable machine. Made from high-quality parts, the Brother CS5055PRW has no problem in achieving a maximum sewing speed of 850 stitches per minute. And because of its durability and build, there is very little movement from the machine even when working at these super-fast speeds.
When it comes to stability, one of the advantages this machine has over some of its competitors is that it features a 7-part feed dog system that ensures even feeding of the fabric, keeping your stitching nice and even. If you do ever want to try free-motion sewing or quilting, then simply drop the feed dogs, and away you go.
---
Brother CS5055PRW Review: Final Thoughts
When it comes to looks, it may not be the fanciest sewing machine out there, but in terms of offering a high-quality machine that's functional, easy to use, and won't break the bank, it's up there with the best. The Brother CS5055PRW is a great machine to use for anyone who's just starting out in the world of sewing. While advanced users will have no problems using it, they may find the functionality is a little lacking if needing to complete more complicated projects. But for anyone just needing to carry out some basic sewing tasks or just really get to grips with using a machine, then it's ideal.
It's portable, it's durable, and it comes with enough accessories that you won't need to buy a thing to get started. With all that in mind, what have you got to lose?
Related Articles: