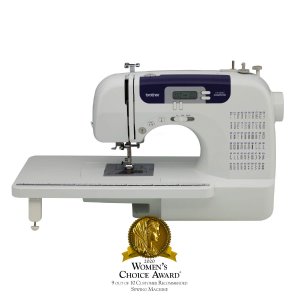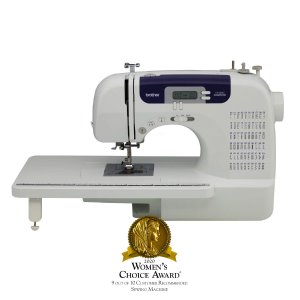 When it comes to finding a machine that offers both sewing and quilting capabilities, your choice is somewhat limited. Quite often you'll find that a quilting machine that offers sewing capabilities, but these are almost always limited to very basic tasks. If you do manage to find one that excels in both, it's usually ridiculously overpriced. Thankfully one leading manufacturer recognized this and took action. Enter the Brother CS6000i.
Having been around for quite some time and having developed many, many machines in that period, Brother doesn't mess around when it comes to producing high-quality goods fit for every consumer. Even when it comes to combined machines.
The Brother CS6000i offers a wide variety of sewing stitches and auto-buttonholes. It's also equipped with a number of fantastic time-saving features and functions including an automatic needle threader and a variable speed control function. Is it the machine you've been looking for?
---
Brother CS6000i Review: Overview
Whether you want to sew on a button, create your own curtains, or you want to stitch a new quilt, the Brother CS600i's got your back. Equipped with a total of 60 sewing stitches and 7 different style auto-size buttonholes this machine will please even the most experienced machinist.
It's also equipped with enough advanced features to make your life a whole lot easier. There's an automatic needle threader that's operated by a slight touch of the lever that's allocated on the side of the machine and a neat needle up/down button that lets you decide at what position the needle will sit when not in use. Another great feature this machine has to offer is the start/stop button. This is for those who would rather not use the foot pedal to control the sewing speed.
There's a built-in free arm to help with sewing all those hard-to-reach items like cuffs and collars, and it features an extra-wide table to give you additional space when quilting. So, you get the best of both worlds there.
---
Easy to Set Up, Easy to Use
The Brother CS6000i is a relatively easy machine to set up and use, making it a great machine for both the beginner and advanced user alike.
First of all, threading the Brother CS6000i is simple thanks to the numbered diagram that's displayed clearly along the thread path. There's also a quick-set, top drop-in bobbin system with a corresponding automatic bobbin winding system.
Related Articles:
Being equipped with a modern LCD screen makes things like selecting your stitch type, width, and length a breeze. And for added convenience, there's a diagram located on the right of the machine that shows all the stitch types and their corresponding numbers. Everything is displayed very clear and even if you're not particularly good with technology, it's very easy to navigate.
In addition to the machine itself, you also get a number of great accessories with your purchase including 9 different sewing and quilting presser feet, a needle set, bobbin, eyelet punch, seam ripper and more.
---
Fast and Quiet
In terms of size, the Brother CS6000i is pretty small compared to some other combined machines out there. Measuring in at just 16" x 6.7" x 11.4", and weighing a very lightweight 13 pounds, this is a great little machine to move around. It even comes with a hard case for added protection while being transported.
But don't let its size fool you as it's still a beast underneath. This model is capable of a maximum sewing speed of 850 stitches per minute, which may not be super-fast if you're a highly-skilled machinist but should be plenty quick enough for most. The speed is fully adjustable to slow, medium or fast and can be altered by using the adjustable speed control switch that's located on the front of the machine. This is particularly important when working with heavier or thicker fabrics.
And even though it moves at these speeds, the Brother CS6000i is actually pretty quiet when in use, producing only around 65-70 decibels at full power.
---
Accurate and Professional Stitching
As you'd expect from a Brother sewing machine, the CS6000i produces high-quality, professional-level stitching whichever mode you're in.
Regardless of which stitch you choose, you can be sure the stitching will be precise. Simply select your choice using the LCD screen and off you go. If you need to reverse stitch at all just hold down the reverse button continuously and watch the needle move in the opposite direction. This is very useful for reinforcing stitches to prevent fraying. Capable of sewing with twin needles, you can also create the perfect hems with this machine.
If quilting's your thing, you'll appreciate the enclosed foot holder quilt guide and spring action quilting foot. Both of which will help you when creating your beautiful pieces. And while sewing with fabrics such as denim or flannel is fine, anything too thick or heavy will cause the machine to struggle and the quality of the stitching will suffer as a result. In order to maintain the quality of your stitching, make sure to replace your needles regularly.
---
Brother CS6000i Review: Final Thoughts
Finding a decent combined sewing and quilting machine is like finding a needle in a haystack. However, one machine that ticks all the right boxes is the Brother CS6000i. Packed full of great features such as the stop/start button for easier control, the quick-set and jam-resistant bobbin, and the automatic needle threader, this machine is quite capable of carrying out most sewing and quilting tasks.
As well as working like a dream, it looks great too, and being so petite and lightweight makes it ideal for moving around. In addition to all of that, it's also well-made and not likely to break any time soon.
Overall, it's efficient, easy to use, and is adequately priced. So, if you are in the market for an all-round decent sewing and quilting machine, the Brother CS6000i is not a bad choice at all.
Related Articles: