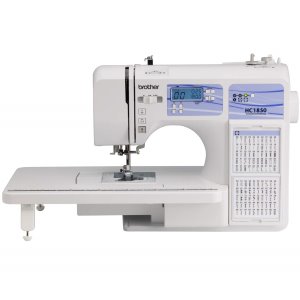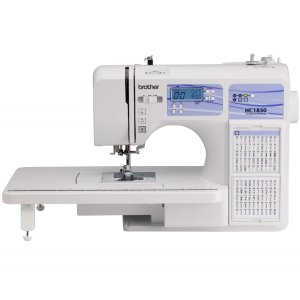 Whether for want or through need, quilting and sewing are two activities carried out by millions of people across the world, every single day. And while both of these activities have been in existence for many hundreds of years, it's only really in the past century or sew that we've had the delightful sewing machine to help. One of the leading companies in the industry today by offering a wide range of machines fit for every possible sewing purpose is Brother.
Having been around a while, Brother has had quite a lot of time to get to know their customers and what it is they want from their products. Laden with that valuable information they've been able to produce a wide variety of reliable and affordable machines. One popular model out at the moment is the Brother HC1850, and in this review, you'll get to see just what it has to offer and why people are flocking to buy it.
Brother HC1850 Review: Overview
Brother's slogan is "If you can dream it, you can make it", and that really rings true when using this machine. If you're someone who's super creative and loves nothing more than designing and making beautiful and ornate needlework, then you're going to adore this machine.
With 130 stitches to choose from including a wide range of decorative and utility stitches, a good selection of quilting stitches, several heirloom stitches, and a staggering 8 unique 1-step buttonhole stitches, the creative juices will be free-flowing here. It also has 1 built-in monogramming sewing font which consists of a full range of alphanumeric characters, 7 punctuation marks, and 8 specialty symbols. So, on top of being a great machine to sew general bits and pieces on, it's an even better machine for making quilts.
User-friendly Machine
One of the things people like most about this machine is that it's so easy to use and therefore attractive to people of all ages and skill levels.
The handy integrated stitch reference flip chart gives you instant access to all the various stitch options available.
While the Brother HC1850 is capable of achieving speeds of up to 850 stitches per minute, you don't have to sew that fast. The sewing speed is easy to adjust on this machine and can be done by the simple flick of the speed control slider that's located right on the front of the machine.
Everything on the Brother HC1850 is really easy to use. Even the LCD display screen is minimalistic and easy to understand. Both the stitch length and width are selected and displayed via the LCD screen. Simply use the push buttons located next to the screen to input your choice and you're ready to sew. The thread tension is adjusted by physically moving the thread controlling wheel situated at the top of the machine.
The only thing that's not adjustable is the size of the lettering fonts. These are permanently set to be ¼" in size.
Increased Functionality for Quilting
On top of all the fabulous features and functions mentioned already, there's still a lot more to be seen from this fantastic machine, many in connection with quilting. There are 14 different quilting stitch functions in which to work with while quilting. And, it comes with a pretty wide detachable table that extends your workspace a great deal, making it much easier to maneuver when working on those larger projects.
Another feature that's ideal for using when quilting is the ability to carry out free-motion sewing via the easy repositioning of the feed dogs. To drop or lower the feed dogs simply access the switch that's located on the rear side of the machine and raise or lower as needed.
Added Extras
As well as being a fantastic machine simply in the way it moves, the Brother HC1850 also has a number of added extras which add even more to its value.
The detachable foot controller is considered an optional extra as it isn't needed to operate the machine. Some people prefer to sew without it while others enjoy the freedom of working hands-free. But, if you would prefer not to use the foot pedal then you can simply use the start/stop buttons on the face of the machine instead to control your speed.
And thanks to helpful features such as the automatic needle threader you'll be up and running in very little time at all, regardless of your skillset.
Related Articles:
There are also dual LED lights fitted to the machine in which to illuminate your work as you sew.
In addition to the machine itself, you also get a number of different helpful tools accessories when you purchase the Brother HC1850. On top of all that's mentioned above, you get 5 bobbins, a foot control pedal, an instructional DVD, a ballpoint needle used mostly to knit fabrics, a twin needle for when you want to create parallel or decorative stitches, a cleaning brush, and more.
Brother HC1850 Review: Final Thoughts
If you're looking for a quilting machine that's versatile, high-quality, and feature-packed, you've come to the right place. The Brother HC1850 is an excellent machine offering both high-class quilting and high-quality sewing functionality. There's the easy threading system, the option to sew pedal-free, and there's the automatic needle threader to take advantage of too.
Whether you'll primarily be using the machine to sew or make quilts, it's so easy to use. So even if you are a beginner, it's not going to take you weeks and weeks to get the hang of it. Measuring in at 19.2" x 12.5" x 15.2", and weighing just over 17 pounds, it's easy enough to carry around if need be, and it won't cost you the Earth either. With enough features to carry out a wide range of tasks, it's the perfect machine for just about anyone.
So, as you can see from the above, there is quite a lot to be gained from using the Brother HC1850. It's reliable, functional, and produces professional quality stitching. What more could you possibly want?
Related Articles: