Sewing and quilting are two pastimes enjoyed by a great number of people today, and for thousands of years prior. While the basic fundamentals of these two crafts haven't changed, the methods in which are used to achieve the end result have certainly improved. Much of this is down to the advancement of modern technology and subsequently, the introduction of the electronic sewing machine.
One of the leading brands in the sewing industry today is Brother. For many years the brand has paved the way in providing high-quality machines at affordable prices to the general public. And here in this review, I'll compare and contrast two of the companies leading models when it comes to sewing and quilting – the Brother HC1850 and the Brother CS6000i.
Both models offer fantastic features and functions, enabling you to complete a wide range of projects. But which is the better model overall? And which model will better suit your needs?
Brother HC1850 Vs Brother CS6000i: Comparison
Brother HC1850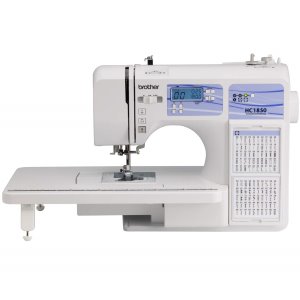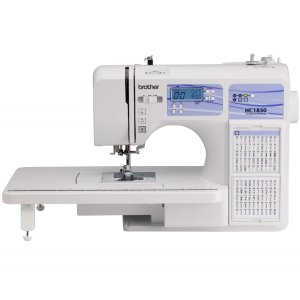 PROS
Easy to use
Lightweight
Monogramming foot included
CONS
Not ideal for hardcore quilters
Some materials may lack rigidness
---
Brother HC1850 Review
If you're looking for a machine that's got a massive collection of unique built-in stitches, then the Brother HC1850 is the one for you. It's got a total of 185 under its cover, including 130 for sewing, 55 alphanumeric sewing stitches, and 8 different styles of one-step buttonholes. So, as you can see, the only real limitation when it comes to sewing, quilting, or monogramming is your imagination.
All the Bells and Whistles
Think of a feature and I bet this machine has it to offer. Automatic needle threader? You got it! In fact, it's got an advanced needle threader that works like a charm. It also features a jam-resistant, drop-in top bobbin for fast and efficient changing of your thread.
Easy to Use
It may be modern, and it may be computerized, but the Brother HC1850 is still a relatively simple machine to use. The LCD screen works well, clearly displaying your stitch options for quick reference. And navigating around it's is a breeze thanks to the smooth control buttons. For easy reference, all your stitch selections are shown on the handy reference chart too. So all you need to do is find the corresponding number and punch it into the computer.
---
Brother CS6000i Review
There are so many fabulous features on the Brother CS6000i, that it's impossible to list them all here. But just to give you an idea, there's an automatic needle threader to take the strain away; a handy start/stop button for when you want to sew without the pedal; a reverse sewing button for reinforcing all your beautiful stitches; and a needle up/down function. And, they're all easy to use, activated by either a slight turn of a knob or the simple push of a button.
Extras
As well including a range of accessories such as extra bobbins and needles, and a total of 10 presser feet, you also get a hard case in which to protect your machine while it's not being used. Another added extra is the included wide table that enables you to sew quilts and other large projects with ease.
Accurate Stitching
The Brother CS6000i has 60 unique stitches built into it, including some utility, some for quilting, and some for decoration. It also has 7 auto-style buttonholes to work with. And regardless of the type of stitch you choose with this machine, it produces an accurate and quality stitch each and every time.
---
Brother HC1850 Vs Brother CS6000i: Main Differences
With both the Brother HC1850 and the Brother CS6000i offering some amazing qualities, deciding which is better overall, is tricky. Here I'll run through some of the main differences to see where one may lack and the other shine.
Additional Features
When it comes to what features each of the machines has to offer, the HC1850 wins hands down. Not only does it have loads of extra stitch options to choose from, and an extra 1-step buttonhole, but it also has a monogramming font that's not present on the CS6000i.
Size Does Matter
The Brother HC1850 measures in at 19.2" x 12.5" x 15.2" and weighs just over 10 pounds. In comparison, the CS6000i measures in at 16" x 6.7" x 11.4" and weighs 13 pounds. While the CS6000i is more compact, it actually weighs a little more. So, if you are looking for a model to take to class or travel around with you, the HC1850 may be the better option.
Extra Presser Feet
Having a good range of presser feet is vital when working on fabrics of different thicknesses, and when wanting to complete different tasks. For example, you won't get very far trying to create a buttonhole with a zigzag stitch. And while both machines include a variety of presser feet with their machine, you get 10 with the CS6000i, opposed to just 8 with the HC1850.
Brother HC1850 vs Brother CS6000i: Final Thoughts
There are many great similarities to be seen in these two models including the same modest maximum sewing speed of 850 stitches per minute, the super-efficient LED lights and the jam-resistant drop-in bobbin systems. Both are also very similar in terms of their size and how easy they are to use. When it comes to versatility, the Brother CS6000i is the better model. You get more presser feet, and, in my opinion, it looks better too. But, it's not all about the looks and added extras.
When it comes to functionality and which is the better model overall, I would choose the Brother HC1850. It's lightweight, it's got all the features you could ask for in a home sewing machine, and it has more stitch functions to work with than you'll ever know what to do with.
So, if you are on the lookout for a top-quality machine that's affordable, reliable, and ready to let your creative juices flow, the Brother HC1850 is the next model for you.