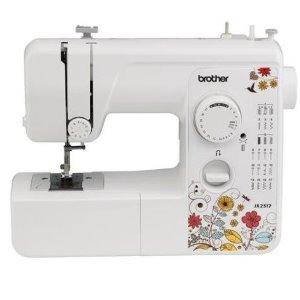 Since the turn of the 20th century it just seems that life is moving faster and faster, and all of a sudden, we all find ourselves with very little time to enjoy life. However, thanks to the advancements of modern technology there are several inventions we owe a lot to for saving us a huge amount of time, one of which is the all mighty sewing machine. Today, thanks to theses modern marvels, both basic and advanced sewing tasks can be done in a fraction of the time they once used to take.
One of the major leading manufactures in this industry is Brother and one of their most popular models for those starting out in the world of sewing is the Brother JX2517. A machine that's perhaps better suited to the younger sewers out there or those just starting out, it's a nice little machine, that's lightweight, easy to use, and easy on the eye. It's also very affordable.
---
Brother JX2517 Review: Overview
The Brother JX2517 might not be the most feature-rich sewing machine out there, but what it does have on offer is enough to complete most basic sewing tasks to the same high standard you'd expect from any Brother model. There are 17 different stitch options available with this machine, including various straight stitches, 3 zigzag stitches, a blind hem stitch, an overedge stitch, an elastic stitch, a bridging stitch, a double-action stitch, and a 4-step buttonhole stitch. Any of the above stitches can be selected by simply turning a dial on the front of the machine to the corresponding number of your choice.
The built-in free arm enables you to sew those smaller, more awkward pieces such as cuffs and collars, while the reverse stitch function lets you reinforce your stitching to prevent any loose threads. And while it may not be self-threading, it's still very easy to do. Just follow the thread guide and you'll be doing it like a pro in no time at all.
Even though everything works like a dream, in the rare event that you do have any issues with your machine, just contact Brother. Remember, though, it comes with a 25-year warranty in which to help to ease your mind.
---
Easy to Use
Don't worry if you're not a skilled machinist, as with the Brother JX2517 you don't have to be. Everything is well positioned and super easy to use. If you want to adjust the thread tension simply turn the relevant control dial that's located on the machine's upper arm.
Another fine feature this sewing machine has to offer is the thread cutter located on the left-hand side of the upper arm. While it may be manual thread cutter, it's razor-sharp, easy to use, and conveniently placed. Simply drag the thread over the cutter and watch as it's sliced clean in front of you.
---
Fantastic Features
It may be more suited to that of a starter or back-up machine, but the Brother JX2517 still has some fantastic features on offer, one of which is the jam-resistant quick-set drop-in top bobbin. This is a great feature to have regardless of what skill level you are. The bobbin winder isn't exactly advanced, as it is a manual winder. But, it's still super easy to use.
In the days before advanced technology, threading and winding your bobbin on any sewing was a right pain. Nowadays, with systems such as this, less time is spent on the setting up of the machine, leaving more time to work on your actual projects. To help you monitor your thread levels effectively, there is a clear cover over the bobbin. So never again should you run out of thread mid-stitch.
While most sewing machines these days are fitted with some kind of light for you to be able to sew in poorly lit conditions, a lot of them are wrongly positioned or just aren't very effective. So rather than illuminating your work, you end up illuminating the space behind your machine. Thankfully, the LED light on the Brother JX2517 is pretty good. It's bright and it shines just where you need it to.
---
Good Things Come in Little Packages
While it is considered to be a full-sized machine, measuring in at just 15" x 6" x 12", and weighing only 13.9 pounds, the Brother JX2517 is an excellent choice when it comes to portability. The downside is there is no case or dust cover that comes with the machine, though these can be purchased separately.
Related Articles:
And don't think that just because it's small, it can't tackle thicker or heavier fabrics as it's quite capable of sewing through multiple layers of material at once, including denim. But then this is to be expected when the maximum sewing speed on this model is a staggering 900 stitches per minute.
You get 4 basic presser feet included when you buy the Brother JX2517. They are a buttonhole foot, a button sewing foot, a zipper foot, and a zigzag foot. You also get a needle set. This gives you numerous different sized needles to choose from depending on the thickness of the material you're working with.
---
Brother JX2517 Review: Final Thoughts
The Brother JX2517 is a simple yet functional machine that's designed for those with very little or no prior knowledge of sewing. While it is perfectly adequate for the more experienced user to sew with, they may find the lack of advanced features such as an automatic needle threader frustrating. But for someone wanting to learn all the basics about sewing, at their own pace, without too much hassle, it's ideal. It's also very lightweight, making it the perfect machine to take to sewing class.
There is no feature or function on this machine that's hard to use, and it's very reasonably priced. And considering most of the components are plastic, it's still well made and doesn't feel flimsy while in use. So, if you are looking for a small, yet reliable sewing machine to allow you to carry out most basic sewing tasks, then the Brother JX2517 is a good choice.
Related Articles: