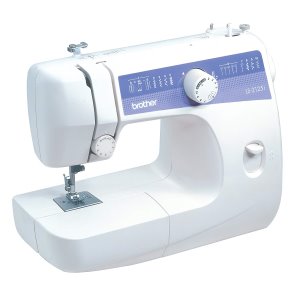 A company that's innovative and moves with the times, Brother, is one of the most well-known and successful brands in the sewing industry. Whatever your requirements may be in regard to the purchasing of your next sewing machine, you can be fairly certain there's a Brother model that fits the bill. Under its umbrella of products, you'll find electronic machines, computerized machines, combined machines, and more. There are machines intended solely for one purpose such as sewing or embroidery, while others can handle a variety of tasks.
If you're looking for a machine that's lightweight, functions well, and is subtle in looks too, then the Brother LS2125i may be right up your street. Equipped with enough quality components to enable you to carry out a wide range of basic sewing tasks, this machine is a very popular choice right now, and for good reason. It might not have as many stitch selections as some of the more advanced models out there, but those that it does have are the most commonly used.
Brother LS2125i Review: Overview
If you're looking for an industrial type machine that's going to run at warp speeds for 24 hours a day, then you're in the wrong place. The Brother LS2125i is a simple, yet effective machine fit for carrying out your basic, everyday sewing tasks.
While it's not overloaded with advanced features and functions, what it does have on offer works really well. For instance, it has a 4-step buttonhole system. Some advanced users might think this is 3-steps too many, however, it's actually not as laborious as it sounds. And it is still a darn sight faster and easier than having to do it yourself.
There are 10 built-in stitches in which for you to choose from including elastic stitches, satin stitches, straight stitches, zigzag stitches, and a blind hemstitch. And you get three different presser feet to alternate for different tasks. There's a zipper foot, a button foot, and a buttonhole foot. All of which have a snap-on design and easy to change.
Easy to Learn
This machine has been designed from the get-go with the beginner sewer in mind. Even those with very little, or even no prior knowledge of sewing will find this machine a pleasure to work with. In my opinion, one of the best ways to learn sewing is simply to practice, practice, and then practice some more. Sewing is a physical skill that takes time to develop. So, until you get some physical practice in, you'll always be a novice.
To ease you in nice and gently, the bobbin winding system is very simple to operate. With your bobbin on the winder and your upper thread in place simply push the button on the right and watch as your bobbin gets wound for you. Another feature that's easy to work is the tension control dial. Turn it to the right and the thread tension increases. Turn it to the left, and it decreases. The threading system is also a carefree process thanks to the diagram that's printed directly on the machine.
Having no computer to battle with is another bonus with the Brother LS2125i. While I'm all for technology, sometimes these on-board computers can be more trouble than they're worth. And when you're just learning to sew, the fewer complications, the better.
Lightweight and Compact
One of the things a lot of sewing newcomers like is the machine's petite size. While it is considered to be a full-sized machine, if you've ever worked or seen anything like an embroidery machine or even a commercial sewing machine, it is tiny in comparison. The exact measurements of the Brother LS2125i are 15" x 6" x 11.8" and it weighs just shy of 13 pounds, which is pretty handy if you intend on taking it anywhere, such as a sewing class. It's also easy to store being so compact in size.
Related Articles:
But don't let its size fool you as even though it's small, it's quite capable of working on larger projects such as pillows, tablecloths, and even curtains.
The maximum sewing speed of this machine is 900 stitches per minute, but how fast you sew is fully controllable via the enclosed foot pedal. So, if you want to go slow while working on delicate pieces and move at warp speed when hammering through cotton, that's absolutely fine. You can simply move at a speed that's comfortable for you.
Accessorize
It may be a basic machine, but don't worry as you still get a few decent accessories thrown in with your purchase. To make sure you have everything you need to get you started you get three bobbins, a twin needle for creating parallel or decorative stitches, a needle set comprising of different sizes to use for fabrics of varying thicknesses, a darning plate which helps prevent bunching, an extra spool pin, a screwdriver, and a manual included with the machine. And thanks to the machine's built-in storage compartment, you have somewhere to keep it all.
Brother LS2125i Review: Final Thoughts
While it's clear to see the Brother LS2125i is no advanced machine, it is definitely one of the better starter machines out there. With manual controls that are easy to reach and simple to operate it's a real blessing to use this machine. It's capable of achieving speeds that even advanced machinists will be happy with and has enough features for you to complete pretty much any basic sewing task. There's no complicated computer to figure out, everything works as you'd expect, and its pretty good value for money. And the fact that it's so compact and lightweight is also a big bonus.
It may have a limited amount of stitches to choose from, but if you only need the machine to learn on or carry out a few simple repairs, what's there should be more than adequate. All-in-all, the Brother LS2125i is a fantastically performing machine that's suitable for just about anyone who picks it up.
Related Articles: