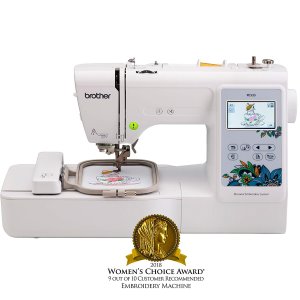 In addition to sewing machines and sergers, another type of machine that's popular these days is an embroidery machine. Slightly different from a traditional style sewing machine, an embroidery machine is used to enhance the material in a decorative way. Using one of these machines, patterns, designs, logos and more can be added to various materials in which to make customized pieces.
If you're looking for a decent embroidery machine to start you off or replace your existing model. then the Brother PE535 is definitely an option worth considering. It looks great, works well, and hosts a whole range of features you'd expect to see in a higher range model.
There are also 80 different built-in designs to choose from on this machine, all of which are accessed using the LCD color touchscreen. And if those aren't quite what you were looking for you can even add your own designs using the handy USB port located on the side of the machine.
Is the Brother PE535 the machine for you? Keep reading to find out.
---
Brother PE535 Review: Overview
The Brother PE535 has a total of 80 built-in embroidery designs for you to choose from including some floral, some kids orientated, and even some holiday designs. It also comes equipped with 9 built-in fonts in which to customize your designs, including 6 English, and 3 Japanese.
Another plus is the fact that you can edit your designs right there in front of you on the LCD screen. Simply select or load in your pattern, play around with on the screen until you have it looking exactly how you want it. Via the screen, you'll also be able to select the stitch width and length. Having a screen to preview your design is a great way to prevent unnecessary errors.
With this machine, thanks to the handy 2.0 USB port in which to transfer your own embroidery patterns and exclusive access to iBroidery.com, the possibilities are endless. Embroider customized designs on tops, jeans, bags, or any other fabric with ease.
---
Striking Looks, Striking Power
The Brother PE535 is by far, one of the prettiest embroidery machines I've seen. With an exterior that's covered in a brilliant white with a few quality parts extruding, there's nothing unprofessional about this machine. Every single part of it oozes class. That being said, with a simple floral design accentuating the machine's control panel, it also gives off a very homely vibe also, appealing to a wider range of people.
Another of the machine's most striking features is its large 3.2" LCD color touchscreen. With a screen this size, you can really see your designs in full view, in full color. This gives you the chance to see different variations of your design and make any last-minute changes before starting to stitch.
In addition to the Brother PE535 looking like a fine piece of carefully forged machinery, it also runs like one too. Underneath the machine's elegant exterior lies a robust motor that's capable of achieving sewing speeds of up to 400 stitches per minute. Now while that might seem sluggish in comparison to a sewing machine or serger, with an embroidery machine, there's usually some pretty precise needlework going on, hence the need to run a little slower.
If ever you do have any problems with your machine, the Brother PE535 comes with a 25-year limited warranty.
---
Easy to Use
One of the reasons why the Brother PE535 makes a good machine for beginners is that it's so easy to use. Whether it's the LCD touchscreen or the manual dials, everything is clearly labeled and conveniently placed. And everything you need to get started is right there in the box, saving you time and money right from the get-go.
Measuring in at 16.5" x 7.8" x 12", and weighing around 15 pounds, the Brother PE535 is quite petite as far as embroidery machines go, making it a great place for learners to start. It also makes it a good machine for anyone who moves around a lot.
Related Articles:
The machine is equipped with a 4" x 4" embroidery field with hoop, which is a pretty decent size to work with. And to help ensure your design is in the correct position, there's also an in-built alignment tool and grid sheet. It really is a very user-friendly machine.
On top of that, there's an automatic needle threader and a top-loading bobbin system in which to make your life easier on set up, a whole load of accessories to help you complete your projects in a professional manner, and a comprehensive manual and DVD to help if you do get stuck.
---
Brother PE535 Review: Final Thoughts
If you're looking for a new embroidery machine that's easy on the eye, not too big, and has enough bells and whistles to complete most embroidery projects, then the Brother PE535 is a good choice.
It's also got a good selection of in-built designs to choose from. The only slight downsides I see is that it's a machine that's fit for embroidery purposes only and being a machine that's slightly on the small side, does limit the size of the projects you can take on. So, if you are looking for a machine that will also double up as clothes making machine or you're looking to create something quite large like a wedding gown, this may not be the best machine for you.
While the Brother PE535 is relatively easy to use, it's not for the fainthearted. Being packed full of so many fantastic features and functions, it may take a while to get used to if you're just starting out. But don't give up as once you've used this machine a few times, it's unlikely you'll want to use another.
The bottom line is regardless of whether you're just learning to embroider or you've been doing for many years, this machine is a marvel at doing its job, and will save you a great deal of time and effort in the long run.
Related Articles: