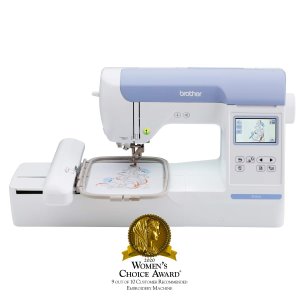 Once upon a time, before the world of machinery was introduced to us, embroidery was an activity carried out very meticulously by hand. Nowadays, we are lucky enough to be blessed with modern technology. And with the introduction of that, came the introduction of the embroidery machine. One brand that was quick to jump on this bandwagon was Brother. Since then, the company has been going from strength to strength creating amazing machines to suit everyone and every function.
The Brother PE800 is a medium-sized embroidery machine, but with an oversized embroidery area enabling you to work on a wider range of projects from something as small as a handkerchief to something as big as a quilt. It's also equipped with a variety of useful, but not overly complicated, features to play around with. There's are automatic functions built-in to help you thread the needle, cut your fabric, and ensure your thread is always at the optimal tension.
And, there are enough design capabilities on offer to set up your own art gallery when you've finished.  So, what else is on offer from this fabulous embroidery machine?
---
Brother PE800 Review: Overview
One of the advantages of being in an industry for such a long time is you get to know your customers and what they want. Add some inspiration from current trends, throw in some modern technology and you have a new model that's on everyone's wish list. And that's exactly what can be seen with the Brother PE800.
It's sizable 3.2" inch color touchscreen not only looks good but functions efficiently too. As well as being able to edit all your designs on the touchscreen, it also alerts you when your bobbin is about to run out of thread, which is a huge help when working on bigger projects. Another bonus of working with this state-of-the-art machine is there are tutorials literally programmed into it. Things such as threading directions or how to remove and attach the embroidery hoop and arm are demonstrated right there on the screen.
---
Don't Be Fooled By The Basic Design
The Brother PE800 is a very simple looking machine. Everything looks well laid out and there are no overly complicated looking parts. However, don't let its basic design fool you as there is much more to this machine than first meets the eye.
With a very reasonable 5" x 7" embroidery field, it's possible to work on a number of different projects, including clothes, bags, and linen. There's a powerful LED light on the machine that illuminates your work as you embroider, and it can sew at speeds of up to 650 stitches per minute. It's also packed full of fantastic features in which to make embroidery less about work and more about fun.
---
Easy to Use
Not all embroidery machines are easy to learn on. When you're starting out in the world of embroidery the last thing you need is a machine that's overcomplicated, and you spend all your time trying to work it out, opposed to work on it. With the PE800 you don't have any of that stress. This machine is virtually ready to go the moment it's pulled out of the box.
There's an automatic needle threader to save you the time and hassle in trying to thread your needle, an automatic thread cutter that snips your thread for you to prevent fraying, and an automatic thread tensioner that will ensure the optimal tension is achieved in every stitch.
And, with the onboard tutorials to help you when you get stuck, using this Brother machine is a breeze, even for those with very little experience.
---
Design to Your Heart's Content
Never before has designing been so enjoyable and hassle-free.
With 138 built-in designs, there is more choice available in the Brother PE800 than many embroidery machines in the same league have to offer. This collection includes a wide variety of designs including some seasonal, some floral, and some lacy. It also has 11 in-built fonts in which to customize your projects, including 7 English, 3 Japanese, and 1 Cyrillic. It's also equipped with a USB port for you to transfer all your favorite designs across.
Related Articles:
Another great feature this embroidery machine has to offer is its advanced design editing capabilities. Using your own design software and the LCD touchscreen display, you can flip, rotate, and resize your design right in front of you. It even has a built-in color palette that allows you to change individual thread colors right on the screen. This is perfect for making any last-minute changes to your design.
If you don't have your own design software, you can still import external designs to the machine via the USB. There are plenty of free, reputable online sources offering designs or head on over to an online embroidery store such as Brother's iBroidery.com. Here you can purchase a whole range of different designs to suit including those by much-loved names such as Disney, Marvel, and Star Wars to name just a few.
---
Brother PE800 Review: Final Thoughts
While you don't have to be an advanced user to be able to use the Brother PE800, it may help to justify the cost. Putting money aside, it's a top-quality machine that's capable of completing most embroidery tasks and is not likely to break down any time soon.
You can work with the designs that are already built-in or you can simply use your own by downloading them directly from a USB stick. Edit your design on-screen to get it exactly how you want it before springing into action and making your artwork come to life.
There's an automatic needle threader in which to save you time doing it and all the other functions are user-friendly too. The only real limitation (if you can call it that) is that it is just an embroidery machine. But, if you've no need for any general sewing functionality, you're on to a winner with the Brother PE800.
Related Articles: