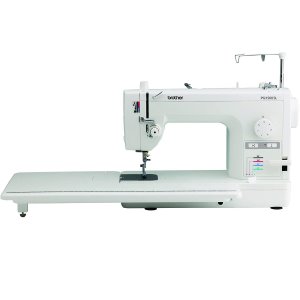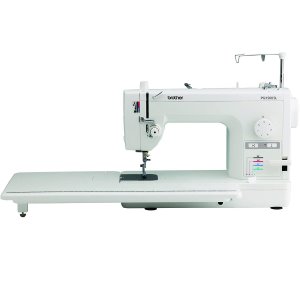 Quilting is a pastime that's been enjoyed by millions of Americans for many, many years, right back to colonial times. Back then, as well as being used on the bed to keep warm at night, quilts were quite often used as door and window covers to block out any drafts. Today, quilting for most people is done out of wanting as opposed to need. The other key difference being we now have fantastic machines such as the Brother PQ1500SL to help get the job done to a higher standard and in half the time.
The Brother PQ1500SL is a true force to be reckoned with. Offering enough features and functions to complete most sewing and quilting projects, and capable of sewing up to 1500 stitches per minute, this machine is not for the faint-hearted. But even if you're not an experienced machinist, as long as you've got the drive, determination, and some spare time you'll have no problem in learning how to use it.
---
Brother PQ1500SL Review: Overview
Right from the get-go, as soon as you lay your eyes on this machine, it's evident to see that's it's more than just your average sewing machine. It may not have all the bells and whistles that you'll find on a computerized machine, but the Brother PQ1500SL is by far one of the toughest in its class.
When it comes to durability, this machine is one rugged piece of kit. With a heavy-duty frame and tough plastic exterior, there's not much this machine can't handle.
And thanks to all the high-quality components which make up this machine, it's so very stable when in use. Even when going at its maximum sewing speed of a rapid 1500 stitches per minute, the Brother PQ1500SL still produces smooth and accurate stitching.  This may be partly due to the fact there is only 1 type stitch – a straight stitch. There are no buttonholes either. But at least with a straight stitch, you can complete most basic tasks.
As well as the machine itself being high-quality and built to last, the individual components that come with the machine are pretty good also. The 7 presser feet included all feel solid and well made as does the transferable knee lifter that enables you so lift the presser foot with your knee leaving your hands free for better fabric handling.
---
Easy to Use
If you're new to the world of sewing or quilting, don't let the fact that it can move faster than the speed of light put you off as the Brother PQ1500SL is fully adjustable via the foot pedal. So, putting the speed aside, this machine is actually one of the easier models out there to learn on. Firstly, because it's not computerized, there's less to worry about in the way of controlling the machine. Everything you want to adjust on the machine, you can see and do yourself.
While the machine itself is mechanical, there are still several decent features on-board in which to help make your life easier.  There's a built-in needle threader in which to get you started as well as an easy bobbin winding system with labels printed directly on the machine to guide you if you get stuck. It also has an automatic thread cutter in which to trim all your thread ends.
Related Articles:
Another couple of great features on hand to help are a thread tension controller that ensures your stitching remains even, and a pre-programmable needle that can be set to sit in either the up/down position when not in use.
One of the other great things about this machine, especially for beginners, is that it's very easy to maintain. Just a couple of drops of oil every now and then to keep the parts lubricated is all it needs. And unlike some other machines that require you to take it apart for oiling, the Brother PQ1500SL is equipped with small oil holes on the outside of the machine.
---
High-Quality Quilting Features
While it's not laden with fistfuls of advanced quilting features, those that are on offer work really well and enable you to make beautiful and ornate quilts in very little time comparatively.
Firstly, to help when quilting, the Brother PQ1500SL has a pin-feed mechanism that replaces the feed dogs with a pin to allow multiple layers of material to move freely without getting snagged. Second, it has a 5.7" x 8.6" fabric extension table that's perfect for tackling those larger projects.
The machine is also equipped with adjustable feed dogs and adjustable presser foot pressure. These are two very useful features to have when working on fabrics of different thicknesses as they help to ensure even stitching remains throughout.
One of the biggest selling points this Brother machine has to offer is the fact that it's capable of a maximum sewing speed of up to 1500 stitches per minute. That's fast even for a professional machine.  And, because it has such a powerful motor, it won't wear out and break down after sewing just a few quilts or other pieces of thick fabric.
---
Brother PQ1500SL Review: Final Thoughts
The Brother PQ1500SL is a true masterpiece. It's so very well-made and has all the functions and features you need from a sewing and quilting machine. In terms of build, it's a solid, mechanical workhorse that's capable of tackling those bulkier projects. And it has a powerful engine that's likely to keep going as long as you.
Overall, this machine is suitable for both advanced sewers and quilters and those who have never touched a machine in their life. For the more experienced user, the Brother PQ1500SL offers a great deal of stability and a reasonable amount of functionality. It doesn't have a massive number of features to shout home about, but those that it does have are pretty reliable.
And for the less skilled machinist, it offers a stable machine to learn on.
So, for anyone looking for a machine that's heavy-duty and functional yet still easy enough to operate, the Brother PQ1500SL is a very good choice.
Related Articles: