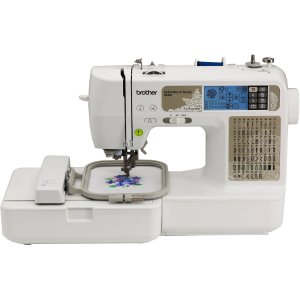 Sewing and embroidery are two terms that are often used interchangeably, but they are very distinct in what they each refer to. As a generalization, sewing relates more to the actual creation of the garment, whereas embroidery is all about the decoration. The problem is that it's not very often that you come across a decent machine that offers both embroidery and sewing capabilities, but the Brother SE425 seems to have nailed it.
With this fabulous model, no longer will you need to jump between machines to sew a button and then embroider some lettering onto a garment. Now you can do it all without even getting off of your chair. Oh, yes, you get the very best of both worlds with this bad boy.
It's brimming with all the fabulous features and functions you could want from such a machine. There's an automatic needle threader and thread cutter; a programmable needle; and a whole plethora of different lettering and designs to choose from when ready to embellish your work.
And measuring in at just 15" x 15" x 20", and weighing just 24.6 pounds, it's also very compact for all it has to offer.
Keep reading to see what else it's hiding underneath that 'butter wouldn't melt' exterior.
---
Brother SE425 Review: Overview
The Brother SE425 has a very sleek, modern design and would be well suited in either a home or professional capacity. While it does have an LCD touchscreen, it's not color I'm afraid. However, it is nice and simple to use and functions very well. From here you can access all the stitch and design options with ease, using either your finger or the stylus pen that comes with it.
As well as selecting your stitch and/or design choice, you also have access to great design editing features such as rotate, mirror-imaging, and increasing or decreasing the size of your chosen design.
It may be a simple feature, but it's one that many people find essential – a decent light. Thankfully, the Brother SE425 is equipped with a super bright LED light to help light your way when working in dim conditions, so there's no worry about eye strain when working with this machine.
And to help keep your machine in tip-top condition when it's not in use, it also comes with a soft cover to help keep your machine dust and dirt free.
---
Twice the Functionality
Being both a sewing and embroidery machine, you get two fabulous machines all rolled into one.
Integrated into the Brother SE425 are 67 different sewing stitches to enable you to complete a wide variety of tasks. This includes some decorative stitches, some heirloom, and some for quilting. And, there are a total of 10, (yes, 10!) 1-step buttonhole stitches to choose from. It also comes equipped with 170 embroidery designs, 5 embroidery fonts, and 120 frame pattern combinations in which to satisfy all your embroidery needs. While the standard embroidery area is just 4" x 4", you can easily increase this by purchasing a larger hoop.
In terms of stitching, this machine is very versatile indeed. It's smooth enough to be trusted working with delicates such as satin or silk, yet tough even to take on heavier fabrics such as tablecloths or drapes. And each time it delivers a top-class finish that you'd expect from a 5-star machine.
---
Uncomplicated Operation
With its touchscreen display and various stitch selections being shown on the front of the SE425, at first glance it can look a little daunting to a new user. However, on closer inspection, you'll see that actually there are very few buttons that you need to use in order to operate it.
To use any of the in-built stitches or designs simply use the touchscreen function to scroll through to see what's available and make your selection using one of the corresponding buttons. Or, if you want to import your own, simply download them onto the machine via a USB stick.
Related Articles:
If you do get stuck, simply refer to the built-in tutorials which are integrated into the machine's memory and can be accessed via the touchscreen.
---
Automatic Features Galore
If you're like me, and always looking for ways to save time, then you'll love the Brother SE425 as it's packed with several automatic features in which to do just that. As with most modern machines, it comes equipped with an automatic needle threader to take the strain away there. It also features an automatic thread cutter which is often (but not always) present too. The programmable needle allows you to position your needle so that it always finishes in the way that you want – i.e. up or down.
Another automatic feature that can be found on this machine is the one-touch automatic thread cutter. While you might think this is quite a basic feature, it's one that's not always included and is super handy. So, that's another plus for the Brother SE425.
The final automatic feature I want to point out is the automatic bobbin winding system. It's fast, it's accurate, and it's easy to use.
---
Brother SE425 Review: Final Thoughts
While combo machines are pretty few and far between, a lot of them that are out there, just aren't with the money. The Brother SE425, however, surpasses those models in a big way. In terms of functionally, you have everything you could want and more, from both a sewing and embroidery perspective. It's got plenty of built-in sewing stitches to carry out all your essential tasks and a whole library of designs in which to help make your work really stand out. And, it's easy to use, meaning it's not going to scare away anyone who's new to this world.
All-in-all, whether you're looking for a combined machine to save some space by replacing two, or you just want a machine that you can learn as much as you can about both sewing and embroidery, then the Brother SE425 is definitely an investment worth considering.
Related Articles: