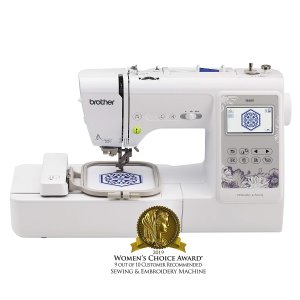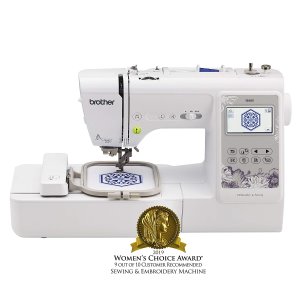 When it comes to sewing and embroidery machines there are two big names that immediately spring to mind – Singer and Brother. And while Singer may have been around a good few years longer than their rival, Brother has worked hard to be a decent contender and according to users, are now pretty even. However, there is one particular area that Brother seems to have nailed perhaps better than its competitor, and that's with combination machines.
A combination machine is one that's capable of completing both sewing and embroidery tasks. So, there's no more jumping between machines to finish a project. Everything can be done to a perfectly high standard, all in one place. And while many manufacturing companies struggle with designing and developing a trustworthy model capable of achieving quality stitching for both, Brother has taken this challenge and rose above it, phenomenally with the Brother SE600.
Not only does this machine produce some of the best sewing stitching you'll ever see, but it also produces some of the most beautiful embroideries. It has quite a lot to offer in terms of functionality while still being easy to use.
---
Brother SE600 Review: Overview
If ever you need to transport your machine anywhere, you'll be the talk of the room with this by your side. Designed by a company that's been in the game a very long time and made from nothing but high-quality parts that function exceptionally well, the Brother SE600 is one classy machine, both inside and out.
One enhanced feature that can be seen from a mile away (as long as the machine is switched on) is the upgraded 3.2" color touchscreen. While there are plenty of modern machines out there with LCD screens not many of them are color, and it really does make all the difference. Straight away everything is much clearer and brighter. And you get a more realistic idea of what your finished piece is going to look like. You can also make last-minute changes to your design and see it right there in front of you, before stitching.
---
User-friendly Functionality
While the Brother SE600 may look like an overly complicated piece of machinery, it really isn't. If you're new to the world of sewing and embroidery, then there's no denying you may have a slightly bigger challenge when starting with this machine, and you will no doubt have to do some light reading and watch a few tutorials before you're completely comfortable with the controls. However, once you have got your head around all this machine has to offer, you won't regret it.
There are 7 different sewing feet included when you buy the machine: a buttonhole foot for creating one-step buttonholes, an overcasting foot for sewing seams and edges, a monogramming foot for sewing decorative stitches, a zipper foot for sewing zippers, a spring action zigzag foot for most basic tasks, a blind stitch foot for sewing less visible hems, and a button foot for sewing on buttons. In addition to those you also get an embroidery foot for use when embroidering. All of which are quick-change.
Another feature that's useful for those new to sewing and embroidery machines is the jam-resistant quick-set drop-in top bobbin system. So, all you need to do is drop it in and let the machine do the rest.
---
Huge Library of Stitches
Being a sewing machine and an embroidery machine all rolled one is great in so many ways, one of which is the huge amount of resources you suddenly have available to you. Whether it's sewing or embroidery you're doing, this machine's got your back. It's got 103 built-in sewing stitches, and 10 different styles of auto-size buttonholes. In addition to that, it's got 80 built-in embroidery designs and 6 different types of lettering.
And the quality of stitches is nothing to be sniffed at. Thanks to the fine design and craftsmanship of the Brother SE600, there's very little movement when the machine is in action. This allows quality stitching to be produced with each and every press of the foot pedal.
---
Advanced Functionality
On top of having a whole bunch of built-in stitches and designs to work with the Brother SE600, it's also equipped with a number of features in which to help enhance your sewing experience and save you time along the way. There's an automatic needle threader, a quick-set drop-in bobbin, and a stop/start button to name just a few.
The maximum sewing speed on this machine is 710 stitches per minute, while the maximum embroidery speed is 400 stitches per minute. But remember, this is the maximum. It comes equipped with a speed controller so you are in charge of how fast or slow you work.
Related Articles:
Measuring in at 21.2" x 15.5" x 16.5", the Brother SE600 isn't exactly what's classed as a big machine. But surprisingly, it's actually pretty spacious to work on. The needle-to-arm workspace is 6.4" x 4.1" which allows more room for when working on bulkier projects such as quilts.
The interface itself is also very user-friendly and fast to learn, even for those not technologically minded.
---
Brother SE600 Review: Final Thoughts
If you're looking for a combined machine that's high-end, modern, and has enough functionality for you to carry out pretty much any sewing or embroidery task than this is the model for you. It's got plenty of designs and stitches to choose from and using the touchscreen display these can be accessed within seconds.
With all the functions and features on offer and the slightly expensive price tag, the Brother SE600 may be a machine that's most suited to professional and advanced hobbyists. However, if you're feeling adventurous, and want to start with the best, then you're in the right place.
All-in-all, it's an excellent machine overall with very little to fault. The only slight downside is with a 4" x 4" embroidery area, you are somewhat limited in what you can create. But, if you're not planning on creating anything too extensive, then the Brother SE600 should suit just fine.
Related Articles: